DIY Decorative Home Recycled Glam Bird Feeder
This post may contain affiliate links, view our disclosure policy for details.

A while ago I saw an idea floating around for recycled bird feeders and goodness knows I'm addicted to watching the gold finches and woodpeckers eat on my deck so the light popped for me when I spotted a metal candelabra candle holder at the thrift store last week! I call it my DIY Decorative Home Recycled Glam Bird Feeder! Ok, maybe a little long but I'm pretty excited with how this turned out! The cheery bright color makes me happy and since the frame is metal it will pretty much last forever. So hurry to your local thrift store and out all the cool metal framed candle holders you can find so you can turn them into bird feeders! You can stuff the candle holders with suet, bird seed, berries, or anything else you want to feed your birds!
Materials Needed for DIY Decorative Bird Feeder:
Metal Candelabra Candle Holder
Rustoleum Spray Paint
Krazy Glue (optional)
Birdseed
Mounting Clamps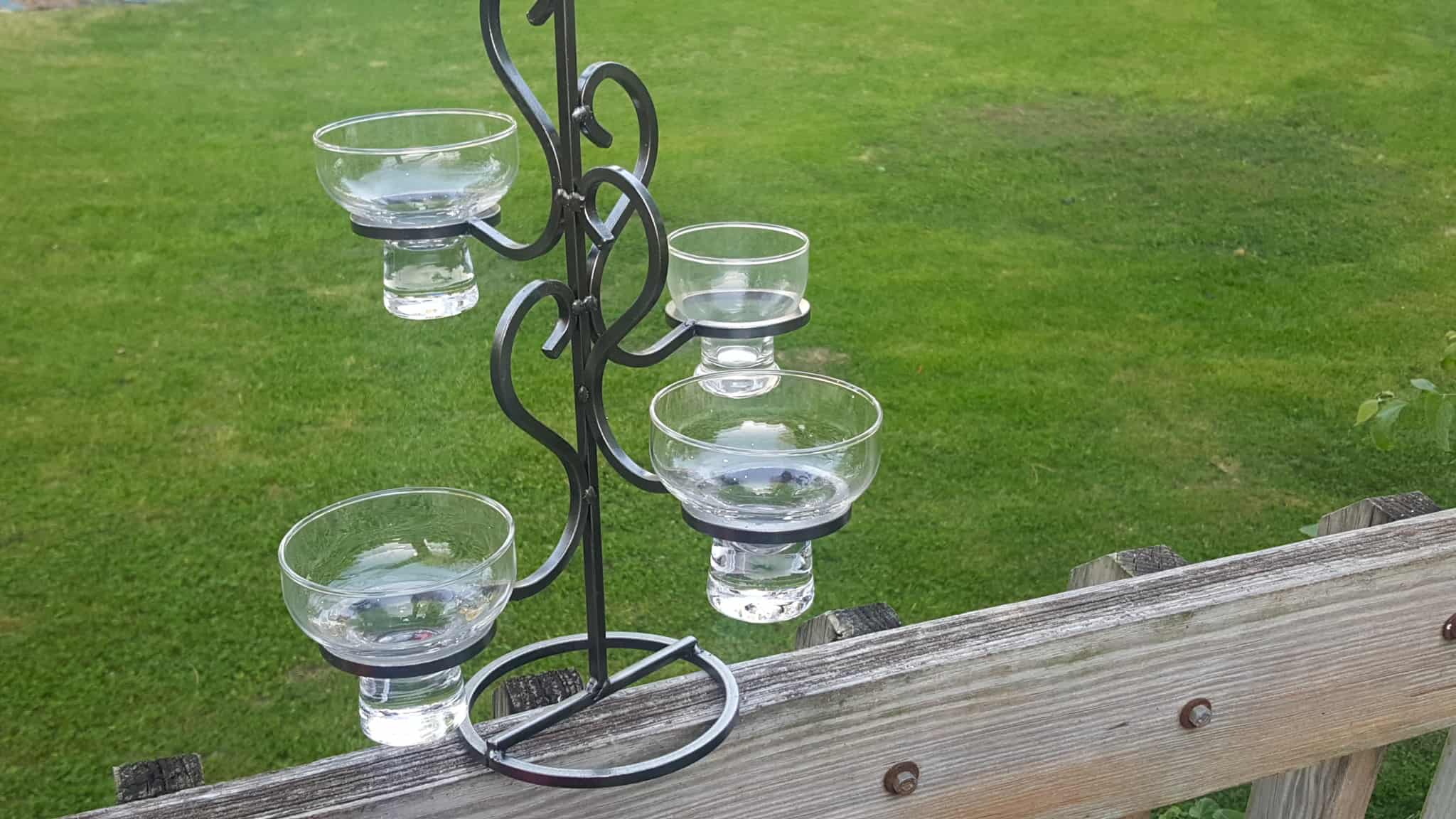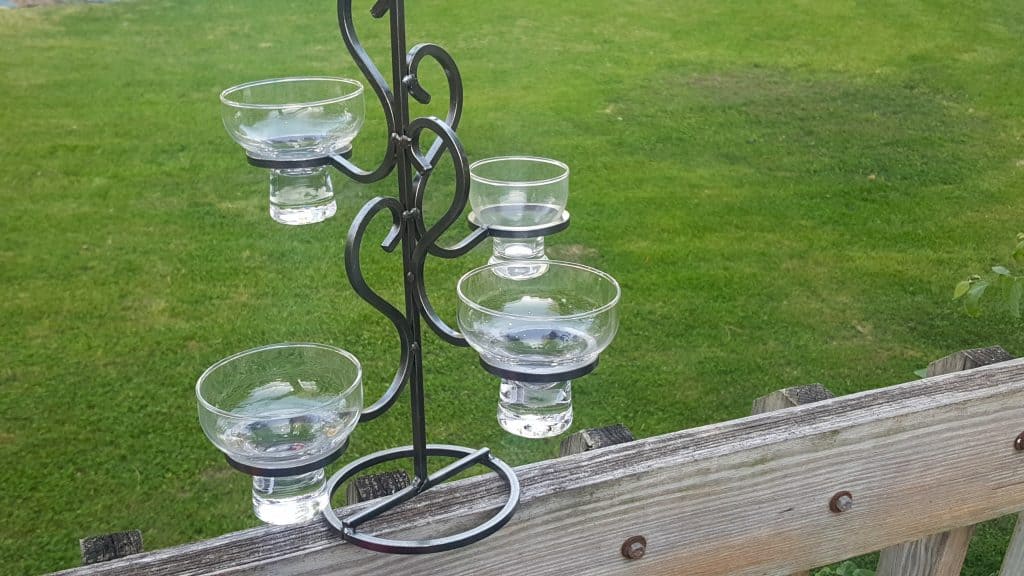 Directions for DIY Decorative Bird Feeder:
We picked up our awesome candle holder at the thrift store for $2 and although I loved the design (see above) I wanted something brightly colored and cheerful to look at out the back door so I bought some Rust-oleum Golden Sunset spray paint that I bought at Walmart to liven things up a bit. I took all of the glass votive holders off and spray painted the metal frame out in the yard. I recommend sticking with a metal frame for an outdoor feeder simple because it will last the longest.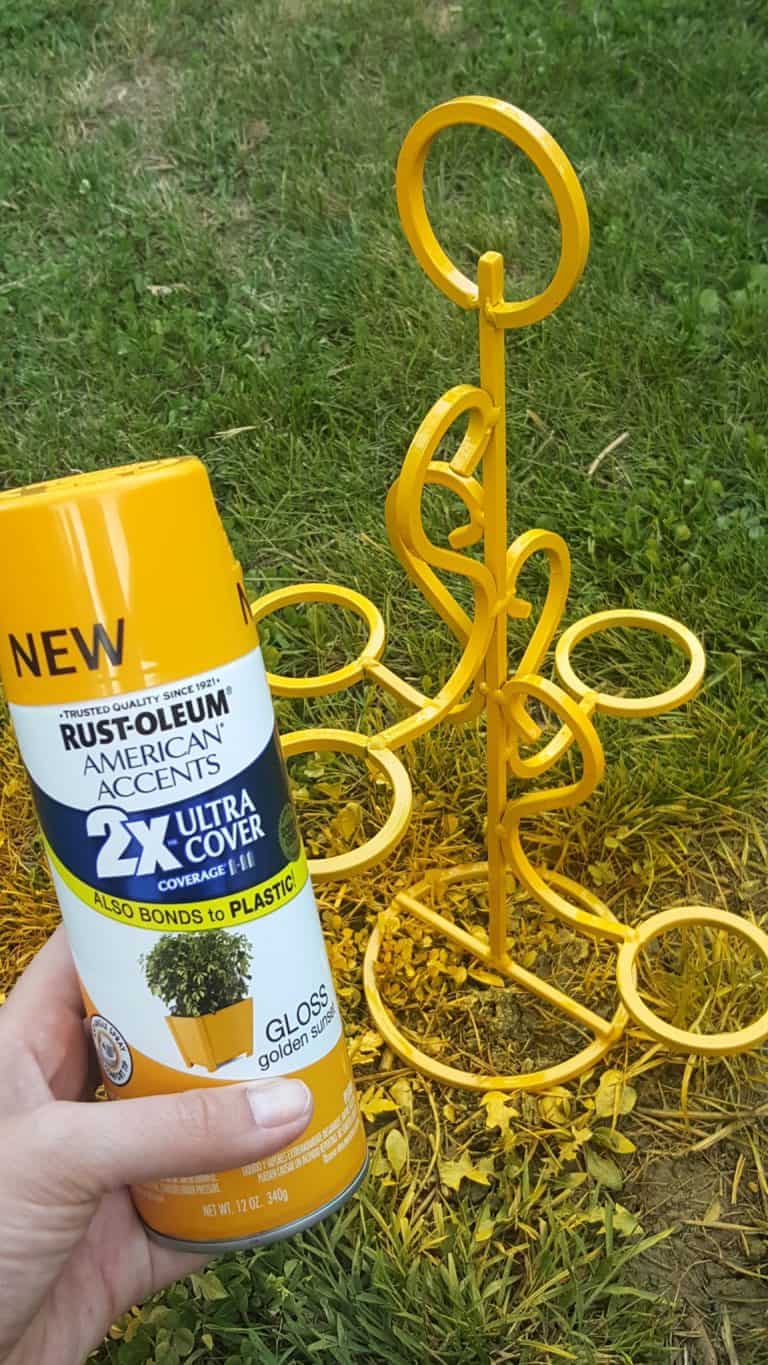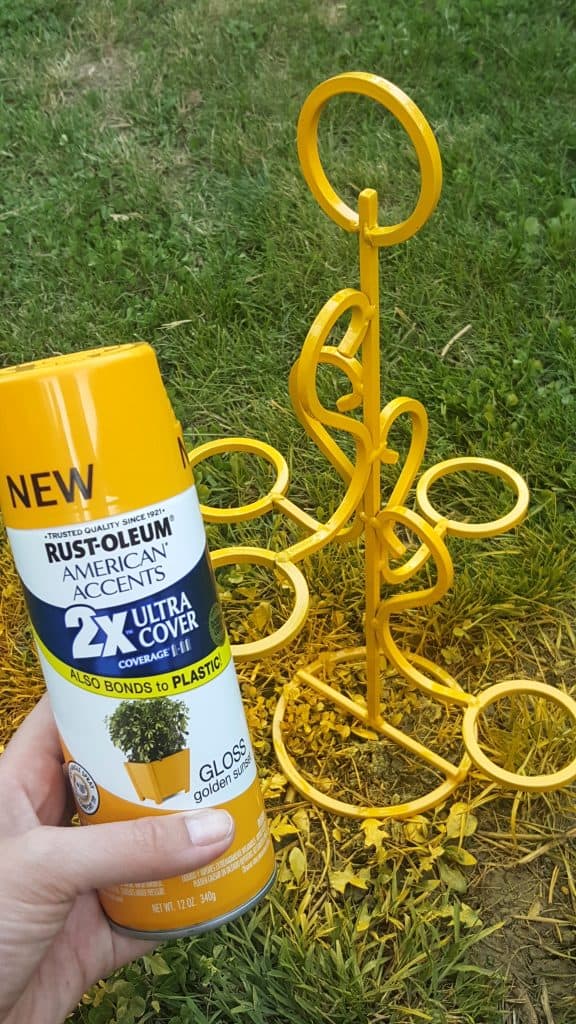 Once the paint has dried you can use a thin spread of krazy glue around the glass candle holder and press it firmly into the metal frame for extra stability if you want. Although I doubt that the set I bought will have come out of it's holder although we do have pretty nasty tornado seasons every spring that can bring up to 100 mph winds out in the country! But for $2 it's not a huge loss right?!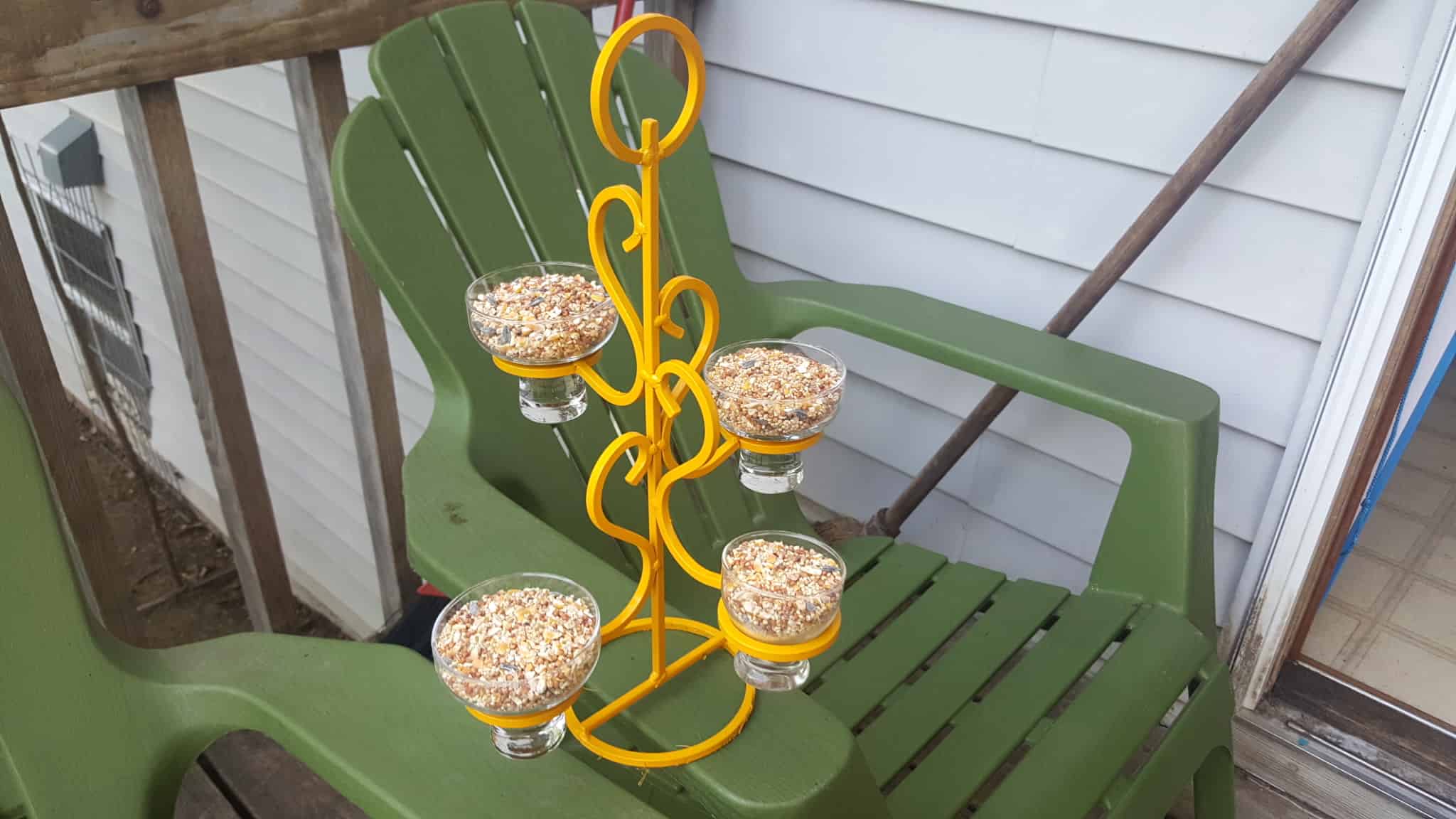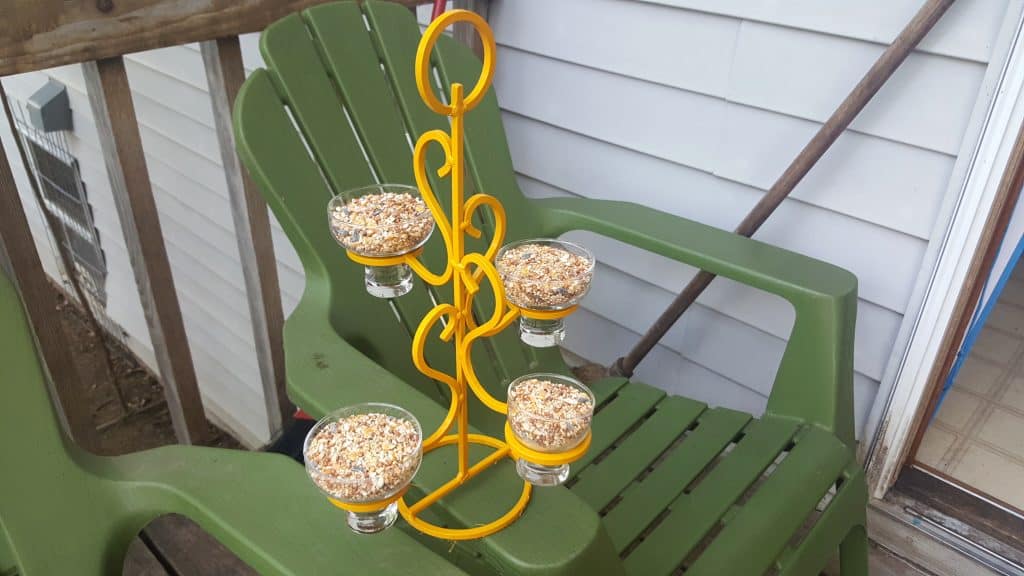 All that was left was to fill it with bird seed and mount it onto our deck! We have such a thin deck railing so I had my husband buy a couple little metal clamps to secure the feeder down so it didn't fall off. This project was ridiculously simple and would have taken under 5 minutes if I had chosen not to spray paint it! Here's a little DIY glam decorative recycled bird feeder set up for you that should last a LONG time! I do recommend if you have harsh winters bringing it in so the glass doesn't crazy in the freezing temperatures or hail storms though! And to be honest I LOVE this bright color so much I think I'm going to pull all of my other metal bird feeders and canes down and spray paint them too!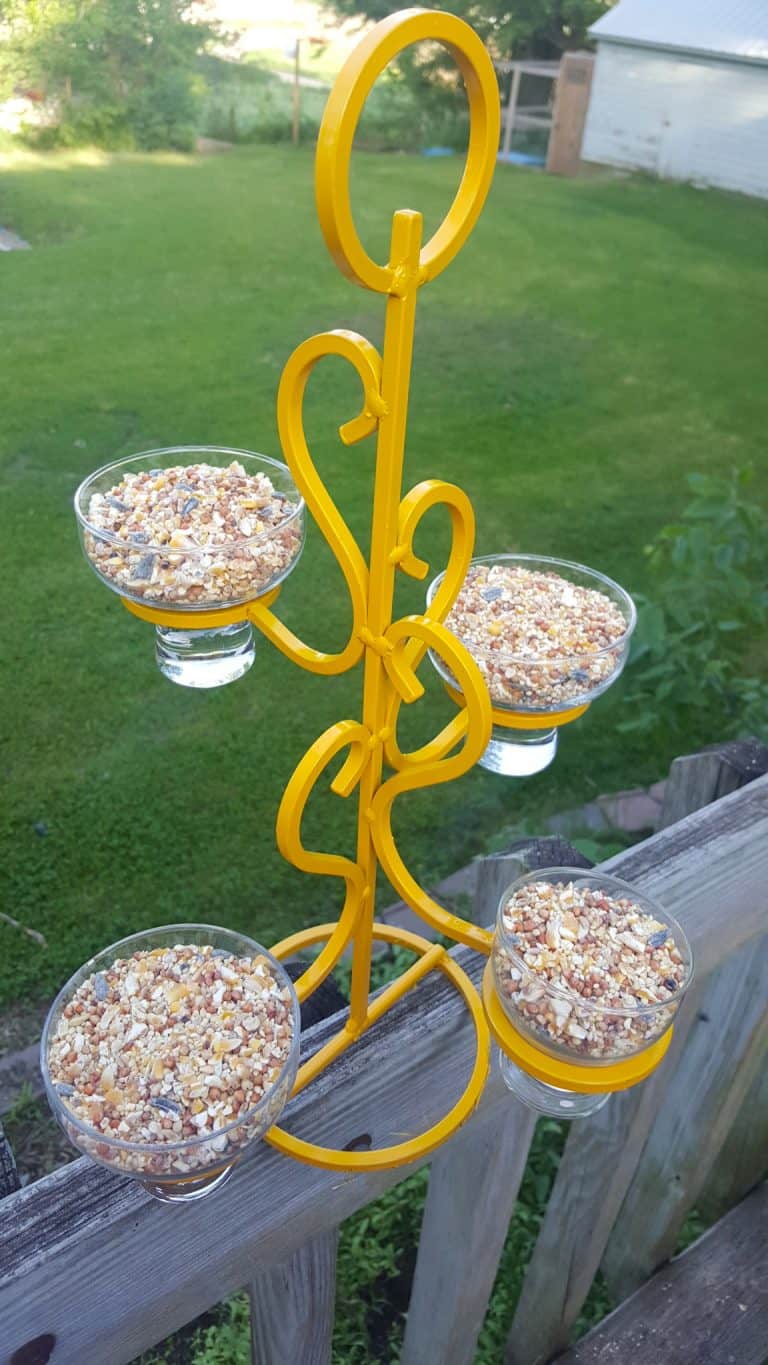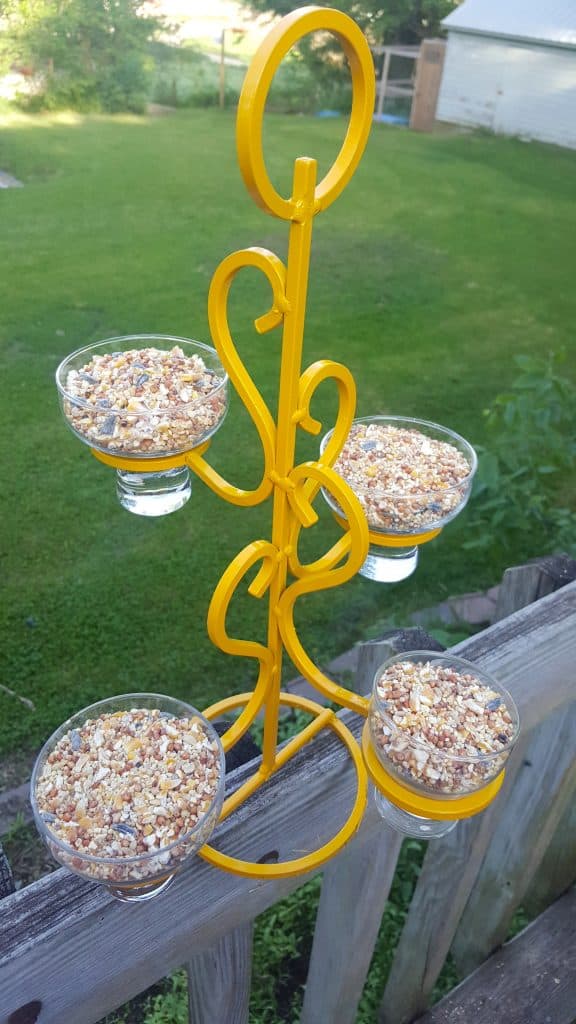 If you'd rather just buy your bird feeders here are some of my favorites: