Festive & Simple Fall Fun Craft Ideas for Kids: Fall Pumpkins & Leaves
This post may contain affiliate links, view our disclosure policy for details.
Fall is a great time for crafting because there are so many beautiful colors to work with, and the weather doesn't allow for much fall fun outside. There are many fun things that start in fall such as back to school, Halloween, and Thanksgiving to name a few. With so much room for creative crafting opportunities these fall fun kids crafts are merely a jumping off point to get your kid's creative juices flowing.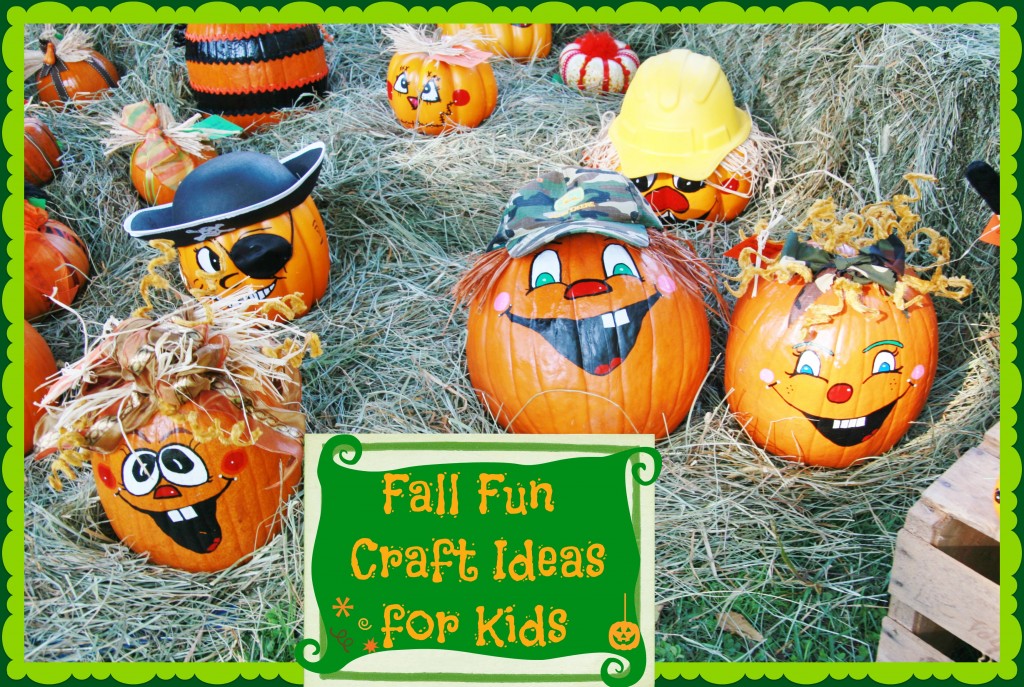 • Pumpkin Painting – This is a great alternative to the messier pumpkin carving. By painting faces on pumpkins instead of cutting into them not only are they going to last longer in the month but you can paint more than one face to every pumpkin! It gives kids the chance to be creative and they get to help decorate for the holiday. Don't simply stop at painting the pumpkins either! Add silly yarn hair, a crazy hat, or even a bandanna to give your pumpkin personality! This candy corn duct tape
is fun too!
• Leaf Greeting Cards – Let the kids go into the yard and select leaves in various shapes, sizes, and colors. Dry the leaves off and let the kids paint the leaves fall colors like red, orange, yellow, brown and gold. Show them how to stamp them onto pieces of paper to make a leaf imprint. Once the paint has dried you can fold the paper in half and let the kids use them as cards to give to their friends, family, and teachers! OR you can always use these pre-made leaves by Roylco
.
• Acorn Picture Frames – Go outside and search the yard for acorns. You want to find quite a few of them so that you can cut the tops off of them for the kids. Make a simple craft stick frame and show the kids how to glue the acorn tops to the craft sticks to create a unique picture frame that is perfect for your favorite fall memory. This is a great fall fun idea for your classroom too! Decorate your acorn picture frames with captions, embellishments, glitter or sequins. Go crazy and have fun! There are no rules!
• Leaf Murals – Find some leaves around the yard that are different shapes and sizes. Find a couple pieces of clean construction paper that are large enough to hold all of the leaves that you have found. Lay them out on the paper in whatever way that you like. Place the paper on a hard surface in a window so that your paper will fade around the leaves. Embellish as you see fit. You can also roll out a large amount of a paper roll and try creating letters or a banner with your leaves – this is especially great when working with several children at once!
• Fruit and Veggie Stamps – If you cut fall fruits and veggies in half you can dip them in paint and use them as little stamps for a fun fall project! Cut the designs out for the kids so that they don't get hurt! You can stamp your veggies onto tote bags, t-shirts, paper, or anywhere else that you might like! For extra fun, give the kids pumpkin shaped paper and cut the fruits and veggies into pumpkin face pieces to let them make their own silly pumpkin faces!