Puzzle Piece Holiday Wreath Ornament Craft for Kids
This post may contain affiliate links, view our disclosure policy for details.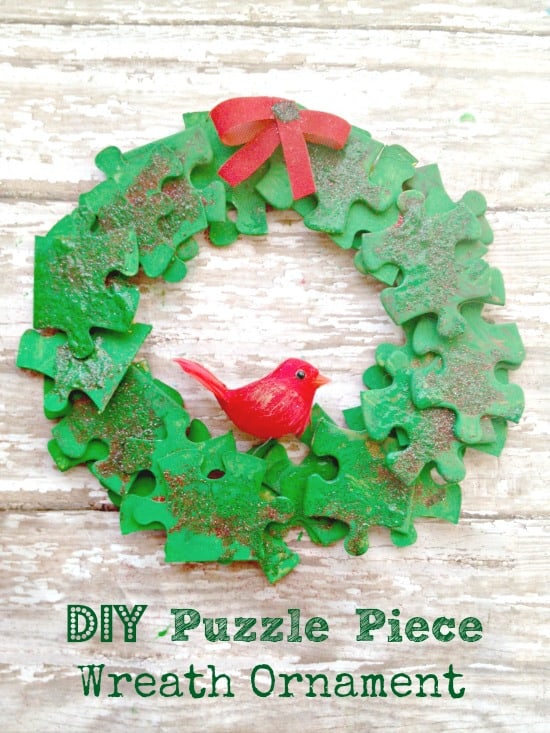 If you are looking for a holiday project that is festive and frugal (or just looking to kill some time indoors with the cold weather!) check out this fun little puzzle piece wreath project! Using simple puzzle pieces you can create a wreath ornament, tiny picture frame, holiday card, or even a magnet for your fridge! This is great to use both at home for a kid's craft or as a classroom holiday craft! This is one DIY project that won't break your budget but is still a blast to make! Take a peek below at how to make your own!
Puzzle Wreath Supplies:
Puzzle Pieces (buy cheap puzzles at thrift stores and yard sales)
Green Craft Paint
Paint Brush
Glitter
Hot Glue Gun
Ribbon
Faux bird (optional)
Puzzle Wreath Directions:
1. Make a layer of puzzle pieces directly inside their box or on a sheet of newspaper.
2. Apply a generous coat of green paint. (I personally like acrylic paint
but if you have little ones I recommend something washable.)
3. While the paint is still wet sprinkle glitter
generously on the pieces. Let dry completely.
4. Once the paint and glitter are dry begin dabbing a bit of hot glue on the back of each puzzle piece. Press the puzzle piece to the edges of another piece and press firmly down until they are adhered.
5. Continue this process, working your way in a clockwise fashion.
6. Once your wreath is created you can now attached your bird (or any other decoration desired). For an additional accent you can make a small bow our of ribbon and glue it to the top of the wreath. If you want an autism wreath paint bright colors on a few puzzle pieces accordingly and then glue them onto the wreath.
7. To finish glue a piece of ribbon
to the back of the wreath or simply loop it through the wreath and tie a knot at the end for hanging!
See how simple it is? It's a great project for kids to take up a little time and really give them some ownership for the project that they have created. The final product is such a cute piece, perfect for gift giving or just using in your own holiday decor. So why not round up the supplies to make your own? You are sure to create something just as sweet! 
Festive Holiday Supplies:
More Festive Craft Ideas: