Apps & Tips to Learn a New Language this Year
This post may contain affiliate links, view our disclosure policy for details.
This post brought to you in collaboration with U.S. Cellular.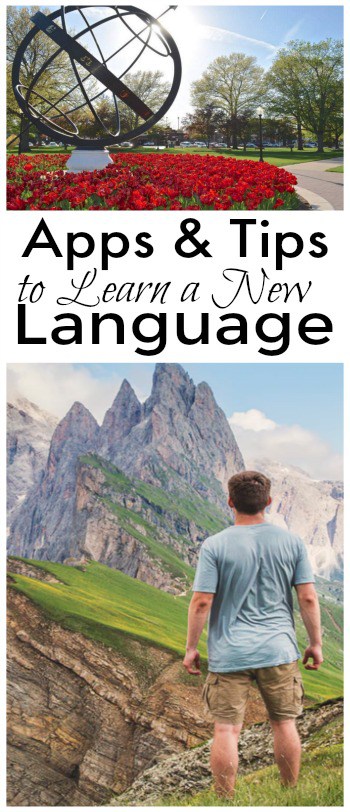 One really awesome thing about smartphones (I mean really, how do you narrow it down?!) is that you can take learning with you anywhere you go! That includes crossing a language barrier! There are so many awesome apps to help you not only learn a new language but also to translate a conversation when you don't know the language or need a little help. The world is getting smaller by the minute with amazing technology like this! Imagine going anywhere in the world and having your own personal translator in your pocket! Just grab your iPhone 7, Galaxy S7, or whatever version phone you have and download some of these apps below to check out! (Pssst – having a good strong network like U.S. Cellular is helpful!)

A 2015 study by the Pew Research Center found that more 1/3 of respondents have used their smartphone to take a class or access educational content, such as learning a new language.
Enhance your education in bite size pieces! This provides an opportunity that traditional language education cannot. No more sitting in long classes on your tight schedule – pick up a few words and phrases as you're running errands or standing in line at the grocery store! This technology is SO different than it was when I got my first phone! All you could do back then was call and text! This is one area where convenience is a step ahead.
Now that my kids are also learning Spanish in school these apps and ideas have specifically helped my family further our language learning! My kids have been watching their movies in Spanish and been using some of the below apps to help them learn new words and phrases.
Language Learning Apps:
*Duolingo – offers 24 languages; available for Android and iOS
*Babbel – offers 13 languages
*Mind Snacks – choose fun games in 7 different languages; iTunes store
Language Translating Apps:
*Microsoft Translator – Translate text or speech, have translated conversations, and even download up to 60 languages to use offline. Android & iOS
*Google Translator -Translate between 103 languages by typing & 32 in instant conversation. Android & iOS
*iTranslate
*German English Dictionary and Translator by BitKnights, LLC
*Pleco Chinese Dictionary for Chinese
TIPS for Learning a New Language:
*Listen to podcasts & watch videos in that language! (news, movies, cartoons, etc)
*Change your smartphone's language to the one you are trying to learn.