Alvin and the Chipmunks ChipWrecked DVD Review
This post may contain affiliate links, view our disclosure policy for details.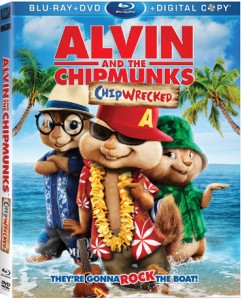 My boys are just IN LOVE with Alvin and the Chipmunks, so when ChipWrecked came out I was thrilled! Not only did I know how excited my kids would be to watch it but I knew it would be a great family-friendly and clean movie to watch! We watched it last Friday night for our special family movie night. As an adult I LOVED it – it was VERY enjoyable to watch. Funny, cute, and a fantastic story line. I don't have to tell you how much my boys liked it!
Below you can read the synopsis from the press release:
"The Chipmunks, Chipettes and their caretaker Dave Seville (Jason Lee; "My Name is Earl") embark on a trip of a lifetime aboard the Carnival Dream cruise ship. Seeking fun and excitement, the Chipmunks turn the luxury cruise liner into their own personal playground. But the ultimate vacation quickly becomes a disaster when the Chipmunks, Dave and Carnival cruise pelican mascot, who turns out to be the chipmunks' old manager, Ian Hawke (David Cross; Megamind), accidentally fall overboard and find themselves 'chipwrecked' on a remote island. Stuck in an unfamiliar territory, the six furry castaways are separated from Dave and must figure out a way to survive on their own for the first time in their lives."
It's been a while since I've watched any of the Alvin & the Chipmunks episodes but I loved this movie. It really kept you guessing as to what was coming next and really made me fall in love with the characters! It was a perfect and light-hearted family movie night. And of course I found myself reminiscing and wishing that I myself was on a cruise ship on a far-off vacation somewhere!! They added in some pretty hilarious movie comparisons that kids won't get but will love anyway. My boys are (almost) 5 & 2 years old and I had no problems letting them watch this. It's safe for kids of all ages to enjoy. It's certainly one of those movies I won't mind watching over & over again with my kids!
PLUS Below you can click on & print some fun activity sheets!
Disclosure: I was not compensated for this post. I received a DVD to watch in order to form my own opinions. All opinions are 100% my own.