Zombie Books for Kids by Age, Theme & Category
This post may contain affiliate links, view our disclosure policy for details.
Below is a huge list of zombie books for kids categorized out in various ways so you can easily find what you want! Or you can use our quick table of contents guide below! If you're looking for a unique killer zombie gift I highly recommend shopping on Etsy here!
Zombie Books for Girls
Zombie Choose Your Own Ending Books
Zombie Coloring, Origami, Art & Drawing Books
Zombie Joke Books for Kids
Plants vs. Zombies Series
Zombie Holiday Books
Zombie Beginner & Chapter Books
Zombie Books by Grade Level
One of my specialties per se if seeking out and really finding out what motivates a kid. All kids are different and where some may love dinosaurs, princesses, or space shuttles not all kids are the same. Sometimes you get that student that is just downright tough to figure out what makes them tick.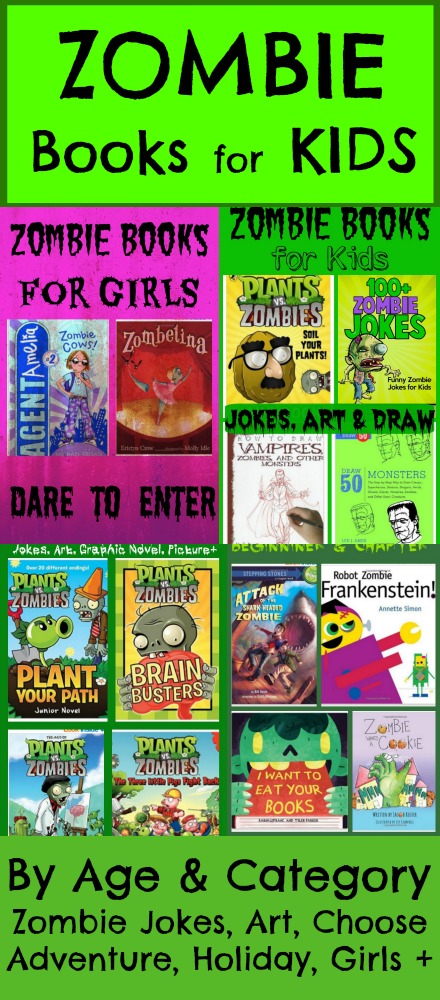 My son is one of those – my OWN son! He's not really into any thing and the very few requests he has for things are so randomly off the wall we have a tough time pegging any particular interest for him. His teacher is in the same boat!
When it comes to reading I like to give him Ripley's books
, leveled fact books and I Spy type books
to really catch his interest (although he's been enjoying The Notebook of Doom series
with his brother lately!).
I noticed that out of all the book roundups and lists out there there just aren't very many ZOMBIE Books for kids listed in one spot. I'm NOT talking blood and guts and gore – I'm talking that cool sometimes edge gripping zombie fun that seems to fascinate kids – especially my boys.
I have spent HOURS and HOURS searching and putting this list together by category and then by age towards the bottom so please PIN this HERE, share it with your zombie lovers (that don't want scary gore!) and maybe add a few to your collection.
There are some fun zombie joke books and zombie art drawing books that do well for neutral territory! I personally love the "choose your own ending" zombie books!
Zombie Books for Girls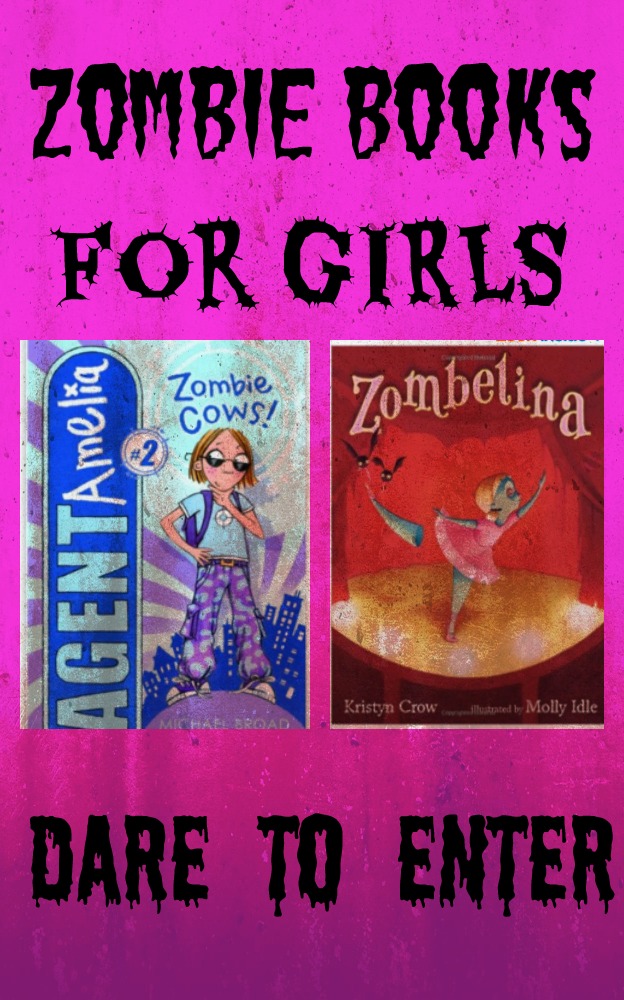 Zombelina by Kristyn Crow
Zombelina Dances the Nutcracker by Kristyn Crow
Zombie Cows: Agent Amelia #2 by Michael Broad


Zombie Choose Your own Ending Books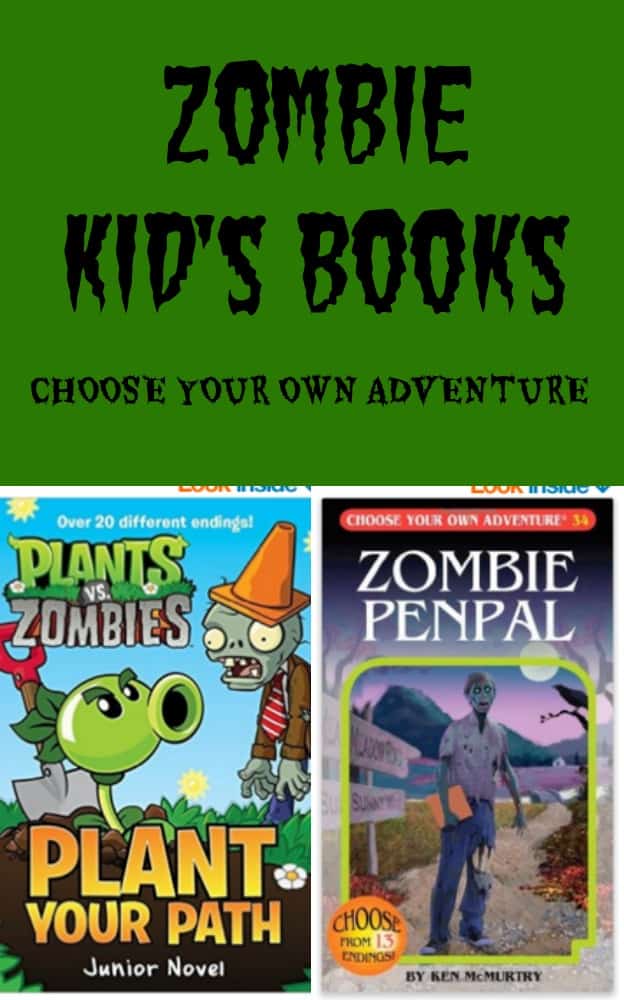 Zombie Penpal (Choose Your Own Adventure #34) by Ken McMurtry
Plants vs. Zombie: Plant Your Path Junior Novel by Tracey West
Scooby Doo: The Fright at Zombie Farm
Zombie Coloring, Origami & Art Drawing Books
How to Draw Vampires, Zombies and Other Monsters by Mark Bergin
Zombigami: Paper Folding for the Living Dead by Duy Nguyen
Ten Silly Zombies Jumping on the Bed Coloring Book by Anthony Giangregorio
Draw 50 Monsters by Lee J Ames
Little Zombie Activity Book Collection by Lauren Farnsworth
Zombies Coloring Book
Zombie Coloring Book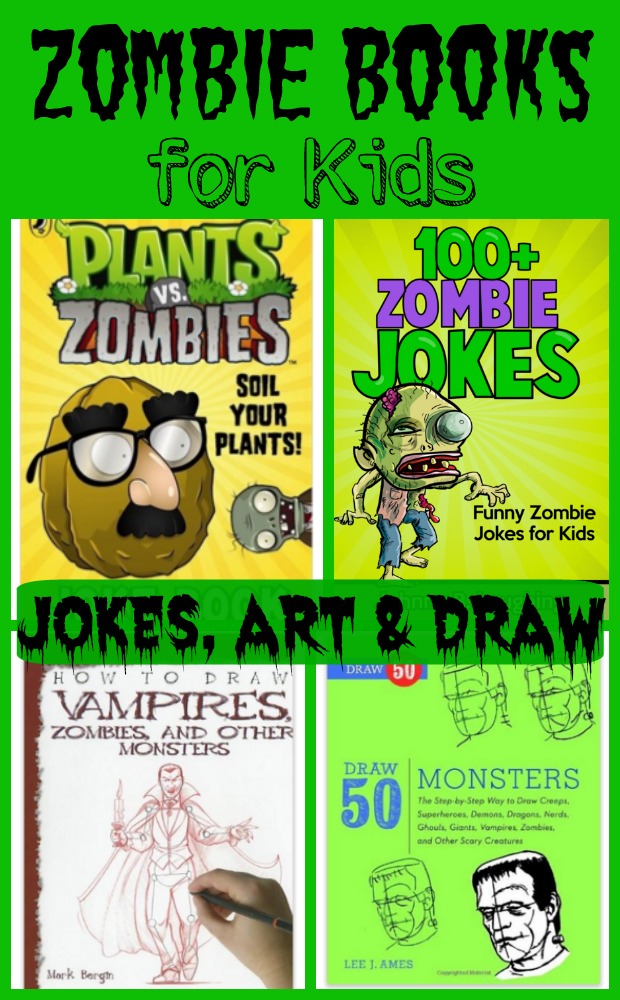 Zombie Joke Books for Kids
Plants vs. Zombies: Soil Your Plants
Creeper, Zombie, Skeleton, & More Jokes
Kids Jokes: 100+ Zombie Jokes for Kids

Plants vs Zombies Series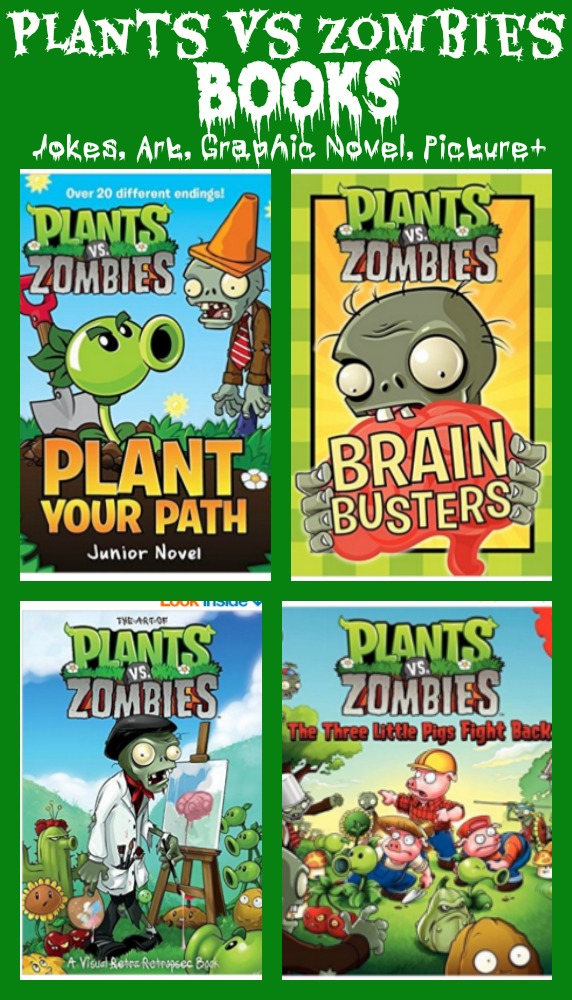 Plants vs. Zombies: OFFICIAL Guide to Protecting Your Brains
Plants vs Zombies: Save Your Brains Level 2
Plants vs Zombies: Timepocalypse by Paul Tobin
Plant vs Zombies: Brain Busters

Plants vs Zombies: Grown Sweet Home
The Art of Plants vs Zombies
Plants vs Zombies: Soil Your Plants Joke Book
Plants vs Zombies: Bully For You

Plants vs. Zombies: Garden Warfare (Graphic Novel)
Plants vs. Zombies: Lawnmageddon by Paul Tobin
Plants vs Zombies: Plant Your Path Junior Novel
Plants vs Zombies: The Three Little Pigs Fight Back (fairy tale)
Plants vs. Zombies: Brains and the Beanstalk (picture book)

Zombie Holiday Books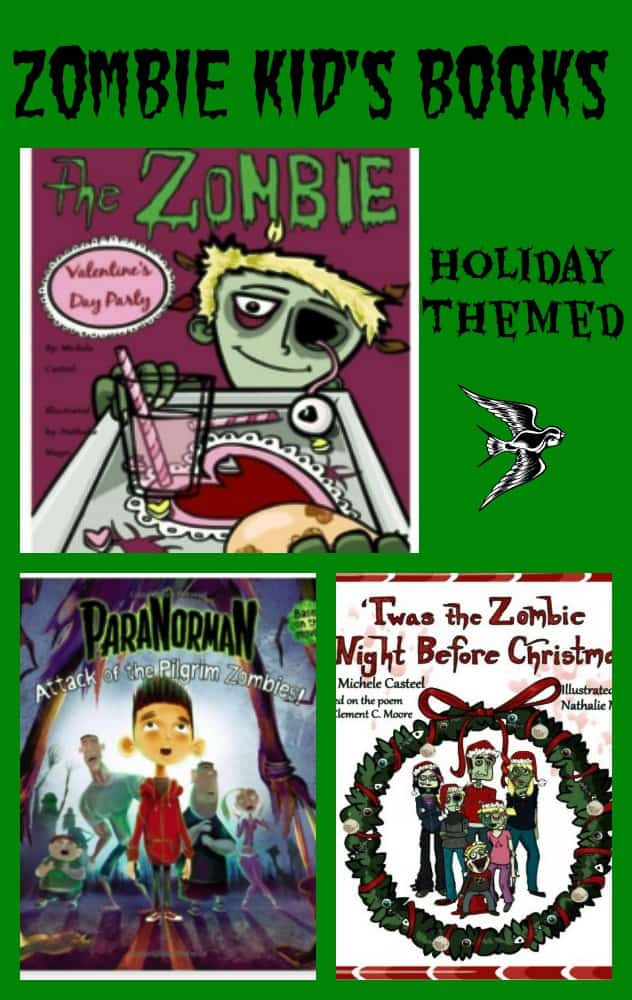 Zombie Valentine Day Party by Michele Casteel
ParaNorman: Attack of the Pilgrim Zombies by Annie Auerbach
Twas the Zombie Night Before Christmas by Michele Casteel

Zombie Beginning & Chapter Books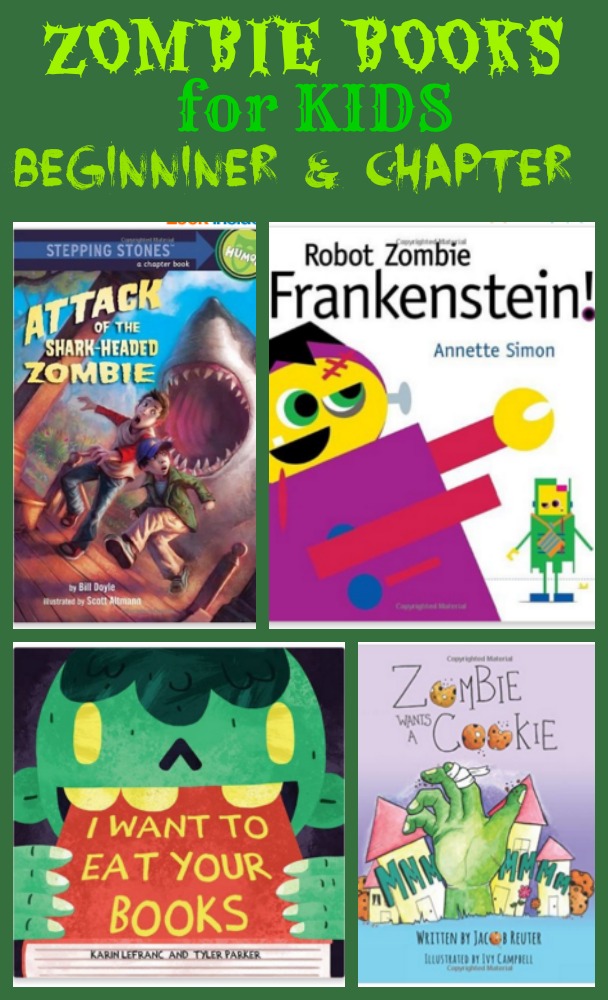 Ant Man: Zombie Repellent: A Mighty Marvel Chapter Book
Attack of the Shark Headed Zombie: Stepping Stone
I Want to Eat Your Books by Karin LeFranc
Plants vs Zombies: Save Your Brains Level 2
The Very Hungry Zombie Parody
by Jonathan Apple
Zombies Can Bite
by Joseph Luby
Zombie Wants a Cookie by Jacob Reuter
Robot Zombie Frankenstein
by Annette Simon

Zombie Books for Kids Ages 4-8
Scouts Guide to Zombie Survival: Everything You Need to Know to Identify & Survive
Abigail and Her Pet Zombie: Zoo Day

Abigail and Her Pet Zombie: Summer

Zombie Agent Amelia: Zombie Cows by Michael Broad
Search for Fog Zombie Mystery

Zombelina
by Kristyn Crow
Zombelina Dances the Nutcracker by Kristyn Crow
Zombie Valentine Party
by Michele Casteel
Peanut Butter Brains: A Zombie Culinary T
ale
Zombie in Love
by Kelly DiPucchio
Zombie in Love 2 + 1
by Kelly DiPucchio
ParaNorman: Attack of the Pilgrim Zombies
by Annie Auerbach
My Pet Zombie
: Fearless Children's eBook
Scooby Doo Rock n Roll Zombie

Fables of the Undead: Beauty and the Beast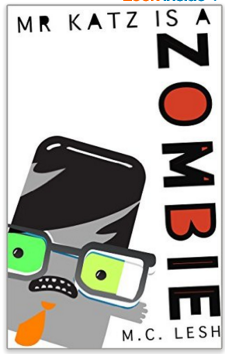 Zombie Books Kids for Ages 6-9
Stink and the Midnight Zombie Walk
by Megan McDonald

There's a Zombie in my Bathtub: Here's Hank by Henry Winkler
Zombie Zone: A to Z Mysteries by Ron Roy
Zombie Books Kids for Ages 7-10
Scream Team: The Zombie at the Finish Line

Good Night Zombie and other Scary Tales by James Preller
Scooby Doo: Choose Your Ending: The Fright at Zombie Farm
Zombies Don't Play Soccer: Adventures of the Bailey School Kids by Debbie Dadey
Horrid Henry and the Zombie Vampire by Francesca Simon
Zombie Kid Diaries 1: Playing Dead

Zombie Kid Diaries 2: Grossery Games
Zombie Kid Diaries 3: Walking Dad
Boxcar Children: The Zombie Project

Scary School #4: Zillions of Zombies by Derek the Ghost
Night of the Homework Zombies
Zombie Books Kids for Ages 8-12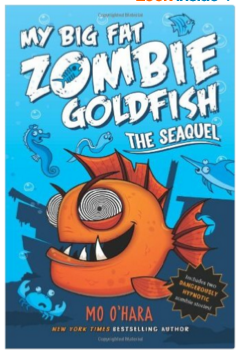 The Zombie who Visited New Orleans: Field Trip Mysteries by Steve Brezenoff
Zombie Kitty: Chronicles First Day of School
ebook
That's Not Your Mommy Anymore by Matt Mogk
Kate Walden Directs Night of the Zombie Chickens
Mr. Katz Zombie: Goethalsburg Ghost Squad ebook by Margaret Lesh
Monsters, Zombies, Vampires & More: A Monstrous Encyclopedia by Parragon Books
Hardy Boys: New Case Files – Crawling with Zombies
My Rotten Life: Nathan Abercrombie Accidental Zombie by David Lubar
Grandma Vs. Zombies Family Avengers
Zombie Penpal: Choose Your Own Adventure
Can You Survive the Zombie Apocalypse?
Goosebumps: Hall of Horrors: Why I Quit Zombie School
Goosebumps Most Wanted: Zombie Halloween
Zombie Town by R.L.Stine
Do NOT Feed the Zombies! ebook
Zombie Chasers
by John Kloepfer
Zombie Chasers: Undead Ahead
by John Kloepfer
Zombie Chasers: World Zombination by John Kloepfer
Fables of the Undead: Rapunzel Tower of the Dead
Fins Fury Big Zombie Goldfish

The SeaQuel Big Zombie Goldfish
My Big Fat Zombie Goldfish: Any Fin is Possible
Jurassic Carp: Big Zombie Goldfish
Minecraft Zombie Books Kids for Ages 9-12
Creeper, Zombie, Skeleton & More Jokes
Diary of a Zombie Family
Diary of a Minecraft Zombie: Bullies & Buddies
Diary of a Zombie Villager: Show Me How to Zombie
Diary of a Minecraft Zombie: A Scare of a Dare
Diary of a Minecraft Zombie 3: When Nature Calls
Hard Core Zombie books for Teens & Older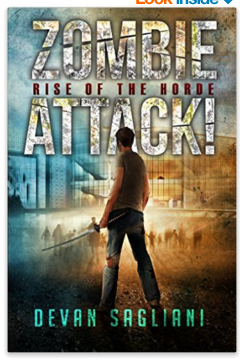 Zombie Boy Press Start Adventures of Zombie Boy
Zombie Survival Guide the Complete Protection from the Living Dead
Once Upon a Zombie Book: The Color of Fear
Zombie Attack: Rise of the Horde ebook