Put Me In The Zoo Book Snacks for Kids
This post may contain affiliate links, view our disclosure policy for details.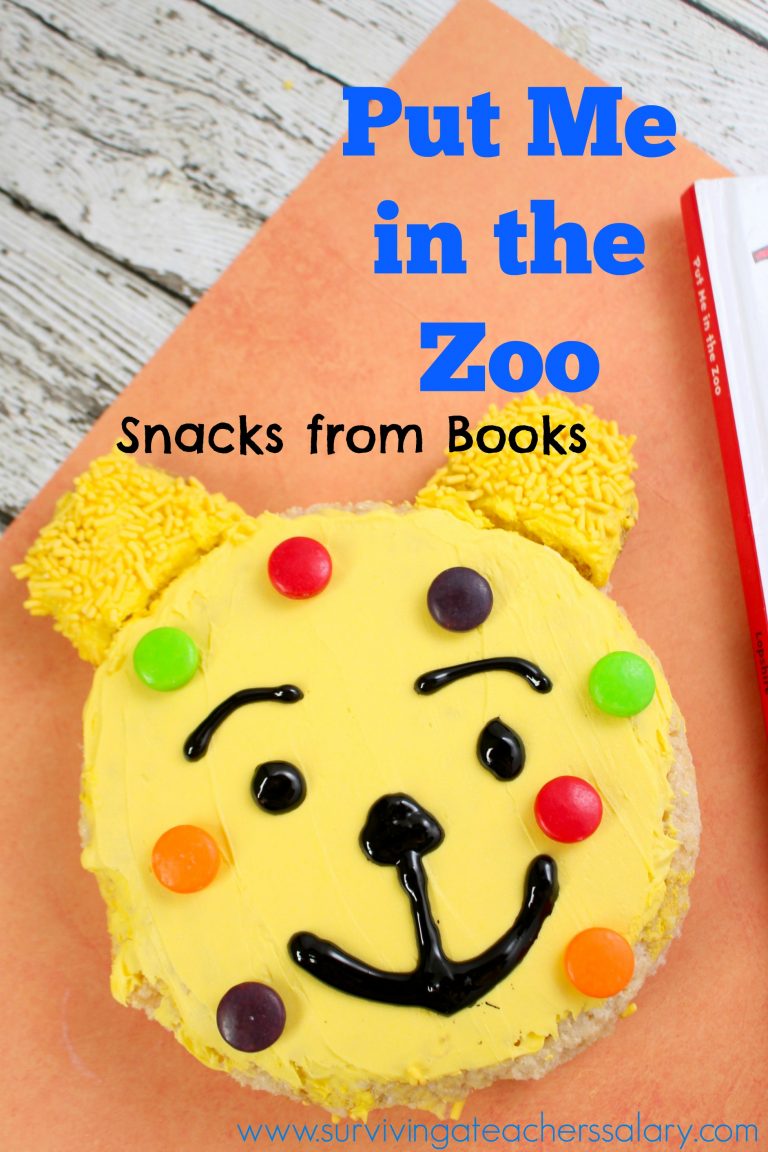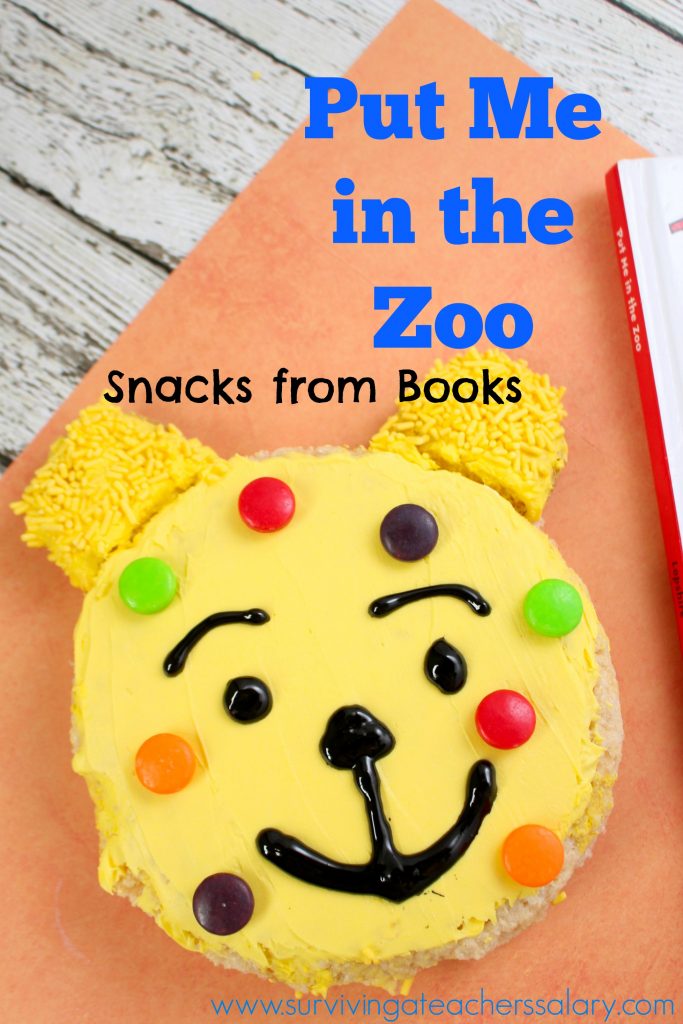 My kids LOVE to snuggle up and read books with me and then spend the day creating crafts and snacks based on the book that they read. It's a great way to not only get them interested in reading but to fill up their day with related activities! And if you're a stay at home mom or homeschool mom this is perfect to do as a once a week preschool or kindergarten activity. I like to call it "Snacks from Books"! With Dr. Seuss Day and Read Across America coming up this Put Me in the Zoo children's book fits right in! So snuggle up with your child, read Put Me in the Zoo, make this paper plate craft and get started on some yummy snacks below! If you don't want Rice Krispies you can use a rice cake instead!
This recipe will yield 4-5 Put Me In The Zoo Rice Krispies treats.
INGREDIENTS FOR Put Me in the Zoo Krispies:
*1 cup (2 sticks) unsalted butter
*Two 10 oz. bags of mini marshmallows
*10 cups Rice Krispies cereal
*1/4 teaspoon sea salt (optional)
Directions for Put Me in the Zoo Krispies:
1.   Grease a 9×13 pan and set aside.
2.   In a large sauce pan, melt the butter over low heat.
3.   Add the marshmallows to the melted butter, stirring constantly.
4.   Once the marshmallows have melted, remove from heat and stir in the cereal and salt until well-coated.
5.   Using a greased rubber spatula
, transfer the cereal mixture to the prepared pan and press down firmly and evenly.
6.   Allow the Rice Krispies to cool in the pan completely before the assembly process.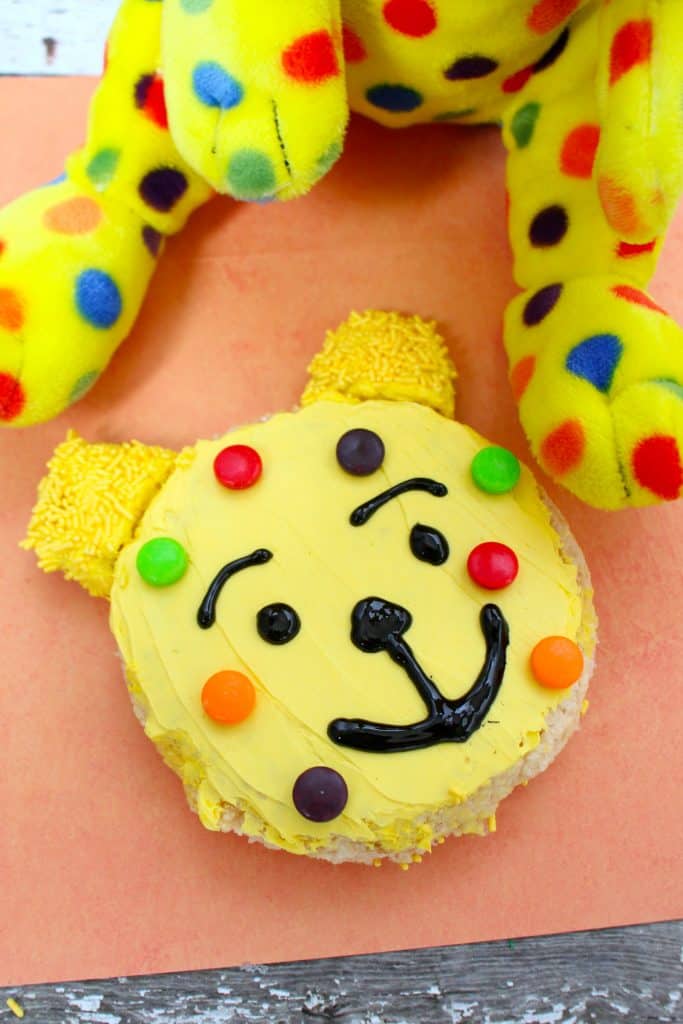 Ingredients to Decorate Put Me in the Zoo Leopard:
*Pan of prepared Rice Krispies (from above recipe) or Rice Cake
*2 T solid shortening
*3/4 cup Wilton yellow chocolate melts (or could use white melts with yellow dye)
*10 large Nilla Wafers
*Candy sprees
– large bag
*Black write-on gel
*Yellow sprinkles – optional
Directions to Decorate  PUT ME IN THE ZOO Leopard:
1.  With a jumbo circle cookie cutter
, cut out 4-5 jumbo circles from your prepared Rice Krispies treats.
2.  Line a baking sheet with wax or parchment paper. Set aside.
3.   In a medium mixing bowl, microwave the shortening for 40 seconds or until melted.
4.   Add the yellow chocolate melts and stir until completely melted.
5.   Spread the melted yellow chocolate on top of each rice crispy circle and place on the lined baking sheet for at least 30 minutes to "set."
6.   Meanwhile, cut off the bottom of a Nilla Wafer cookie and dip into the melted yellow chocolate. Firmly press the cookie into the upper top side of the leopard head to resemble an ear. Hold in place for 15 seconds. Repeat on the other side with another cookie. ( If the leftover melted yellow chocolate begins to harden, microwave in five second intervals until melted again.) Optional: sprinkle yellow sprinkles
on the ears before the yellow chocolate dries.
7.  Repeat step 6 on all of the Rice Krispies leopard heads.
8.   With the black write-on gel
, pipe the eyes, nose and mouth on each leopard face.
9.  To make the spots –  Gently press Sprees candies pieces onto the face, alternating colors.
10.   ENJOY!!