Watermelon Paper Plate Craft & 20+ Recipes & DIY Activities
This post may contain affiliate links, view our disclosure policy for details.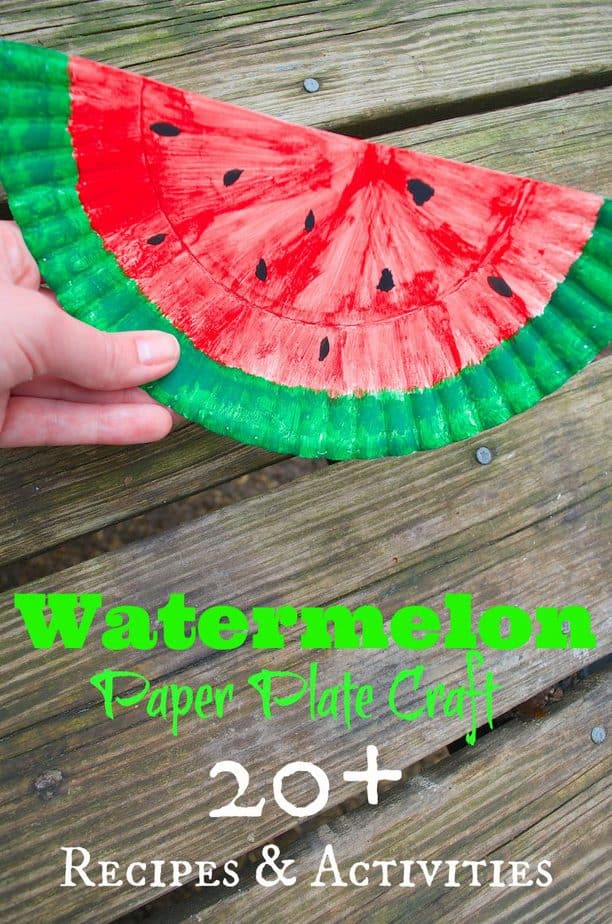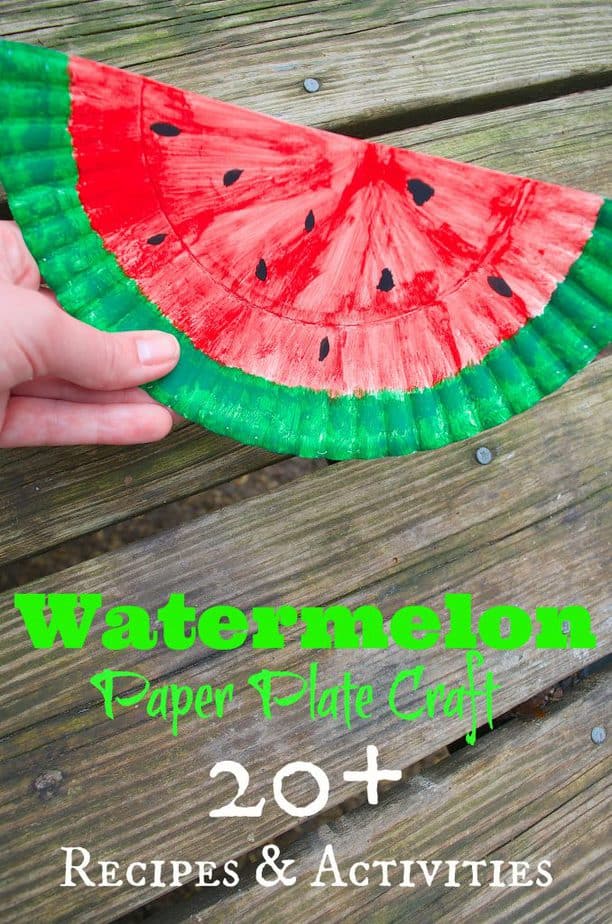 There is just something that really draws you in about fruit sliced crafts, recipes, activities, and decor! I never really think twice about it until I start searching for fruit themes and I just can't stop staring at cool pictures of watermelon slices, orange slices, fruit themed crafts, DIY tutorials, recipes and more!
Normally when we buy watermelon it's simply just to eat as is but I NEVER thought of turning it into a jello cake, soda, lemonade, fruit leather, or the zillions of other ideas I saw! For right now I am focusing on NO MESS kid crafts and creating watermelon crafts is a lot less messier than eating them! (although not as tasty!)
This craft is great for preschool age and younger children BUT if you have older kids I have an AWESOME idea for you! You can easily create a watermelon "purse or bag" by painting on the bottom side of the paper plate, glueing two halves together, and adding a strip of ribbon or string to carry it! VOILA! Fill it up with treats at a party or with DIY spa recipes at a teen summer bash. Super easy to do with a variety of age groups! If you're doing it with elementary age kids or younger pair it up with The Watermelon Seed children's book! It's cute!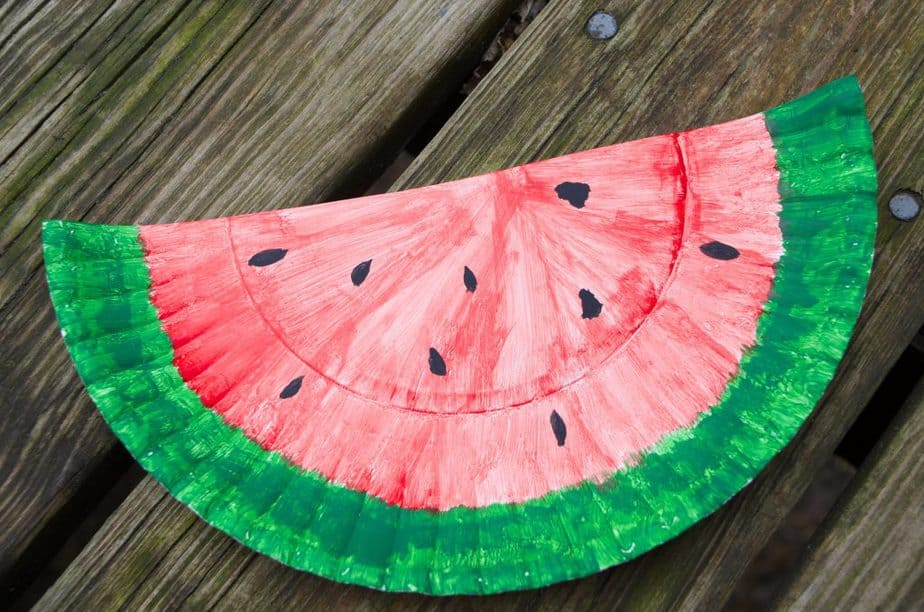 The basic idea is to cut a (white) paper plate in half then paint or color the plate to look like a watermelon as shown above! For this watermelon paper plate craft I used acrylic paint but purposefully left it light and streaky to define more texture and give it a more realistic look but you can definitely create yours bold with no streaks! No 2 will be the same! Here are some other COOL Watermelon Crafts & Recipes I found below!
20+ OTHER Watermelon themed Crafts, Recipes & MORE!
WATERMELON CRAFTS:
DIY Watermelon (& Fruit Slices) Umbrella
Watermelon DIY Wrapping Paper
DIY Watermelon Napkins
Watermelon Soap Tutorial
NO SEW Watermelon Wreath
Watermelon Flower Center Piece
Watermelon DIY Sneakers and HERE
Watermelon Pinata
Watermelon Moon Sand
Watermelon Perler Bead Keychain
Watermelon Serving Spoons
WATERMELON RECIPES:
Watermelon Cake
Watermelon Lemonade
Watermelon Soda
Watermelon on a Stick
Watermelon Fruit Leather (or buy these Watermelon Lollipops!)
Watermelon Cupcakes
Watermelon Cinderella Carriage
Check out these Watermelon themed Books & Items: