Ultimate She Shed Tech Ideas from Best Buy
This post may contain affiliate links, view our disclosure policy for details.
Disclosure: The reviewer has been compensated in the form of a Best Buy Gift Card and/or received the product/service at a reduced price or for free.
We've all heard about "man caves" but now there are "she sheds" and I have to admit – I would LOVE to have an entire room (or shed!) for my own space! Plus to watch the transformation from an old unused shed into a creative work of art is inspiring! And every one of them are just oozing with personality. Just look at the cables in the photo transformed into artwork! What a fun idea to totally deck out your own personal space – it's every girl's dream right!? Best Buy has some pretty fab ideas and amazing She Shed transformations which you can see here. And at the bottom of this post you can read about my dream She Shed!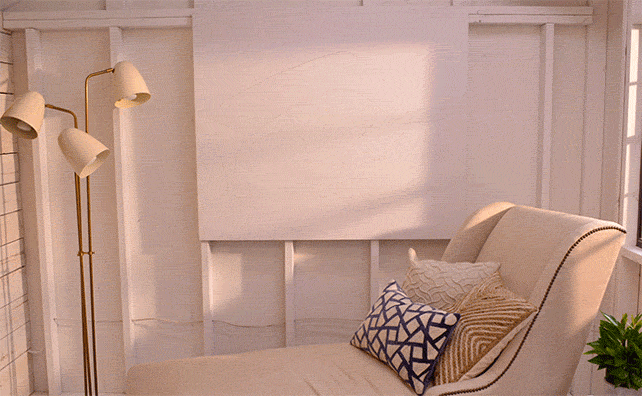 6 Tech Ideas for the Ultimate She Shed
Turn UGLY cables into art – pretty ingenious right?!
Create a hidden refreshment station
Set the mood with your phone
Bask in the sun – even when it rains (my fav!)
Grant access without a key
Extend the wi-fi for endless entertainment
I love entertaining guests, but living out in the country means I have plenty of time to dream big about travel and what I might do if I had an unlimited amount of time to do pretty much nothing. I would want my She Shed to be somewhere that inspired me and takes me away to some exotic destination – all from my comfy lounger in the shed! It's pretty much bringing the world right into my doorstep. I'd want bright open colors, plenty of windows or a skylight to see out, a nice speaker system to blare my music, and vintage maps and globes decorating the walls and ceiling. I'd use all my own photography for decor on the walls and leave a special little bookshelf in the corner for some of my favorite childhood and vintage books that I've collected.
Looking at some of the She Shed transformations really give me the desire to get creative and make my own space! I've been telling my husband someday I'm just going to take over the entire house and go crazy with unique settings and ideas but he's not so sure he's quite ready for what my mind can unleash. I might just need to stick with a She Shed for now!