Step2 Fort Slide-Away Review
This post may contain affiliate links, view our disclosure policy for details.
Remember that post about affordable alternatives to swing sets that I posted a few weeks ago? Here is one of those great products from Step2 that is a great alternative to a full swing set – it's their new Fort Slide-Away. It's a slide AND a fort!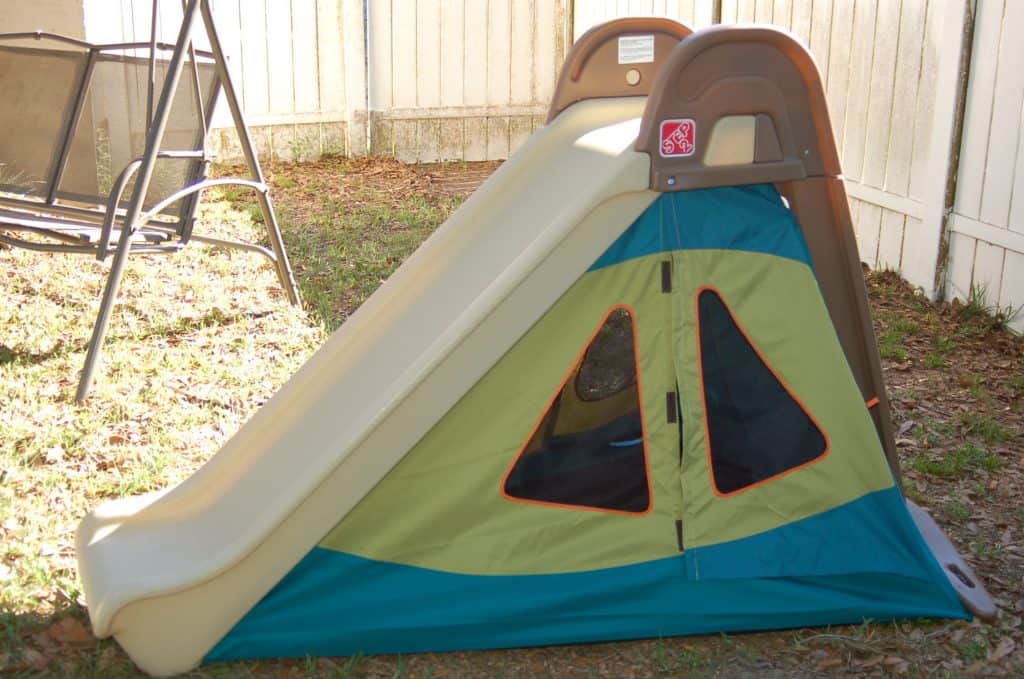 I've never seen such a great slide combo and a free-standing taller slide too! Most of the slides I see are pretty small and for your older preschoolers and elementary kids they are just too small. The slide length is a whopping 5 feet and the tent material is weather and tear resistent (the best kind!). Our family practically lives outside during the spring and summer months here in Florida so any play equipment in our backyard is a huge plus. The one thing we didn't have though was a tent or fort so the Fort Slide-Away was a perfect choice! It's great for your little ones and your older kids.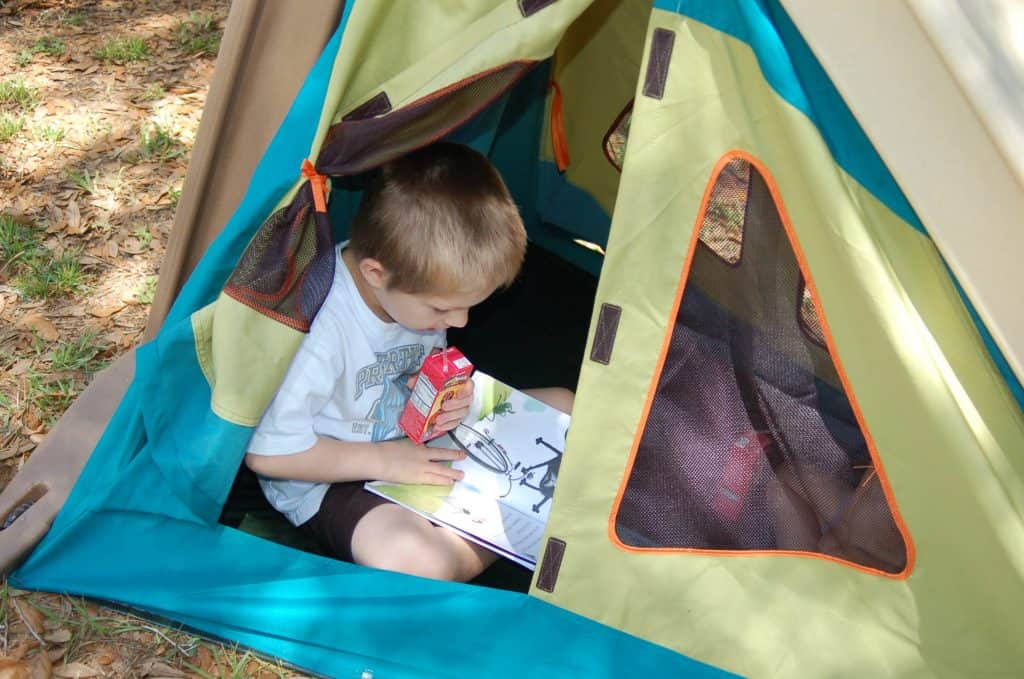 I was thrilled that my kids had a new fort to play in, but my son had other plans for it! He uses the fort under this Step2 slide to read books and eat snacks in! I have seen the kids playing in it and "hiding from monsters" but when things get quiet and I can't find him I know exactly where to look!! As you can see in the picture above the fort has a small tie on it to tie up the flap so you can see inside. There are velcro strips on both sides of the tent to close the flaps as well. It is surprisingly roomy in the tent as the back end of the slide and tent material span out quite a bit. We tried putting the slide in the house when we first set it up but it was way too big for any area we had room for!!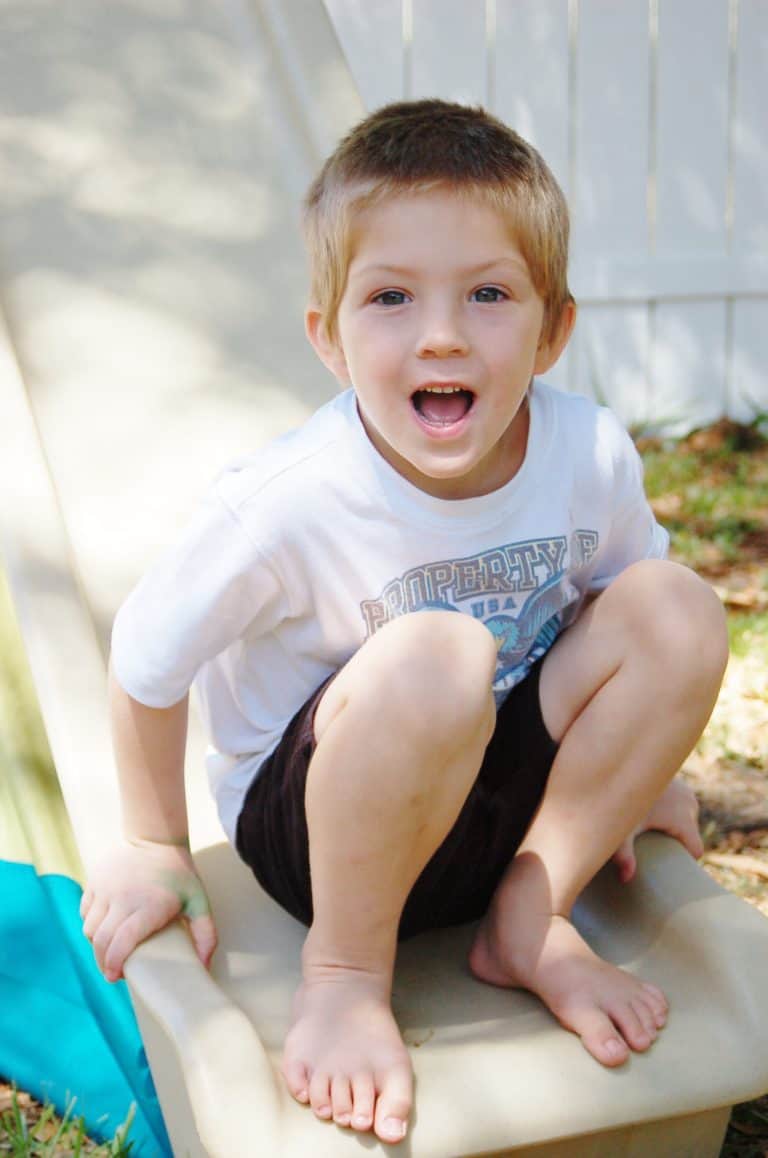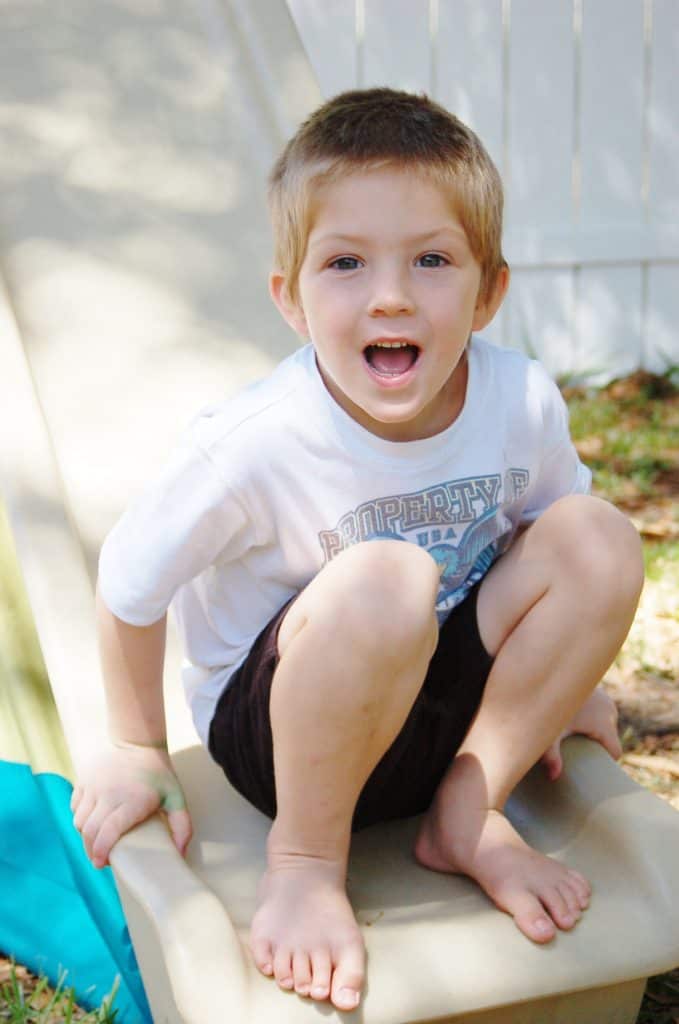 I LOVE this picture of my son! I just had to throw that in there! 🙂 The Fort Slide-Away comes with anchors so that you can easily anchor the slide to the ground outside which works fantastic. It's not top-heavy at all without the anchors but my boys can get quite rambunctious and I feel better about having the anchors there. In fact my 5 year old will sit at the top of the slide and rock it back and forth trying to pull up the anchors like a boat and so far the slide still stands!! I'm pretty impressed with that.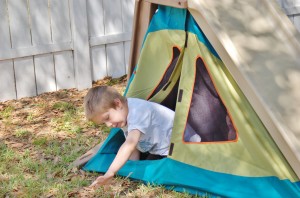 My husband had an easy time setting up the slide and tent so it wasn't very complicated. There is one spot of the tent that tends to pop out once in a while but it's not a big deal and pops right back in. Thankfully it hasn't rained here yet but since the fabric is weather-resistant I'm not expecting any problems. I appreciate that there is a floor inside the tent which helps to keep bugs and moisture from the ground out! Especially when we have SO many red ants in our backyard!
Thanks to Step2 for making another great sturdy kid-friendly product! I love the durable quality of this slide as well as our other Step2 products. We've had some of our items for many years! If you're looking for a great play item that yours kids can hide under and play on – both younger and older kids – I recommend the Step2 Fort Slide-Away. It's nice and tall so it's better suited than the small slides but not too tall that you're worried about your younger ones My 2 year old LOVES this slide and has no problems going up and down by himself.
Disclosure: I was not compensated for this review. I received the above product in order to use and form my own opinions. All opinions are 100% my own.