Dyson DC44 Animal Slim Bagless Handheld Stick Vacuum Review
This post may contain affiliate links, view our disclosure policy for details.
 Admit it – you're BUSY! Heck I'll admit – I am WAY too busy! Which is sometimes a good thing, but when it comes to being too busy to clean – that's not such a good thing. Trust me. I have a pig, a German Shepherd, 2 cats, 2 boys, and hubby & I – and we trek in a LOT of dirt! Between blogging which is pretty much a full time job, carting kids around to school, and volunteering at my husband's school I am pretty stinking busy. That's why I love my Dyson DC44 vacuum so much!
So when Best Buy and Dyson teamed up together and offered me the chance to review the Dyson DC44 Animal Slim Bagless Handheld Stick Vacuum
I KNEW my life would be so much easier! A few of my favorite features that I'll expand on in the post? It's bagless, mounts onto the wall, is cordless, is good in suction, works on hard floors & carpet, and is VERY easy to tote around! Not quite as good as my big regular vacuum but definitely handy to have around! In fact I've grabbed this off of my wall and walked over to our school with it to help teachers vacuum their classrooms. Not to mention that my kids think it is SO cool and are constantly begging me if they can vacuum my floors – priceless!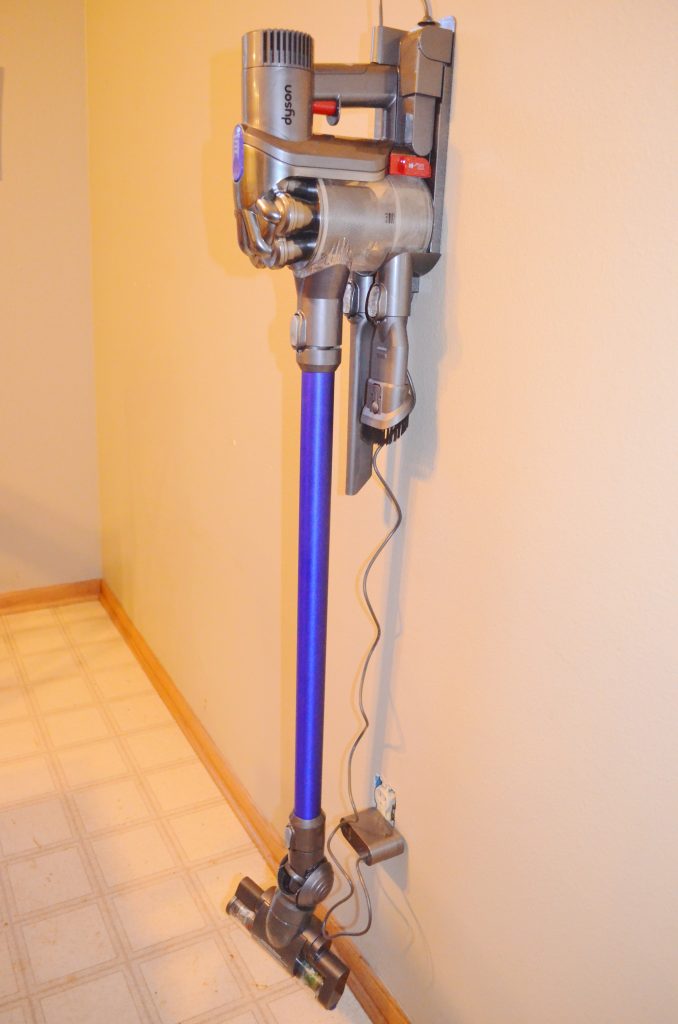 My husband had this Dyson DC44 vacuum mounted on the wall in minutes. It came with all the needed hardware. It DOES need to be mounted near an electrical outlet as you can see the cord is not very long. The wall mount holds all but one of the attachments. The small attachments for furniture and small spaces attaches incredibly easy to the wall mount. There is another head attachment which does NOT attach to the wall mount so you'll have to store that one somewhere else.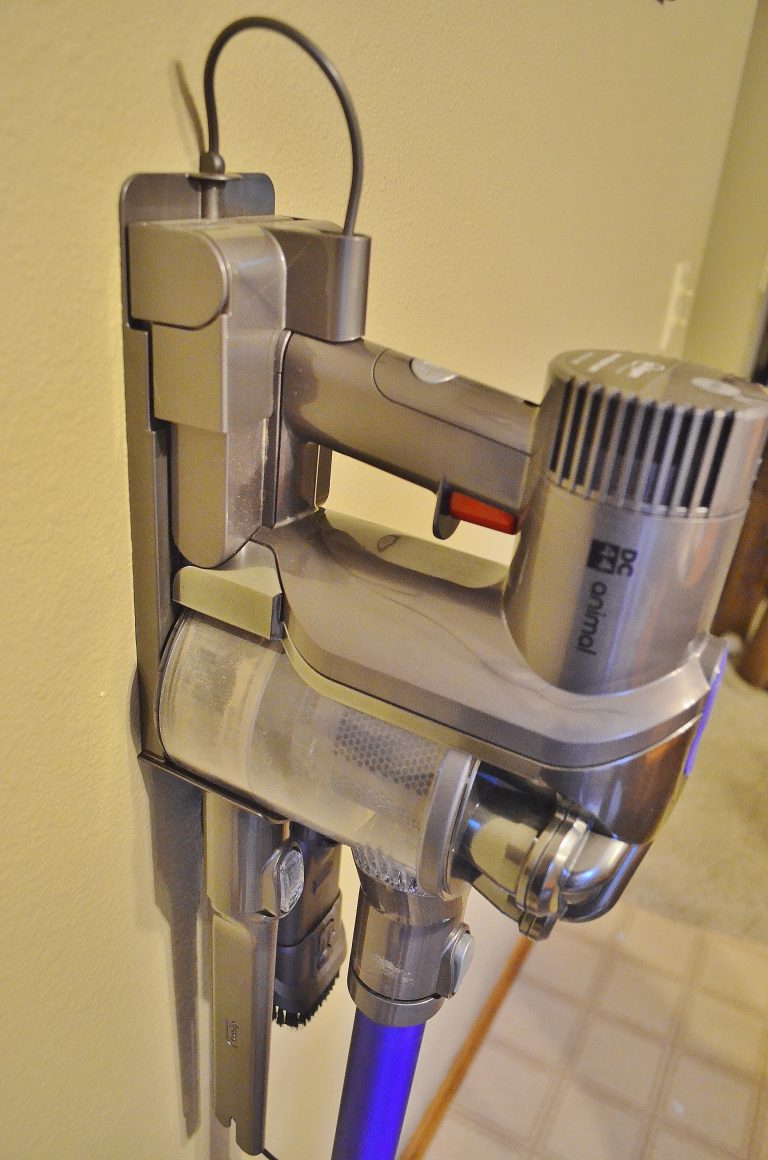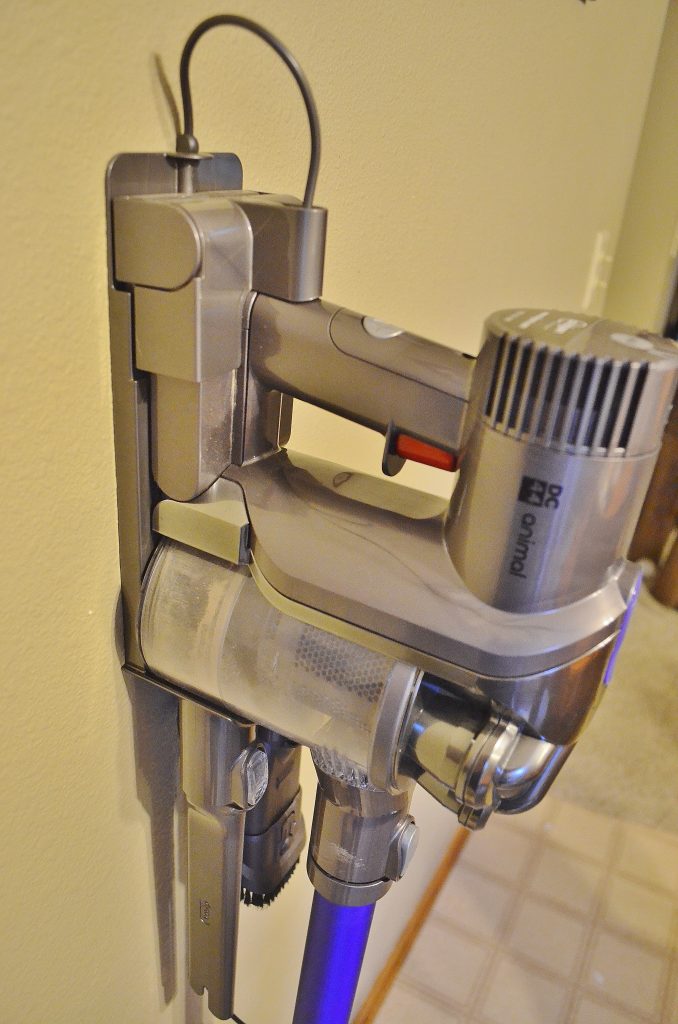 Below you can see the top of the vacuum up close on the wall mount. The electric cord AUTOMATICALLY plugs into the vacuum every time you place it onto the wall mount so you don't even have to worry about plugging it in to charge. I absolutely LOVE this feature!! You can use the vacuum for about 20 minutes, or 8 minutes of MAX boost suction. Then just pop it into the wall mount and let it charge again!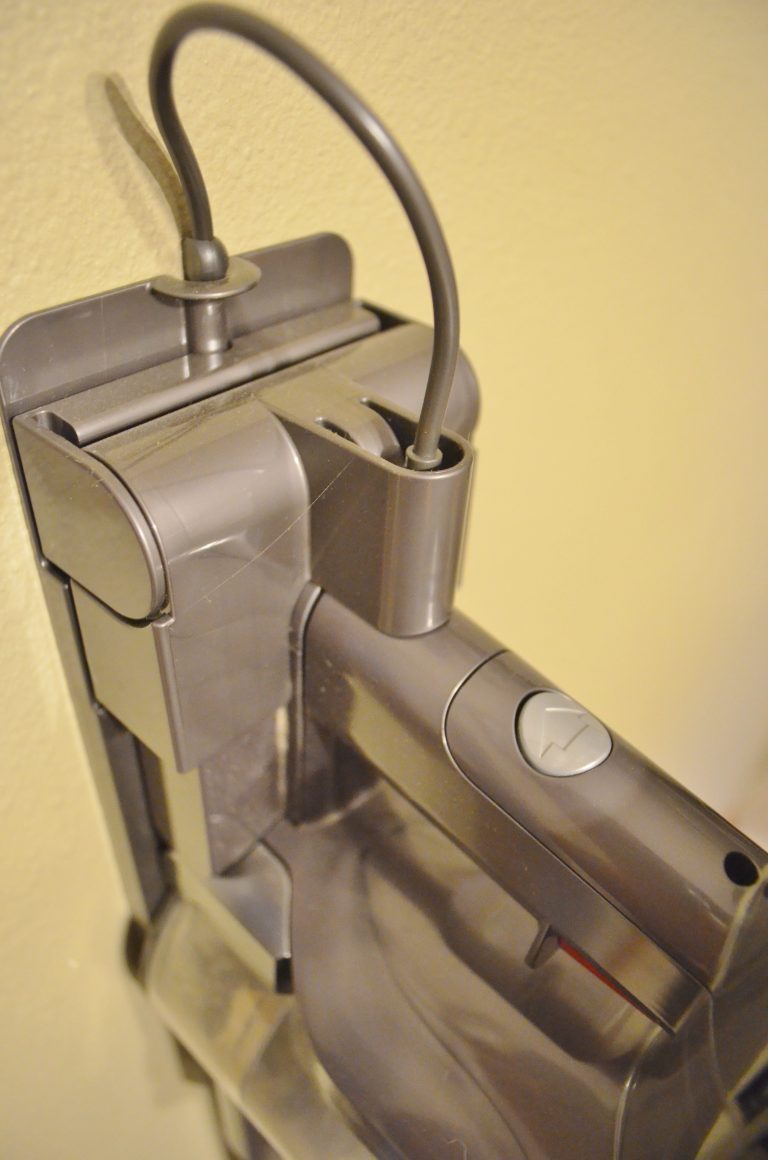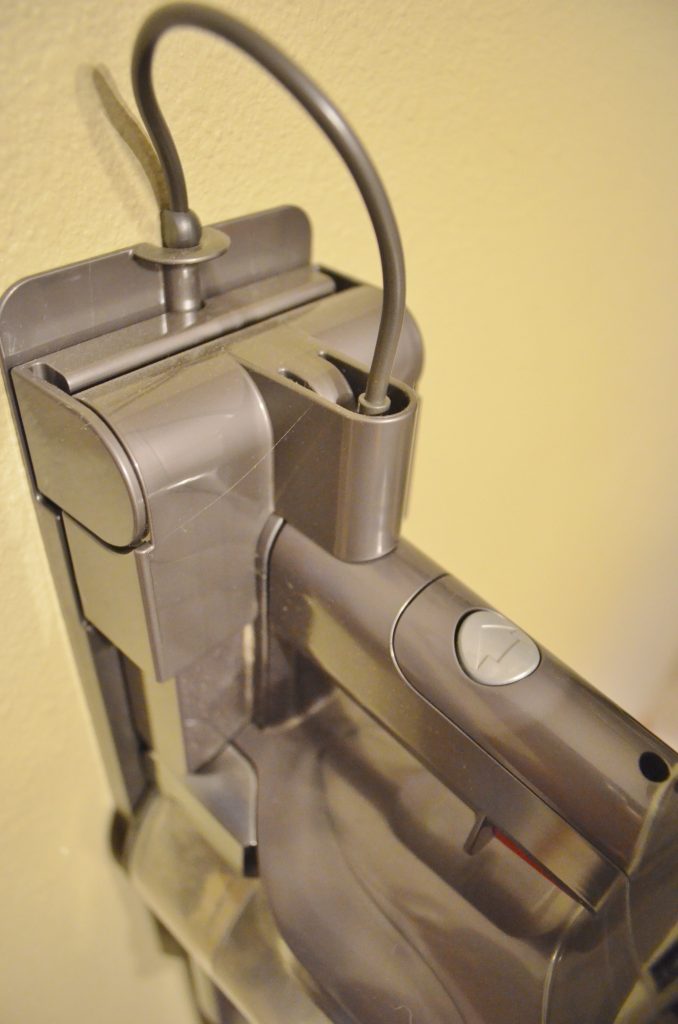 To take the DC44 off of the wall mount it VERY simple. Just press down on the silver arrow button, lift up, and pull out! It's not a heavy machine either so it's pretty easy to manipulate around.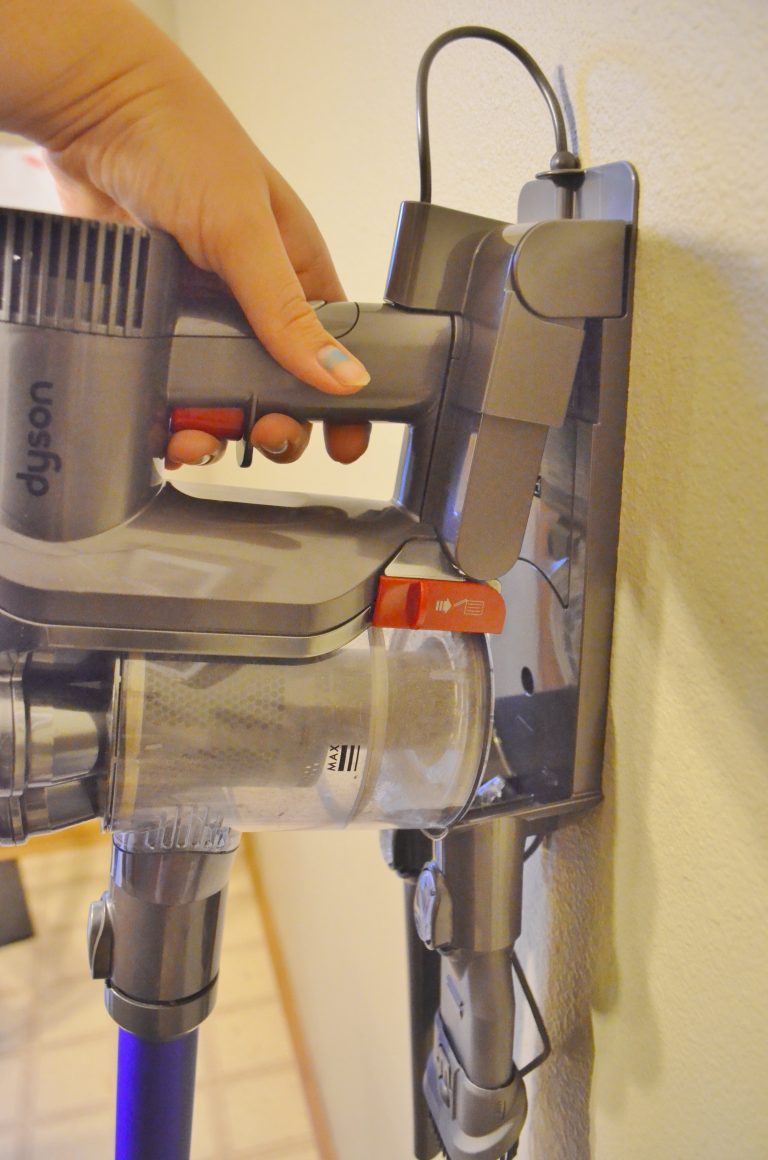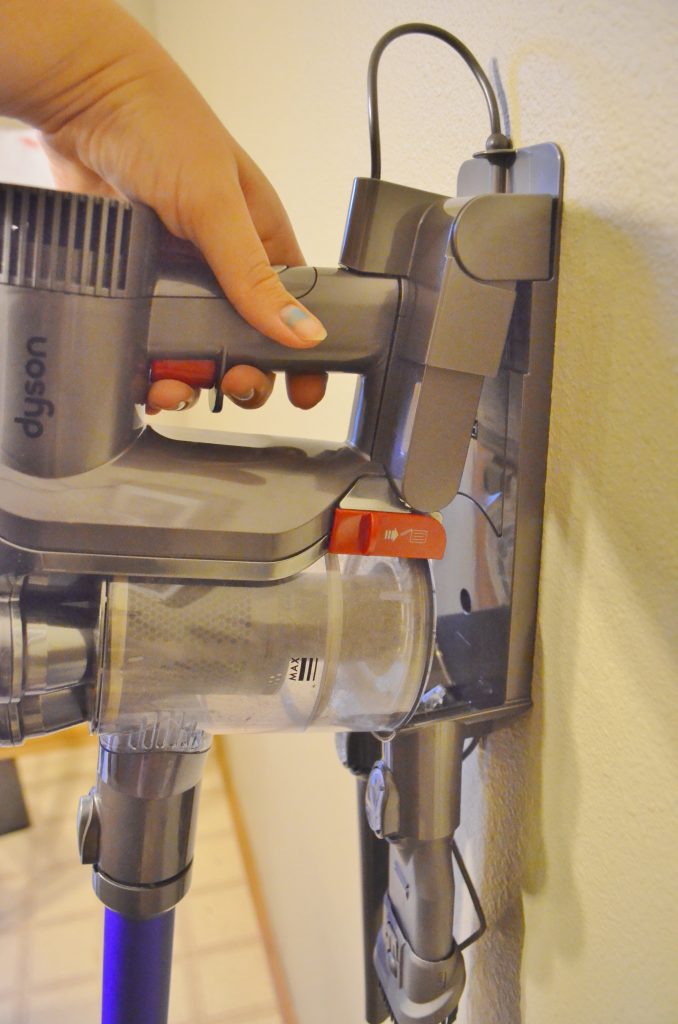 Below you can see what it looks like when the DC44 is off of the wall mount.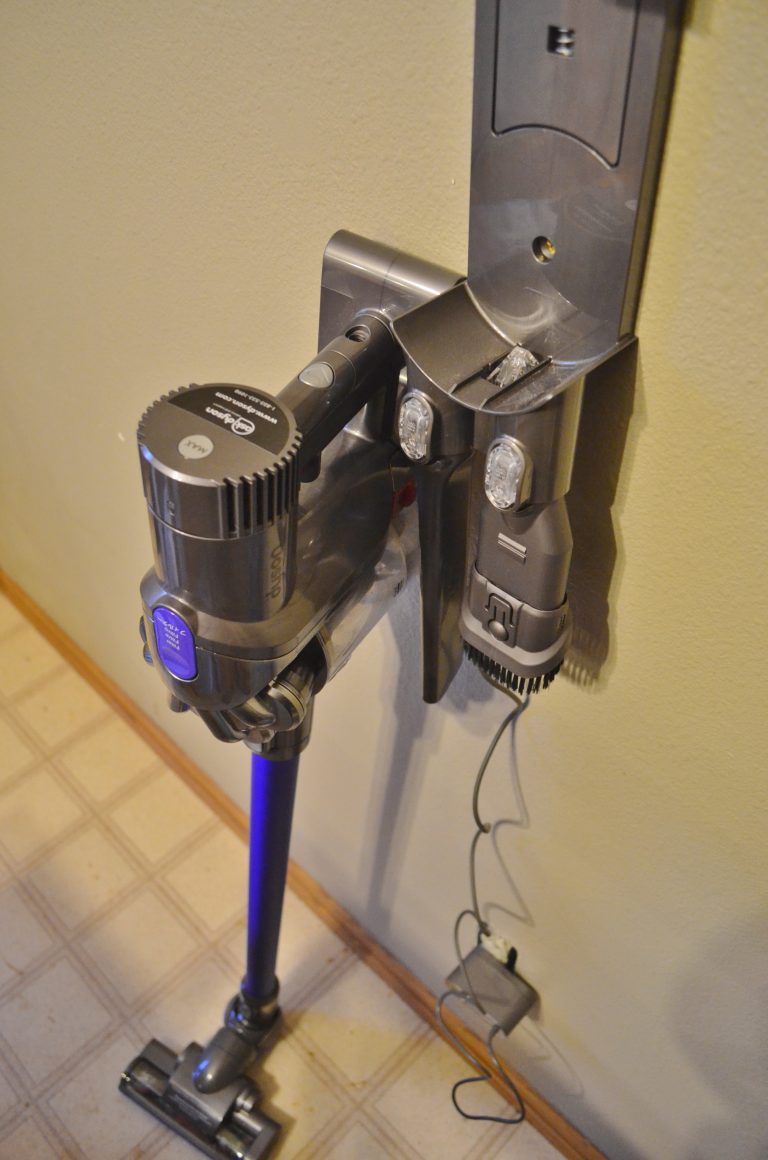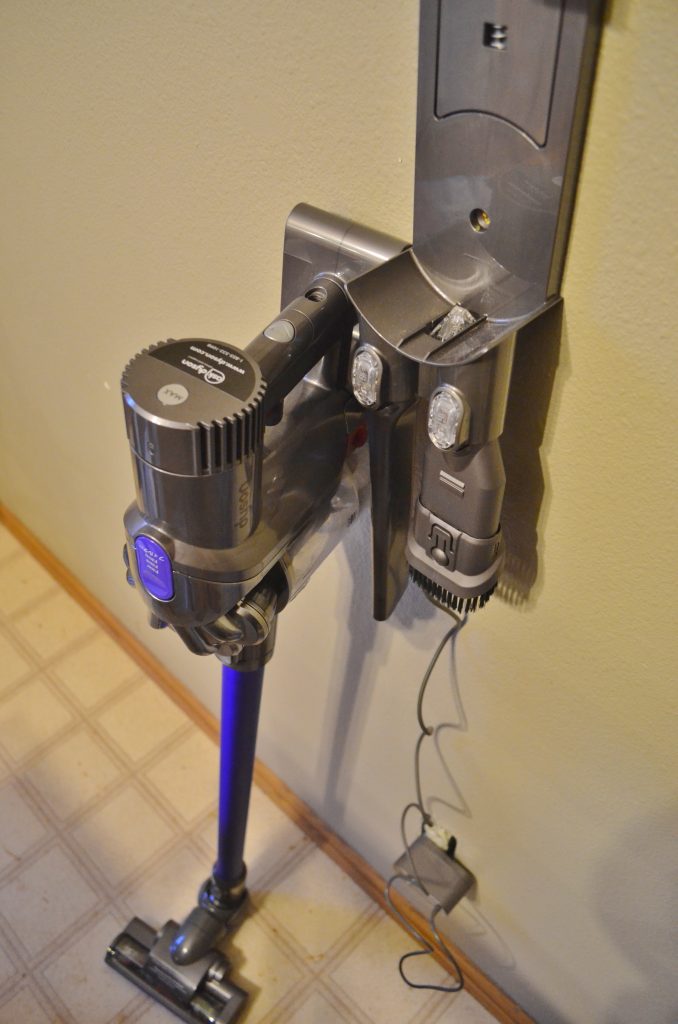 About 6 years ago we invested in our first Dyson and let me tell you, it was the absolutely BEST choice our family has ever made. We had purchased what we thought was a good quality vacuum for about $150 when we first got married, and that thing was SO lousy! I won't mention the brand name but I will say that I was INCREDIBLY disappointed! We were able to make it last for 2-3 years since we didn't have much carpet at the time but when it finally bit the dust I told my husband there was no way I was spending another $150 on a sub-par vacuum. I wanted to purchase something that I could trust and that I wouldn't have to buy again for a VERY long time. A lot of my friends raved about their Dyson vacuums so we looked around and bought it on sale. I am very staunch on the fact that I will never buy anything but a Dyson again. It is absolutely top quality and worth every penny!
One thing I REALLY appreciate about Dyson vacuums, and this DC44 Animal Vacuum is no different, is how incredibly powerful it is. In fact when I met with some of the Dyson team in Chicago a few weeks ago I joked with them that I didn't like my Dyson because it cleans SO well it is constantly pulling all sorts of junk out of my carpet and I have to keep emptying my canister! And not because the canister is small, but because it pulls SO much hair and dust out of my carpets. I can vacuum the same spot three times in a row and pull tons of stuff out of my carpets – it's kind of gross actually! But enough raving about how much I love Dyson vacuums, let me talk a little more specifically about the DC44.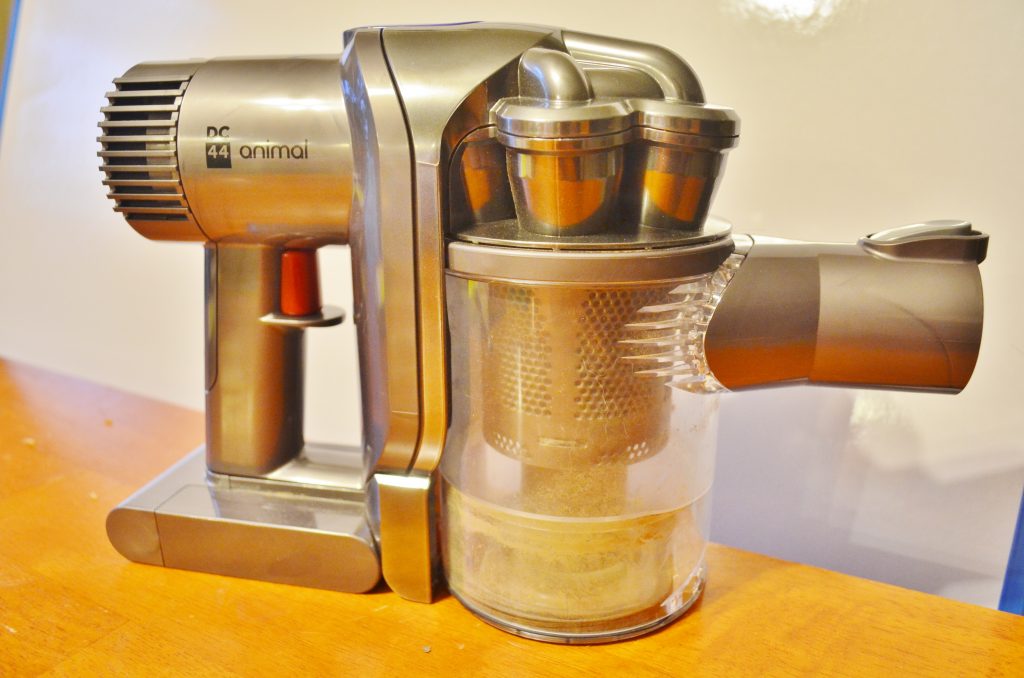 This light-weight vacuum has literally saved my house's cleanliness. You may think I'm exaggerating but I'm not! The long stick portion comes off easily from the top of the vacuum and you use this small handheld portion for vacuuming tables, furniture, stairs, pantries, your car – pretty much anywhere you can carry and fit it! You can see the red button which is the trigger you hold to make the vacuum turn on. I have a slight love/dislike relationship with the button. I love that you can save the power by just taking your hand off of the button and letting the vacuum automatically turn off. But once in a while I would love to just click the button and not have to hold it to vacuum. It's designed for a quick vacuum clean up but I tend to abuse it as my only way that I vacuum!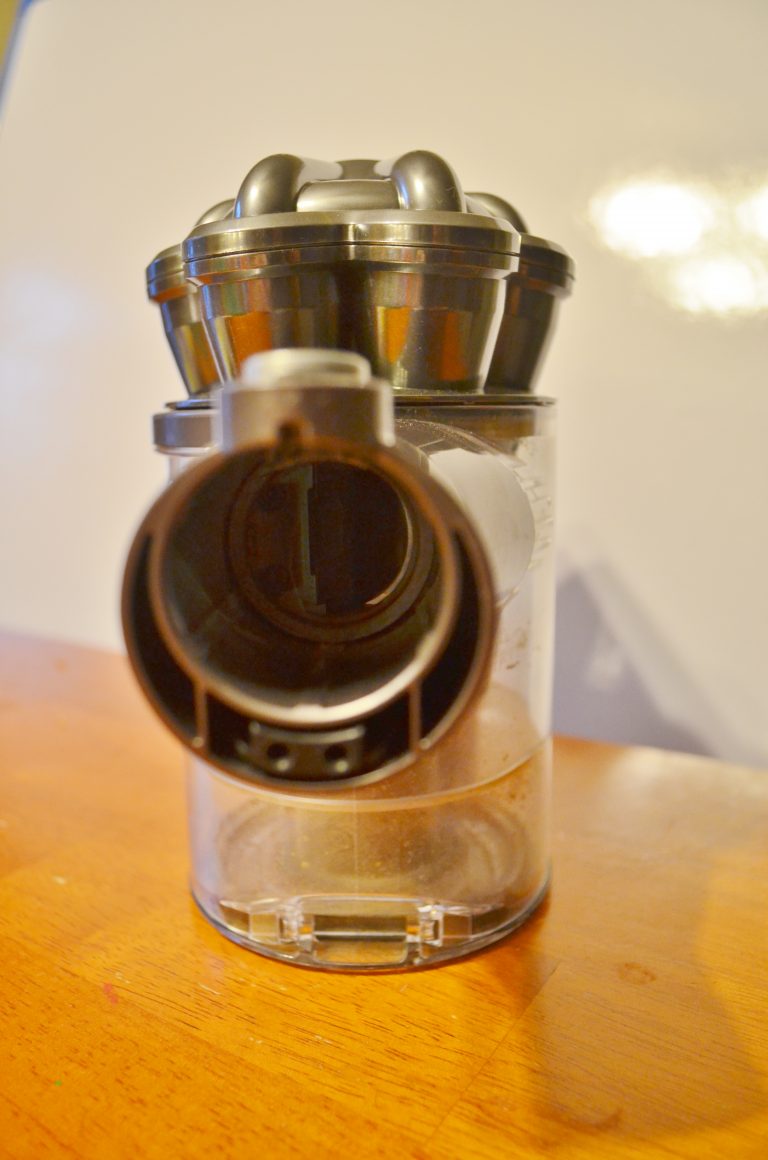 The Dyson DC44 Animal Vacuum has the same sleek design that you immediately recognize with the Dyson brand line.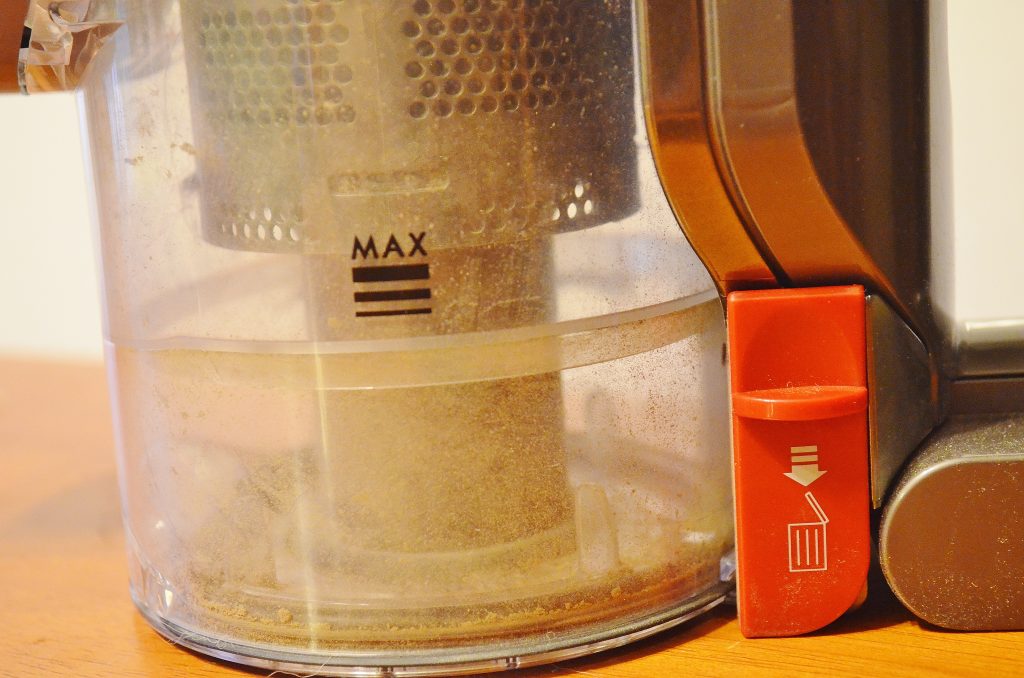 There are no bags and no replaceable filters in this vacuum. To empty it you just hold the canister over your trash can and slide the red button down. The bottom of the canister immediately opens and everything falls out. Close it back up and you're ready to go!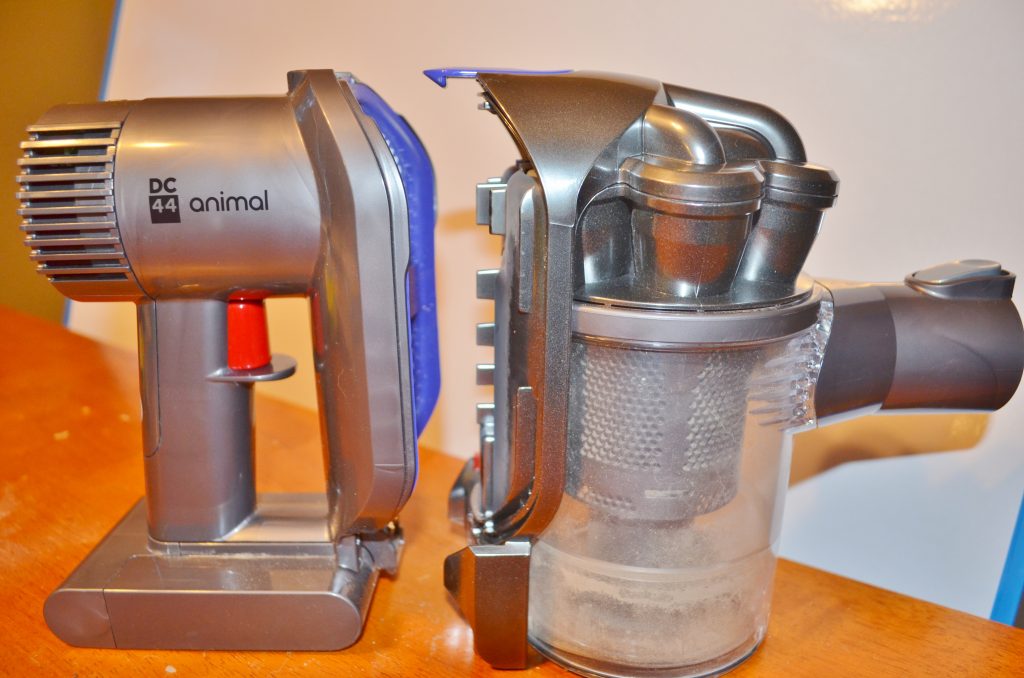 There is, however, a filter inside this handheld portion of the DC44 that you should wash thoroughly about once a month. Make sure it's fully dry before replacing it back in the machine. It's incredibly easy to take the machine apart. Just press a button then open! It slides right back into place when you're done.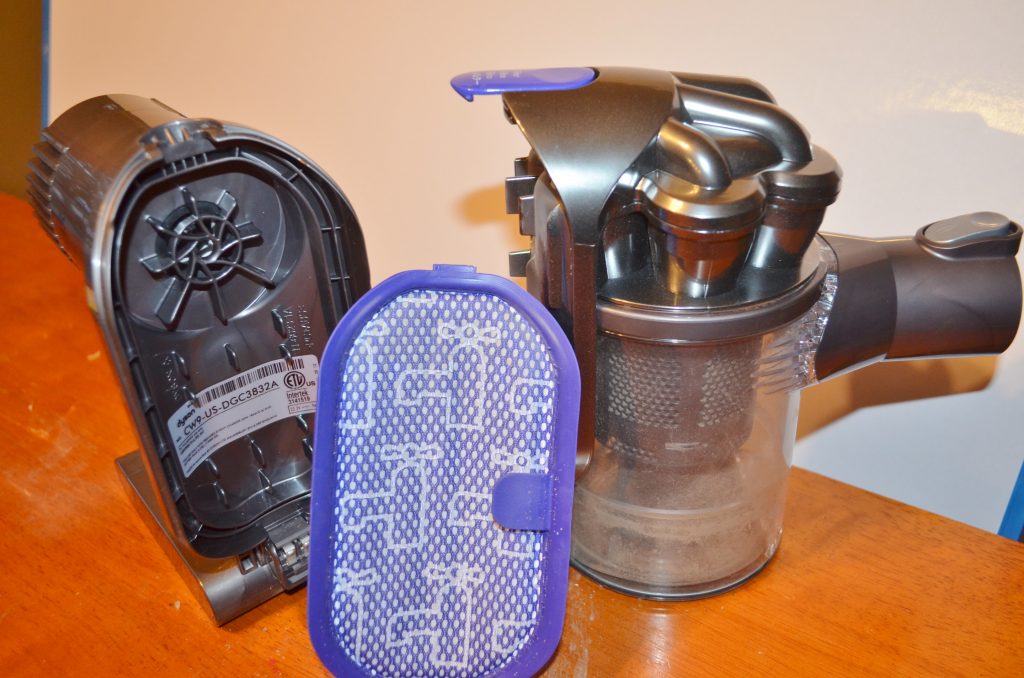 You can see the purple/blue filter above that just pops in and out easily.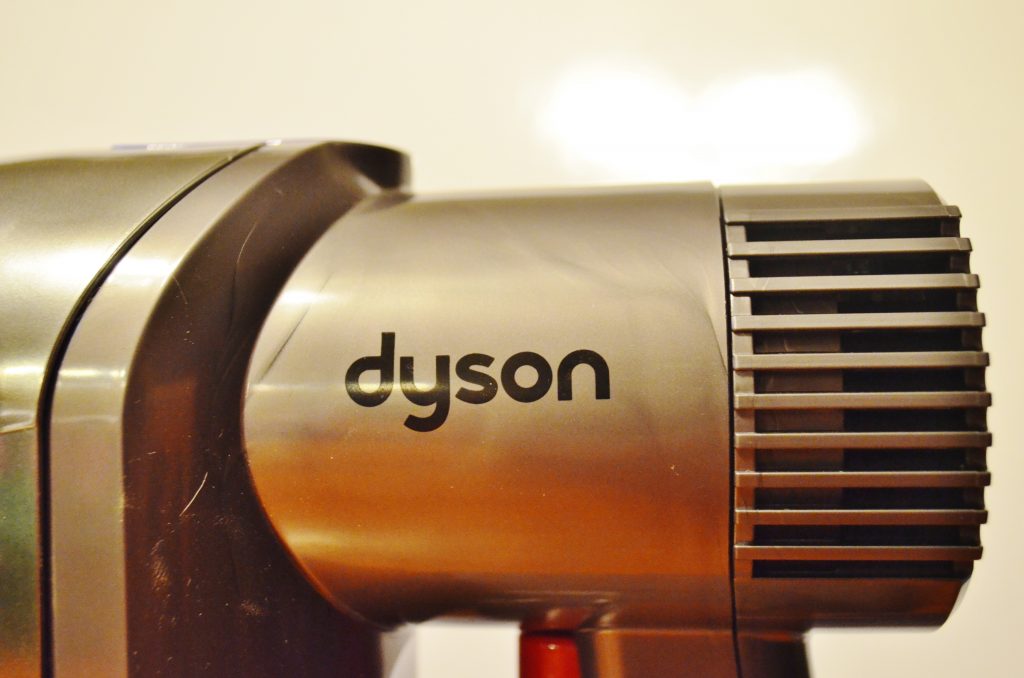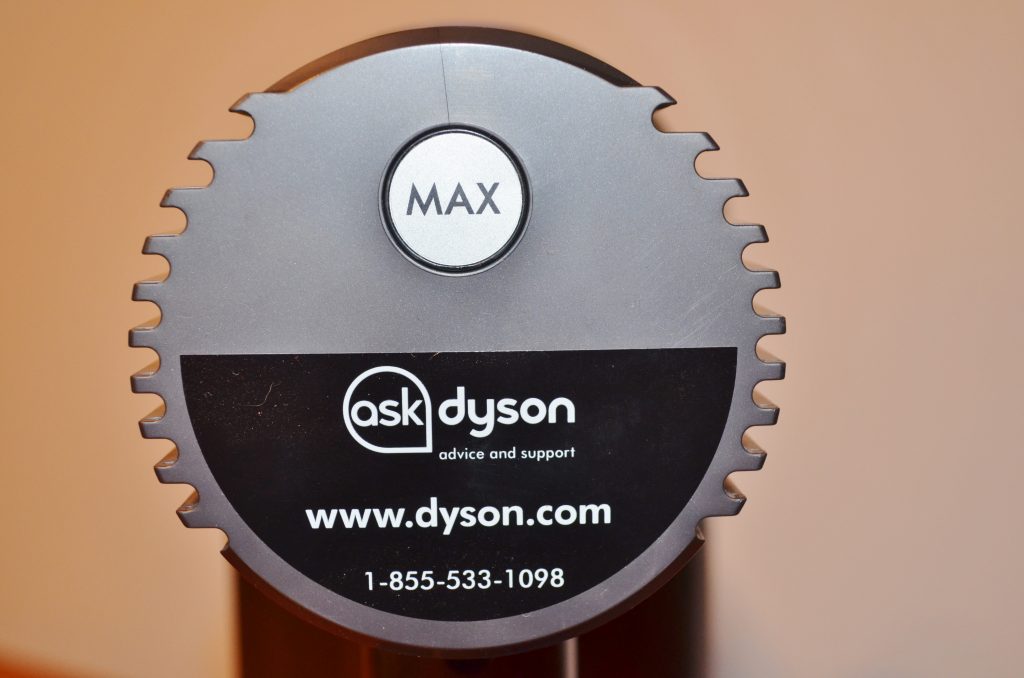 What I also really love is that Dyson has printed their customer service directly onto the vacuum here so if you need help you don't have to go searching for a phone number!! And you can see the MAX button to boost the suction which is particularly good for carpets. Below you can check out my YouTube video of the Dyson DC44 vacuum
in use. I HIGHLY recommend both the Dyson brand and this particular DC44 model. It has been absolutely amazing for my household and we have been able to keep our floors SO much cleaner!
Disclosure: I received the above product to review in order to form my own opinion. All opinions are my own. No other compensation was received.