Zoomer Kitty Holiday STEM Gift Guide Review
Disclosure: I received the product below as part of our Holiday STEM Gift Guide. All opinions are my own.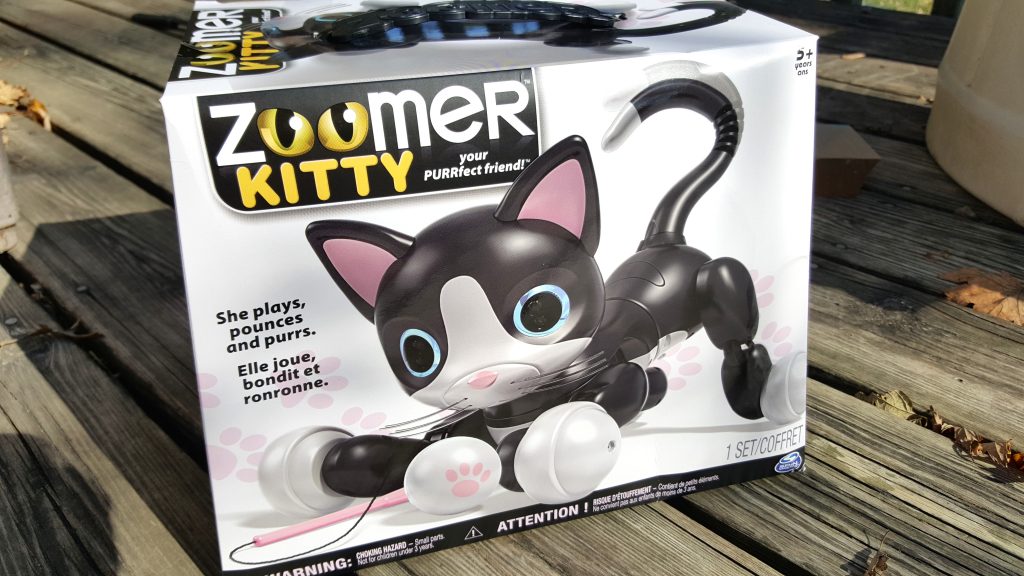 What could be better than a purrrrfect than a pet with no messes? An awesome robot kitty better known as Zoomer Kitty (made by SpinMaster)! My kids have been begging for Zoomer Kitty for quite some time now and I know how popular it is so I was interested to see if it lived up to it's hype! If you're not familiar with this interactive kitty he has touch sensors in his head, ears AND cheeks and the kitty will nuzzle with you while you pet it just like a real cat! There's not just a cuddle mode but a pounce mode, and it sings and does tricks too!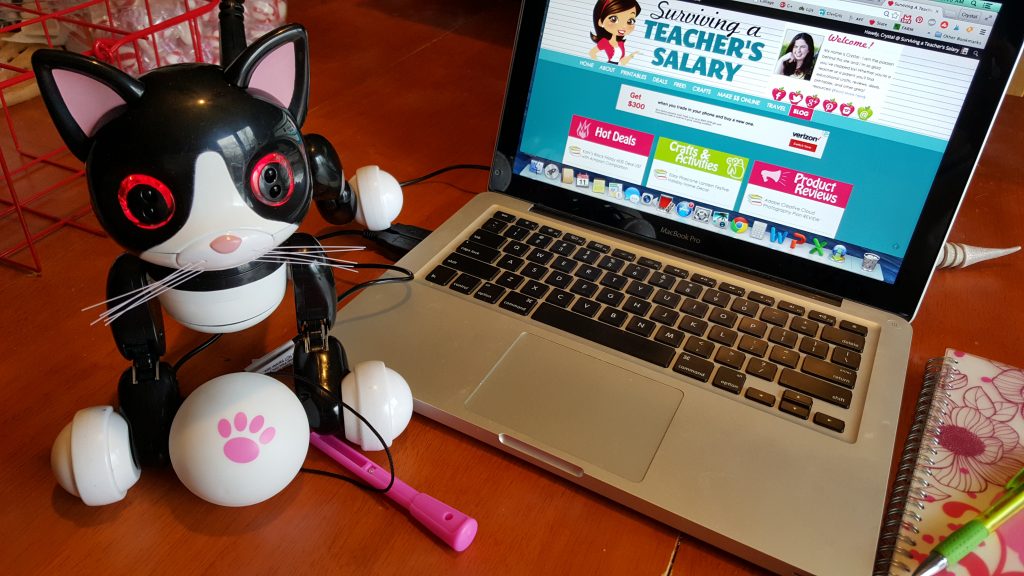 If you're getting Zoomer Kitty for the holidays I HIGHLY recommend carefully pulling it out of the packaging when the kids are in bed and charging her. There's nothing worse than a kid opening their toy that they can't use right away! She has a simple USB port that you can easily plug into the computer and charge – you'll know she's charging when you see her red eyes like above. She also comes with a play toy – this white ball on a string with a nice stiff handle for kids to grab on to which is cool.
 What I love is that Zoomer Kitty really makes me feel like it's a real kitten with it's sporatic playful personality! It goes crazy like you gave it some cat nip – that crazy fur flying kitten you like to giggle at….minus the fur! It moves around a LOT just like little kittens. It's eye changes colors depending on it's mood, it purrs and follows you around and is really great for young kids especially. It says ages 5-10 but I think kids 5-6 would love it best.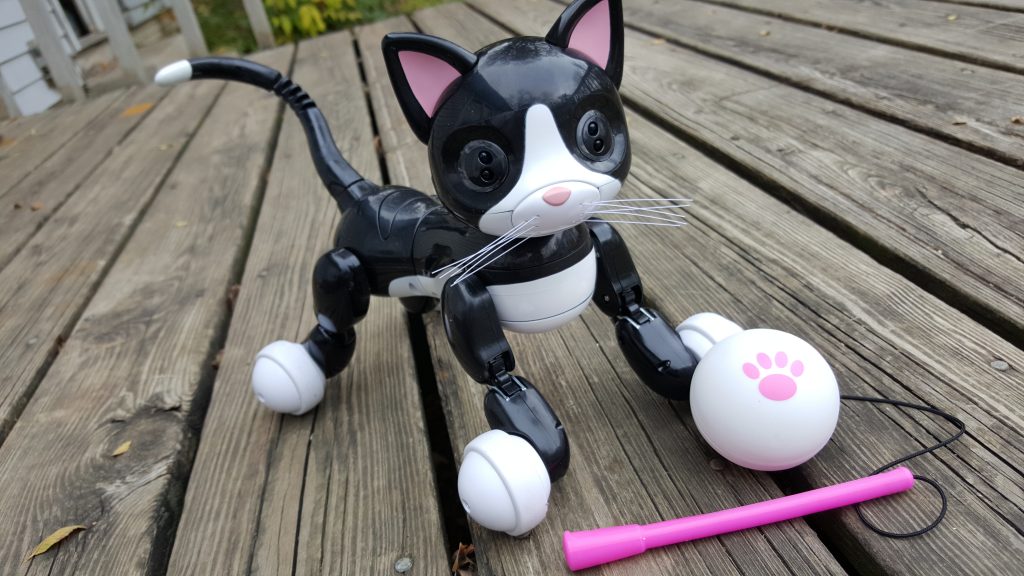 Kitty responds to movements (not voices) so it makes it a nice choice for children who cannot speak or speak clearly. It moves amazingly well. Your child will need to remember to charge Zoomer Kitty though so it doesn't run out of battery before the next time it's ready to use. It works for maybe about half an hour or so before needing a recharge which is about all my kids want to use it at one time anyway. (Remember make sure you open and PRE-charge your Kitty before you gift it to your child though so they can start using it right away!!) It's a REALLY sturdy toy so it can handle a good amount of abuse it seems. Thankfully my boys are (mostly!) past that stage!
Overall Zoomer Kitty is a really great robotic toy for kids, especially younger ones. It truly has a sporatic frenzied playful kitten personality and will have your kids giggling and eagerly playing with their new "kitten".
Zoomer Kitty is available to buy at your local retail store and Amazon.
Check out our PURRRRfect playful Instagram video: