Symmetrical Snowflake Craft Stick Magnetic Activity + Printables
This post may contain affiliate links, view our disclosure policy for details.
This winter lesson plan uses math skills to build a symmetrical snowflake craft stick magnetic activity PLUS we have FREE printable snowflake winter themed letter templates and matching games at the bottom of this post you can print out! NO sign ups needed!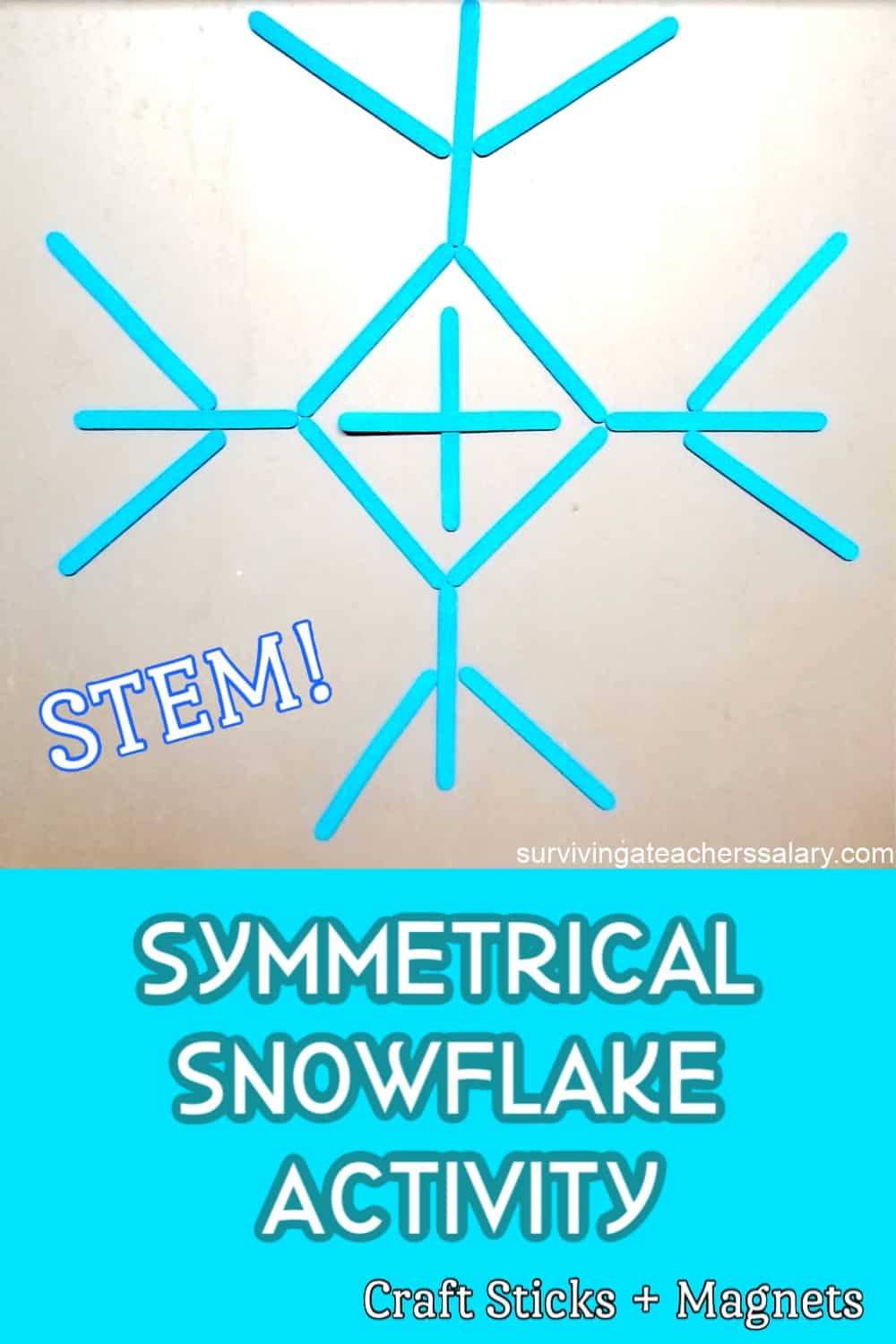 Winter themed activities are perfect for classrooms because it doesn't celebrate any one holiday AND in much of the globe, it's cold at least 3-6 months of the year! Kids love snowflake activities and it's a great representation of winter…..and symmetry in nature!
Lesson Plan Objective:
Explore the concept of symmetry in math and nature. Design a magnetic symmetrical snowflake and continue the pattern.
Materials Needed:
Craft Sticks
Paint or Markers
Magnets
Magnetic Sheet Pan (baking sheet or pizza pan – cheap at Dollar Tree!)
Optional – Graph Paper
Buy supplies here from Oriental Trading! Or shop on Amazon here!
Lesson Plan Project Ideas:
Design an interactive symmetrical snowflake. Possible additions for color patterns and other uses below.
Lesson Plan Instructions: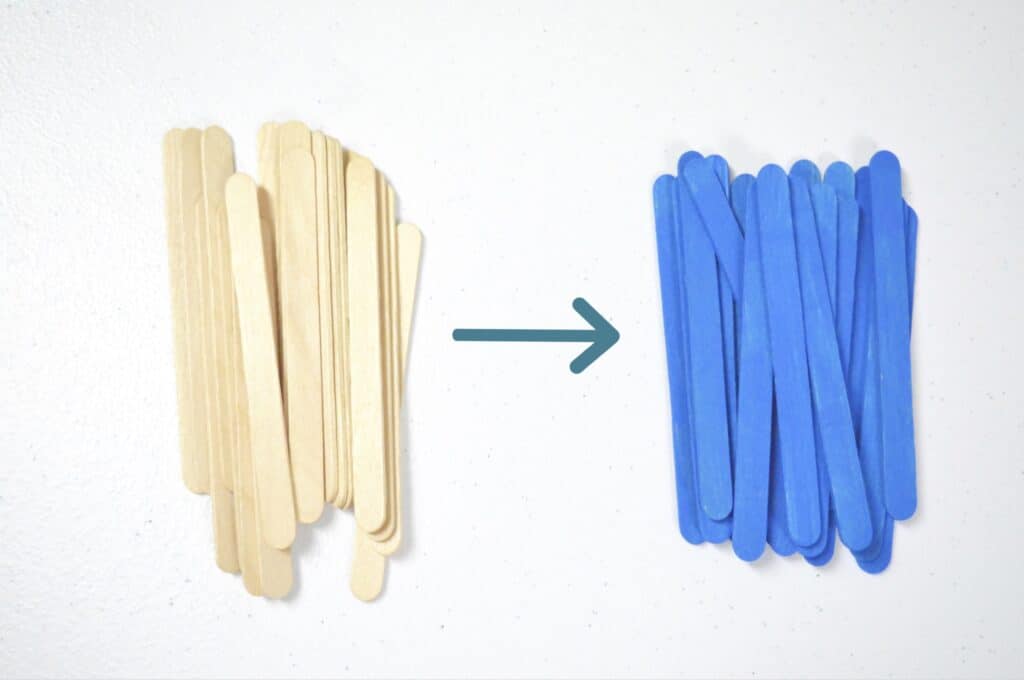 Begin by painting your craft sticks white or blue – or both! These craft sticks will be manipulated to design your snowflakes. You can use acrylic paint or markers!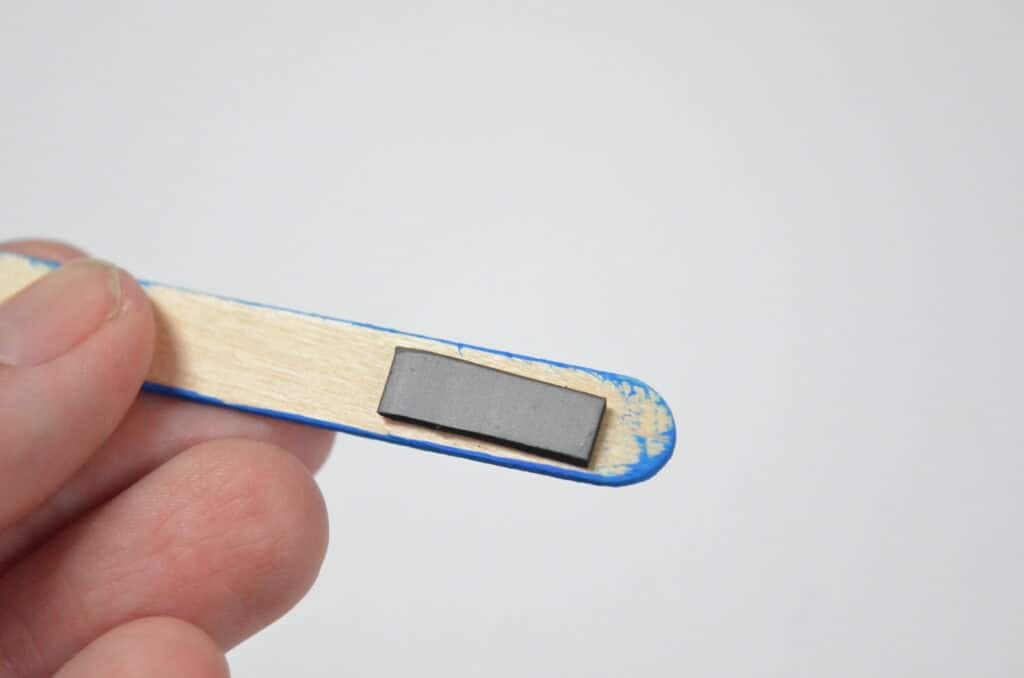 On the back of each craft stick add a small magnet to each end. This will allow for even snowflake building and a more symmetrical snowflake. It will also be easier for young hands to grab off of the magnetic surface .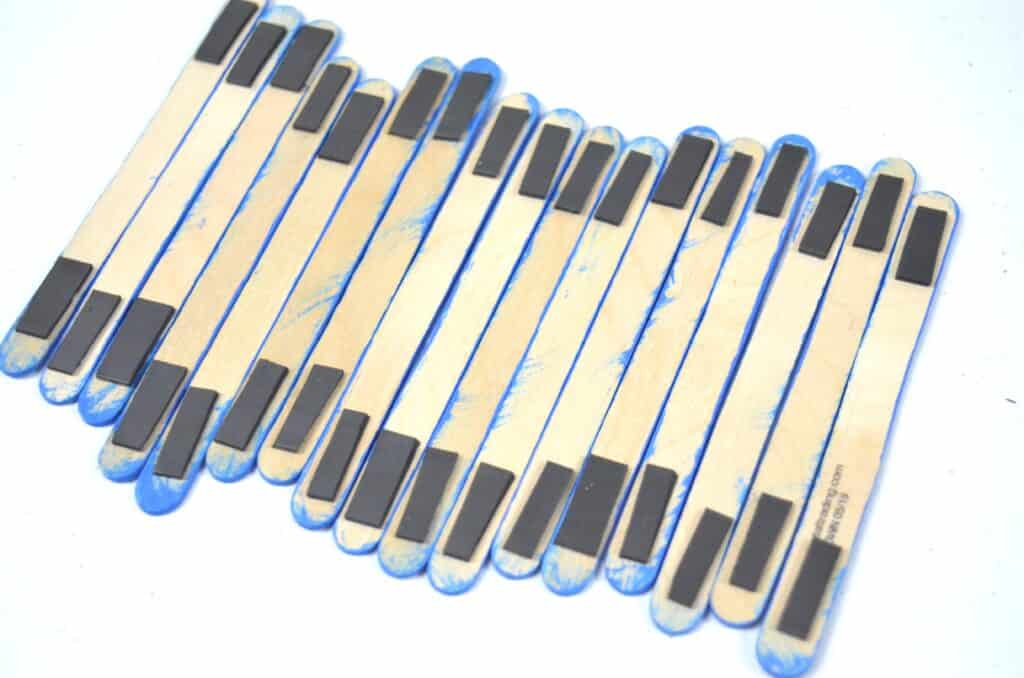 On your magnetic baking sheet, add one line of craft sticks down the middle to mark the beginning of your symmetry. Continue adding craft sticks to the baking sheet in a symmetrical position on both sides.
There are several ways you can create this symmetrical snowflake magnetic STEM activity. Check out the teacher tips below for more extended lesson ideas based on the age group you're working with!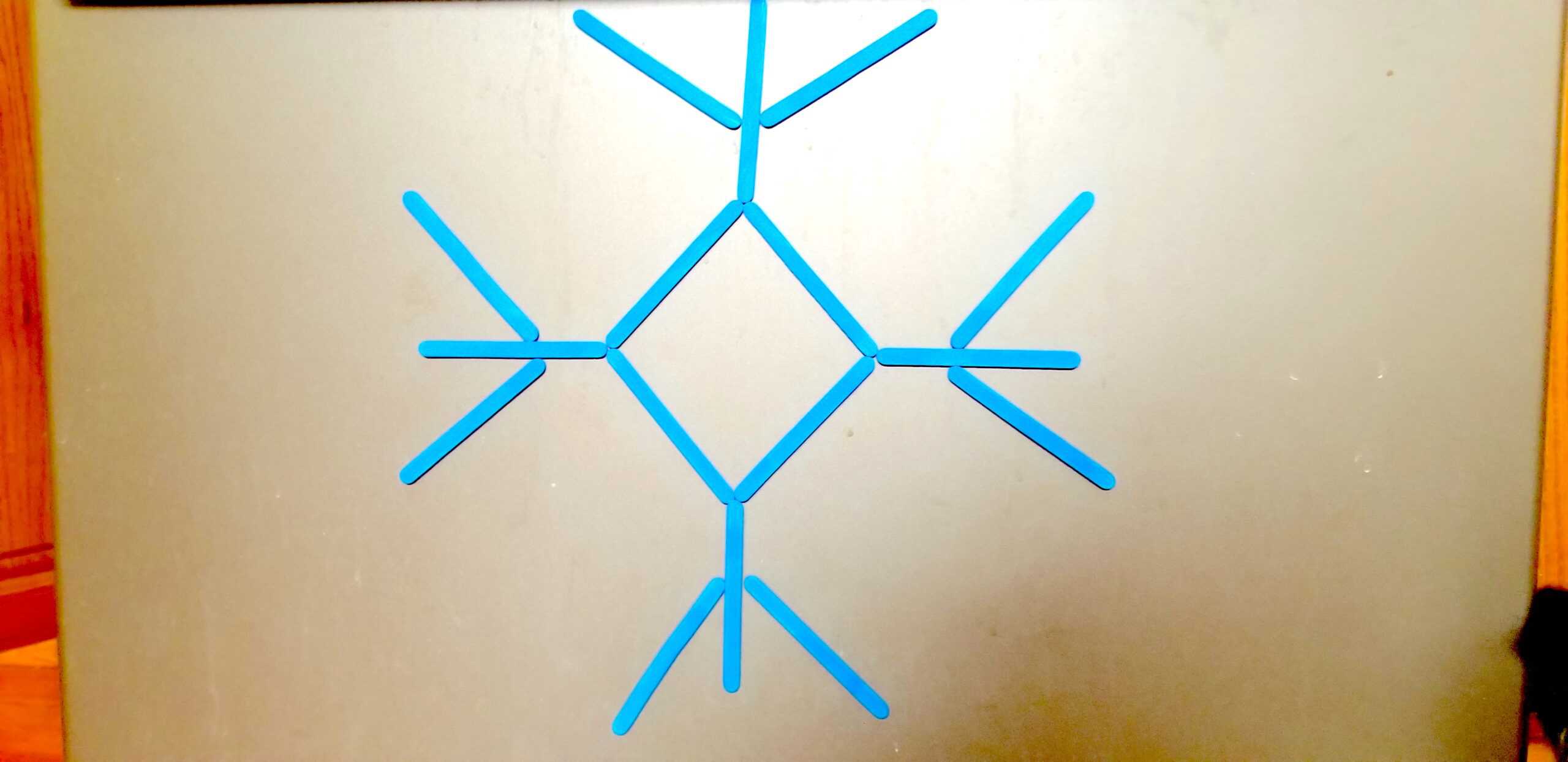 Ideas on How to Set Up Your Center:
Place all supplies on the table and ask the students to create their own symmetrical snowflake.
Pre-make half of a snowflake BEFORE class and ask the students to create a matching symmetrical half of the snowflake.
Print these Snowflake Symmetry STEM Center Activity cards PDF and have students complete different activities.
Other Center Ideas with these Craft Sticks:
Let's learn about letters and numbers! Have a younger preschool – kindergarten group? If the kids don't grasp symmetry just yet these magnetic craft sticks can be used for a LOT of things including creative free play!
My 5 year old daughter uses them for designing horse barns, road ways, and other imaginative play! You can also use these to "write" names, learn numbers, letters, shapes, create animals, and more! The ideas are endless!
Teacher Tips –
Working with preschool-kindergarten children:
This symmetrical snowflake project works best for younger children with just one color.
Working with K-3rd grade children:
If you are working with elementary children, challenge them by using both blue and white craft sticks – requiring that both sticks AND colors must be symmetrical.
Working with 4th graders & up children:
Create a snowflake half on just one side of the magnetic baking sheet, then ask the students to symmetrically build the other half of the snowflake. Add in various colors to make it more challenging – or create teams that must beat a timed match!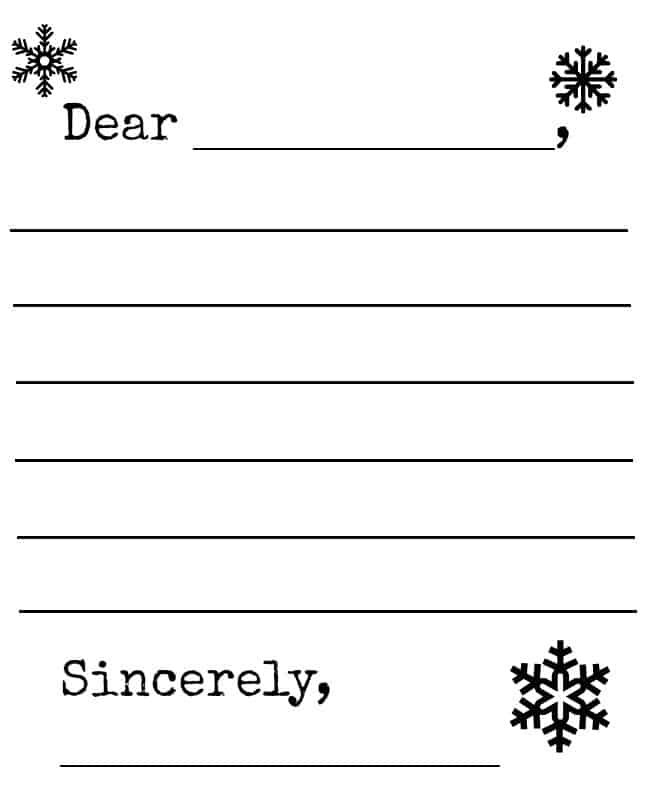 This free snowflake letter template printable is our primary version designed for kindergarten-3rd grade with larger spacing between each line. You can find other themes and resources in our TPT Store.

How to Play: It's just like any other matching game! Just mix up the cards (after cutting them out!) and lay them face down on a flat surface. Choose two cards to flip over and see if the patterns match! If they do – you keep them! If they don't, flip back over and the turn passes to the next player!
TIP – because most printer paper is think I recommend glueing these onto a colored piece of construction paper (blue works well for snowflakes!) so that you can't see through the back of the paper.
---
Other Snowflake Related STEM Crafts & Activities:
2L Snowflake Paint Stamper
Salt Crystals Snowflake Science Experiment
How Snowflakes Are Formed PowerPoint
Snowflake Tinker Tray
Snowflake Coffee Filter Science Experiment
Tin Foil Snowflake Prints
Popular Winter Activities for Kids: