Free Simple STEM Printable 12 Month Calendar
This post may contain affiliate links, view our disclosure policy for details.
Are you passionate about science, technology, engineering, and mathematics (STEM)? Do you believe that learning should be engaging and fun? You're in the right place! I do too!
I present you with a free, printable 2024 twelve-month calendar, uniquely designed with STEM as its theme. It's a simple minimalist style so you don't get bogged down with too much!
In this blog post, we'll explore the wonders of STEM education and how this calendar can enrich your learning experiences throughout the year.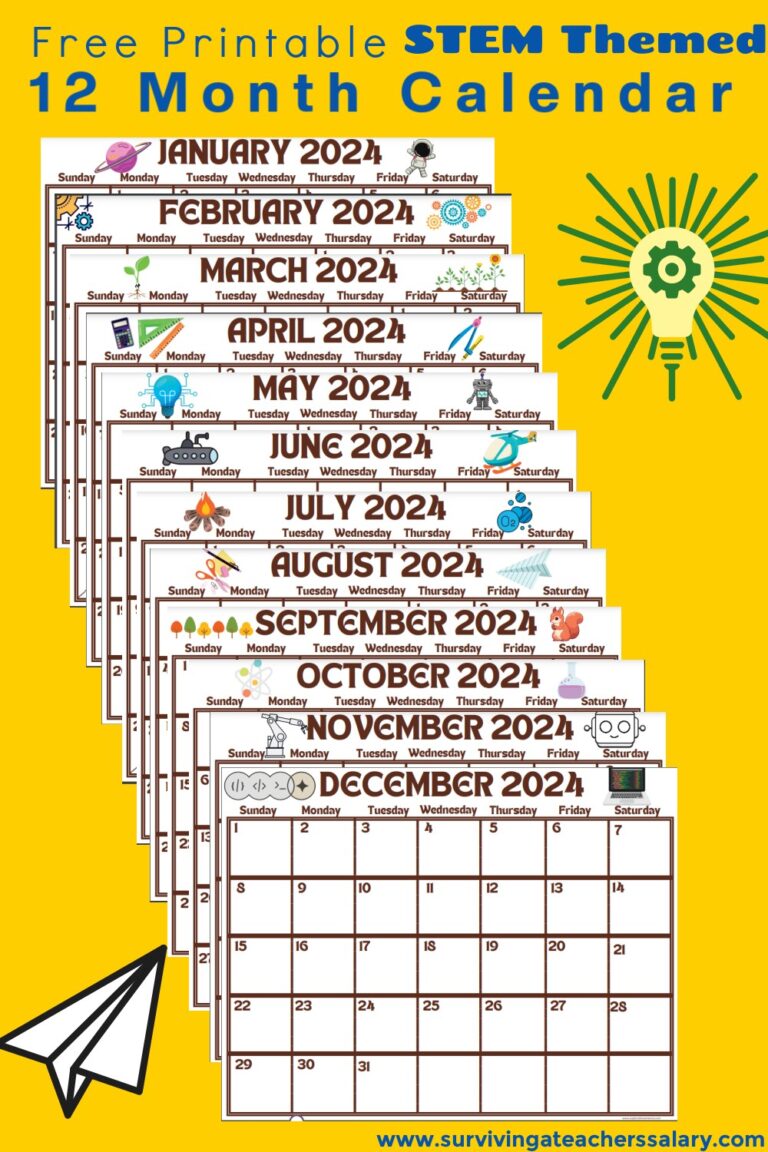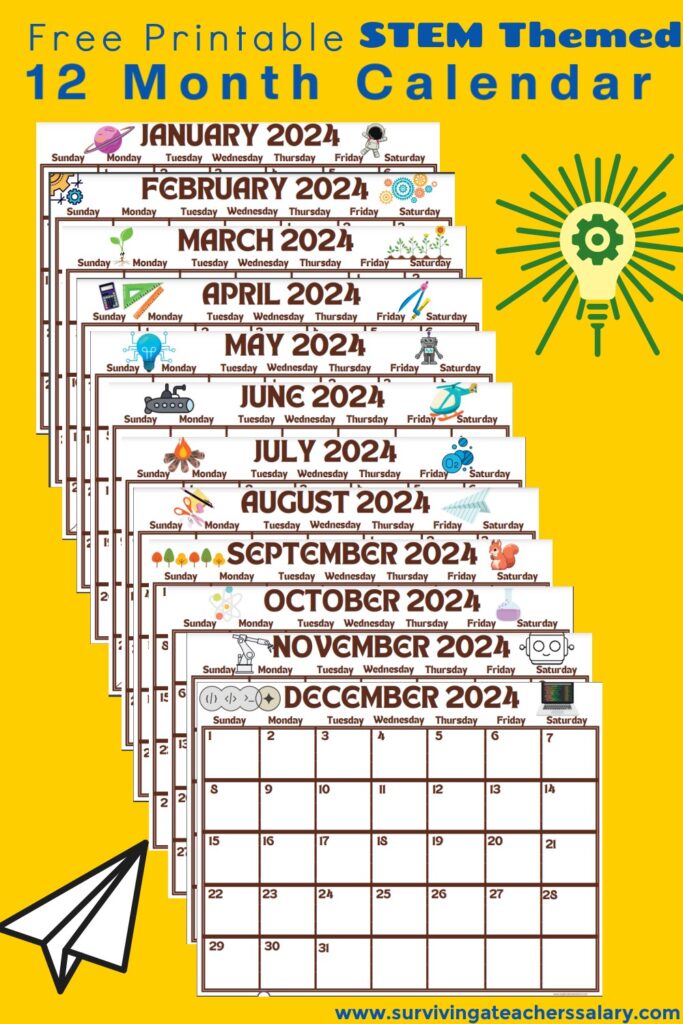 The Power of STEM Education
STEM education empowers young minds, encouraging them to think critically, solve problems, and explore the world around them. It's how I've raised my kids and have fashioned my life and career around it.
By integrating science, technology, engineering, and mathematics, students develop essential skills that are vital in our rapidly advancing world. It's so much more than just a buzzword!
Our simple STEM-themed calendar aims to inspire a lifelong love for learning, making education not just a classroom activity but a thrilling adventure. You can choose activities based around the theme for each month or just print it as a fun and simple supplement to your daily life.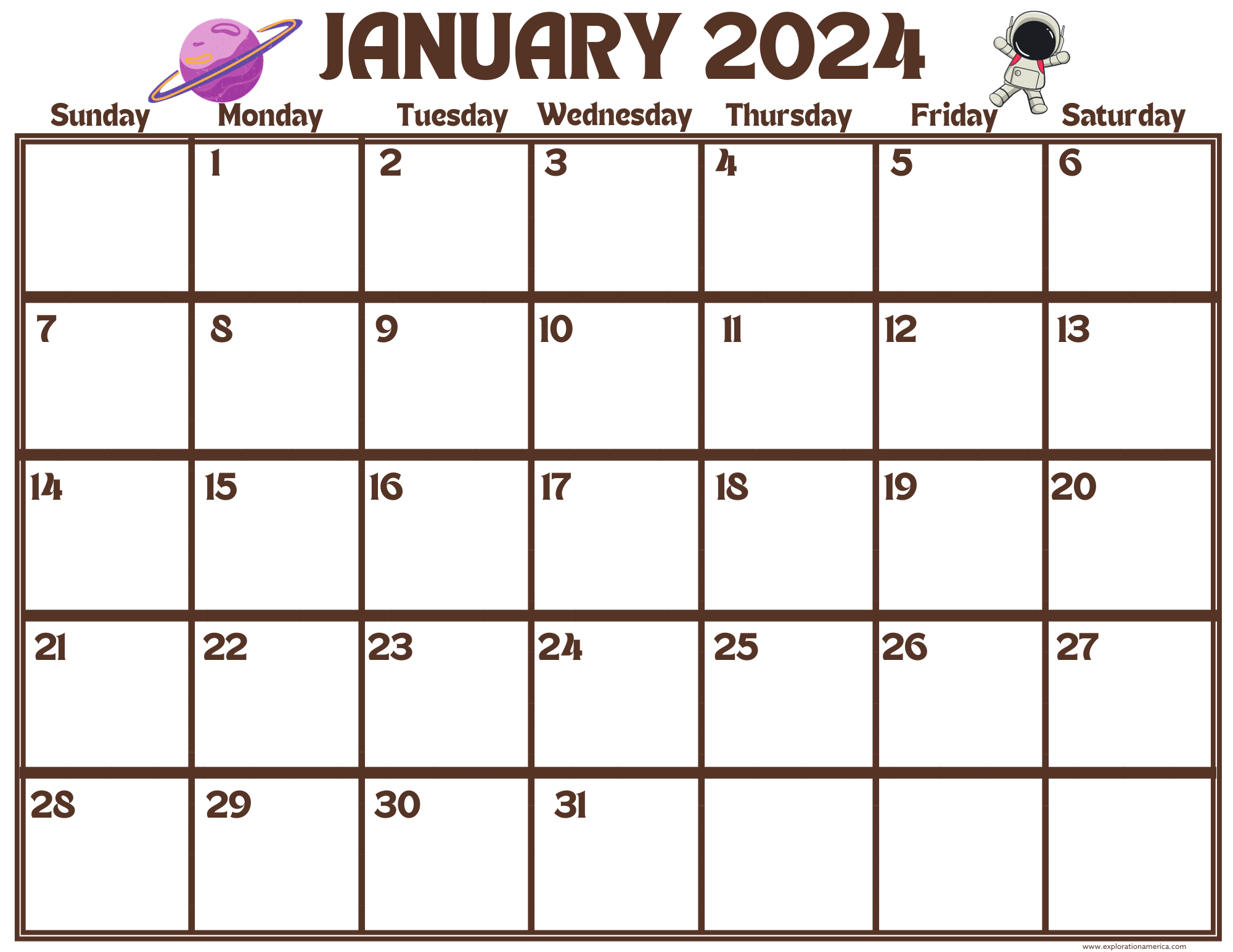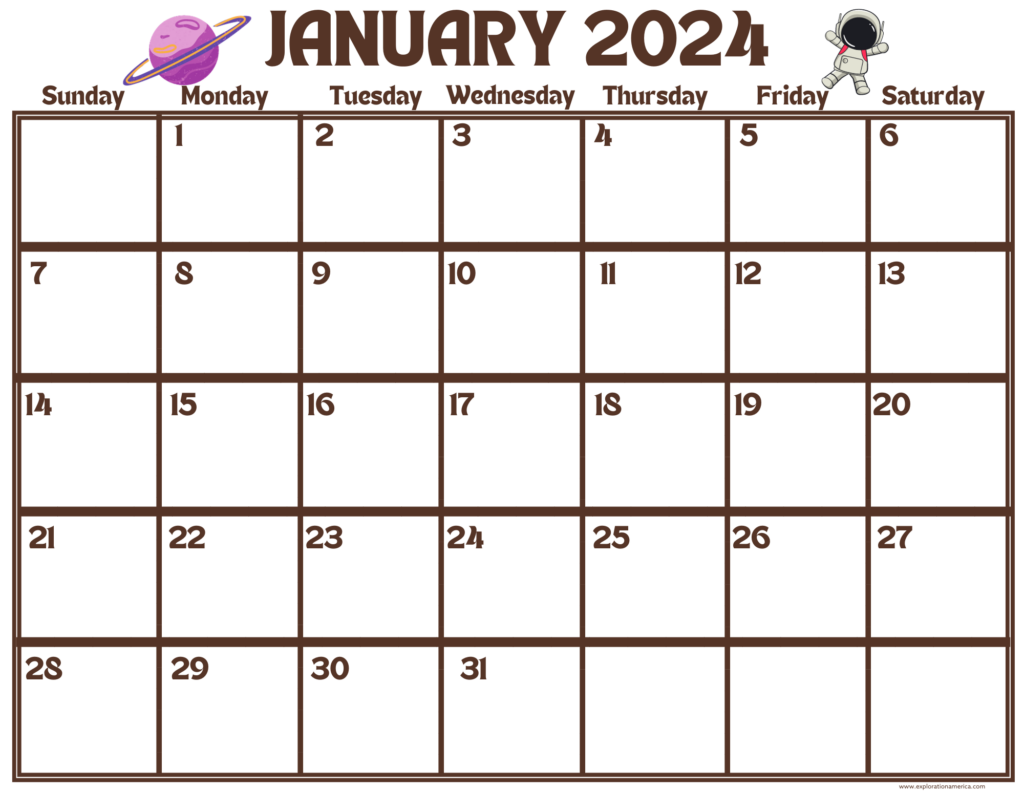 Features of Our Calendar
Innovative Themes: Each month of our calendar is infused with a unique STEM theme – can you guess it? From the mysteries of the universe to the wonders of robotics, these themes are designed to captivate young learners and ignite their curiosity.
Educational Facts: If you choose to extend learning based on the theme each month you can discover fascinating tidbits about groundbreaking inventions and all sorts of other STEM related topics! Let your interest guide you!
Track Your Engaging Activities: You can easily pre-schedule out an entire year of engaging activities to do with your kids! And it can be as simple as heading to the museum or as extensive as full lesson plan ideas!
How to Use Your STEM-Themed Calendar
Daily Learning: Make learning a part of your daily routine by exploring the educational facts and activities provided for each month. Challenge yourself or your students with thought-provoking STEM questions and puzzles. Use a highlighter to color coordinate your topics.
Project Planning: Use the calendar to plan STEM-related projects and experiments. Whether you're a teacher organizing classroom activities or a parent encouraging home-based learning, our calendar provides a structured approach to incorporating STEM into your projects.
Inspiration Board: Create an inspiration board based on each month. Display it in your classroom or study space, reminding everyone of the endless possibilities that STEM education offers.
Education should inspire, excite, and spark curiosity. Our free, printable 2024 twelve-month STEM-themed calendar is more than just a tool for tracking dates; it's a gateway to a world of discovery. By exploring the realms of science, technology, engineering, and mathematics, you're not just learning about the world; you're preparing for a future where innovation knows no bounds.
Download your free STEM-themed calendar today and embark on a year-long journey of exploration, creativity, and learning. Let's unlock the mysteries of the universe together, one month at a time.
Download Your Free 2024 STEM-Themed Twelve-Month Calendar Here:
Happy learning!