Is the Shark Sonic Duo Review Worth it? – Scrubbing Machine
This post may contain affiliate links, view our disclosure policy for details.
I'm always a little jealous that my husband gets cool new "toys" for his garage but when I spotted the new Shark Sonic Duo cleaning system this past summer I KNEW this baby would be mine! They had a very eye catching display with salsa dancers at the conference but to be honest just watching the Sonic Duo scrub the floors really caught my eye!
I got a video of it if you want to scroll down in this post to check it out but it is SO cool! This little piece of luxury is no ordinary mop or sweeper – it SCRUBS both your HARD floors AND your CARPETS with 1000 scrubs PER minute! Seriously – the amount that this Sonic Duo scrubs my floor is more energy than I have in a year!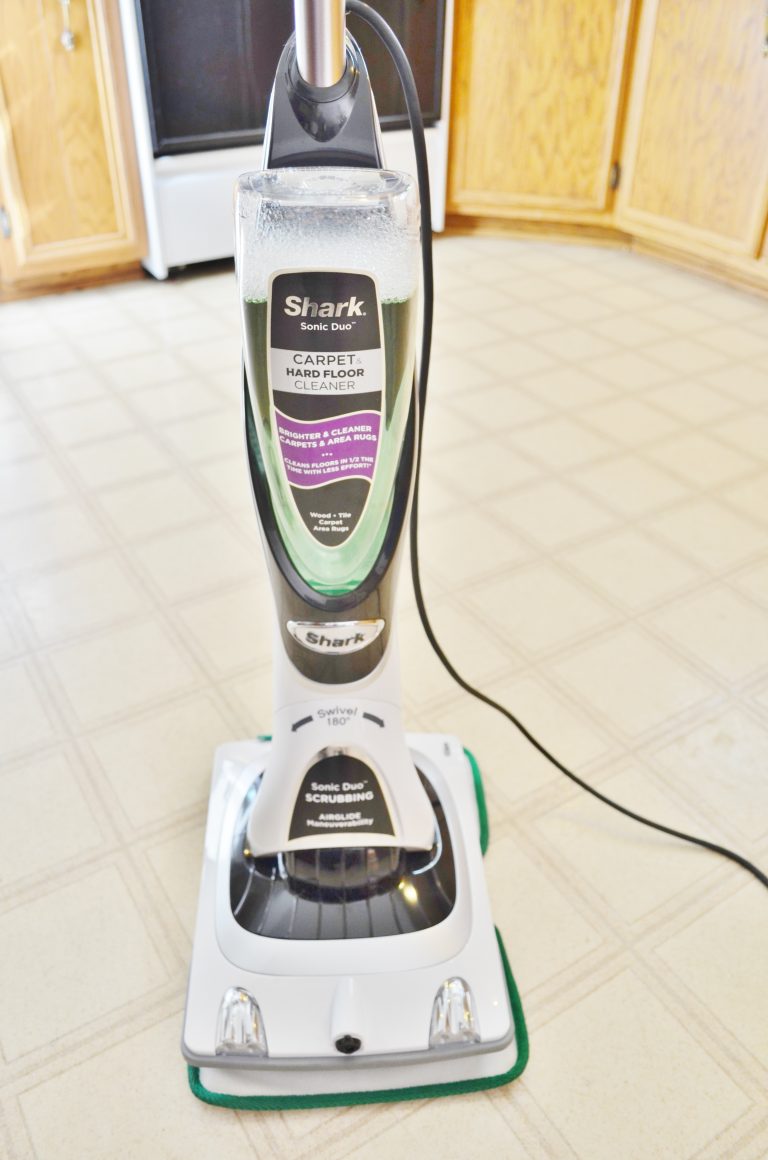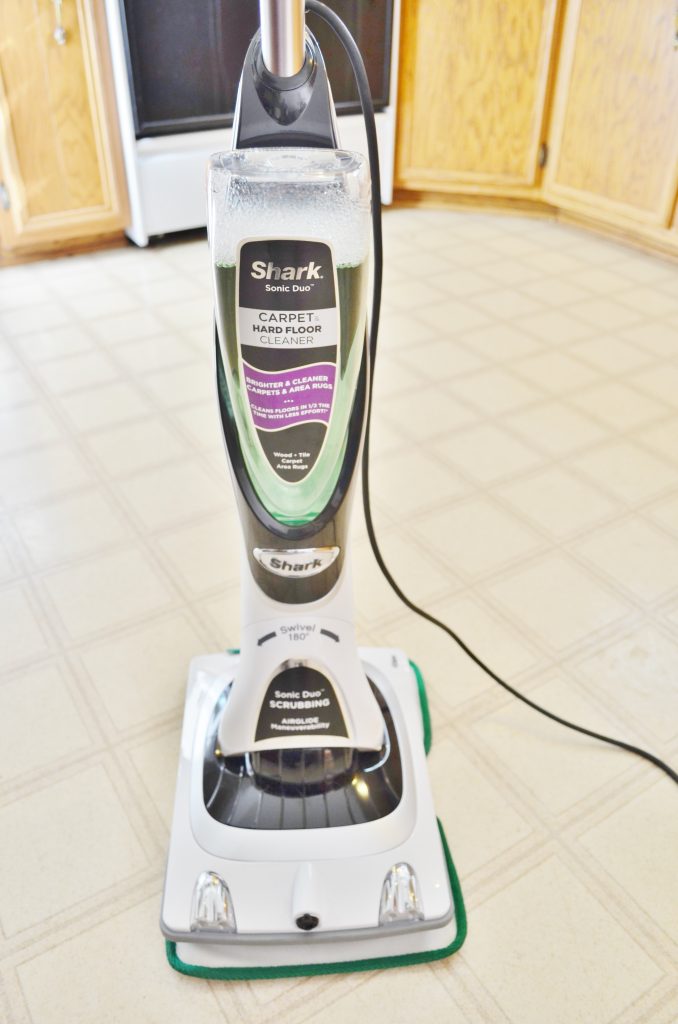 It's super sleek and stylish and even my husband has been trying to "claim" this cleaning system as his – but it's not gonna happen! It even has lights on the front which not only look cool but are really helpful for those dark corners under side tables and cabinets!!
I'll be honest – I like things clean in my house, but I'm too busy volunteering at my husband's school, blogging, and keeping up with our kids and animals to clean. And quite frankly I HATE dragging out the mop, or using those stick "quick" mops because it's just way too much effort for me to stand there and manually scrub every spot on my floor. You really can't just slide the mops over the dirty spots – you have to sit there and scrub the junk out of them. It's just not an enjoyable task for me in the least and I swear one of these days that I will break those stick mops because I have to scrub so hard – I might as well just sit on the floor with a scrub brush and do it.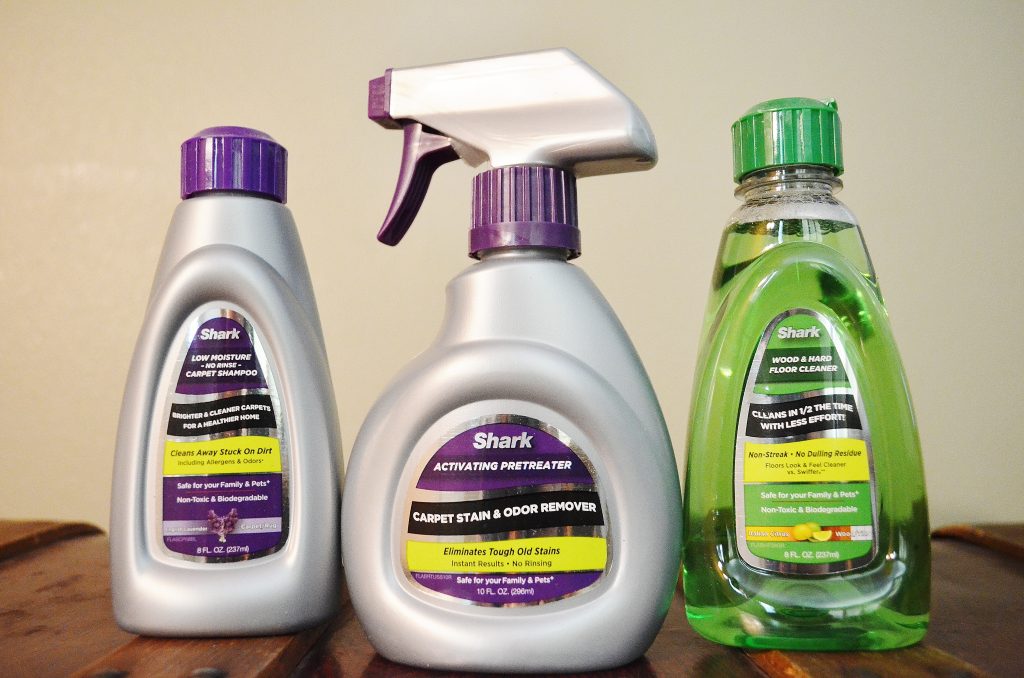 The Shark Sonic Duo cleaning system comes with the machine itself of course, and also includes small bottles of Carpet Cleaner, Carpet Stain & Odor Remover, and Wood & Hard Floor Cleaner. The very first thing that caught my eye was the words "NON-TOXIC" on the bottle – it's safe for my kids and for my pets which is a big deal to me since we have so many animals and it's hard to keep them off the floors until it dries.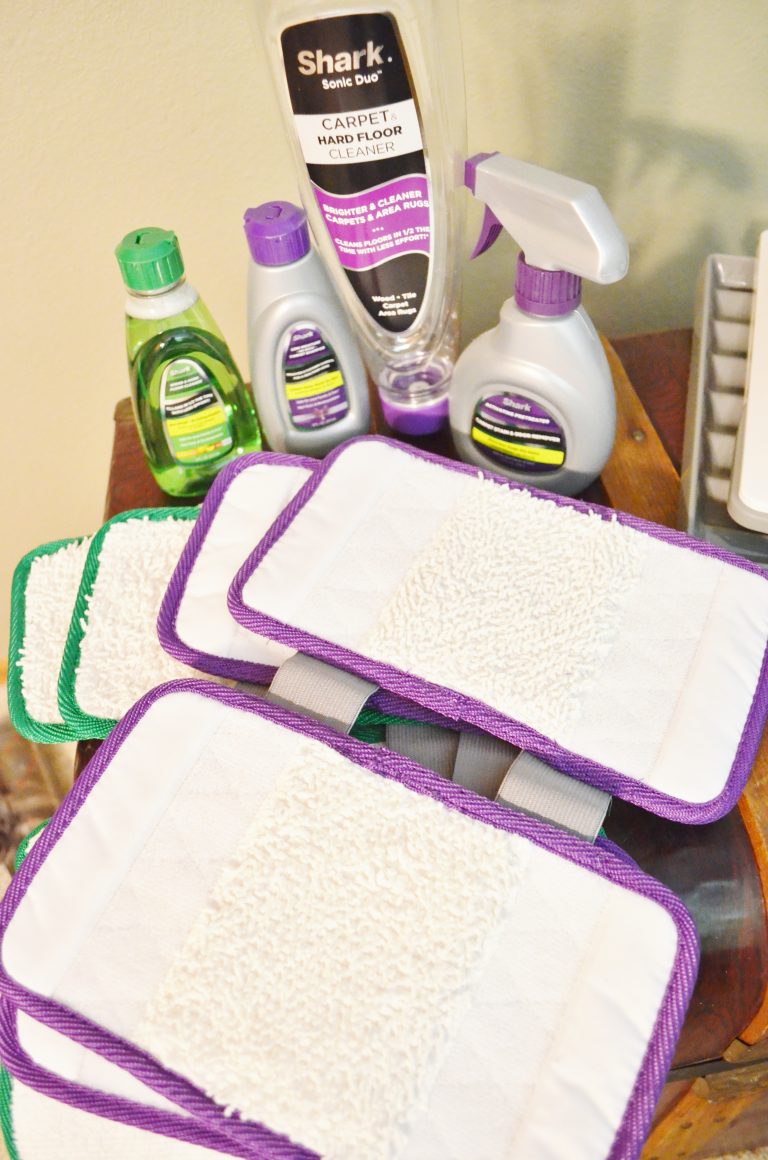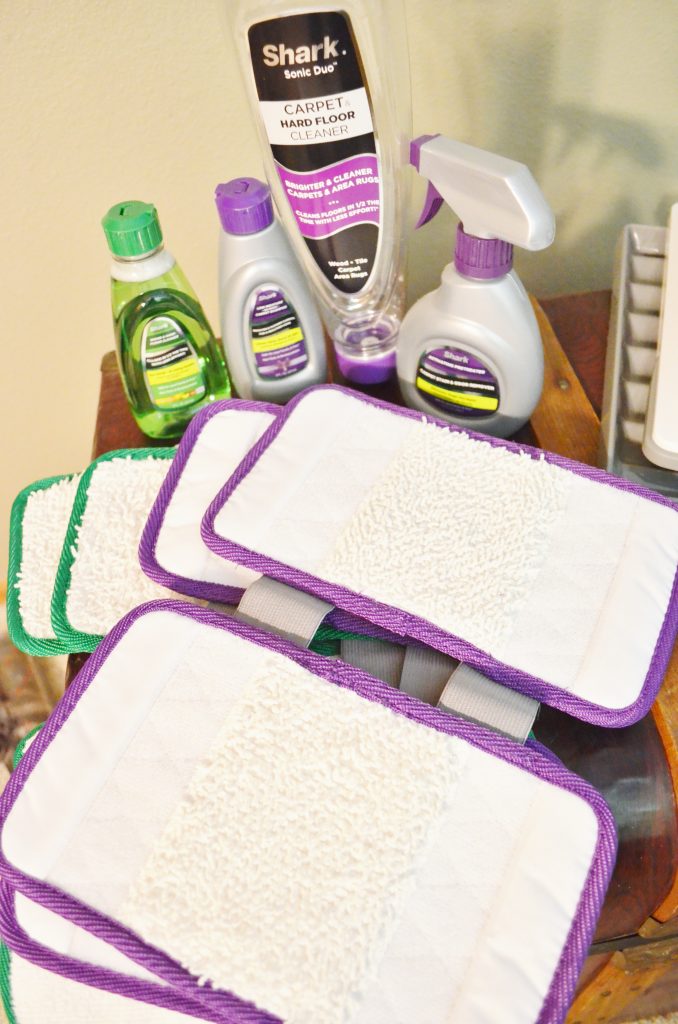 It also comes with two empty bottles which you dilute the cleaners into, and four scrubbing pads depending on whether you are cleaning your hard floors or your carpets. Now this is where it gets ingenious – Shark has COLOR-CODED the cleaners with the pads so all of the HARD floor cleaners are GREEN and all of the CARPET cleaners are PURPLE.
That may sound petty but you have NO idea how much of a help that is (or maybe you do!). When I have so many different cleaners in the cabinets I don't want to have to take the time to check the labels – I now can just grab the right colored bottle and be good! And each of the scrubbing pads have different textures for the different types of floor.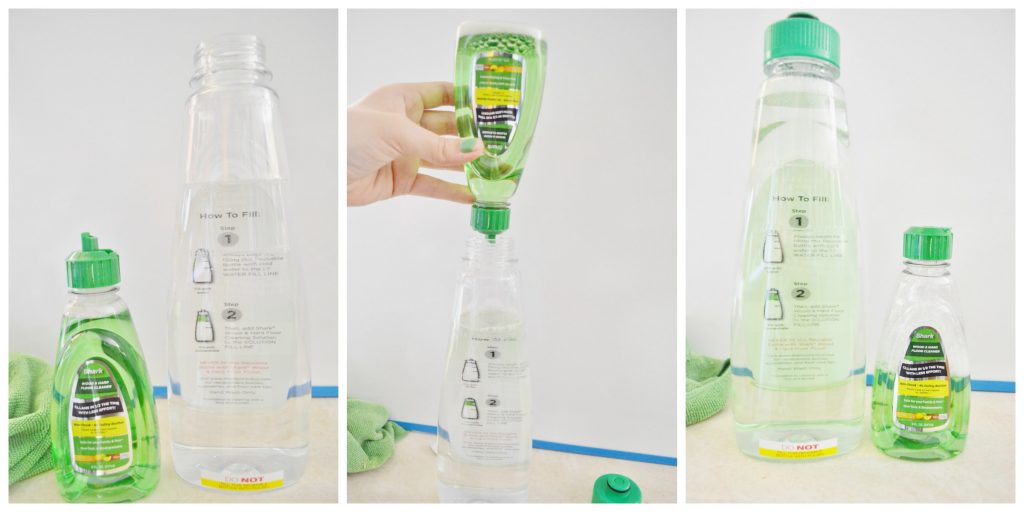 They also have a pretty great "dummy" system set up for their cleaners, meaning that I don't have to read the tiny print everywhere just to figure out how to dilute the stuff. I just grab the appropriately colored bottle and it tells me right on the bottle which lines to fill up to with water and which to add the cleaner to. The sample bottle included will make about two full bottles of cleaner which for my house will get about 4 good uses out of it.
I was a little concerned at first how much it would cost to replace the cleaners but when we sat down and figured it out the price really wasn't bad. Our family purchased a steam cleaner system about 5 years ago (which we never use because it's a LOT of work to set up) and the price is pretty comparable to having to purchase the carpet cleaner for that which is about a few bucks per good cleaning. But let me tell you, it's WAY cheaper than hiring someone to come clean your carpets and I will hands down use this Shark Sonic Duo system to clean my carpets almost every single time I need my carpets cleaned.
I DID mention that I have a large dog, 2 cats, a pig, 2 boys AND that I live in the middle of corn fields which is equivalent to a LOT of dust right? I edited the lighting a little on the BEFORE/AFTER photo so you could see the huge difference! I was just blown away – look at it!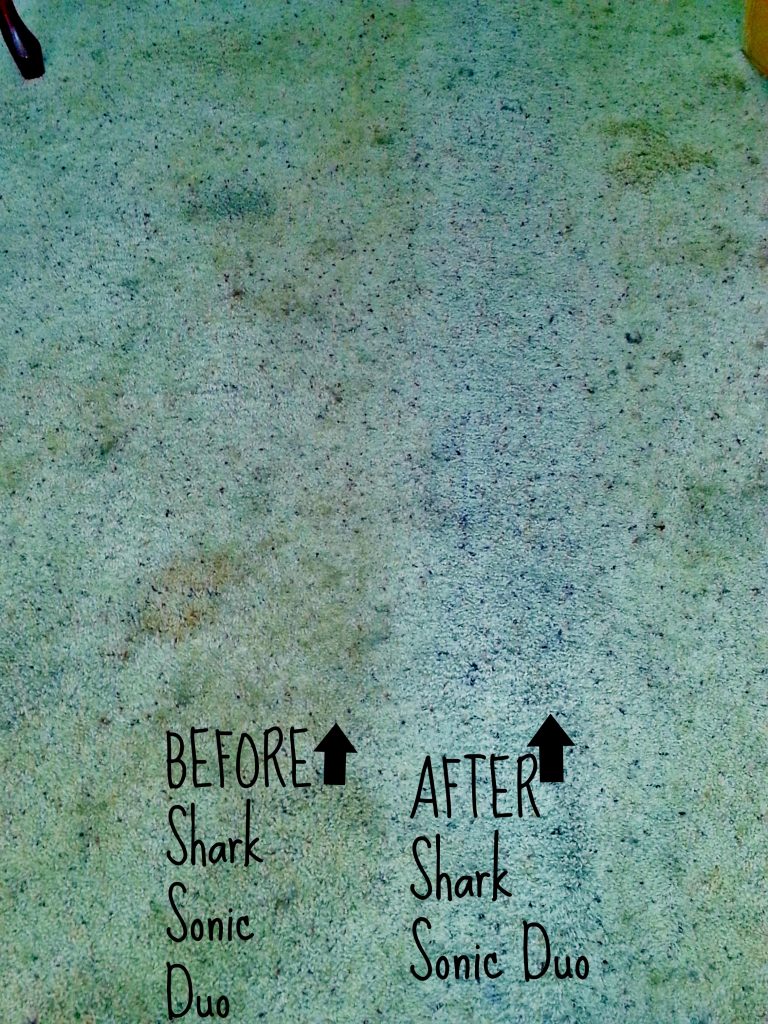 Kind of gross huh? The carpets in this house have been here for a LONG time and I have even tried using my big expensive steam cleaner on the stains with NO luck. So I was REALLY skeptical about it getting clean since I've steam cleaned it TWICE since we moved in. I just sprayed the pre-carpet treater from Shark on it then did a QUICK run over it with the Shark Sonic Duo machine and look at it!! In fact I was SO happy with the results I literally stopped working that day and cleaned all of the carpets and hard floors – they were just sparkling by the time everyone got home from school!! In fact I think I'll go and clean them again after I finish this post!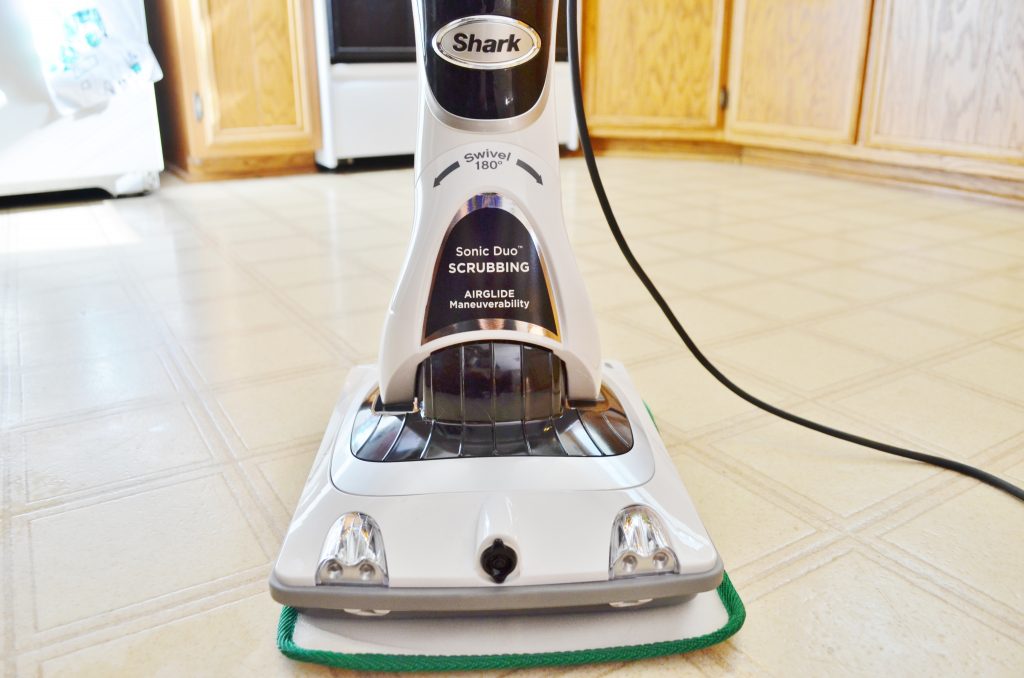 The actual cleaning itself is amazing. It really provides a good deep clean that my floors haven't seen….probably ever. There are two pretty key features that I really appreciate on the Sonic Duo. One is the Airglide Maneuverability. It's pretty self explanatory really but this machine literally just glides over the floors – AND the carpets.
I have no idea how they do it but you really don't need to exert any type of pressure or push into this machine – it literally feels like it's just gliding across on air! It would be very beneficial for elderly people or those with handicaps who don't have the capability of pushing a mop around. It seems to me you would easily be able to use this from a wheelchair too! Even my four year old can successfully use this AND get all of the grimy spots off of the floor since there is no scrubbing required from him.
The other feature I really appreciate is that it can swivel 180*. I didn't realize how nice it was until I started using it! You don't have to drag it in different spots to get the corners and under furniture because it easily swivels right around for you! Here's a video that you HAVE to see – bear with it, it's about 2 minutes long but you won't believe the stains that the Sonic Duo got out on the first try!
I have carpets and linoleum but would easily use this on laminate flooring, stone, and hard wood floors as well. In fact they sell a special cleaning pad and polish that you can actually use to polish your wood floors. The cleaning pads are machine washable and don't leave any of that weird streaking residue behind like I've experienced with other cleaners and mops. Overall I would definitely recommend the Shark Sonic Duo.
It runs about $200  but comes with the cleaning pads and plenty of cleaners to get you started for a while not to mention a seriously solid warranty/guarantee system. I spent about that much on my steam cleaner system and now that I've used the Shark Sonic Duo I'd definitely buy that instead. It gives our carpets a serious scrubbing treatment and is WAY easier to use which means that I will use it a lot more often so my carpets will stay cleaner.  AND it does hard floors too which means less storage space in my house since the Sonic Duo pretty much does it all.
Disclosure: I was not compensated for this review. I received the above products to use in order to form my own opinion. All opinions are my own.