Samsung Chromebook 11.6″ Review – Just What your College Student Needs
 Samsung Chromebook Series 3 XE303C12-A01US Review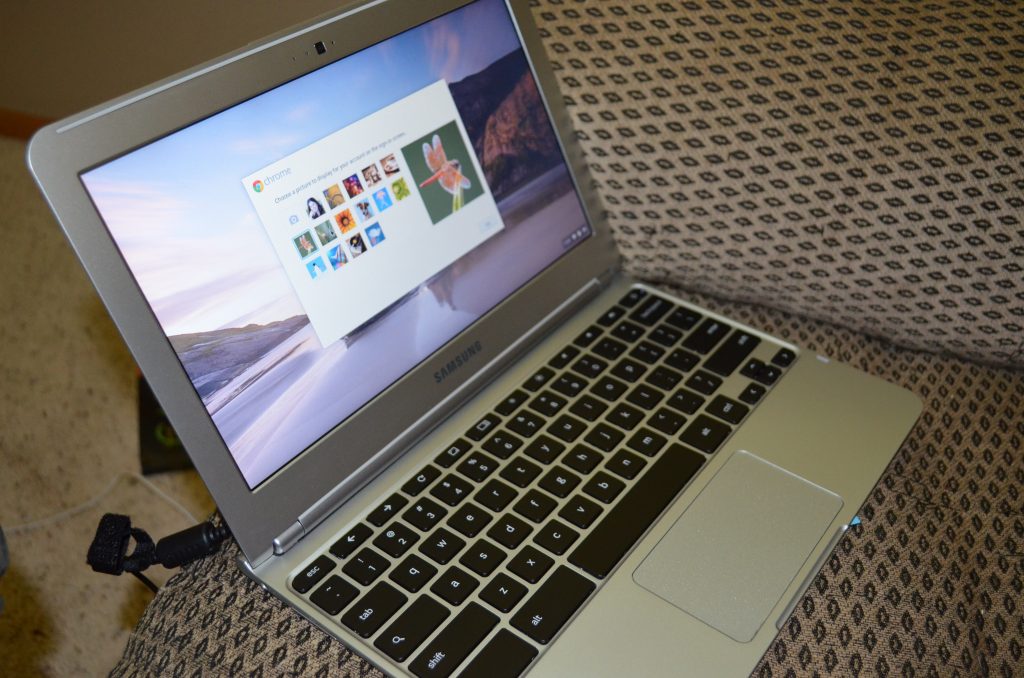 Going back to school means a lot of purchases – especially for teachers and college students (maybe even high school students)! Electronics especially can be a huge part of your budget and I was really interested to see how the Samsung Chromebook could meet that need because of it's cost effective price. The one we are featuring here is just $249 retail. Although you can find slightly cheaper ones I really like the options the Samsung Chromebook has. As a blogger I travel a good amount during the year and I have to be totally honest – I literally groan every time I think about lugging my laptop with me. I mean, I obviously need it to blog while I'm on a press trip but it has a 17 inch screen and cost almost $1000 – it is HUGE and a pain in the butt to travel with. I have really been looking for something that is incredibly compact and perfect to get me by for a few days or up to a week as I'm traveling and  the Samsung Chromebook is absolutely perfect for me.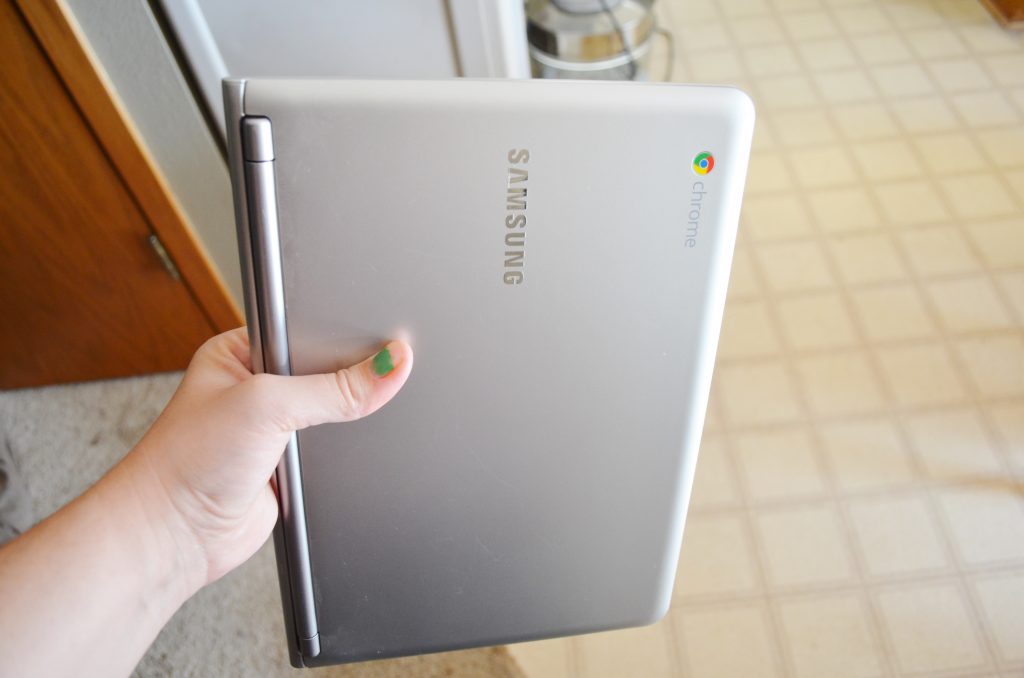 This thing is so thin (.8 inches!) and portable I absolutely love it. It easily slides into any of my backpacks and messenger bags and I don't need a huge case to lug it around in. Not to mention that it's extremely light, just 2.5 pounds. It's seriously lighter than carrying a big textbook around! But size doesn't matter when it comes to this slim piece of sweetness, it boasts a 16GB Solid State Drive and 2GB of installed memory. Plus it has over 6.5 hours of battery life which pretty much rivals my very expensive laptop.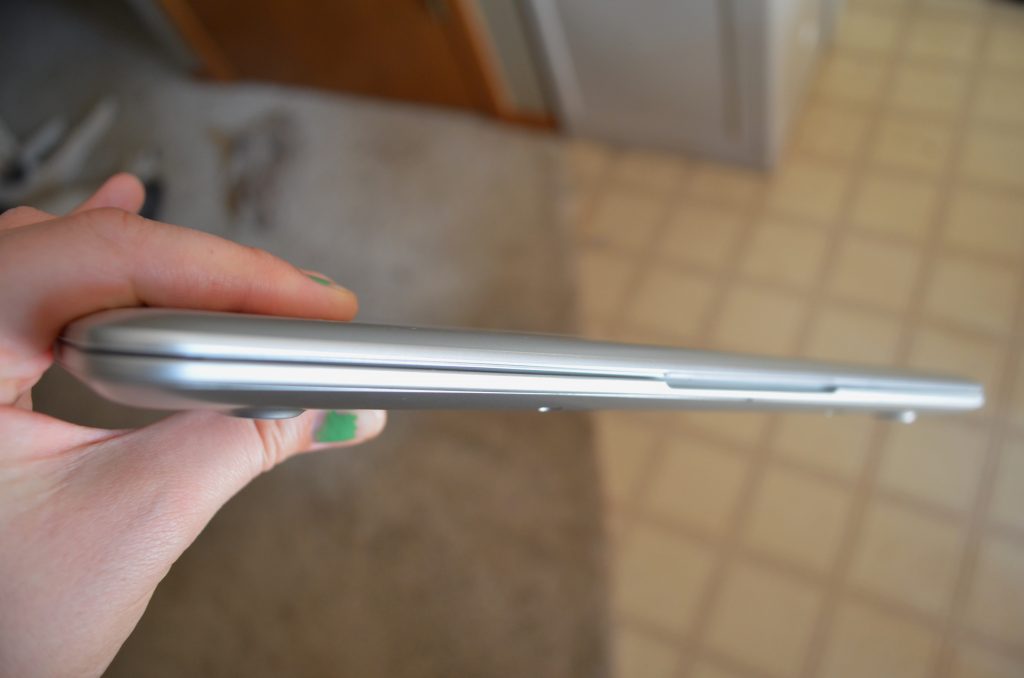 Here you can see just how thin this laptop is. It is certainly thinner than any book, textbook, or binder that I have!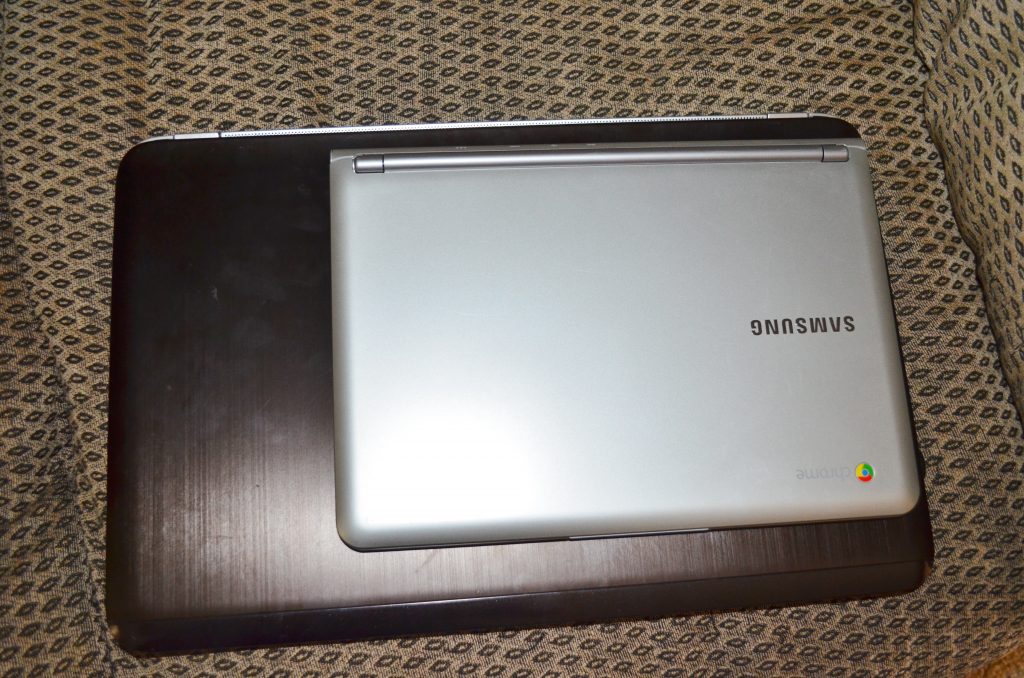 Look at how much smaller it is than my other laptop! I LOVE it!! It is the absolutely perfect traveler! Ok, once I stopped drooling over the compactibility of it is a huge deal to me I absolutely fell in love with the set up. It had a MAC / Windows 8 feel to it (the same swiping touchpad as Mac, boots up in about 10 seconds and has a similar app type feature like Windows 8!) but with a Chrome user base. Which means that when I signed in on this computer ALL of my Google documents and data instantly appeared on my new laptop!! No having to monkey around with moving files around – it was all easily accessible immediately.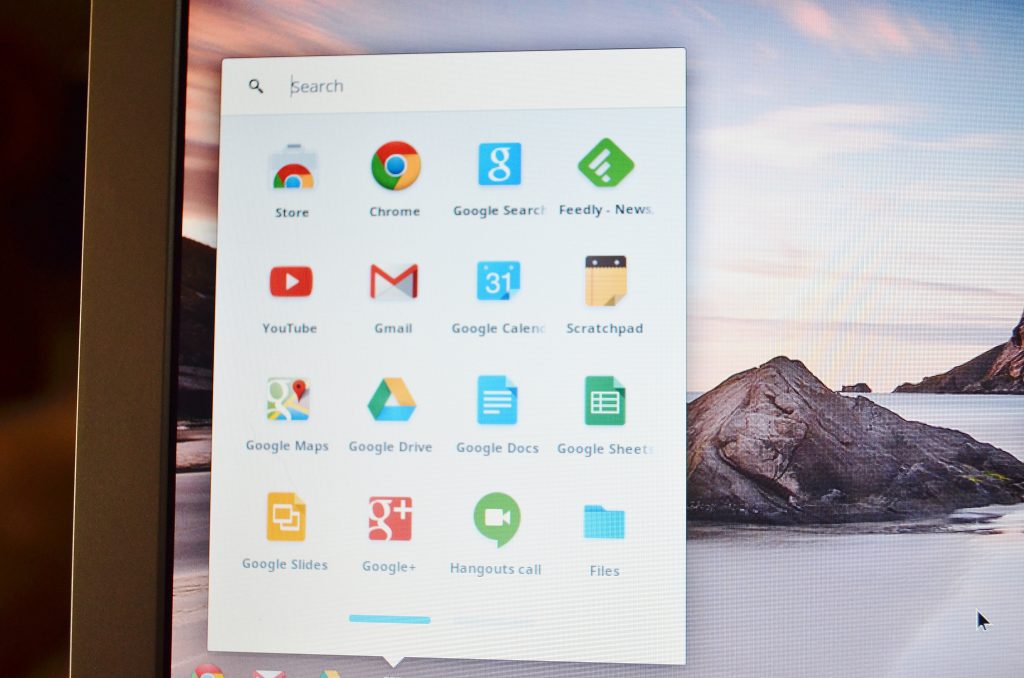 Check out the interface – all at the touch of a button – Google Drive, Hangouts, email, Calendar, Slides, +, and other quick access docs which I use almost all of every day! This is fabulous for teachers that interface on a Google system at school and can immediately bring up all of your work on your Chromebook at night with a quick swipe. Why is this so great for students? High schoolers and college students can work on a project together – in their own dorm rooms or sitting in a group, and continually update their projects which will automatically update in their shared files! Plus it has a built in PDF and document viewer.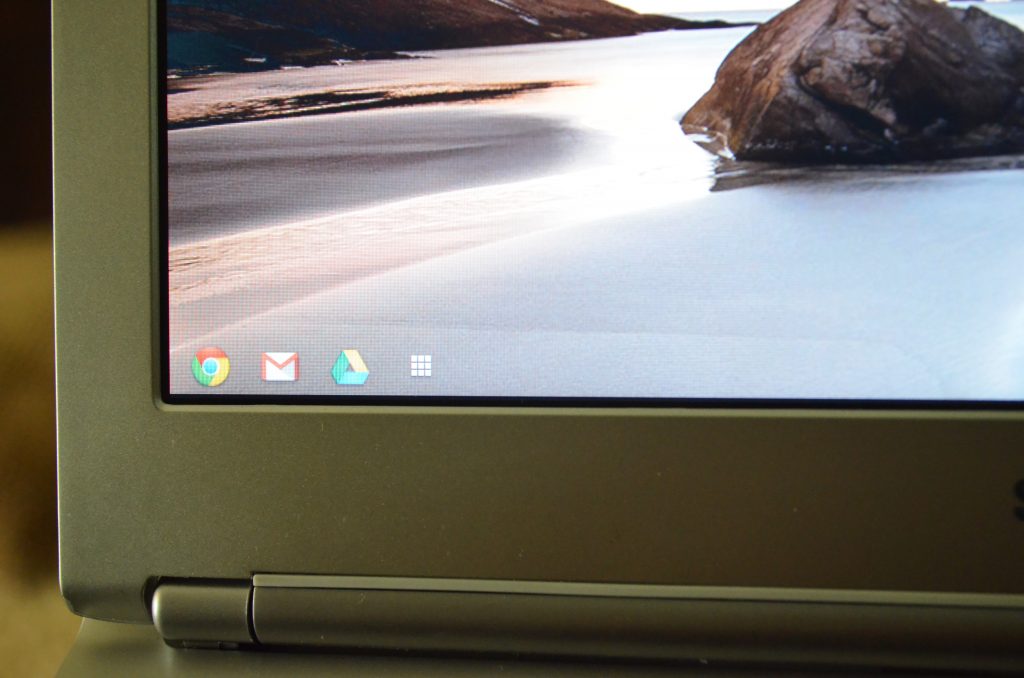 This is a photo of the main screen – it's blank except for the icons at the bottom which immediately pulls up your Chrome browser, e-mail, Drives, or the app button which I showed you in the previous photo. It's simple, it's uncluttered, but can bring up most everything that I need to access right away. This laptop, as it sounds, is a Google based laptop so if you work outside of Google navigating might present itself a little more differently. As a blogger, and as many high school and college students use Google based applications this is the absolute perfect choice. Everything in the Google-sphere is right there and updated automatically when you need it.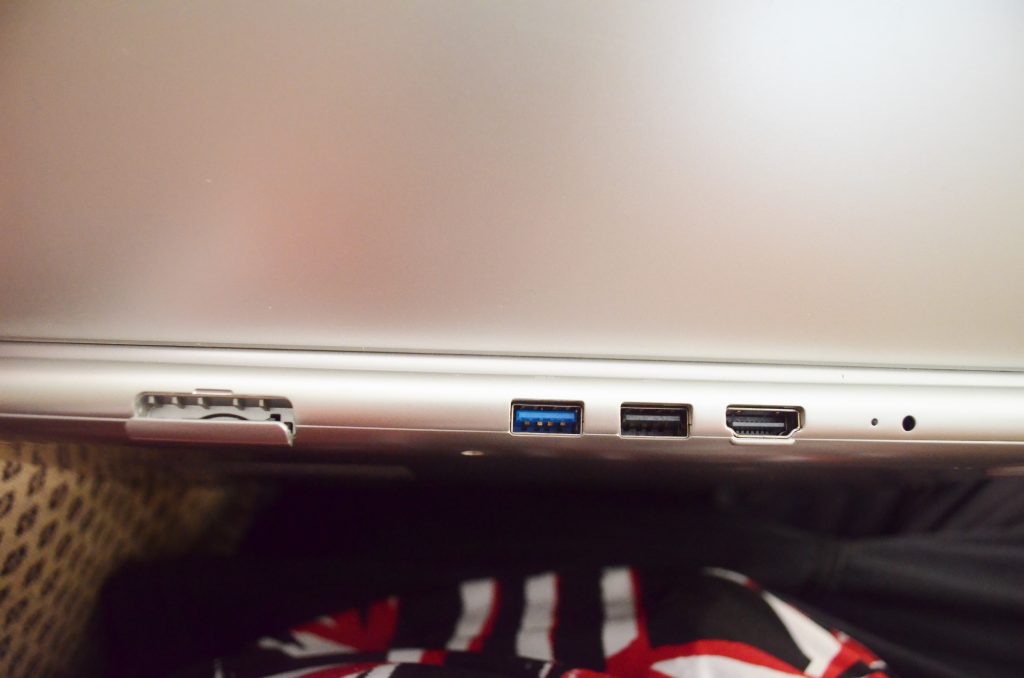 It of course is not a touch screen laptop but it is bluetooth compatible which means you can connect it with a wide variety of school programs. The processor speed is a 1.7 GHz. As you can see above it takes a USB drive as well as a memory card so I can put my photos directly onto my laptop which is a HUGE bonus! Especially if you're travelling and are a heavy photo taker like me! I take literally thousands of photos while I'm on a trip sometimes and then weed them out later. The Chromebook would be a great place to dump the photos off of your memory card and save it in the cloud!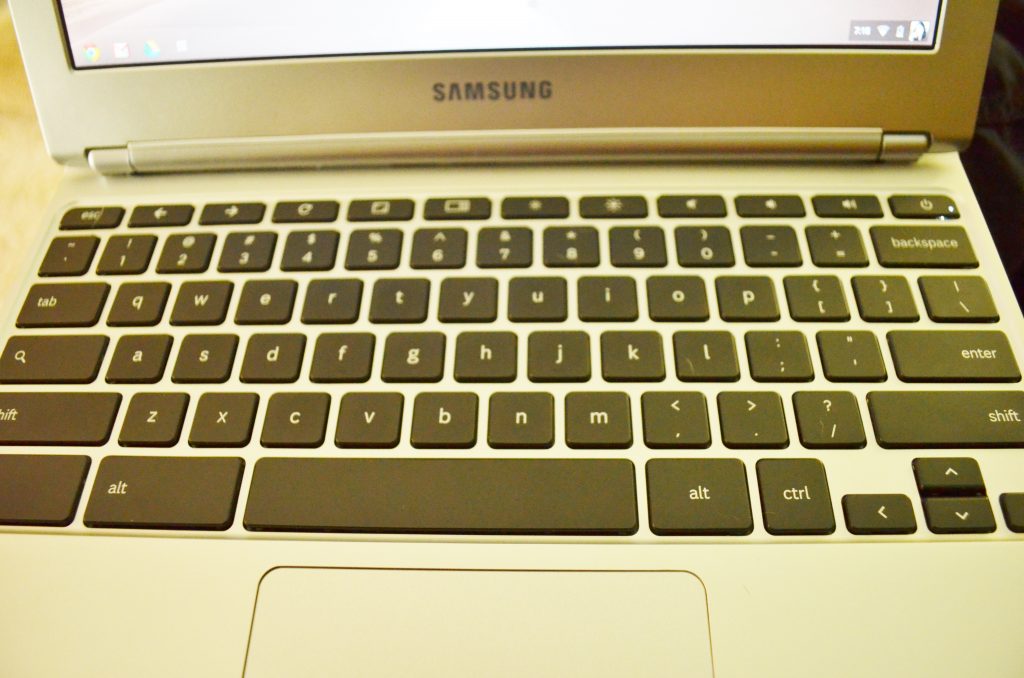 Although the Samsung Chromebook seems like a compact and lightweight size the keypad and screen size are very comfortable and are not too small to use comfortably (say compared to an ipad or Kindle). I am VERY extremely happy with this Samsung Chromebook. The price is very affordable and it is a great choice for so many situations – it's cheaper than your higher end Kindles and even those mini-iPads! If you do a lot of work online, especially via Google, I HIGHLY recommend this laptop. It is NOT a gaming computer (another good reason to buy it for your students!). It's not based on your conventional software systems and won't run your typical Office programs, but if you're a tech savvy person that is very web-based you'll love this laptop. I've been considering a smaller device to travel with but didn't want to spring for a $500+ item. When this one gets old I would purchase it in a heartbeat. You can't beat the price for what it offers and it really just simplifies my life a lot.
Disclosure: I received the above product to review. No compensation was received. All opinions are my own.