Safari Ltd. Dinosaur Skulls TOOB – Great for Fossil Birthday Parties!
This post may contain affiliate links, view our disclosure policy for details.
Check out these AWESOME dinosaur skulls that Safari Ltd. sent us to feature at my son's Fossils & Dinosaurs birthday party!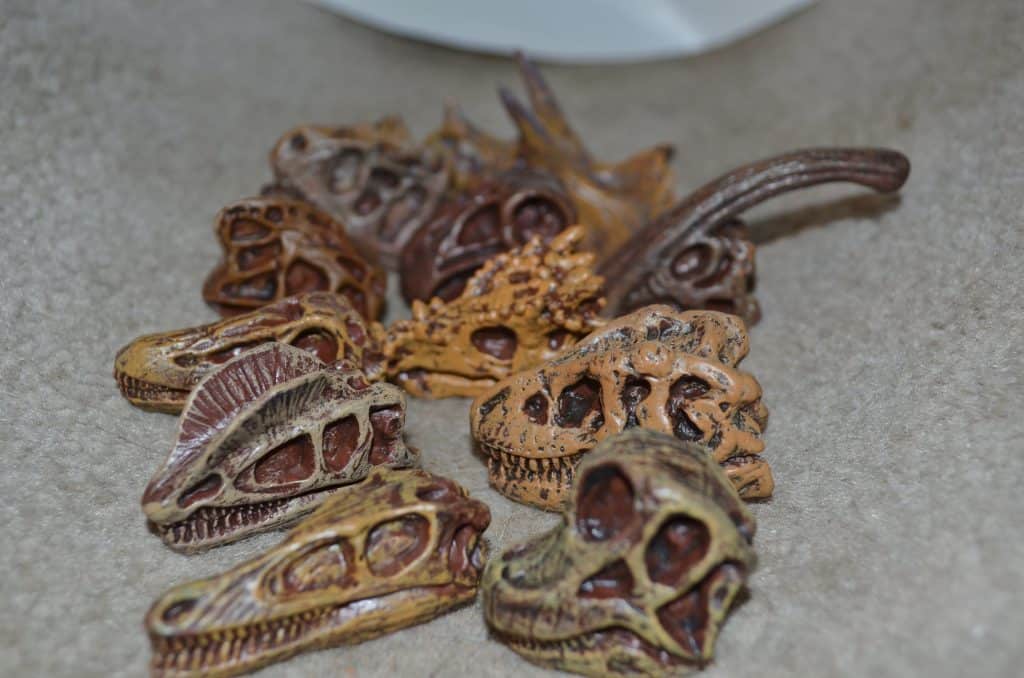 It made my "paleontologist wanna-be heart" excited! And when my son saw them out at his 6 year old birthday party he just thought it was SO cool! In fact he sat down right away and pulled out the ID card to read about each dinosaur skull in this Dinosaur Skulls TOOB from Safari Ltd.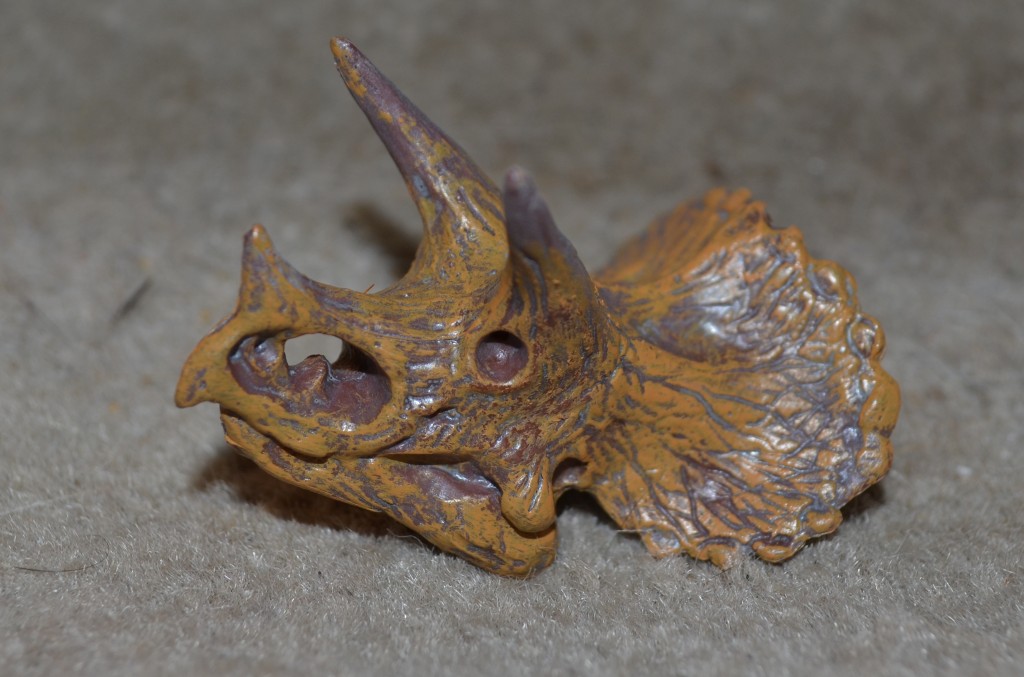 Each piece is hand-painted and clearly recognizable (if you know your dinos that is!). You can see this one is the Triceratops which my son immediately noticed. There were quite a few that we didn't know so I was definitely glad to have the ID card so we could learn about each new dinosaur and further explore it.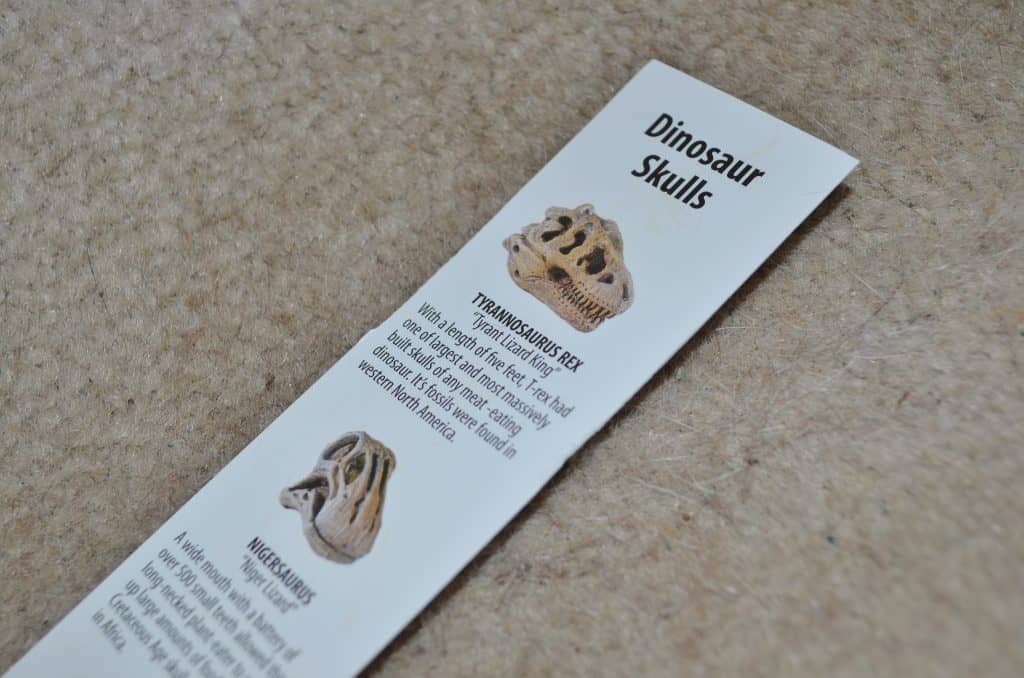 So the other kids at the party could learn about each skull that they found I kept the ID card out on our "party table" where I had the cake and other favors.
One thing I appreciated about this TOOB is that not all the skulls looked the same. Let's face it – many of the dinosaur skulls look very similar which could easily lose interest or be hard to identify, but Safari Ltd. did a great job of choosing a variety of skulls to include so that they would be easy to spot and recognize.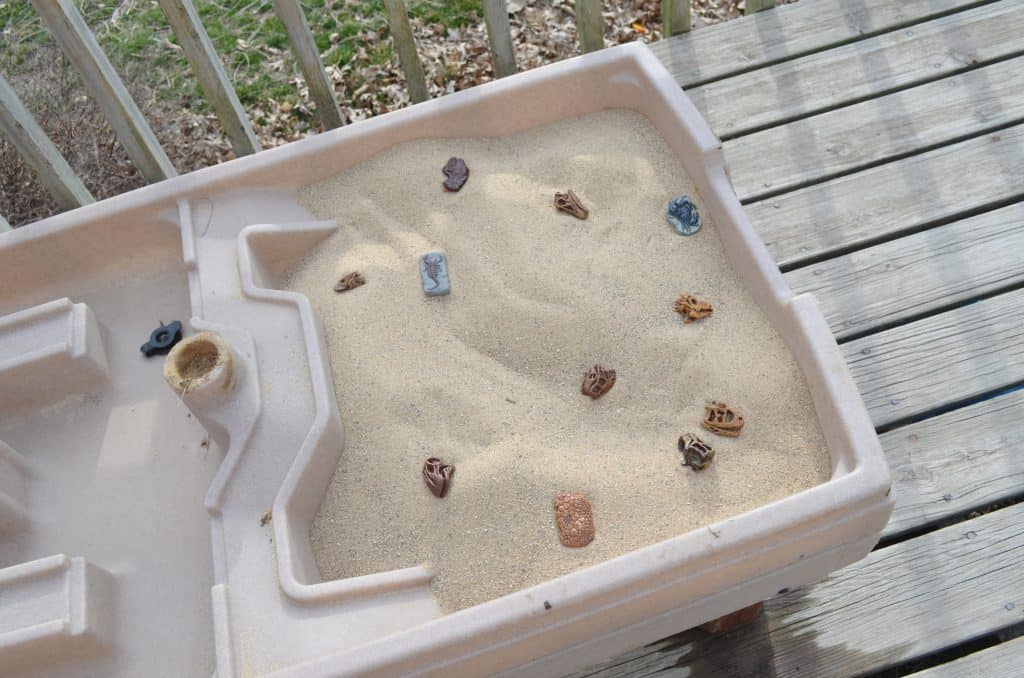 Right now the TOOB is in our science center so the kids always have access to it but during the Fossils & Dinosaurs birthday party we split our Dinosaur Skulls TOOB and our Ancient Fossils TOOB into two different places. Half of each container went into our sand pit on the back poarch for the kids to dig up. We put sand, fossils, and skulls in one half of our sand/water table, and in the other half I piled up small paint brushes, magnifying glasses, and other tools to excavate with.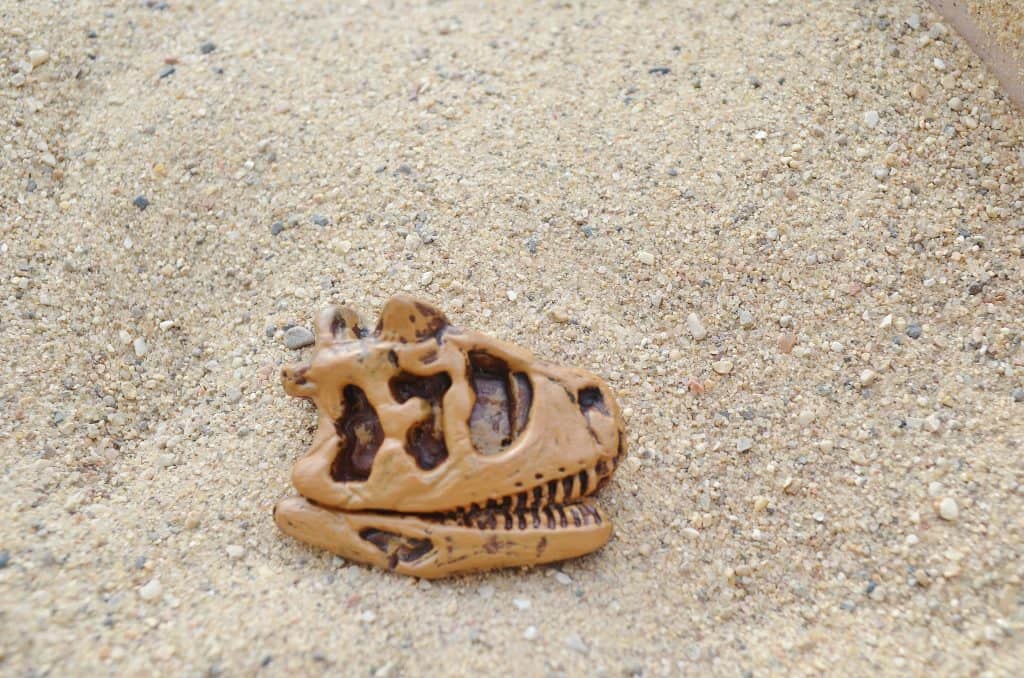 These little skulls looked AWESOME in our sand box and they were a HUGE hit! In fact as I'm writing this review my son is out in the dig pit right now playing with them.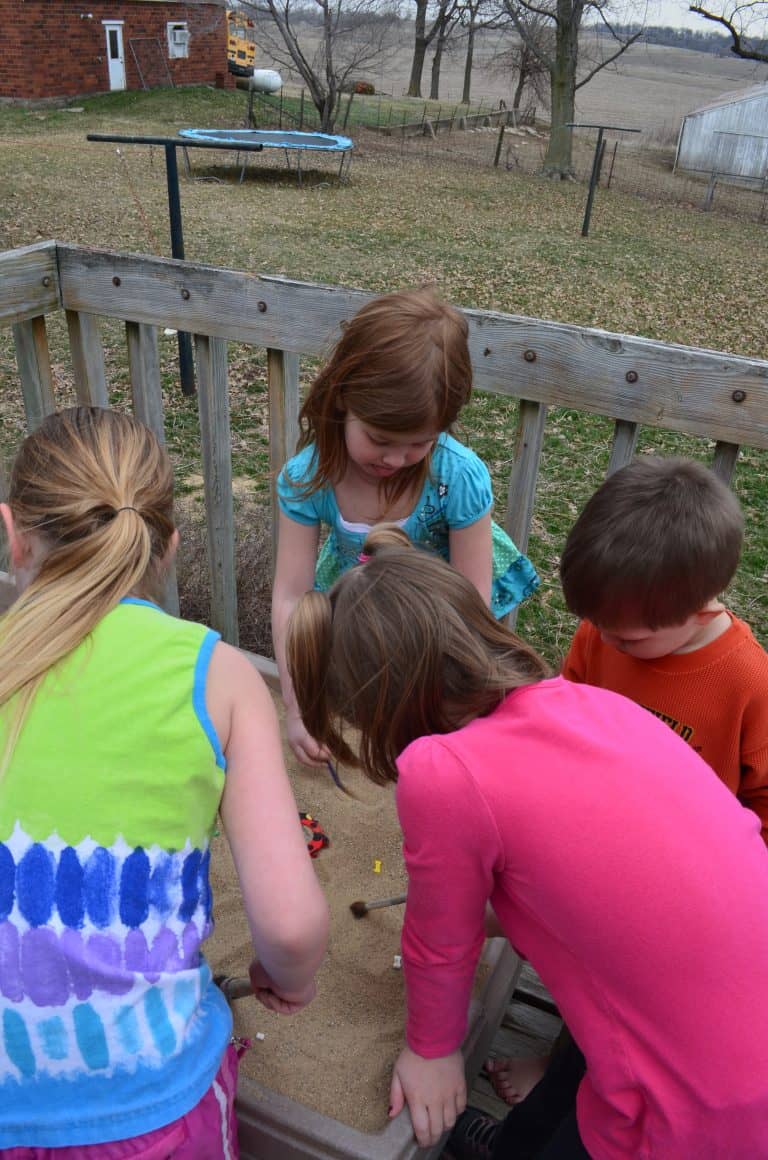 As soon as the kids saw that there was a dino dig pit they literally swarmed outside to play. It was crazy and I certainly wasn't expecting such a mad rush! I wish I had had a bigger area for it! I also dumped in some candy bones too for an extra-sensory experience.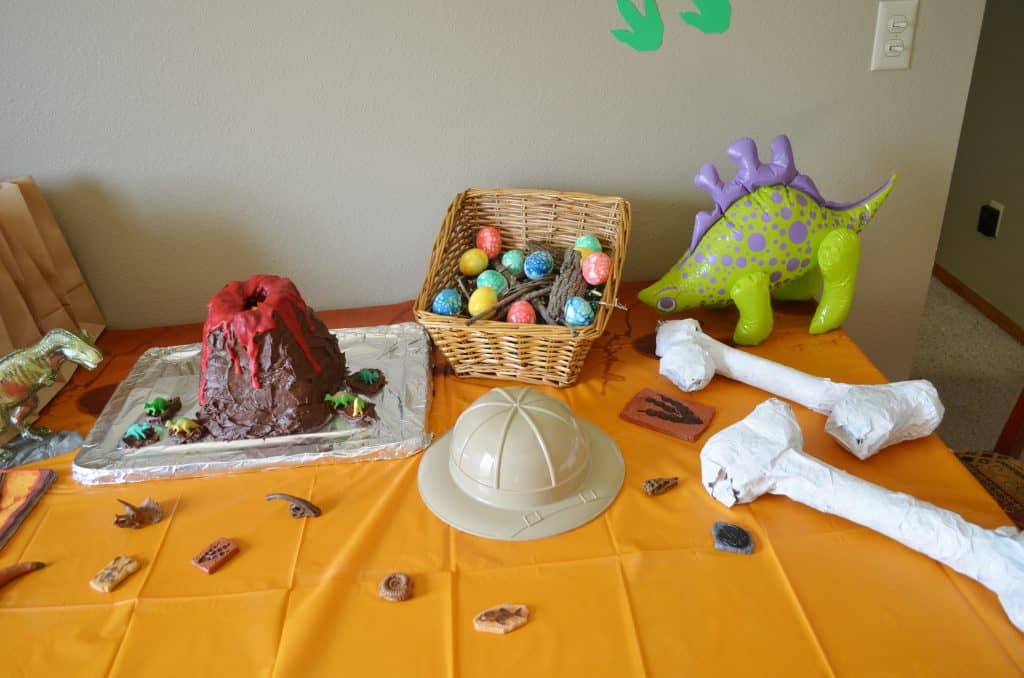 The other half of the TOOBS went inside on our party table spread out so that the kids inside could both play with them and look for each one on the ID card.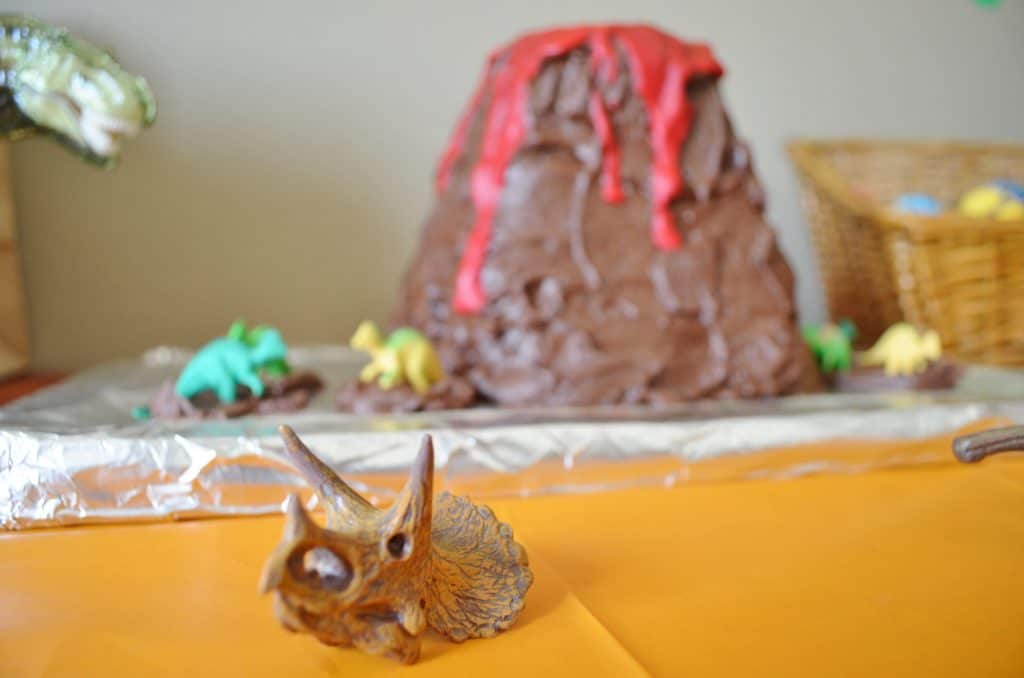 The table was absolutely perfect! The extra dinosaur skulls and fossils from Safari Ltd. REALLY made it superb! Every child was interested in them and they really got a lot of use during the party. Not to mention that now my kids have these to keep in their science center and we can loan them to our school classrooms for use in sensory tubs, history lessons, and even career day! These are definitely the best little dinosaur skulls I have ever seen in a set and the price is fantastic. (typically around $12 or less) You can buy them from Safari Ltd. or on Amazon.
You can find Safari Ltd. on Facebook, Twitter, and Pinterest!
Disclosure: I received the Dinosaur Skulls TOOB from Safari Ltd. to feature at our party. No compensation was received. All opinions are my own.