Glowing Potpourri Jar Handmade Christmas Gift
This post may contain affiliate links, view our disclosure policy for details.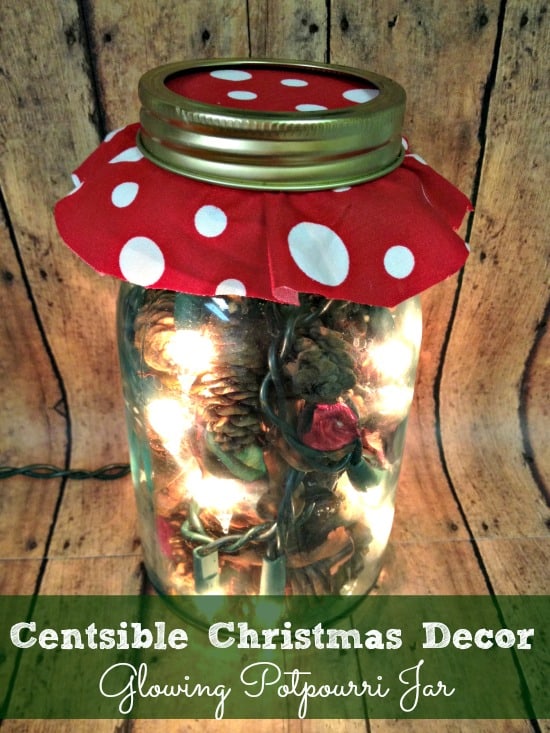 If you're looking from a simple holiday craft that can also double as both a gift of as holiday decor this Glowing Potpourri Jar fits the bill perfectly! Made from an assortment of dollar store supplies it takes just minutes to assemble but ends up looking like something you would find for sale in a boutique! Take a look below at how you can make your own glowing potpourri jar gift, just in time for the holiday season! You can also make it themed for just about any time of year!
Supplies Needed:
1 Mason Jar
Small Piece of Scrap Fabric
Assorted Potpourri
1 Strand of Twinkle Lights
We were able to purchase all of these items at our local dollar store if you don't already have the materials on hand.
Directions:
1. Begin by placing the twinkle lights inside of the mason jar.
2. Slowly fill in potpourri around the light strand. Make sure to hold on to the strand with one hand while you fill with the other. This way you can keep the strand close to the edges of the glass where it will be more easily seen. You don't want it to get too buried into the potpourri mixture where it will get lost.
3. Continue filling and adjusting the lights to the edge of the jar. Fill the jar all the way to the top. Make sure your end of the twinkle lights is coming out of the top so you can easily plug it in and not have to dig around for the plug.
4. Place the lid on the jar. Cut a small piece of scrap fabric to adorn the lid as we did. You can choose a holiday pattern or color or just go with an everyday look. Place the lid on as tight as you can without interfering with the cord.
Now just plug the cord in and watch the jar glow! The soft heat from the lights will even give the potpourri a little boost so it will smell graet too! This is a perfect decoration for an office desk, mantel, kitchen counter, or any small space that could use a pop of holiday charm. No doubt you will want to make two….one to give and one to keep for yourself!