We were honored last year at Toy Fair in NYC to meet up with the creators of Puzz Story and I am just SO excited to share this product with you. It combines tactile, visual and memory learning to teach history – all through a book and a magnetic puzzle which takes you era by era through time. I am a huge supporter of hands on and visual learning and I just think that this Puzz Story absolutely ROCKS. Check it out!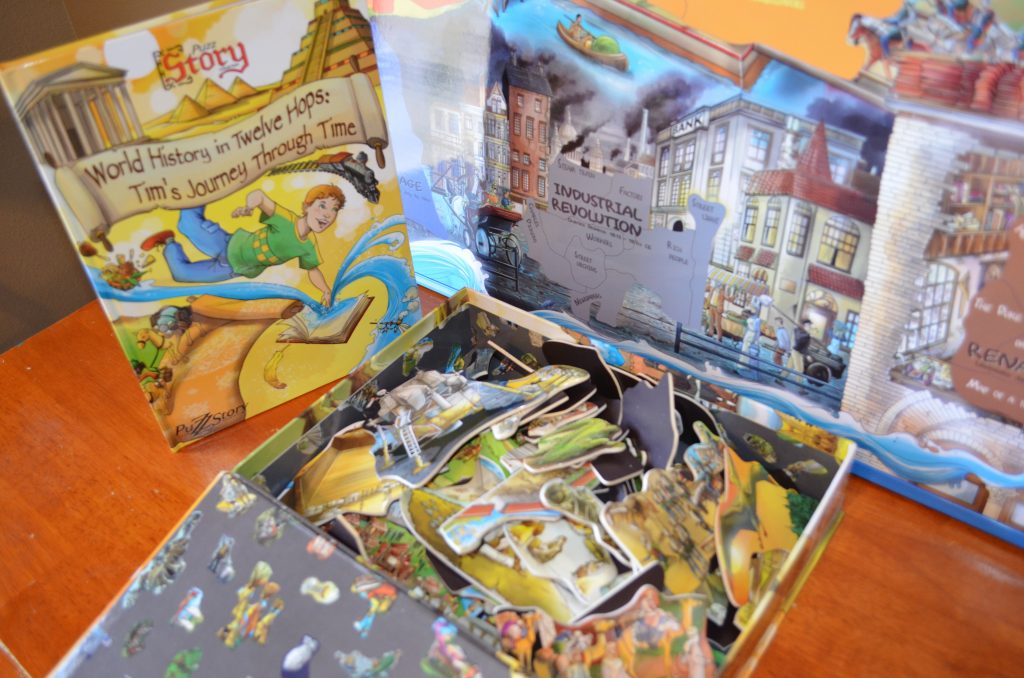 It comes with a book, a sturdy box of wooden puzzle pieces, and a framed magnetic poster. The book is about a boy named Tim and his magical journey through time. In each era that he falls into there are specific words that relate to the puzzle pieces. As you read those words the kids need to find the corresponding puzzle pieces and place them onto the hard magnetic poster. The poster is quite large which makes it ideal for homeschoolers or classrooms!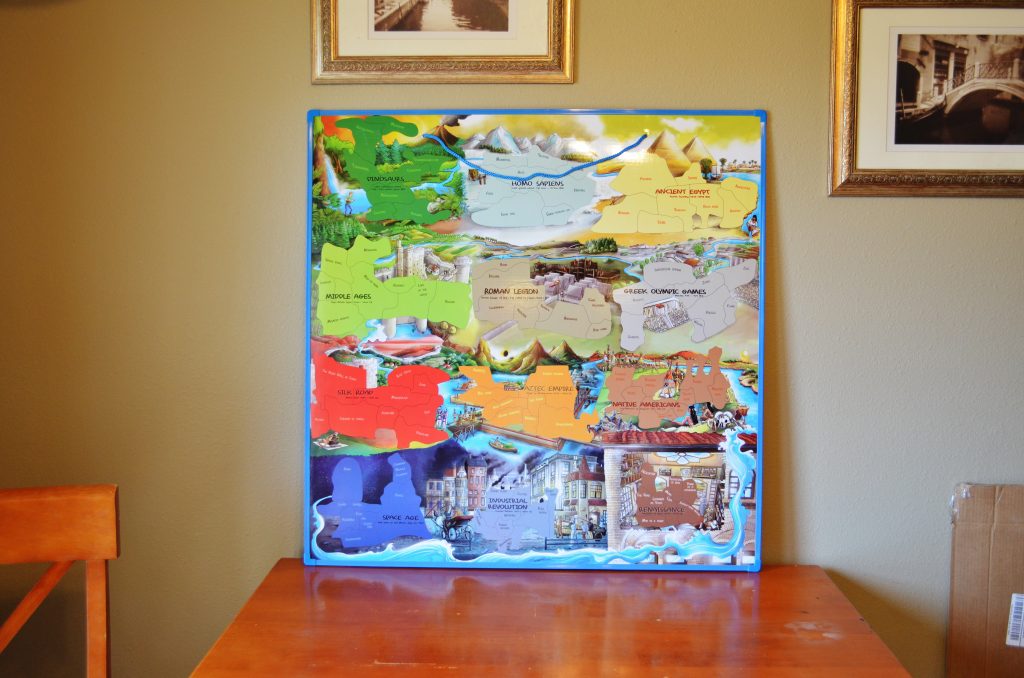 You can see how it takes up almost the entire end of my dining room table. It has a string attached so that you can hang it on the wall. It might be very large but it is also lightweight. I had no problems hanging this on a nail.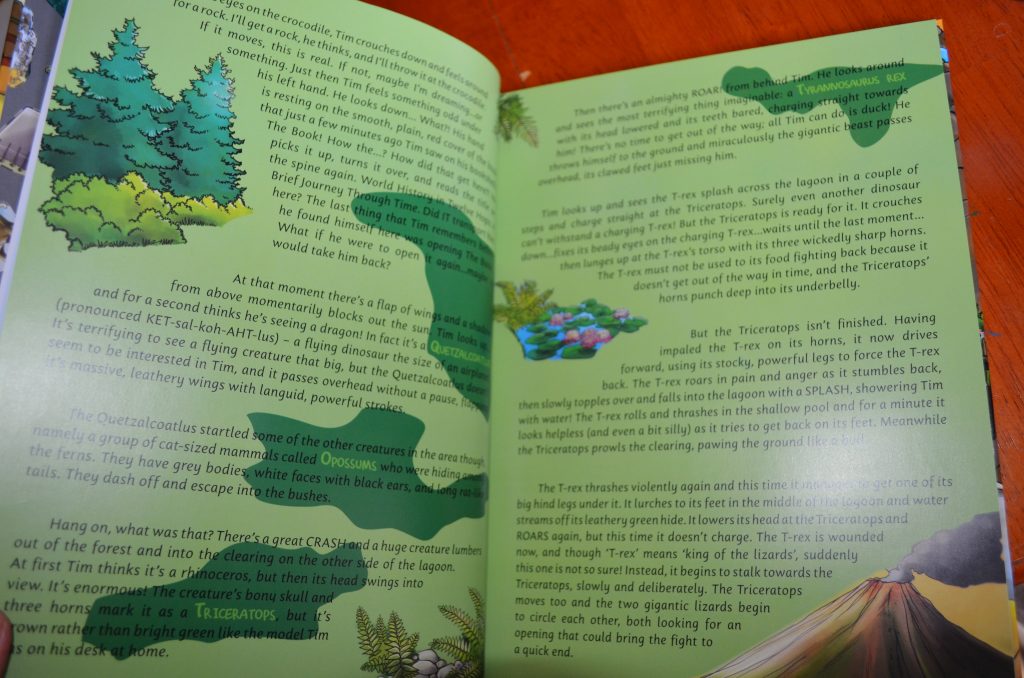 The first era that we read through in the book was the dinosaurs. Each paragraph was incredibly descriptive and my son was able to find the wooden puzzle pieces for each dinosaur – even if he had never heard of them before – just by listening to the description in the paragraph. As you can see in the pages above on the left there are large darker green "splotches" on the page. These "splotches" are actually on top of the words describing the puzzle piece that you need to find AND they are ALSO the shape of the puzzle piece that you need to find.
We have been working through the history stories for the past week and my son just BEGS me to read him more. In fact he is not satisfied until I read at least two entire time periods! Any more than that and I am too tired to read aloud – it is a lot of material!! This is not only great for copy/design skills but also for reading comprehension. My son knows he must listen very carefully to the history story details in order to find the next puzzle piece. If you look up on the poster you'll see that each time era is visualized as a different color. In each era the shape of the puzzle piece needed is outlined as well as the name of what the puzzle piece is.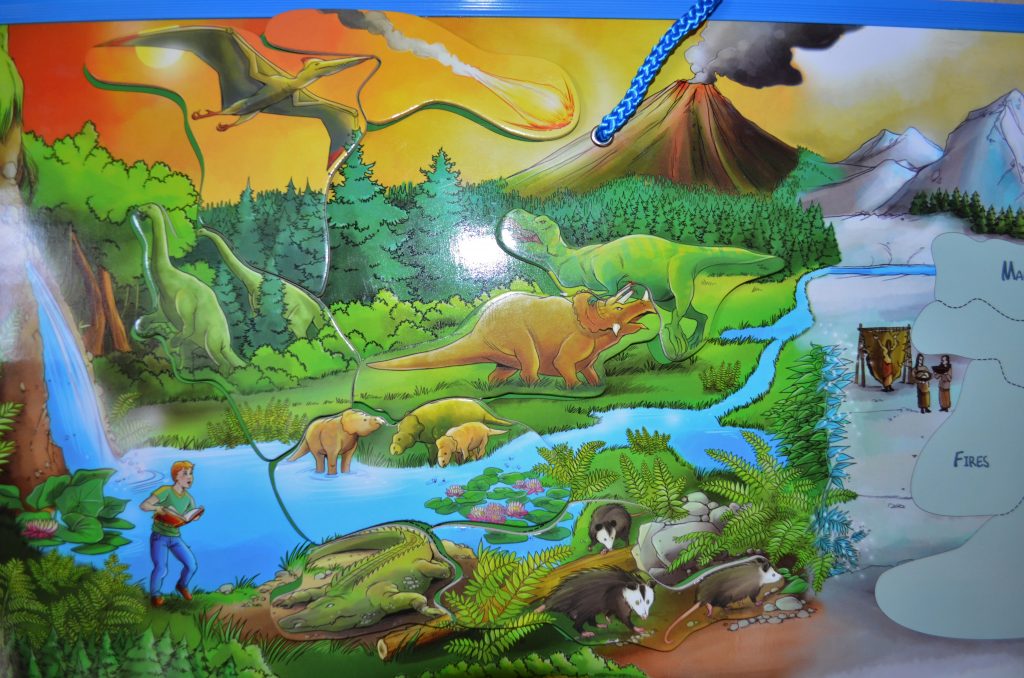 Here you can see Tim as he watches the dinosaurs – this was our first set of puzzle pieces that we completed together. The colors are very vivid and the quality of the puzzle pieces and this Puzz Story set are absolutely fantastic. My husband who is a teacher always looking for a great manipulative couldn't stop talking about this product after we had learned about it at Toy Fair. He went back and shared it with all of his co-workers and grade team and just googled when I told him that it had finally launched here in the US. My son has been captivated by the story and gets incredibly excited to search through the pieces and then place them on the magnetic poster. At the end of each chapter/era there is an informational research section that tells you more about the people/objects/animals in that era – a history lesson per se.
You can purchase Puzz Story on Amazon for $64.99 and it is worth every penny! This includes a hard magnetic poster (which arrives separately), a hardcover book (85 pages) and a storage box with 96 wooden magnets. This is the kind of history lesson that my son will ask me to read over and over and over again. You can use it as a homeschooler and combine each story with projects and activities, or use it in a classroom for reading time. This is geared towards elementary aged children but is of course fun for everyone. I really hope that they will continue and create more learning products like this one because it is just fantastic.
And just so that you can see the magnetic poster BEFORE you add the puzzle pieces and AFTER you add the puzzle pieces I've included those images below.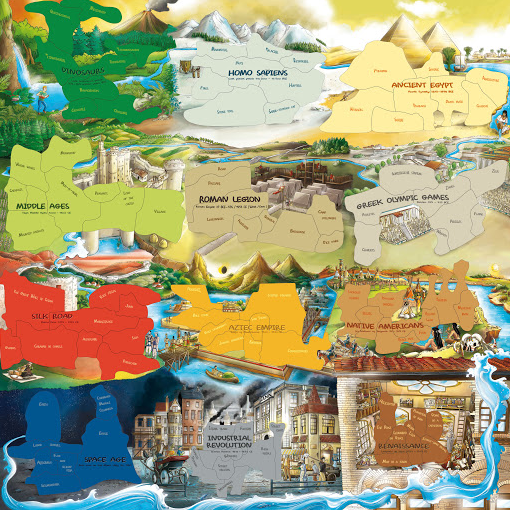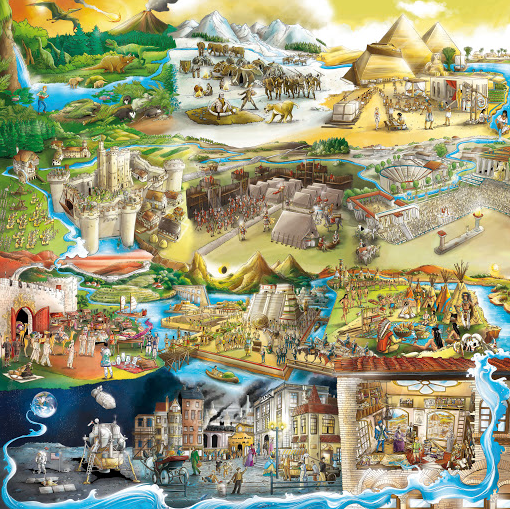 Disclosure: I received the above product to use in order to form my own opinions. All opinions are my own.
Share the post "Puzz Story – The Puzzle Adventure that Teaches History #Review"