Putting Together our Easter Basket
This post may contain affiliate links, view our disclosure policy for details.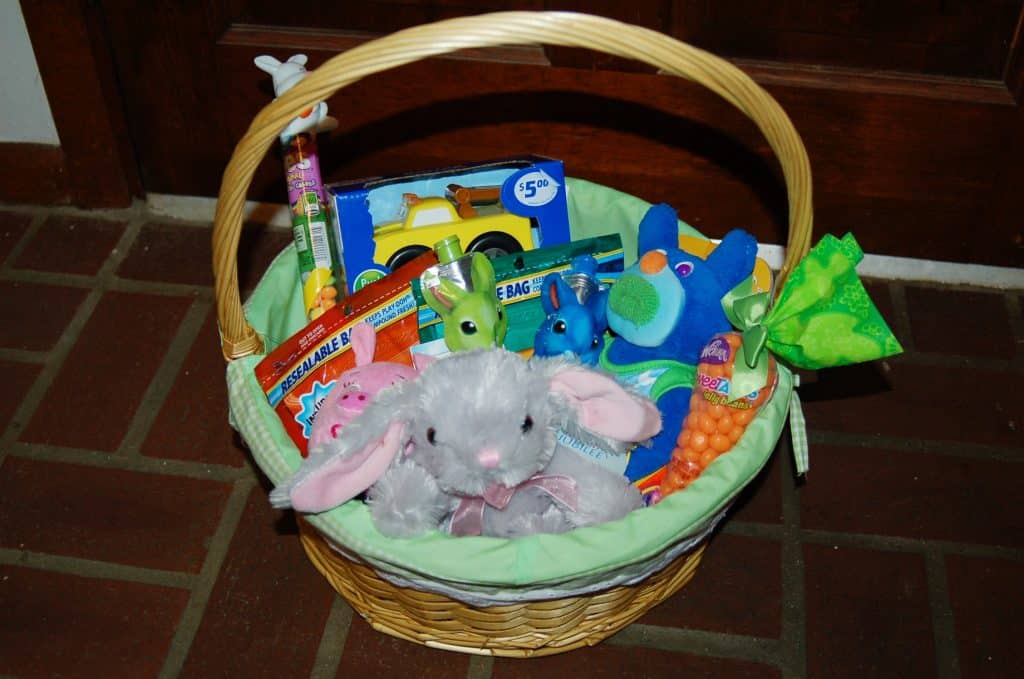 Our family just LOVES the holidays and Easter is no different! I love the extra day off school, the Easter egg hunts and creating Easter baskets for the kids to enjoy! The kids have SO much fun and I love seeing their smiles from something so simple like chicks and eggs! I knew that Kmart was having a lot of really great sales on Easter stuff so we went on Saturday night to see what they had. Of course for this opp I needed to give them their basket a bit early so I made sure to check all the deals before I went out! I decided this year for the boys that I would combine their basket(s) into one big one with lots of goodies in it! My budget for everything was $30. All of the Easter goodies were in the front of the store so they were easy to spot. I had seen in the ad that there were already good sales on Easter plush animals and baskets too along with a few toys I thought would be nice to stuff in there.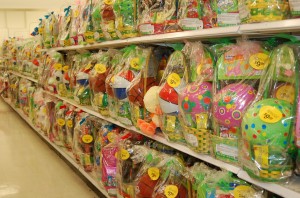 There were TONS of pre-fab baskets but I really wanted to build my own since I could choose what to give the boys. So I went down to the next aisle to find the biggest basket I could buy since it would need to hold everything for both my boys. Although I have to say that there were some fantastic prices in the pre-fab basket aisle!! I was VERY impressed.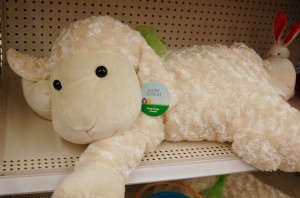 I didn't want a plush this big but isn't this sheep adorable?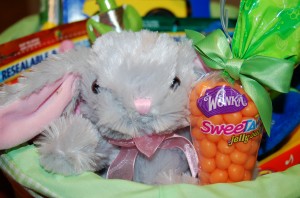 It's traditional for me to add in an Easter – related plush so I found this incredibly soft bunny that I knew my oldest son would just love! I also tend to put very little candy in as my kids have plenty of energy without the extra sugar, so I added in only the carrot-packaged jelly beans, some skittles, and 2 bunny packs of marshmallows- that will last them a very long time! My little guy has always wanted a Sing-a-ma-Jig so I decided this year we would surprised him & splurge with the extra special gift! Buying it made us go a few dollars over budget but it was worth it to see his face! He's been attached to it ever since! Plus in the Kmart circular ad I spotted 25% off Jungle Junction toys so I bought the pig on wheels for my oldest son since he just got a pet pig!
I intended to go to Kmart only to build an Easter basket for my boys but we found that the aisles were covered with clearance clothes – ONLY $1.99 each!! And they were NICE clothes – not cheapy tank tops or anything. I bought 2 pairs of pants, 2 jackets & 7 shirts!! Check out this jacket I snagged for ONLY $1.99! I couldn't believe it!
PLUS we got an even better surprise! When I checked out at Kmart they send out coupons and you can get discounts in the store with it. The cashier handed me a $5 gift card since I had spent $50+ with my rewards card! I had no idea they were even running that promo so I was thrilled! Not only was I able to get an absolute STEAL on some nice clothes and build my kids a fun Easter Basket but I even got a gift card too! Here was the break down for my Easter Basket:
Basket – on SALE! $6.99
Plush – $3.99
Marshmallow Bunnies – $2 ($1×2)
Play-doh – 2/$3
Sing-a-ma-Jig – $12.99
Pig plush toy – $5.99
Set of cars – $5
Skittles Easter Candy – $1.99
Jelly Bean Carrot Candy – $1.99
We definitely went over budget (approx. $43) BUT the Sing-a-ma-jig was completely extra so we were OK with that. Otherwise our basket would have been just about exactly $30 and that's what we were aiming for! You can check out my Google+ story to see even more of the Easter selection that we found at Kmart!
Disclosure: This post has been compensated as part of a social shoppers insight study for Collective Bias. #Cbias All opinions are my own.