Are Produce Box Subscriptions Worth the Cost? HONEST Review!
This post may contain affiliate links, view our disclosure policy for details.
I've debated for the past year or two whether produce box subscriptions are worth the cost but never decided to order one until recently. When I first started searching I had access to Peter Rubi in the Chicago area (an AMAZING affordable produce store) so I didn't need a produce box subscription.
Now that we've moved to Louisiana and it seems everything near me is rather pricey (compared to Peter Rubi) or not available, I decided to order my first produce box – of which I promptly cancelled the day it came in.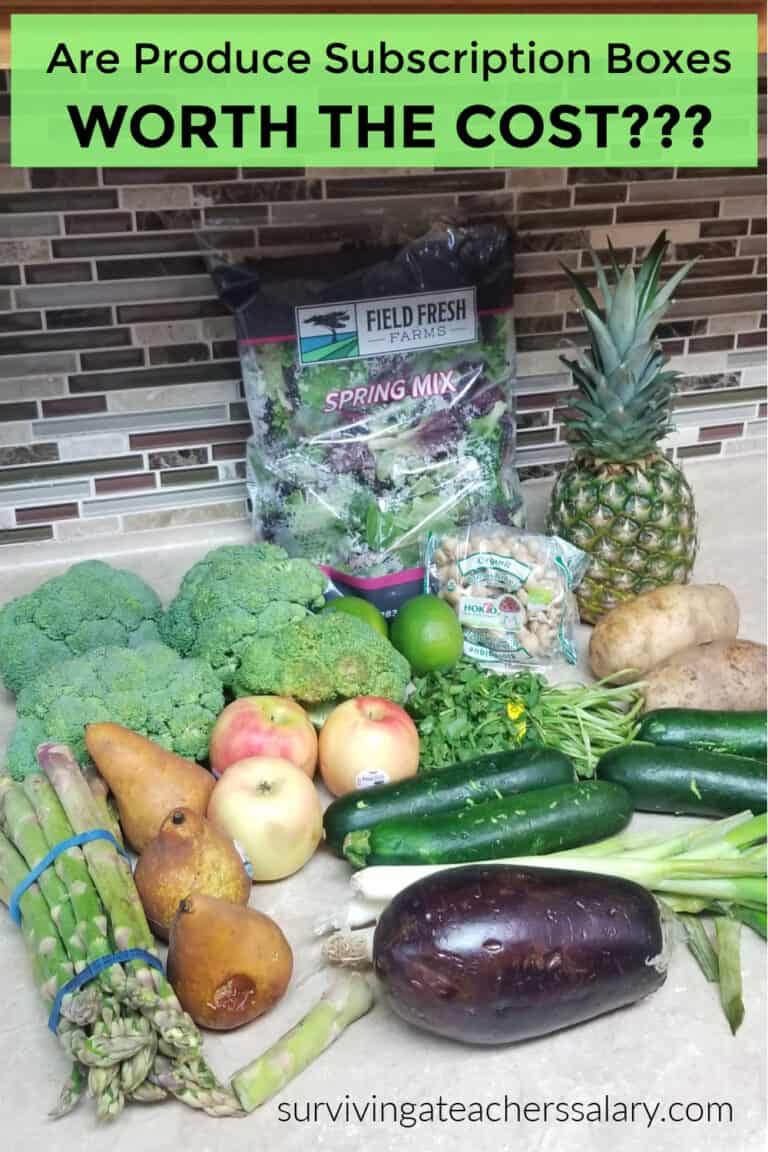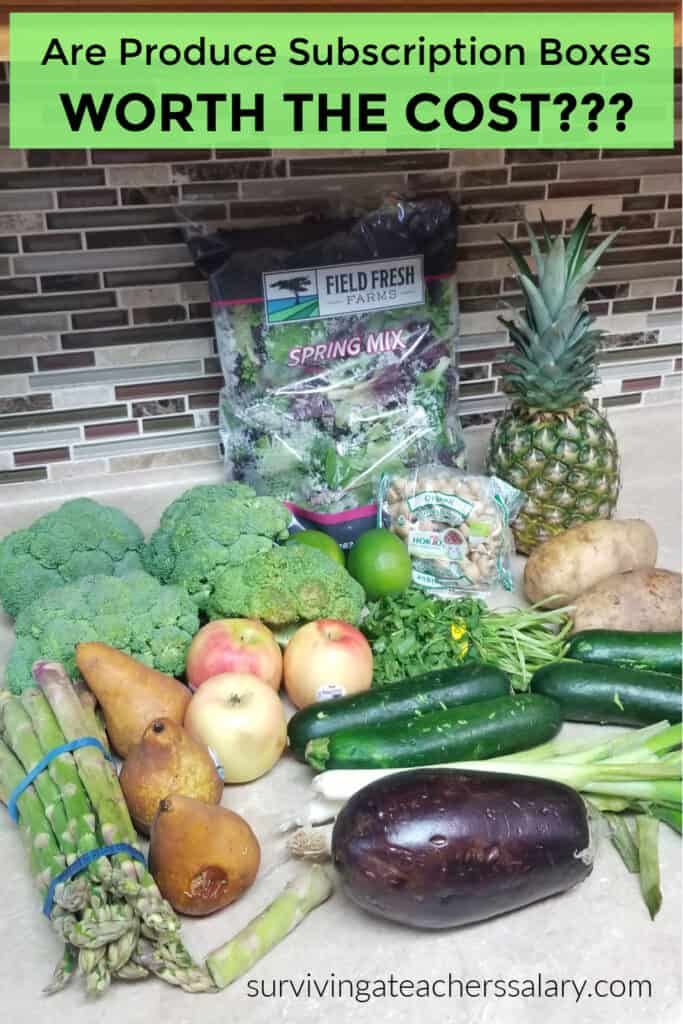 Ok let me be upfront, I've never contacted any of the produce subscription box companies other than as a customer. No PR company, no freebies, no "I'm a blogger" strings – nothing. Just a regular consumer.
In fact I didn't even bother complaining to the one company that I did order a box through because quite frankly it wasn't worth it to me and I don't have time right now to deal with a company who can't get it right the first time. (harsh maybe but right now I'm too busy to follow up to make sure someone else is doing their job)
I've been working with GreenStalk Vertical Gardens (see my review here) and North Spore Mushroom kits to grow my own food at home but I thought it would be so nice to find a good produce subscription company I could rely on to fill in the gaps.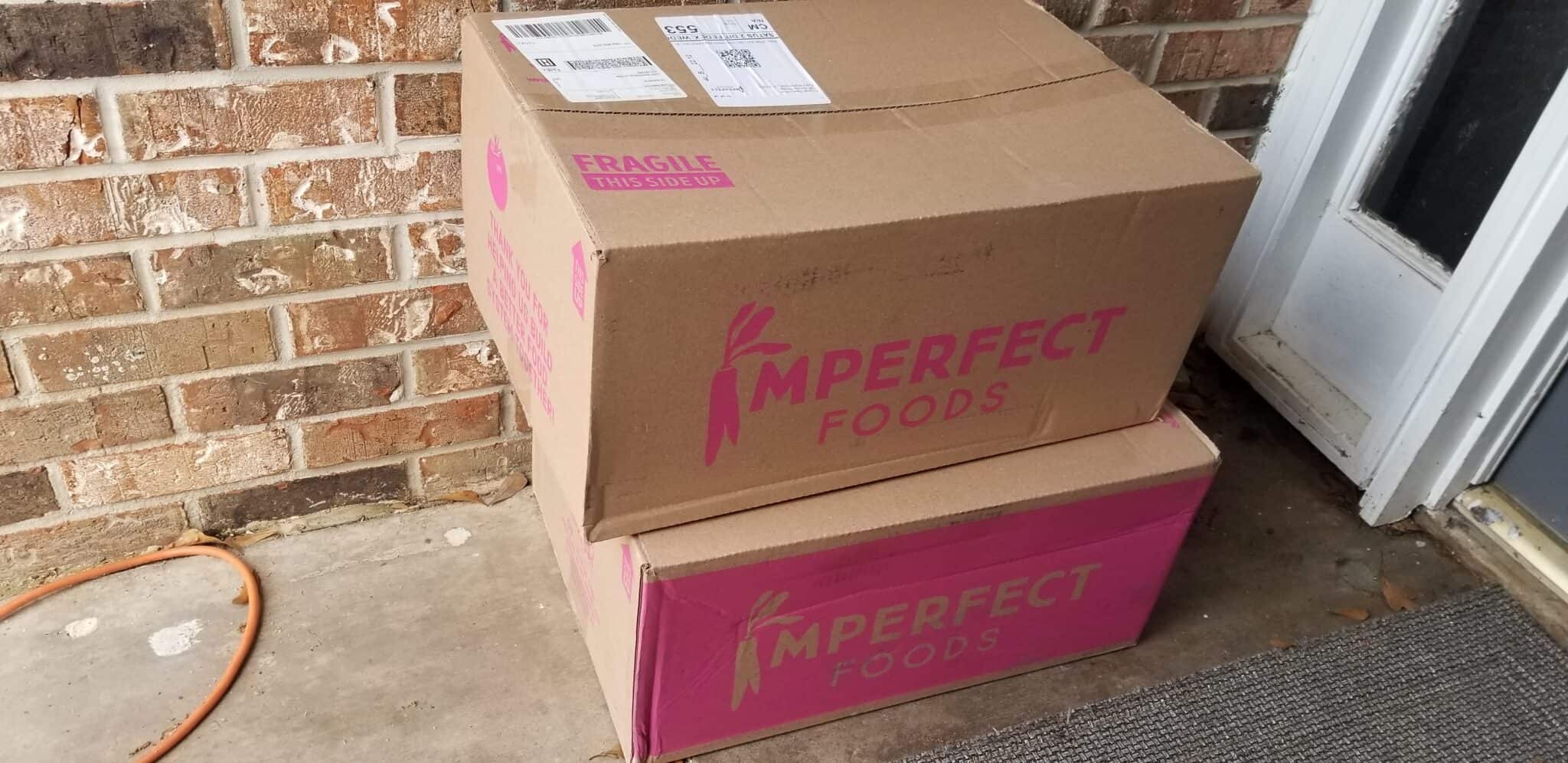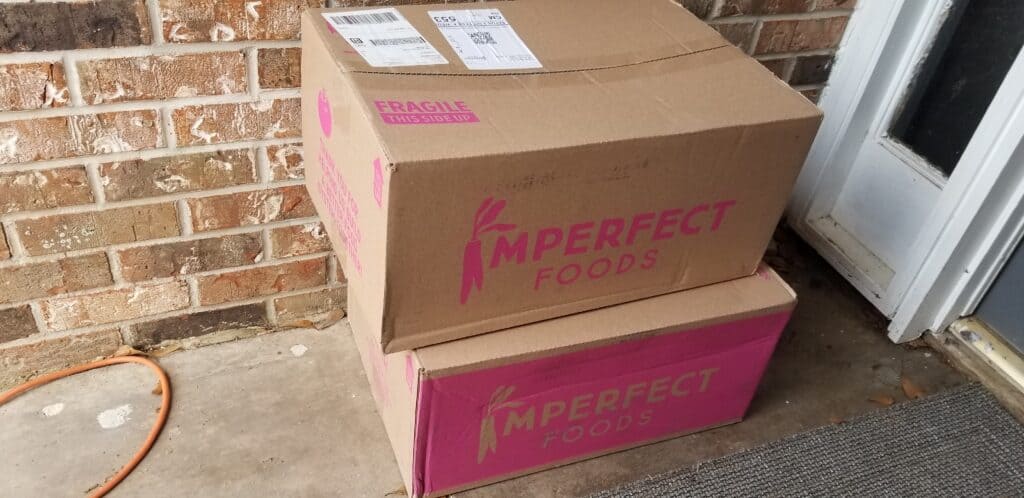 Which produce box subscription did I try?
After doing hours of research on produce box subscriptions I found that there are two "main" big companies people tend to recommend (or that I see advertised for) – Imperfect Foods and Misfit Produce.
I almost signed up for Misfit Produce because their advertising was pretty on point, but I ended up signing up with Imperfect Foods instead because they had a $20 off code AND their boxes are customizable.
Instead of my first box costing $43.86 it was $23.86 with the discount – so I figured I could take a gamble on that price! (this includes a $6.99 delivery charge and $.74 tax)
What did I get in my first produce subscription box?
Since I chose to sign up for an Imperfect Foods I was able to customize everything in my box so I knew what was coming. However in order to see what types of food I would get I had to give them my credit card and could "cancel" my order later.
I'm not a big fan of that tactic personally, BUT in retrospect cancelling is SUPER easy so there's no hassle with this company to cancel. I appreciate that.
You're also required to spend a minimum amount which is MORE than the cost of the produce box itself, so I had to order additional items in order to even receive my subscription box. (crazy right?!)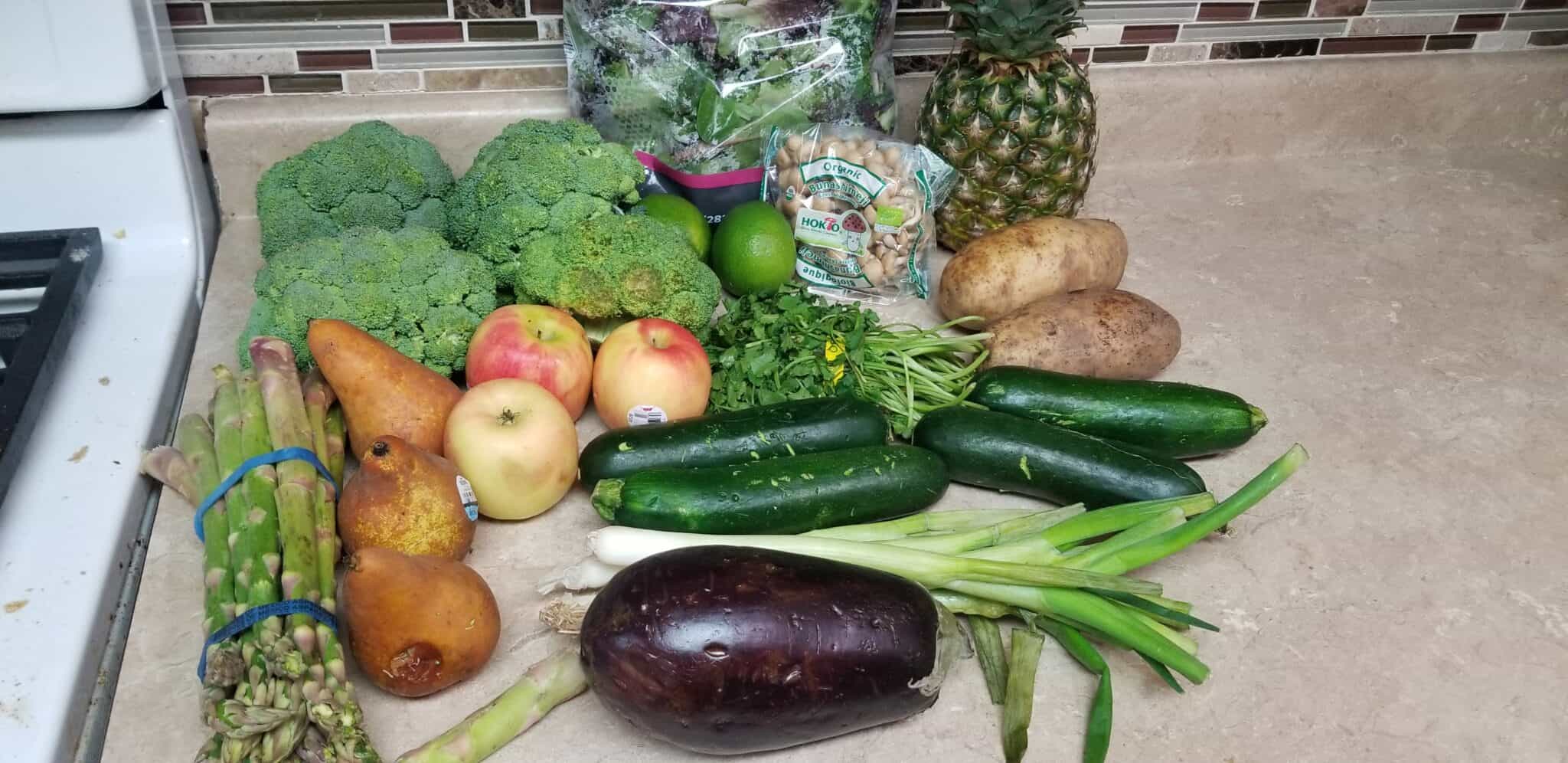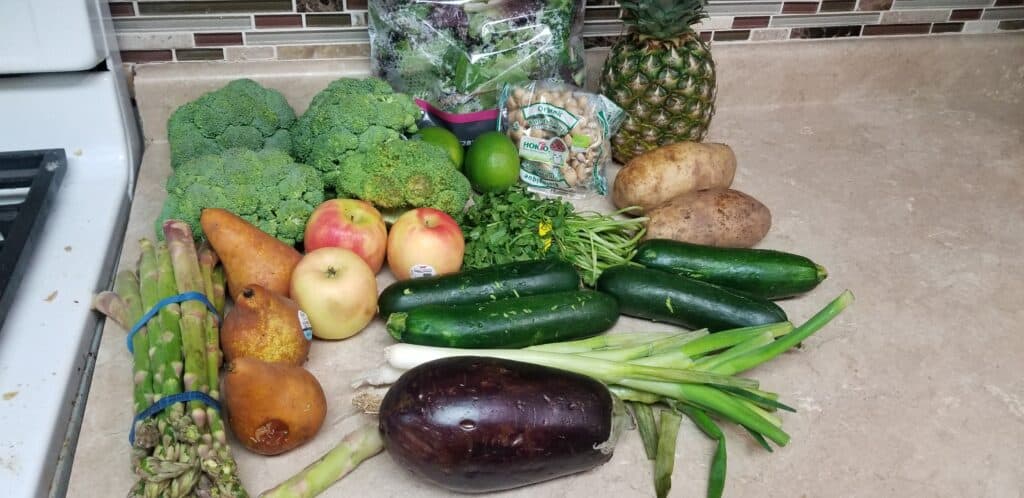 So this was my first box order – I ordered the Extra Large box since I have a family of 5. My first order came in two boxes. which wasn't really necessary as you can see below. Although there was padding around the edges of the box, all of the produce was thrown in the box unwrapped and loose (except the bag of salad and bag of mushrooms). There was an ice pack in one of the two boxes.
Box #2 contents photo with total order price break down: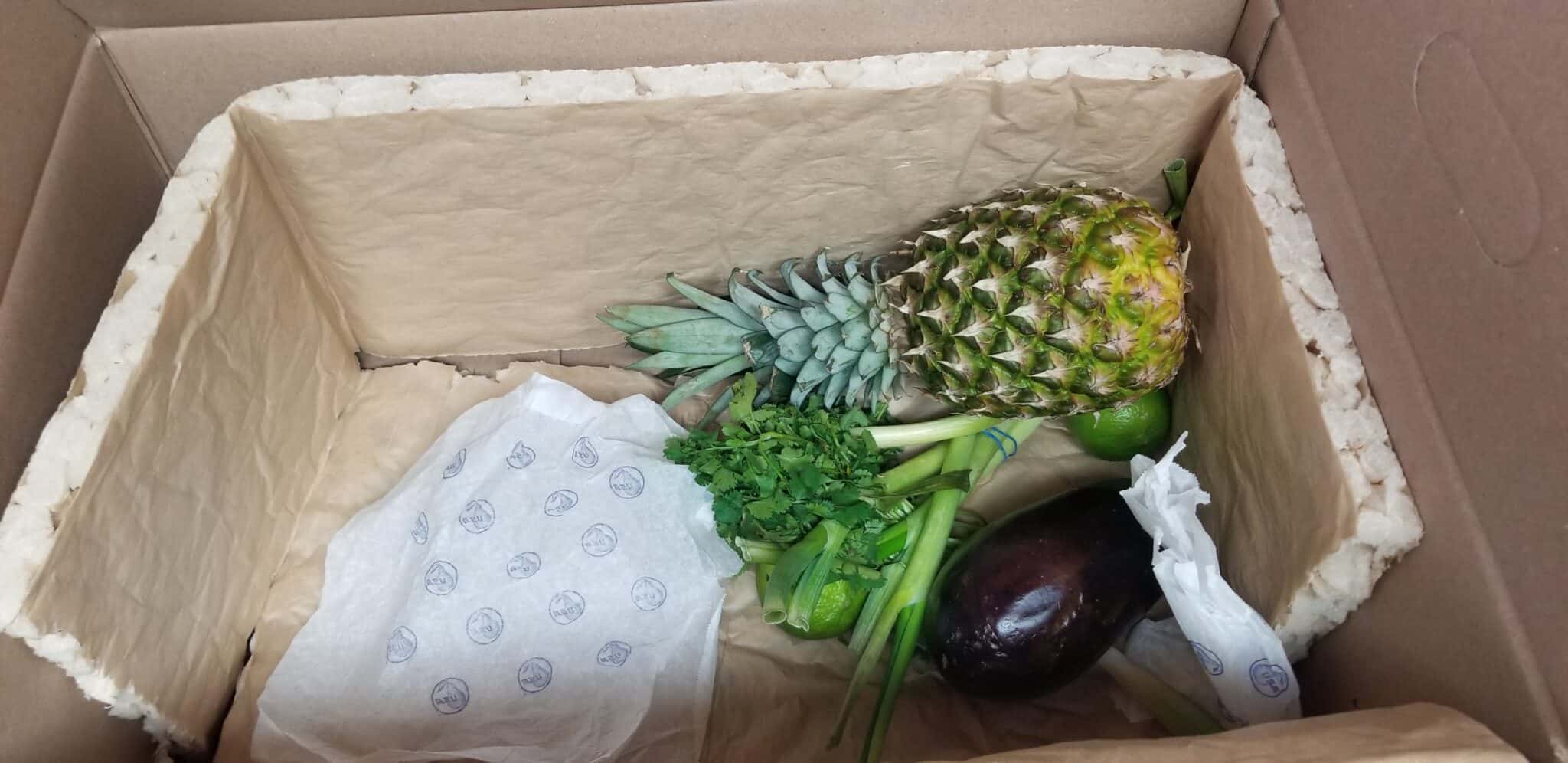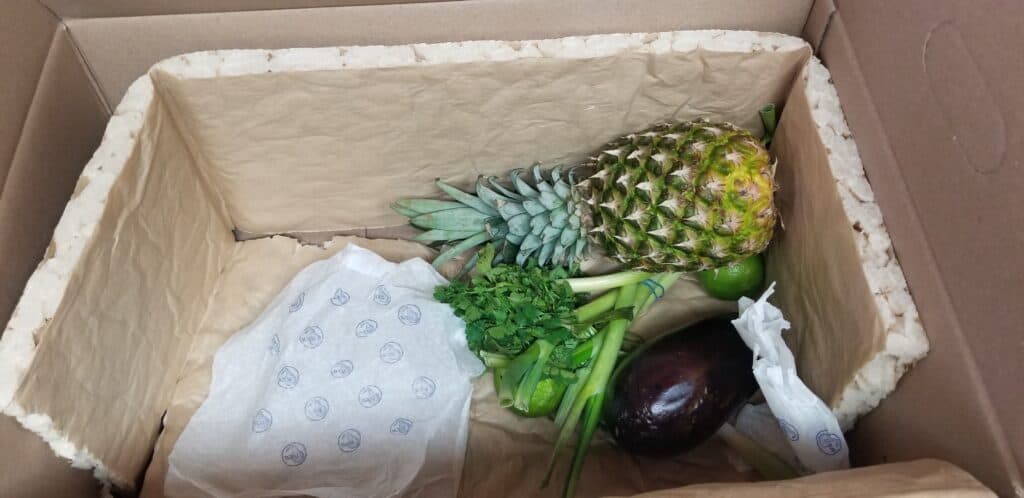 Included in my Extra Large Box order from Imperfect Foods for $43.86:
2 pints of blueberries $5.98
1 eggplant $1.99
3 pink lady apples $1.99
4 zucchini $1.98
1 bunch asparagus $2.99
2 russet potatoes $.89
2 organic limes $1.29
1 10 oz. bag spring salad mix $2.99
4 small heads broccoli crowns $3.98
3 organic pears $2.79
1 pineapple $3.49
1 bunch organic cilantro $1.49
1 bunch organic green onions – $1.29
3.5 oz organiz Shimeji mushrooms – $2.99
I realized right away before ordering some of the items were a little more pricey than I would have wanted to pay at my local grocers but figured it might be worth it for the convenience and selection of what was available.
I'm usually a budget produce shopper so if let's say, pineapples cost more than $2.50 each I typically won't buy them in stores, although I was still a little miffed that the minimum requirement to place an order was MORE than the price of a subscription box.
Quality of Produce I Received:
Out of all the produce I received from Imperfect Foods it was definitely a mixed box of quality ranging from expected to poor. I expected to received unusual shapes of food (for grocery store standards) and even ugly produce, but I did not expect so much rotting and slimy produce. Below are a few photos from the worst of the produce I received.
The Major Rotten Foods: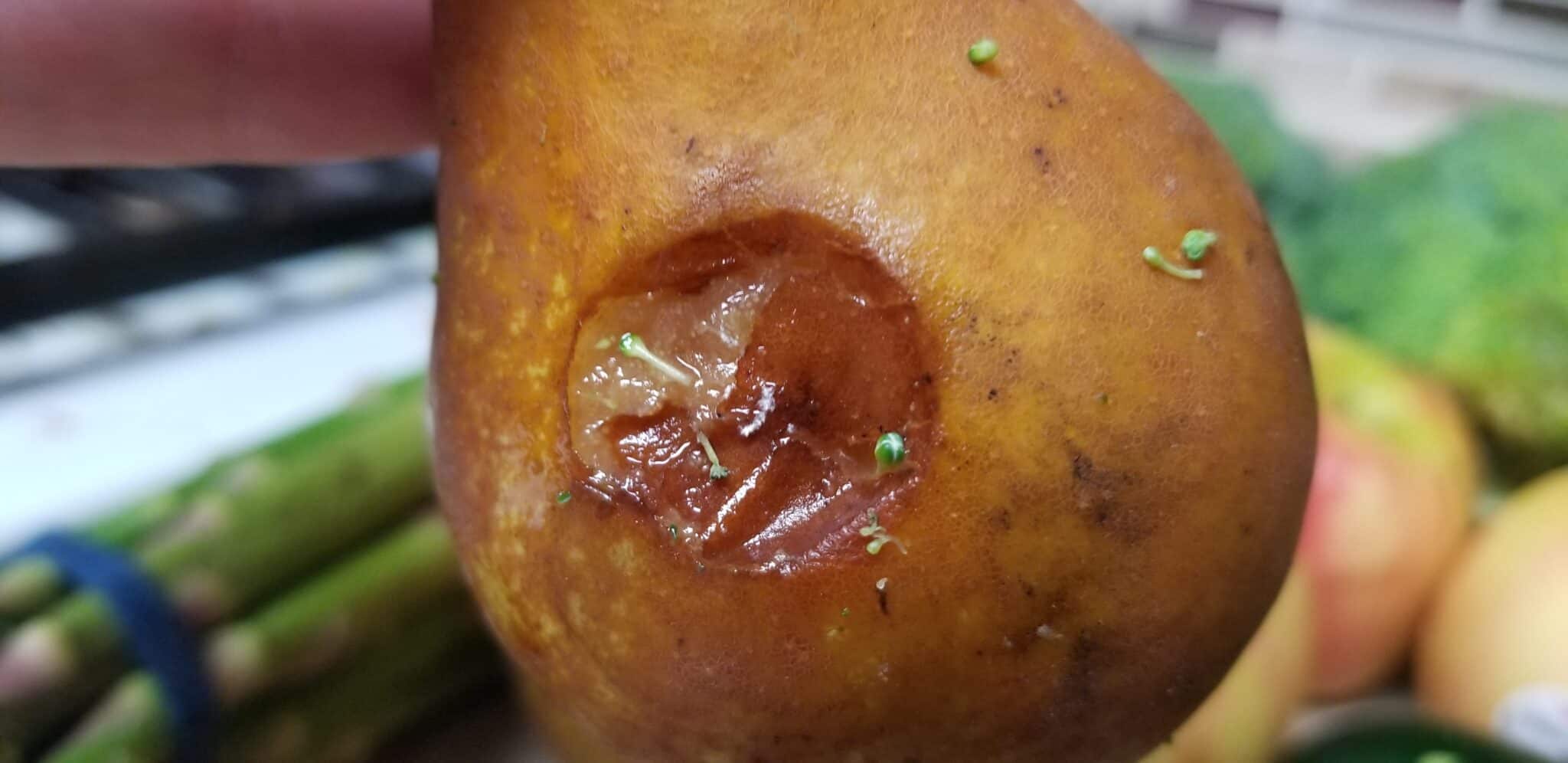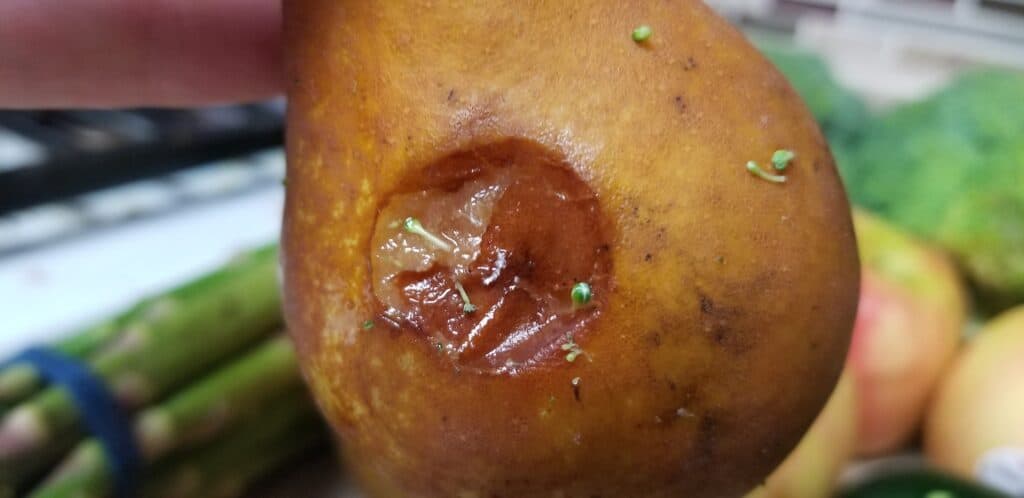 One of my three pears was rotting as was one of my three apples.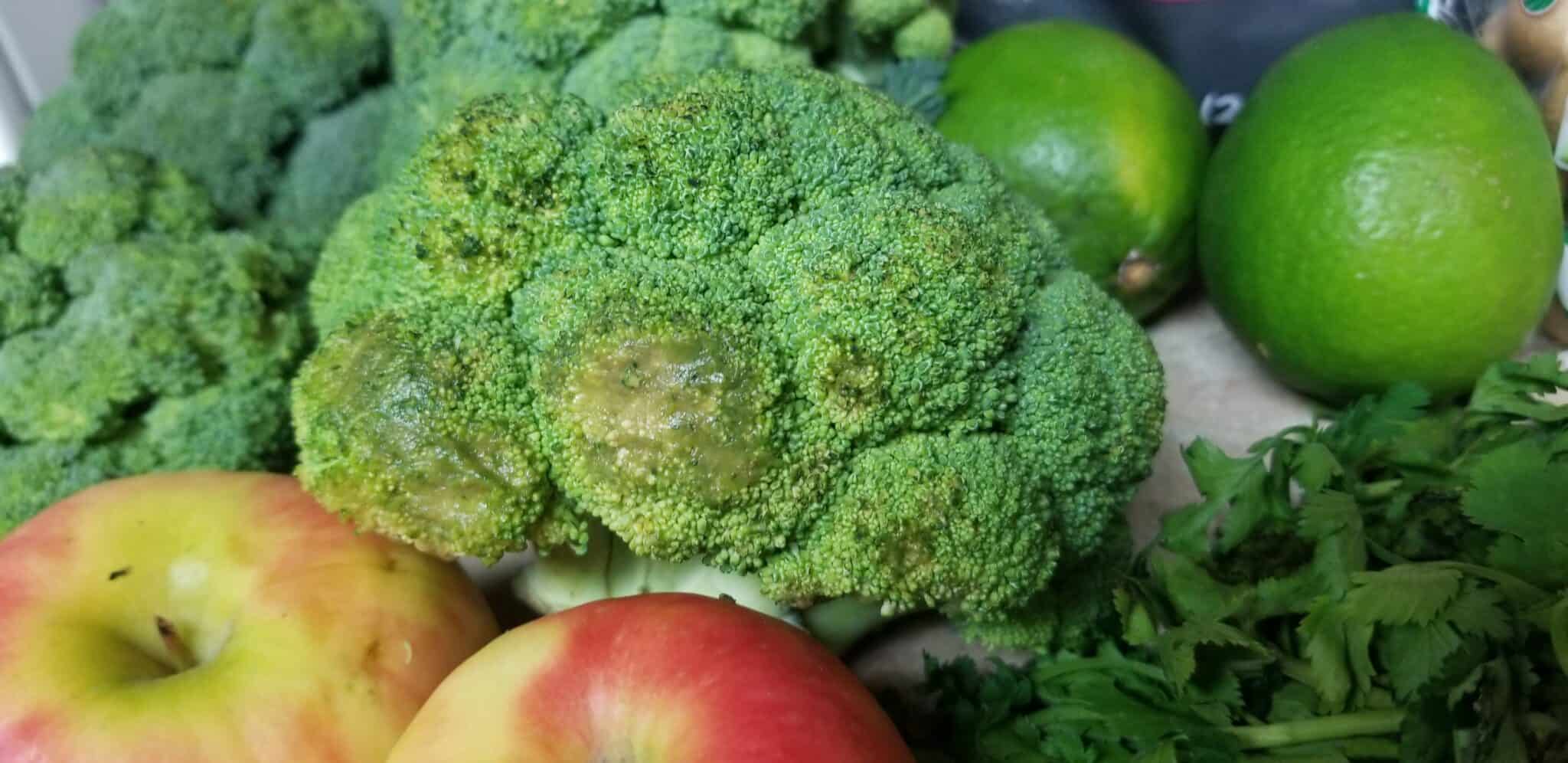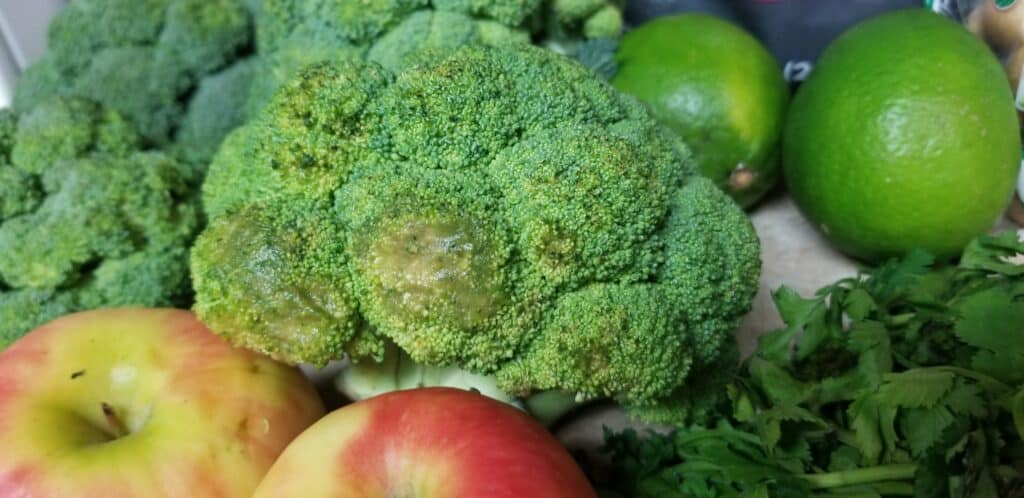 One of my four small heads of broccoli had slimy spots and one was covered in black spots. I had to cut everything down immediately when I opened so that it wouldn't spread to more produce. Bleh!
The Minor Marred Foods: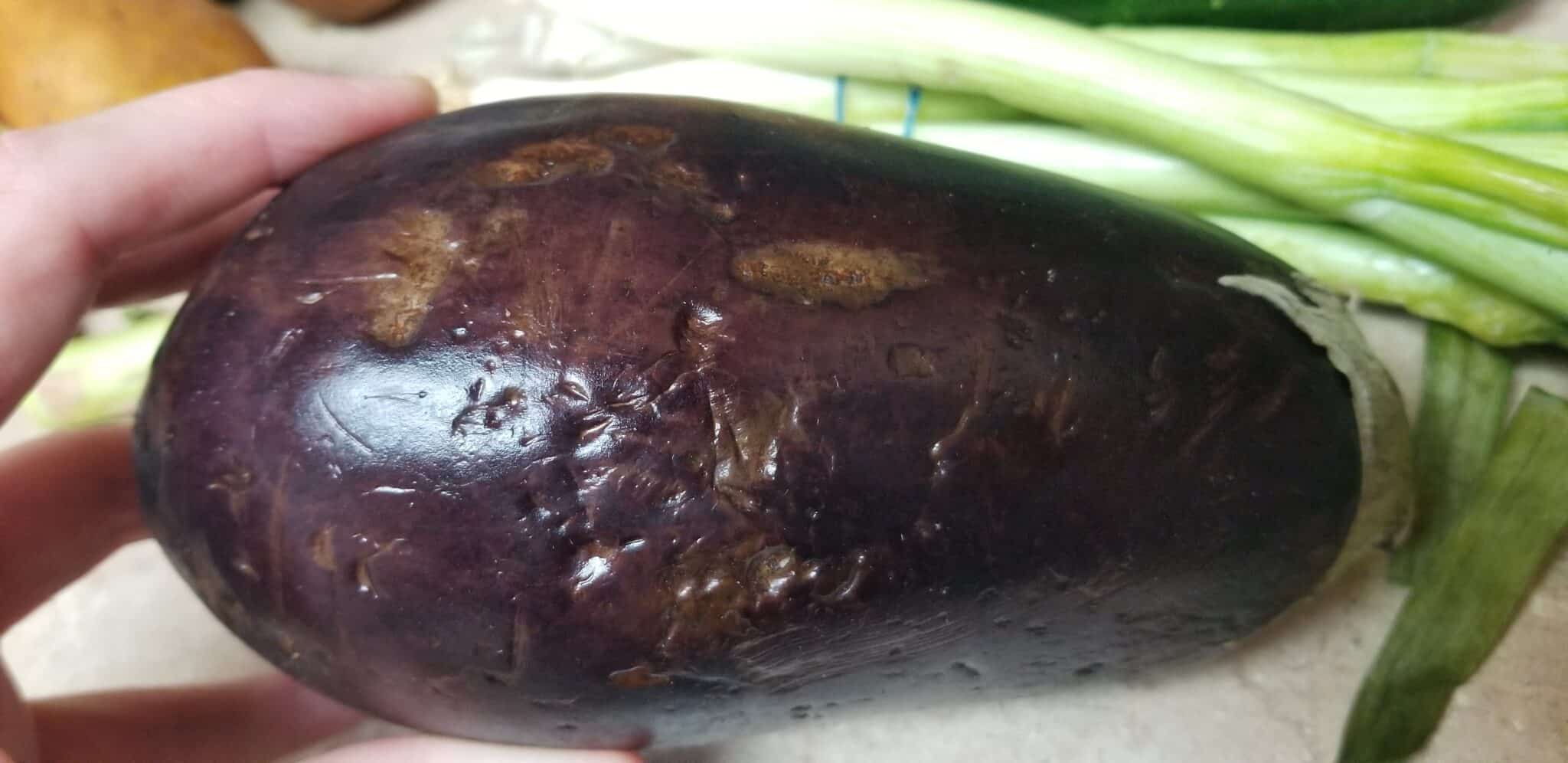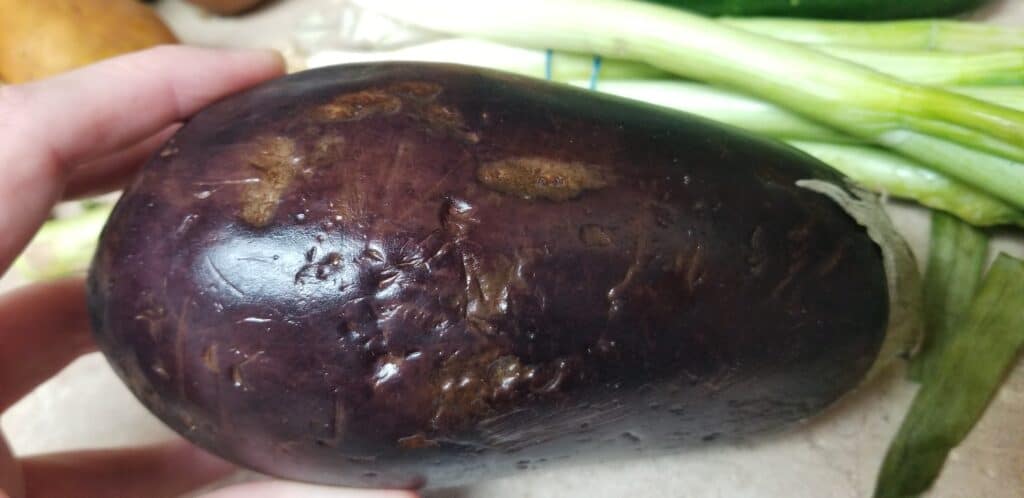 I guess when I signed up for imperfect foods I didn't realize I was signing up for lesser quality. That was my fault in expecting good quality but just weird shapes I suppose. Either that or I got a really bad box OR other blogger reviews "glossed" over what they received.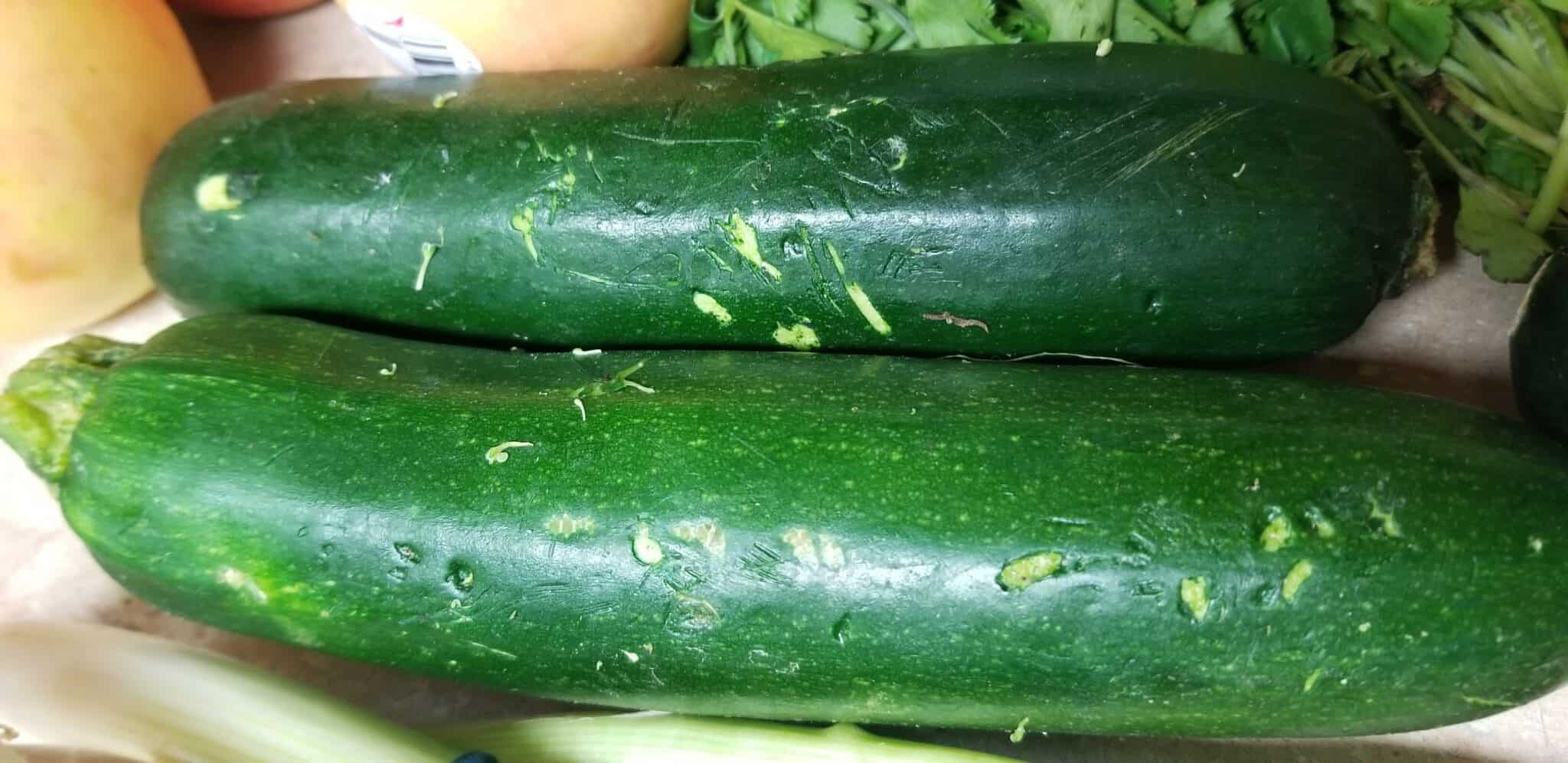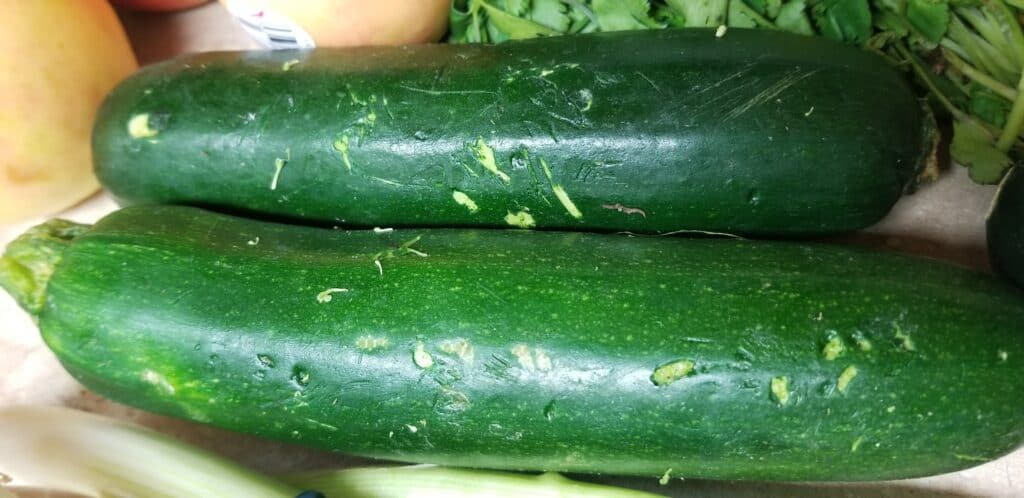 I'm guessing the zucchini must have gotten beat up since everything in the produce box is thrown in there and rolls around. I had several of my asparagus bunches arrive completely snapped in half as well.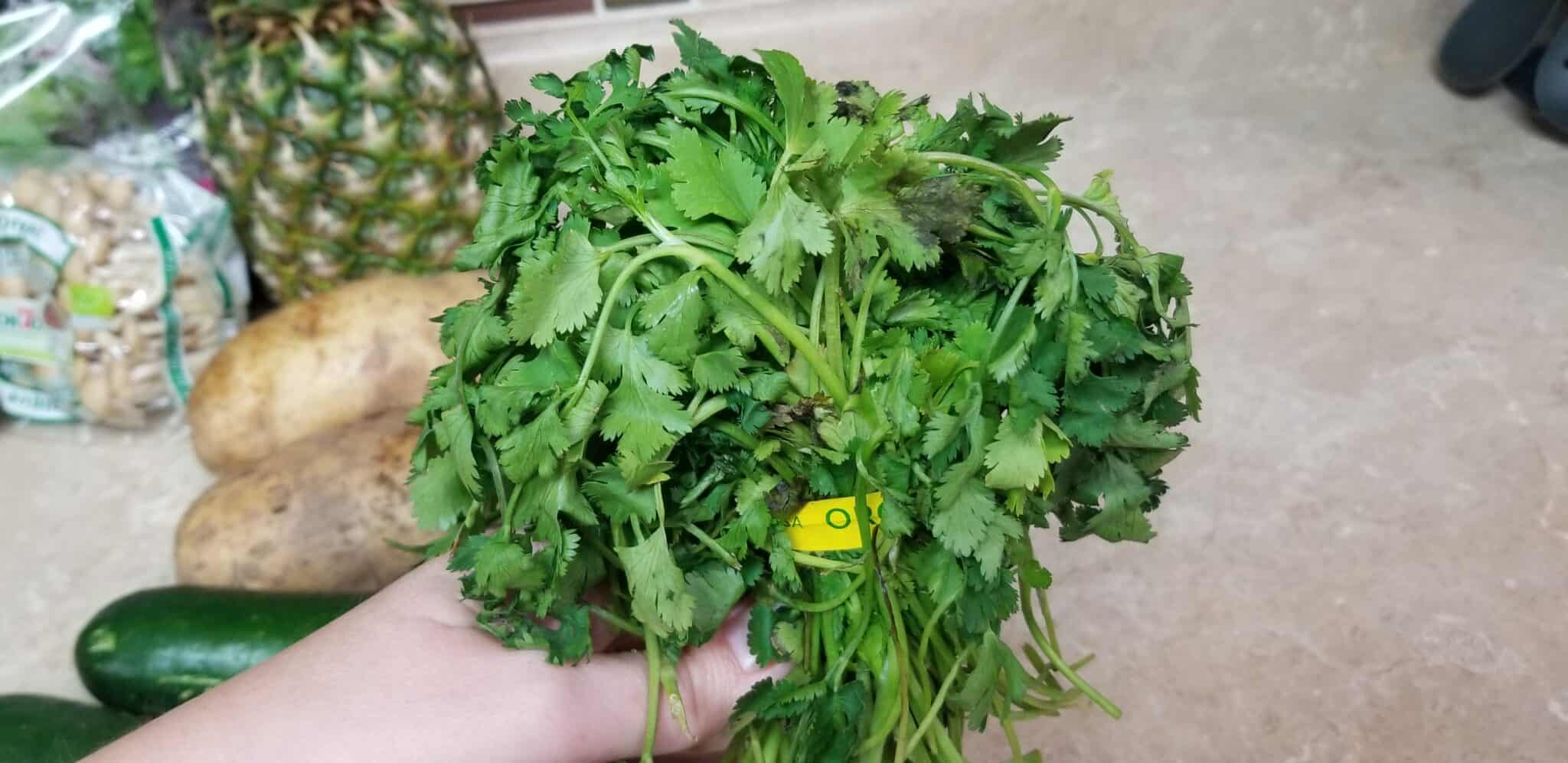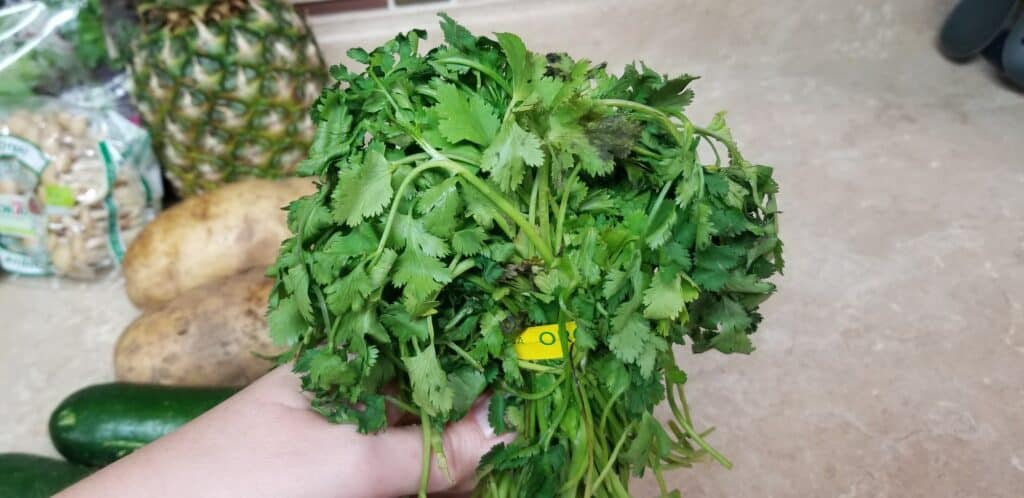 And lastly, my poor wilting partly slimy cilantro.
*To be fair my bag of salad mix, bag of mushrooms, limes, pineapple and two potatoes arrived in expectable condition.
I was already not in a great mood today when my first produce subscription box arrive and was further disgusted when I pulled out all of the above so I immediately canceled my subscription. For my discounted box of $23 my order was OK enough I guess, but I would have been pretty angry if I had spent $43 on a half rotting box of produce. Not even convenience is worth that much to me.
I would love to hear from you if you've tried a produce subscription box, if you especially love a brand, and whether you order for cost or convenience!
Overall Opinion:
EH. That pretty much sums it up. With the $20 off I had it made it an OK deal to put up the hassle of lesser quality produce. And yet I still cancelled within minutes of the box arriving. If I had paid full price I would have been very upset as I am very careful with my grocery budget.
I think at this point it would take an awful lot of convincing to get me to sign up again. However you can absolutely use my referral link here to get $20 off your first box and see if you have better luck! $23ish was worth my first order for the convenience factor, but not $43.