Pley – Affordable LEGO Rental Service for Kids
This post may contain affiliate links, view our disclosure policy for details.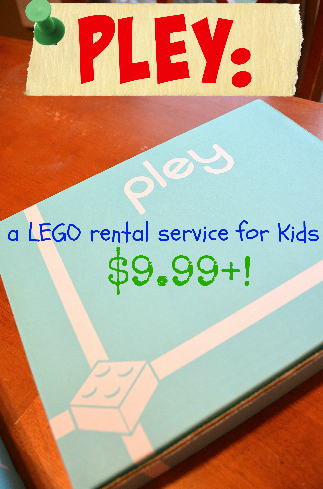 All About Renting LEGOs with Pley:
If you've ever wondered if your kids would like LEGO sets, or groaned at the price of how expensive they can be – keep reading! I had heard about Pley and was offered the opportunity to try out their services so I agreed – let's face it, if you have kids LEGO is probably a big part of your life! (a big part of your wallet too!) Pley is a LEGO rental service set up like a monthly subscription that sure would have saved my family a lot of money! (Prices start at just $9.99 per month! NO contract required!) Some of you may remember my posts a year or so ago on how to create your own LEGO table and our big LEGO Christmas where that was my kid's only holiday present from everyone…..but all that money spent to start my kids off with a great LEGO collection and it sits in my basement with pieces all over the house – it's rarely used. If I had known about Pley back then I would have definitely tried them out.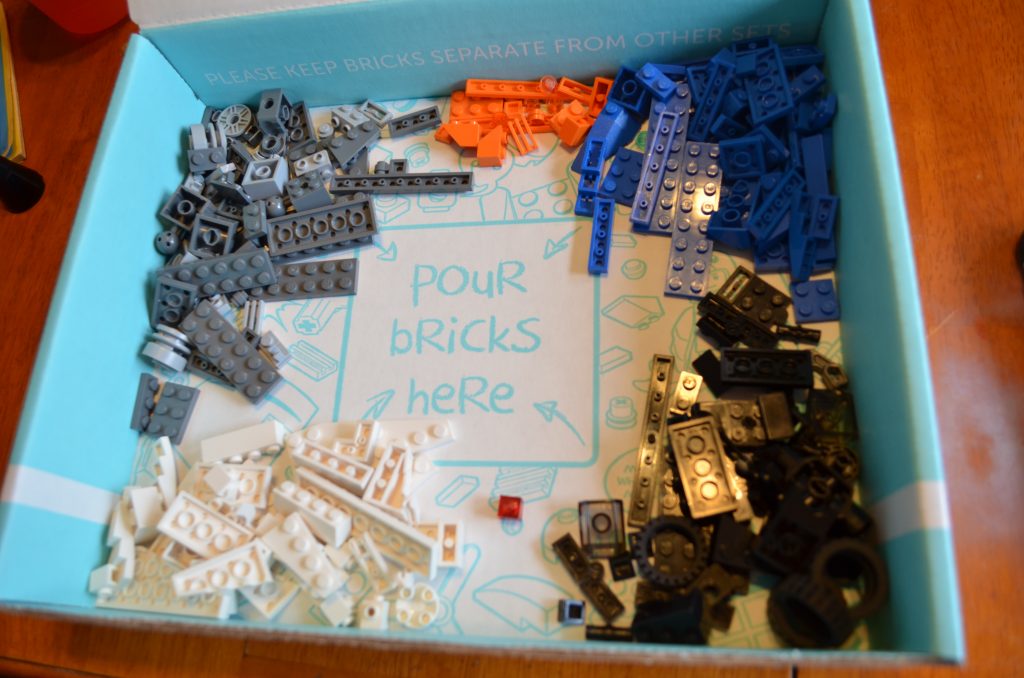 Basically you choose which monthly plan you want (I recommend starting at the $9.99 plan and go up from there), choose which LEGO set you want to play with for that month (YES you get to pick from 95 sets including themes like architecture, Star Wars, Friends, DUPLO, Minecraft, Batman, Ninjago, Hobbit, Toy Story, Spongebob and MANY more) and they will not only ship it to you FREE BUT they will also send you a pre-paid shipping label so it's FREE to return it too! Each month you can choose one new set. Search by age, theme, and your plan choice. My set last month came in the box you see above. All the LEGO pieces were in a mesh zippered bag which we poured out into the box to play. (they are cleaned and disinfected in between users) The box also included the return envelope for my LEGO set as well as a wearable LEGO bracelet for my kids and a brick separator tool to keep.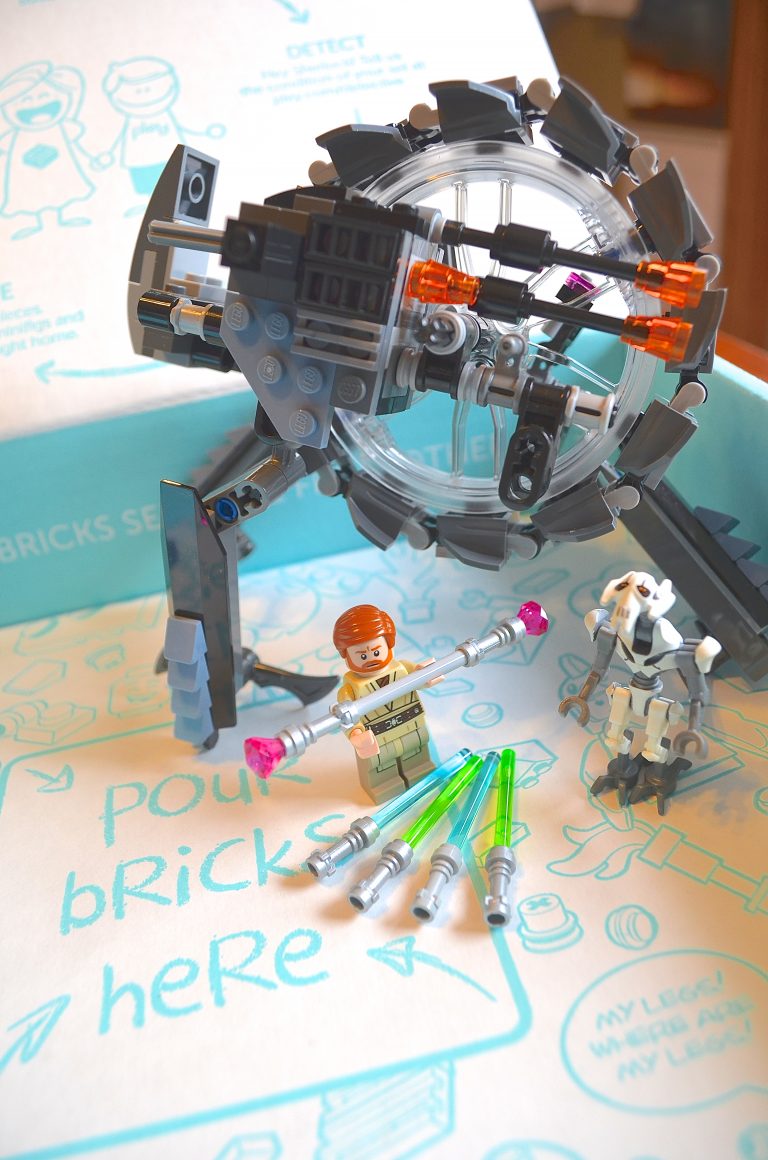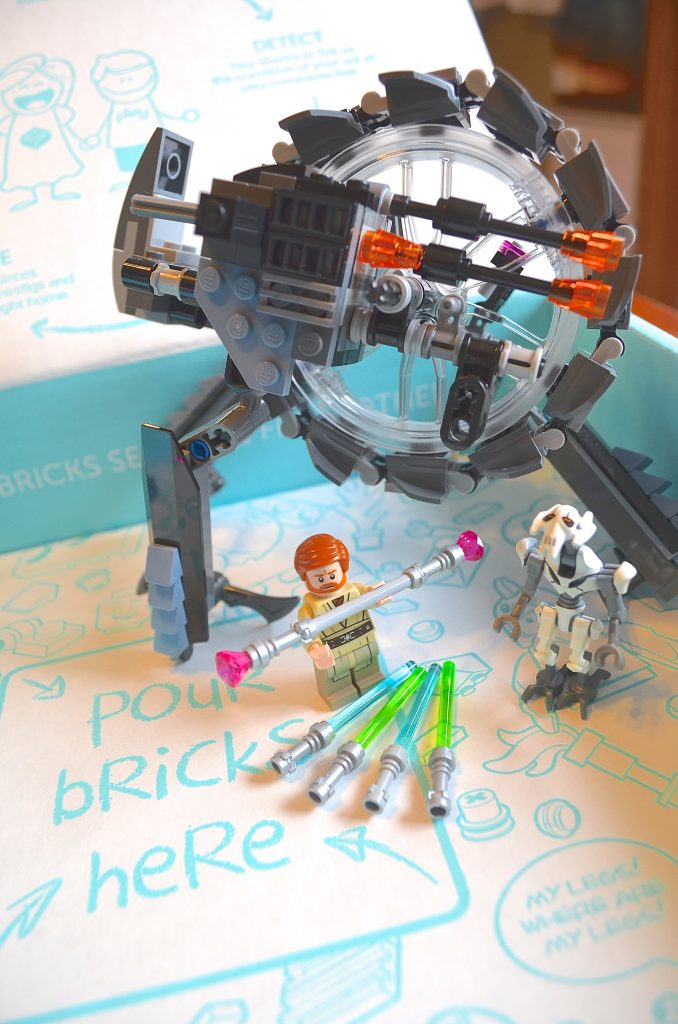 My 5 year old and I sat down side by side to work on our LEGO sets (I had 2 sets sent to my house). I was very curious to see how he would do building the LEGO set with following instructions because of his age which is exactly why I would try Pley. Above you can see my Star Wars set that I created. It was very easy to keep all of the pieces inside the box while I built the set so I didn't have to worry about losing pieces (unless I dropped them). The one thing I was concerned about this rental service was losing LEGO pieces – because goodness knows kids aren't organized with all those little pieces. Pley does not charge if you lose LEGO pieces (unless of course you lose a whole lot of them!) which was a HUGE relief to me.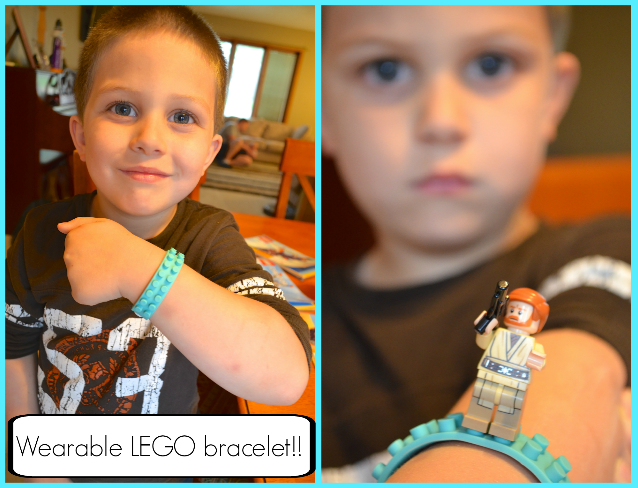 Here you can see the wearable LEGO bracelet my son received! How cool! It's a flexible rubber bracelet that you can build LEGO creations onto and wear!! My oldest son even snapped the two bracelets together (one per set) and created a necklace out of it! VERY cool.

I gave my 5 year old the first chance to build his chosen LEGO set (I also have an 8 year old who loves to build LEGO creations.) and he chose this 3 in 1 Creator set – specifically the jet. I was actually pretty impressed for him. He sat next to me and followed the directions to build the entire thing needing only a double check for accuracy every few pages from me. Above in the picture on the right you can see the Pley brick separator. The only thing that can be rather time consuming is before you send your LEGO set back you DO have to separate every LEGO piece (thus why they include a brick separator to keep). It wasn't too terrible with the sets we received but if you have a higher plan with a $200+ set I can imagine it would take a while!
I can absolutely see this service being very beneficial, convenient, and affordable for families. No, you do not get to keep the LEGO sets (although you can choose to purchase them) but you receive at least one new set of your choice every month for unlimited play until you send it back, and your children get to continually build new creations month after month. This would especially be beneficial for those older kids who constantly request higher priced LEGO sets. Now they can build to their hearts content at a fraction of the cost! You don't have boxes of little bricks to permanently store in your house either! For my family I would have definitely started using Pley to see if my younger children were ready for LEGO building. You could easily use it for a center activity or homeschool supplement depending on which set you chose. I also love that we can subscribe for a few months out of the year (especially during the cold winter months when we're stuck indoors!) and you're not tied to an expensive contract with lots of fees.
The three LEGO rental plans available from Pley are as follows (all including free shipping and returns):
$9.99/month – one LEGO set/month
-choose from 95 easy sets including DUPLO
$19.99/month – includes UNLIMITED sets per month to build & send back
– choose from 155 different sets from easy-medium
$49.99/month – includes UNLIMITED sets per month plus faster shipping
– choose from over 300 sets from easy to advanced (4000+ pieces)
This is a sponsored post written by me on behalf of Pley.