Nest Learning Thermostat Review + Netgear Nighthawk Wireless Router
This post may contain affiliate links, view our disclosure policy for details.
Disclosure: The reviewer has been compensated in the form of a Best Buy Gift Card and/or received the product/service at a reduced price or for free.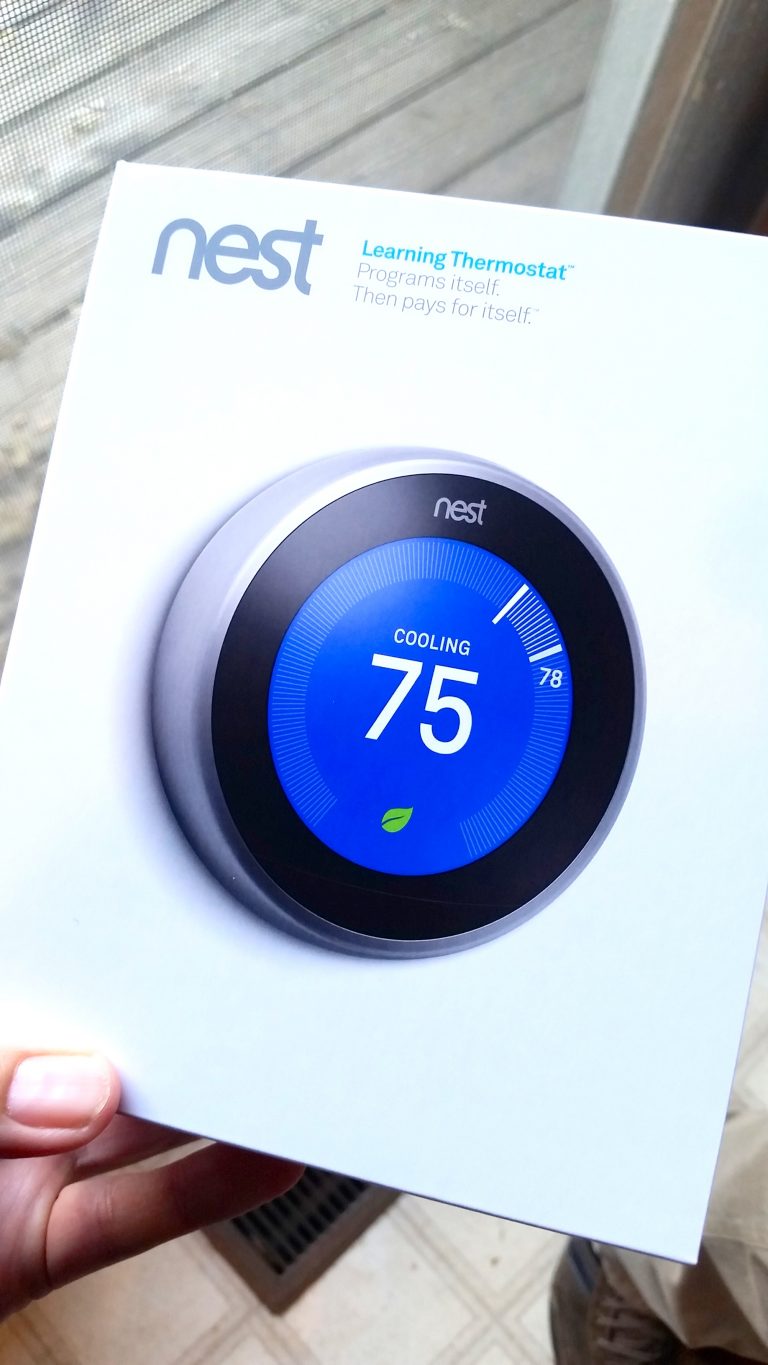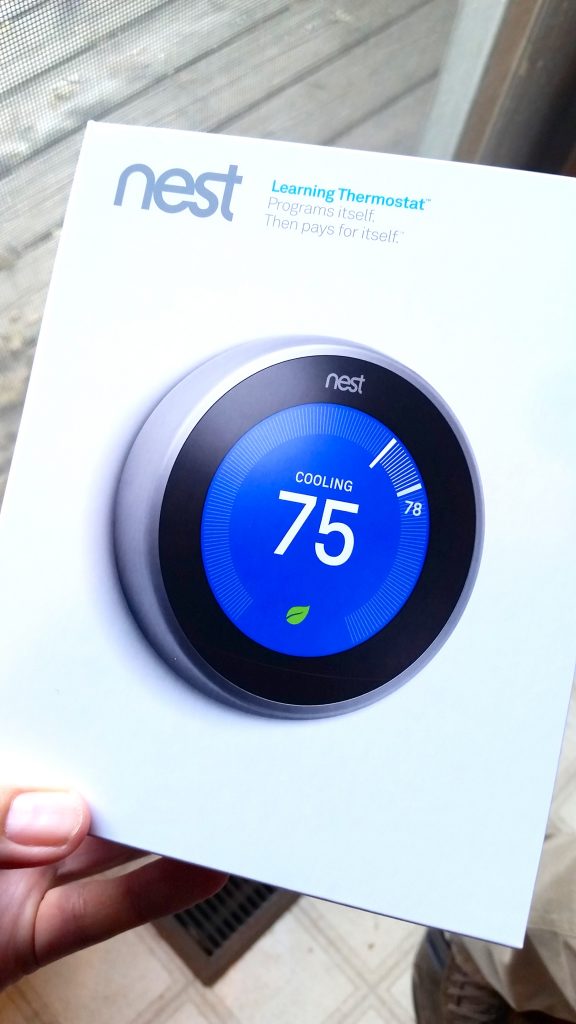 My husband has been bugging me for a few years now for some fancy thermostat and I just kind of look at him wondering why he had stars in his eyes about this crazy thing. He kept rambling something about saving money and that it auto adjusts the temperature in the house as it learns your schedule and preferences. Turns out Best Buy offered us one to review and I'm pretty sure I made my husband's whole year! We received the Home Nest Smart Thermostat
(3rd gen) which, I admit, is a seriously cool product! Not to mention I can't wait to see how much money it saves us over the course of a year! It helps you to control the temperature of your house while you're away, alert you to the most energy efficient temperatures, and auto adjusts based on your patterns. It also lets me know how long it will take to cool or heat my house based on what the current temperature is and what I have set it at which is pretty neat.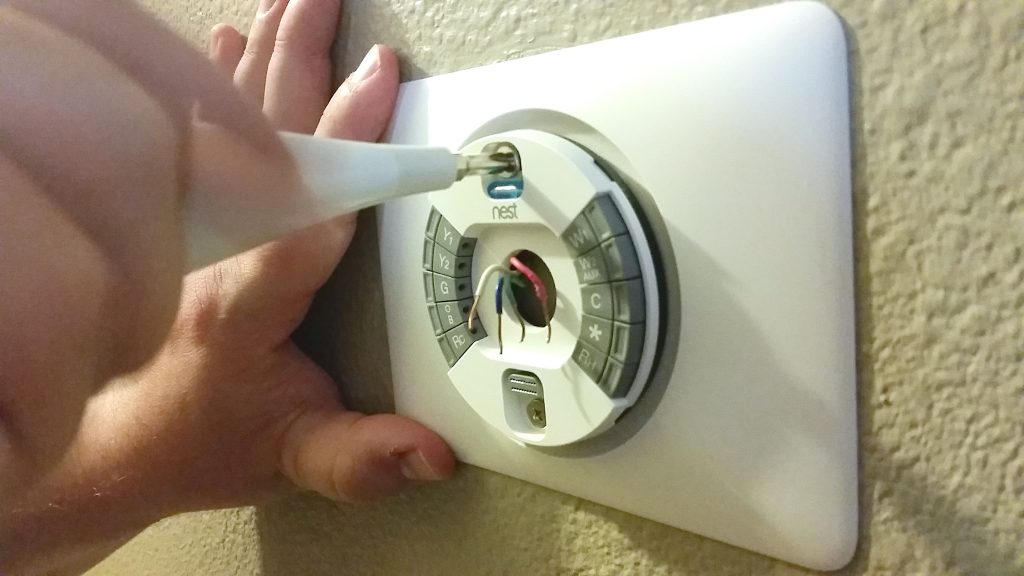 Everything you'll need is included in the box – right down to the screws and screwdriver! PLUS right under that screw my husband is turning in the photo above is a tiny built in level that helps you see whether or not you've installed it straight or crooked! We were a little nervous about whether or not this would be compatible with our system even though it is compatible with most so my husband called and chatted with customer service long before our product arrived.
They were very helpful and made sure all of his questions were answered thoroughly. When our Home Nest arrived and we took it out of the box my husband immediately called customer service to walk him through the ENTIRE process and I cannot sing HIGHER praises about their customer service department. They spent hours on the phone with us as we installed it, had to re-wire it, troubleshoot things, set up our wi-fi, etc. When we had to call back because the system kept shutting off we learned that we were missing what is called a "common wire" and that they were actually going to reimburse us to have an electrician come in and install it for us! The entire experience was SO incredibly impressive from start to finish.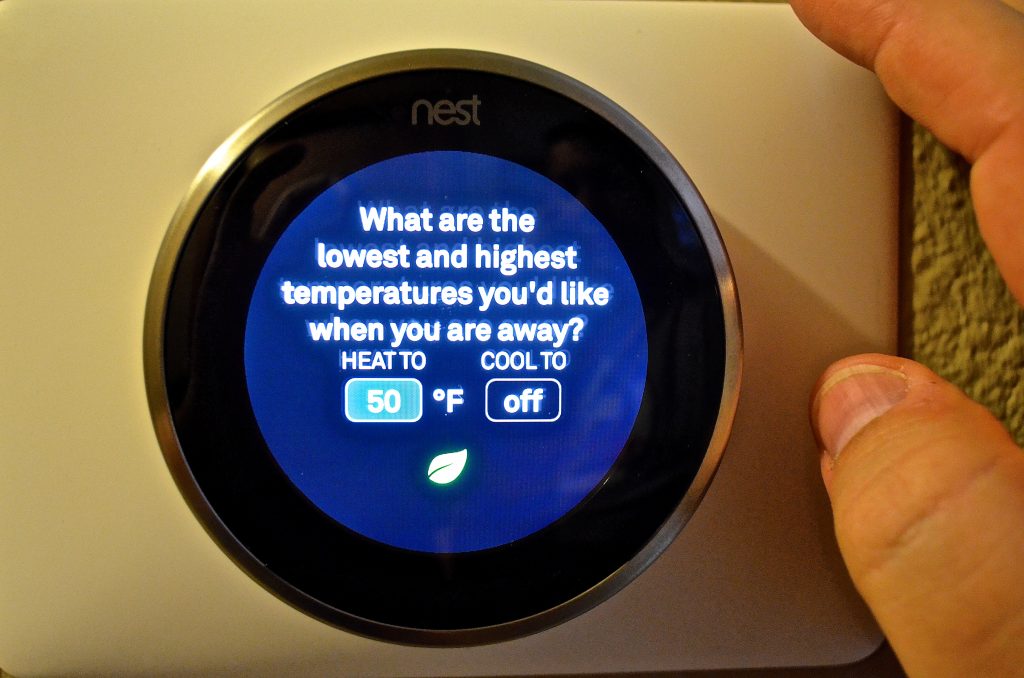 Not only can we monitor and adjust the temperature of our house from our mobile phone app (imagine cooling off your house after being gone for a week!) but we can set the parameters of our highest and lowest temperatures for while you're out of town so that you don't waste electricity heating or cooling your house unnecessarily.
When the Nest is blue it's cooling, and when it's red it's heating. We've also noticed that as we walk past the hallway the Nest flickers on sort of like a motion sensor. And if there is anything wrong with your system it will alert you there is a problem.
If you're headed out of town you can set your minimum/maximum temperatures and the Auto-Away mode will automatically choose the most energy efficient options for you. It was nice seeing that little green energy efficient leaf while we were out of town.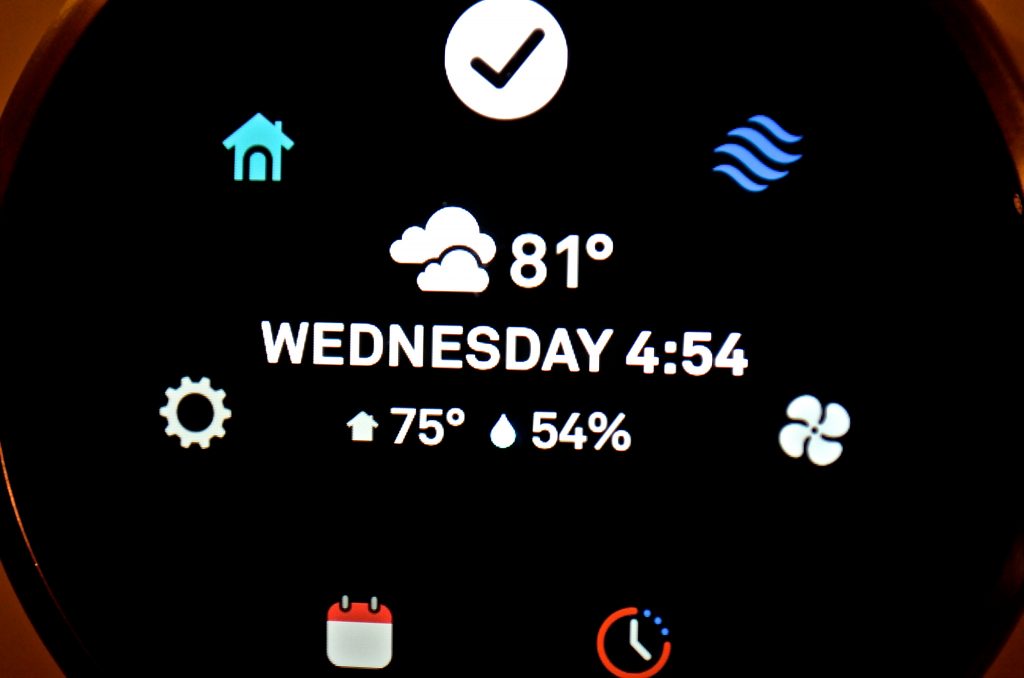 Look at all the information is gives us! Who needs an indoor outdoor thermometer when you've got a Nest?! LOVE! We can monitor the humidity, HOW MUCH energy we've used and adjust accordingly, and review our energy reports. There is also something called Nest Protect (sold separately) which will automatically turn off your gas furnace if carbon monoxide is present.
The BIG question is – IS IT WORTH IT?! 
With the retail price being about $250 for the 3rd gen version that's an added expense for most families. I am definitely going to be tracking this over the course of a year to see how it has changed our energy usage and updating this later for more accurate data. The first month we used it while we were learning it and it was learning us our bill was at least $15 CHEAPER than previous years of that same month. That's a month where the weather was near perfect so we didn't need a lot of air or heat in the house. I can't wait to see what the savings will be over the winter! In fact we learned that our old thermostat was actually FOUR degrees off and we didn't even know it! I very rarely need to touch the thermostat anymore and can absolutely see how this would save us money in the long run. It's certainly something that would travel with us should we ever move.
Netgear Nighthawk Wireless Router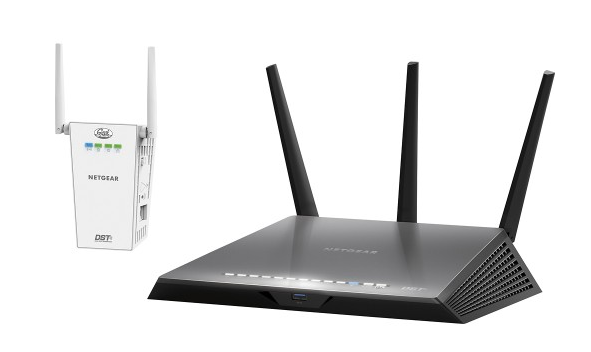 We also received this Netgear Nighthawk Wireless Router that I definitely wanted to mention. It has been a HUGE help to us – let me tell you what it is and why it has helped us. We live in the middle of nowhere – literally. There are 20 houses in our town and just before we moved here our town upgrade from dial up. NOT kidding. I didn't even know that dial up was still around! Anyway, our internet as you can imagine STINKS. I think our upload & download speeds are around 2mbps on a GOOD day- it's lovely.
The Netgear Nighthawk router has been a lifesaver and actually splits our wireless network into 5 different channels. We were able to route a single dedicated connection for my laptop (my work computer) and route our Nest Thermostat, TV, etc. onto other channels. It isn't cheap (just under $300) but considering we can't afford to run internet lines all the way through town to our house this machine is the BEST and much more affordable than our alternative! It also includes a Dead Spot Terminator to help broadcast a secondary signal in your "dead zones".
Included is a 1 year Geek Squad support which my husband used to help us get our router up and running as well as troubleshoot a few issues we had with our streaming. I've noticed a big difference with the strength of my internet spread and stability while working as well as while we watch TV. It even has parental controls on it for blocking unapproved content for your kids which we are currently exploring! The box and terminator are pretty huge so you'll need to clear an area for it but considering the alternative it's worth it!