Our Pirate Party – Celebrating Talk Like a Pirate Day
This post may contain affiliate links, view our disclosure policy for details.
In honor of Talk Like a Pirate Day we had an awesome PIRATE PARTY!! ARGHHHHH MATEY! Pirate parties are ALWAYS a big hit in my house of boys!
Since I knew the kids would just go nuts over a pirate party we went
all
out. Our front screened in porch had pirate posters displayed and "Dead End"
spooky tape
all down the wall. We had also just bought a
fog machine
and decided to add a little more mystery into the entrance by running the fog as our guests arrived.
However it was even funnier because as we were waiting for our guests to arrive, and the fog machine was making things smoky, we had people who were driving by get out of their cars, run up to our house, and start banging on our windows because they thought our house was on fire! OOPS!! It sure gave us quite a laugh!
We had an awesome 20 foot pirate banner which ran along the entire length of our living room – perfect for our pirate party!! I found some fun skeleton heads at the Dollar Tree, and I also made my own decor.
Black streamers hung from the ceiling and formed big "X"s around the house. I spray painted white poster board black, and designed our own pirate flags which were also displayed throughout the house!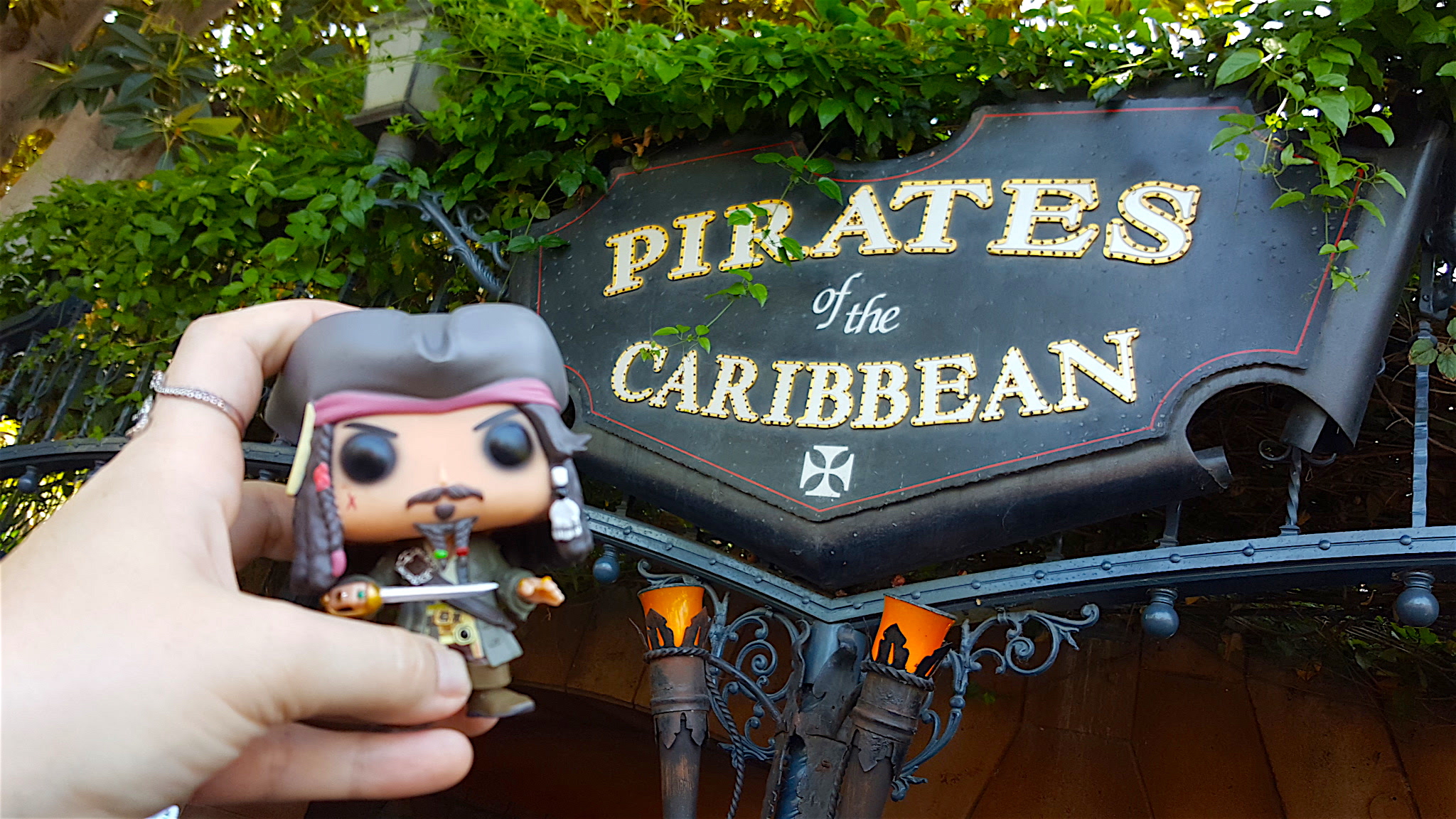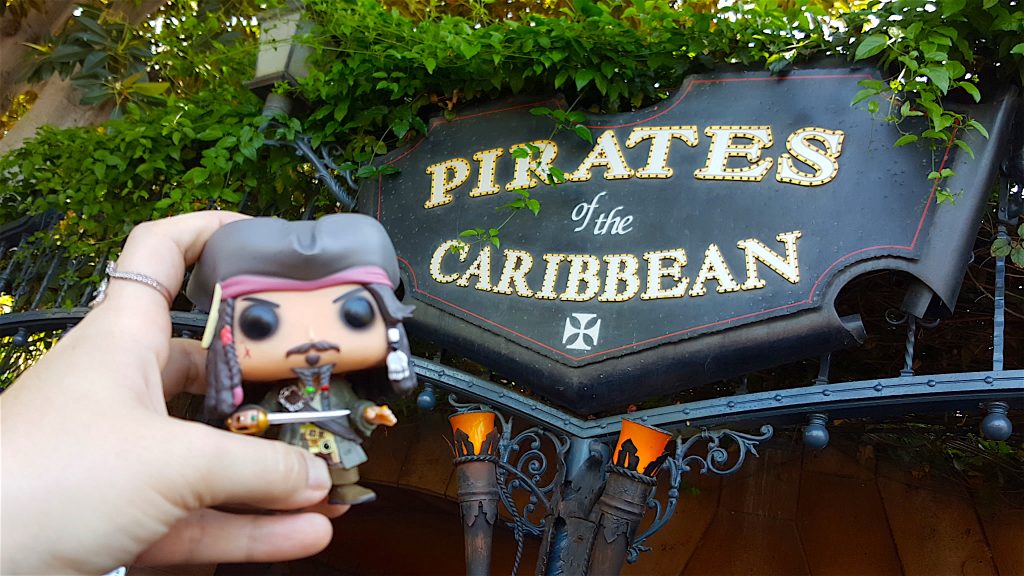 Wow oh wow was our food/goodies table packed with pirate gear!! We had Pirates pictures and goody bags. In the goody bags were
pirate bandanas
,
pirate tattoos
,
pirate lollipops
, pirate gummy teeth,
pirate stampers
,
pirate necklaces
, and more!
Last year I painted a pirate pumpkin which I knew I had to remake this year for our pirate party!! This is a great way to make your pumpkins last longer throughout the season as well. Living in Florida we always have a problem with our pumpkins getting moldy so I like to paint on them instead! ARGH!
I really lucked out finding these pirate skeleton lollipops and pirate gummy teeth!! They were a big hit at the party!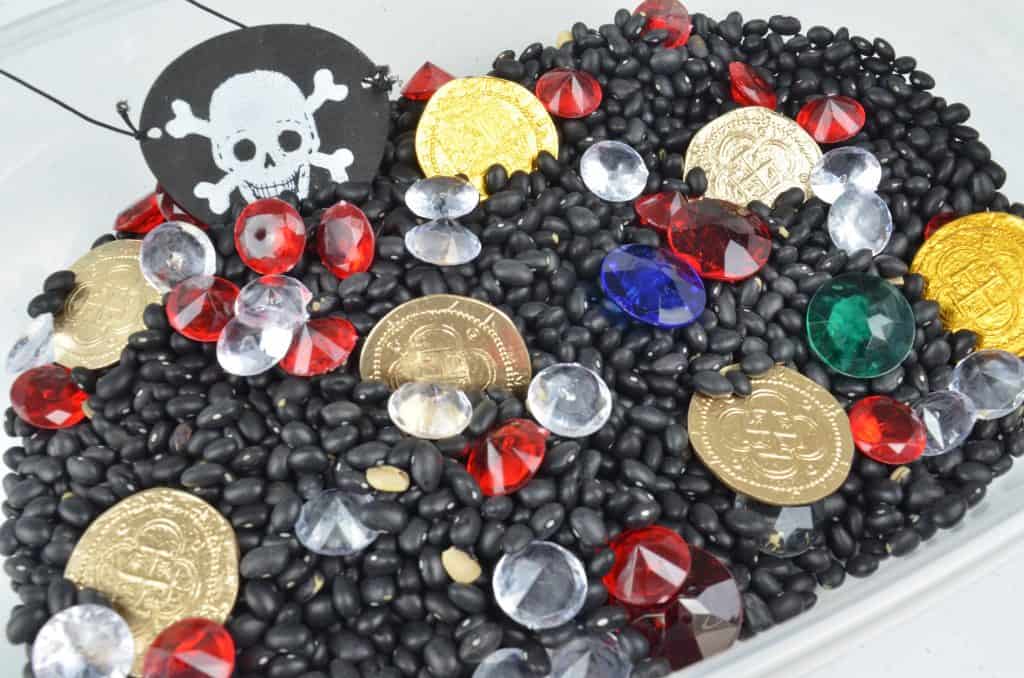 We had pirate hats, cups, plates, coasters, straws, and all sorts of fun piratey gear! Above you can see the pirate sensory tub I made with ring pops in them for treasure but now we have an even BETTER
Pirate Sensory Bin tutorial
here!
Unfortunately I did not have the time to get a large refrigerator box, but we made a mini-pirate ship for the kids to sit in throughout the night! We simply spray painted a large box black, and then painted white cross bones on the sides.
You can't really see it but we also added gold glitter all over the ship to make it look sparkly! The kids had a great time playing in this throughout the night!
I really wanted the kids to have a great night. So I decided to make some fun pirate ship snacks! Above I poured blue Jello into some small condiment cups and let them sit in the fridge over night. I then sliced an orange to look like a boat, and placed a toothpick with a pirate flag through the middle! (pirate flag printable template here) And what would a pirate ship floating in the ocean be without a few fish??
Or what about this pirate ship? Made with slices of apples and small squares of cheese on top using the same toothpick and pirate flag!
These turned out to be VERY VERY cute snacks!!
This is just a quick shot of the party table – and I wasn't even finished yet!!
I found a
water color pirate painting book
so I had a station set up for the kids to "paint" their pirate pictures.
The kids had such a blast!! And it was very simple to do! We had a lot of decorations, but the food was so simple. Other than slicing the fruit and wrapping our pigs in a blanket with crescent rolls, there was virtually no prep time for the snacks!!
The black pirate shirt you see above I made for my son for the party! A little bit of puffy paint and a black t-shirt makes for a great party outfit!
I had a favorite pirate book out for the kids to read and play with the treasure chests.
Everyone definitely revolved around the food table!! I did see a lot of kids sneaking marshmallows!! 🙂
And to make our awesome pirate party even better we decided to make everyone WALK THE PLANK and turn it into a bit of a pool party too! Do you think we could fit any other mateys in our pool??
After the kids were tired from swimming and snacking, we headed in to watch some pirate cartoons! The youngest few especially love it!!
We had a few older kids there and they even had a blast!! (can you tell?) Having pirates and playing make believe can be fun for kids (and adults!) of all ages!! It was a relaxing and fun evening. The kids were busy from the beginning of the party to the end……2+ hours later!
My son was SO tired by the time the party was done!! We all really had a great time and I think I want to throw a pirate party every year! It was very simple to put together yet the kids loved it!!
How cute is he?? My youngest son adored his bandana!! I was surprised because he won't even wear hats and he had his bandana on all night!! Maybe he was sneaking the extra large gummy bears that we had up in his bandana!! 🙂
Here are some fun pirate party supplies: