My Thoughts on Olay Fresh Effects – a Fresh Routine
This post may contain affiliate links, view our disclosure policy for details.
This is the story of a girl who never really got into the "girly" thing while growing up like makeup and a skin care routine. She is now a mom and wants to be more presentable and take better care of herself as she is getting older. She wants to feel better about who she is as a woman and mom on the go. It's no longer about being girly, it's about taking care of herself. Want to watch the vlog (video) instead? Scroll down to the end of the post!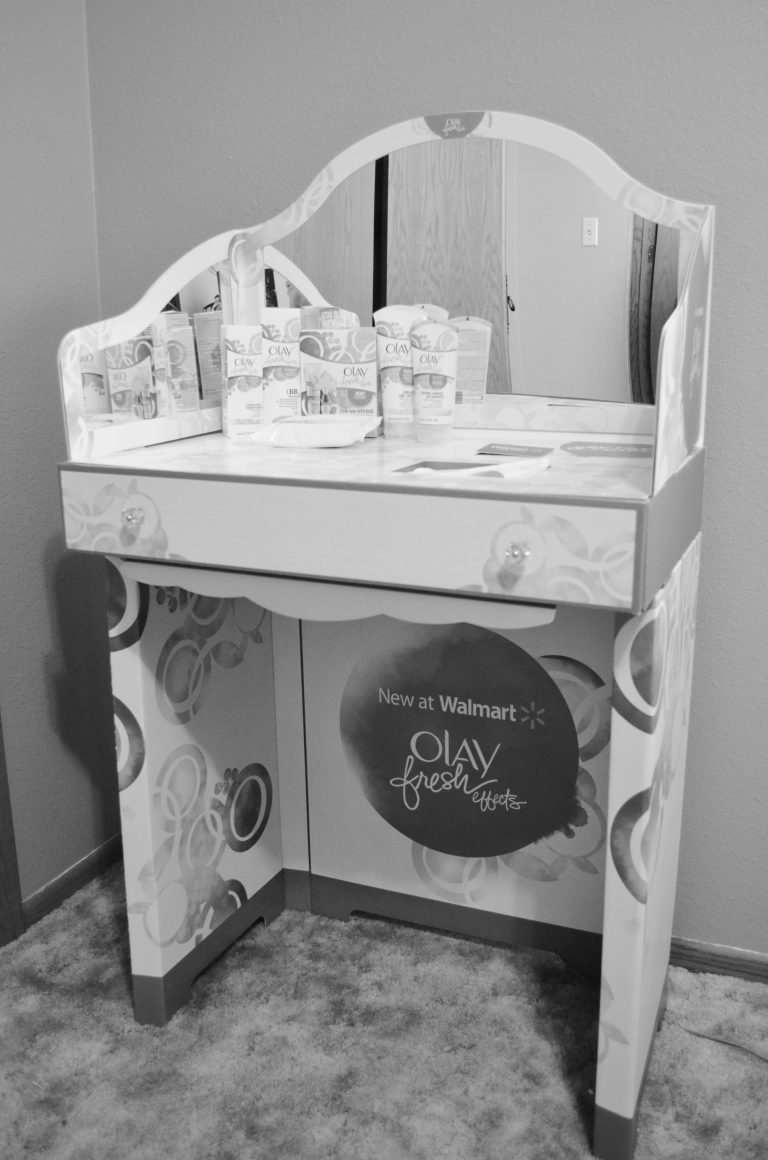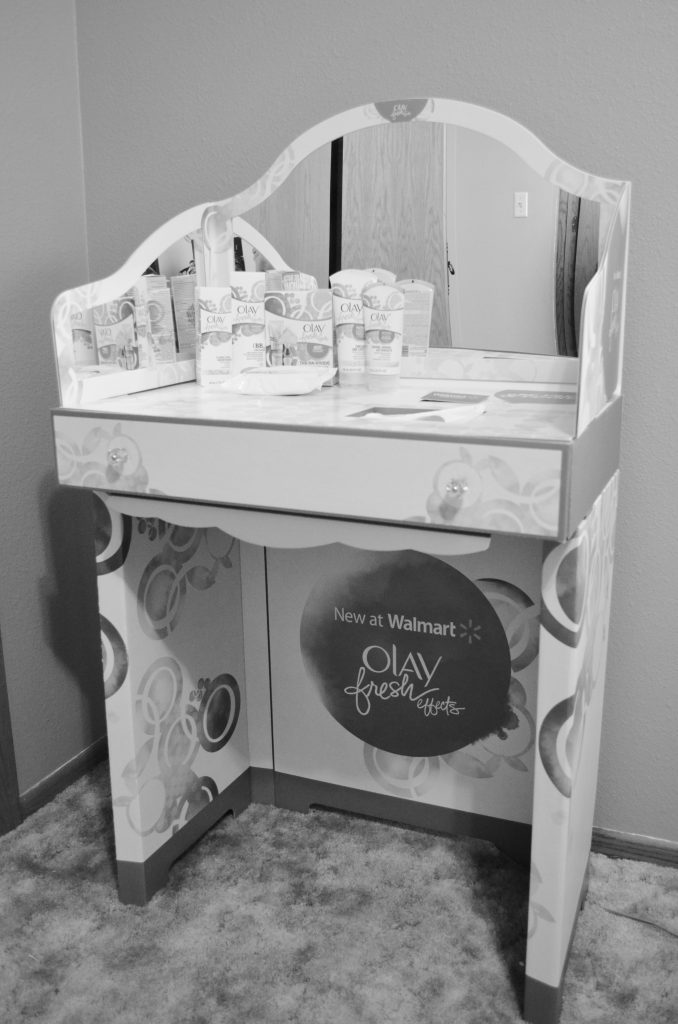 I'll admit it – growing up I never wore makeup. I never used lotion. I didn't even use sunscreen. But now that I'm approaching 30 and a mom of two very little boys I've been trying to change all of that. But I don't know how. So when I opened up this gigantic package from Olay I was shocked and incredibly excited to find this beautiful cardboard dresser with a mirror, drawer, and the Fresh Effects line!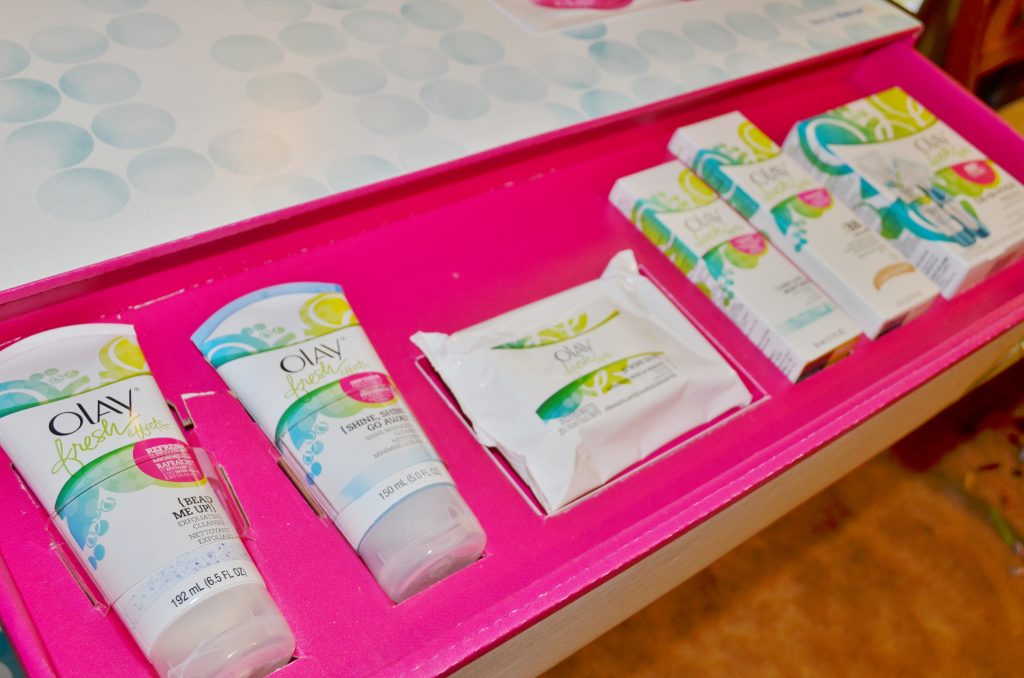 This brightened up my whole week in fact! The last few years I really wanted to start using an exfoliating cleanser, deep pore cleanser, and keep handy those great cleansing wipes for my face but to me it's a little overwhelming! I didn't want to just go to the store and buy a bunch of random products to try. Heck I didn't even know what some of the stuff that P&G sent me was! But I sure was appreciative of the opportunity to try it out and I read everything on all of the boxes! And I'm sold. I absolutely LOVE the feel of the Olay Fresh Effects line. To say that it makes me feel fresh is a bit trite but it is such a light clean feel. Perfect for someone like me! They sent me their :
Va-Va-Vivid! Powered Contour Cleansing System
Shine, Shine Go Away! Shine Minimzing Cleanser
Bead Me Up! Exfoliating Cleanser
S'Wipe Out! Refreshing Make-up Removal Cloths
Long Live Moisture! Satin Finish Lotion
BB Cream! Skin Perfecting Tinted Moisturizer with Sunscreen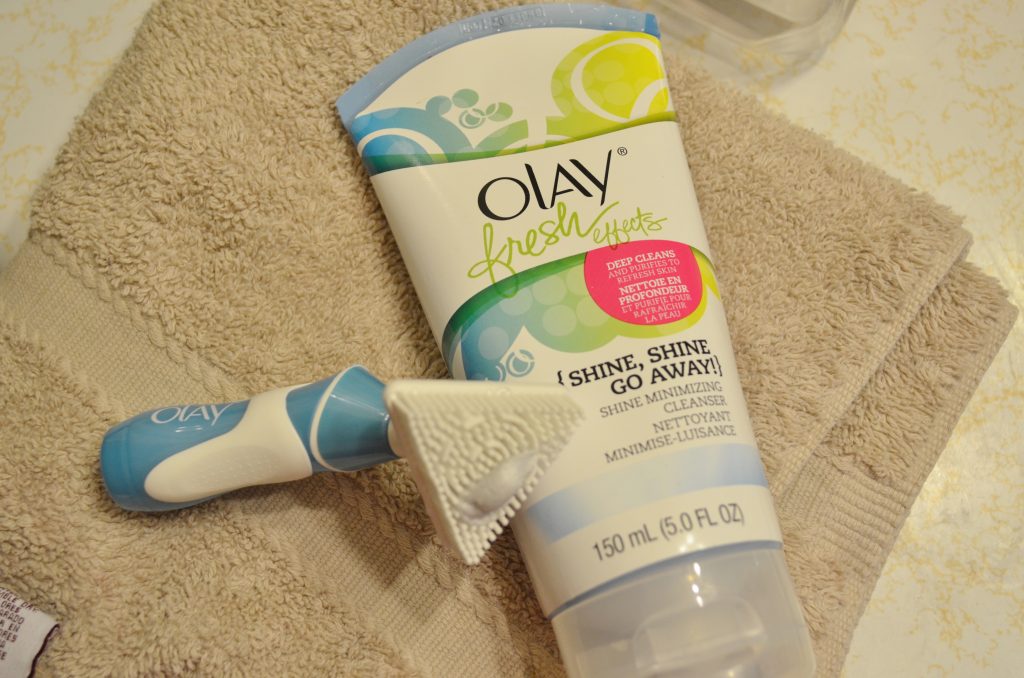 Don't laugh – but I had NO idea what to do with this contour cleansing system. I told you I never got into the girly stuff remember? But to me it's not really "girly" anymore – it's more a way to keep my skin clean and healthier and make me feel better in the process. So I pulled out the box, read the back and got started. It was simple too! You can see above that I just put a dab of the Shine Shine Go Away! cleanser on the Va-Va-Vivid! cleansing tool and turned it on.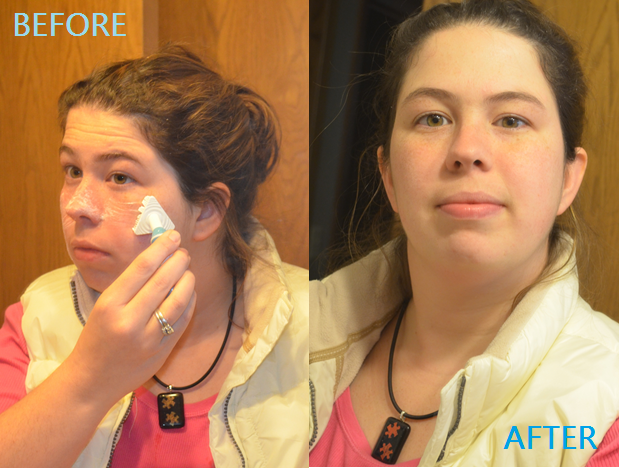 I was surprised at how CLEAN and fresh my face felt. In fact I loved it so much that as soon as my husband came home (don't tell him I told you!) I made him try it too! And he may not admit it now but he actually really liked it!!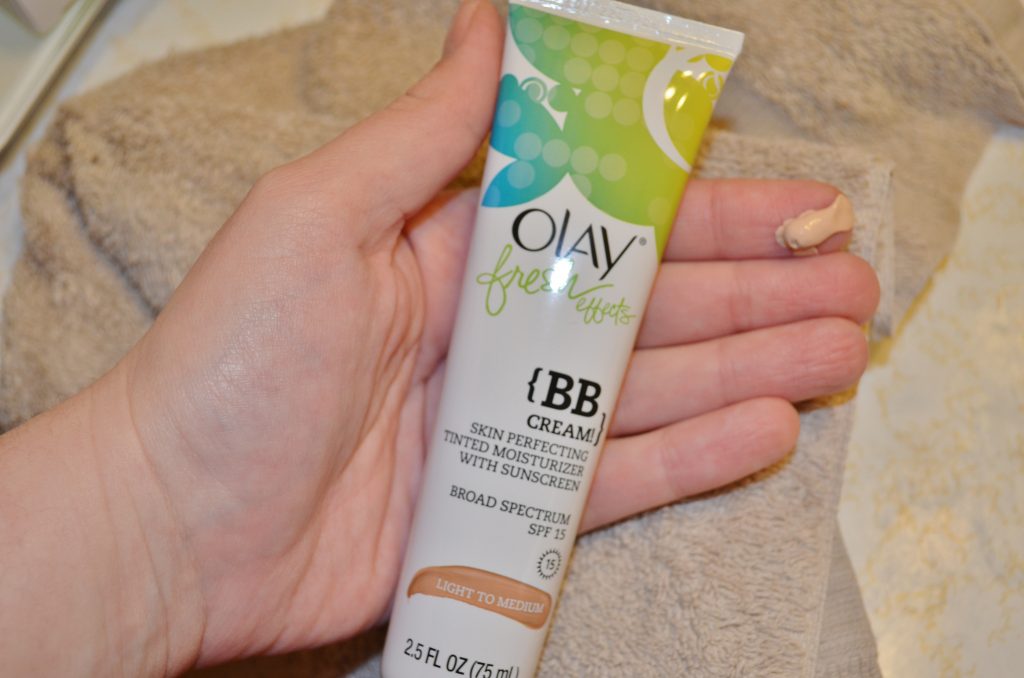 Then I put on the Olay Fresh Effects BB Cream! which is a tinted moisturizer WITH sunscreen (SPF 15). You can see the cream there is certainly tinted but it rubs right into your skin. It didn't feel greasy or caked on like other products I've tried in the past. It was nice and smooth and soft. I love that it has sunscreen in it too, even if it's just SPF 15. Growing up I NEVER put on sunscreen and after living in Florida for 27 years my skin is popping freckles out all over the place! (and wrinkles too!) In fact I didn't really give sunscreen much consideration until I met my husband 10+ years ago. Skin cancer runs very heavily in his family and almost everyone has had it. It's a very important matter for our family and I take extra precautions with my kids now.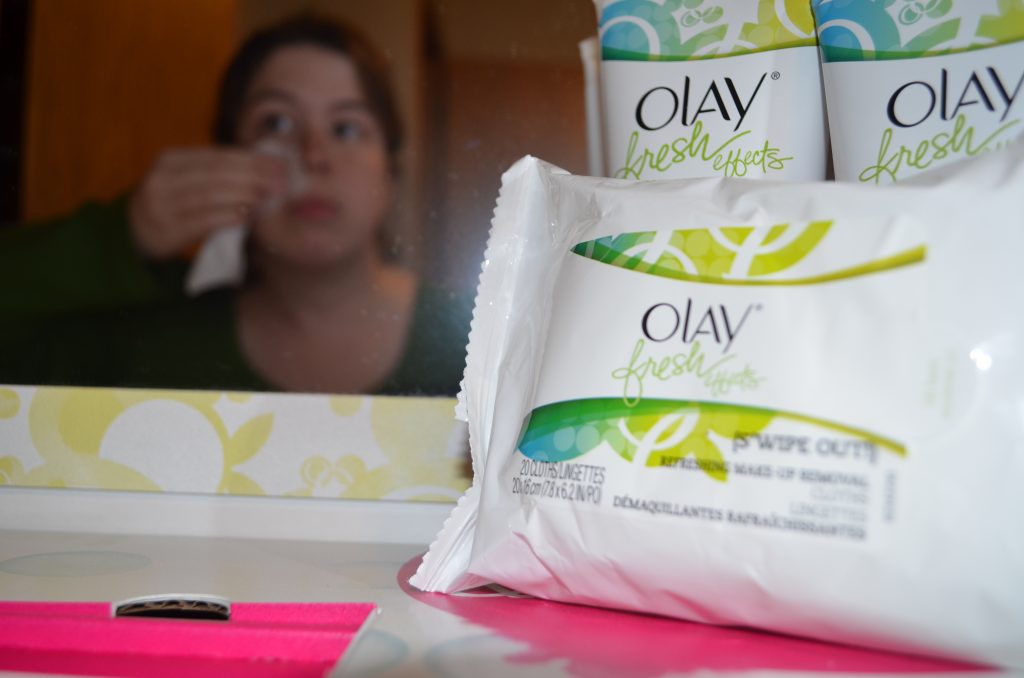 I also tried out the new S'Wipe Out! which I really liked. I love facial cleansing wipes which I actually use more to make my face feel fresh after being sweaty or just for a quick clean up rather than make up removal. This product was no different than the others – it made my face feel soft, fresh, and feel clean.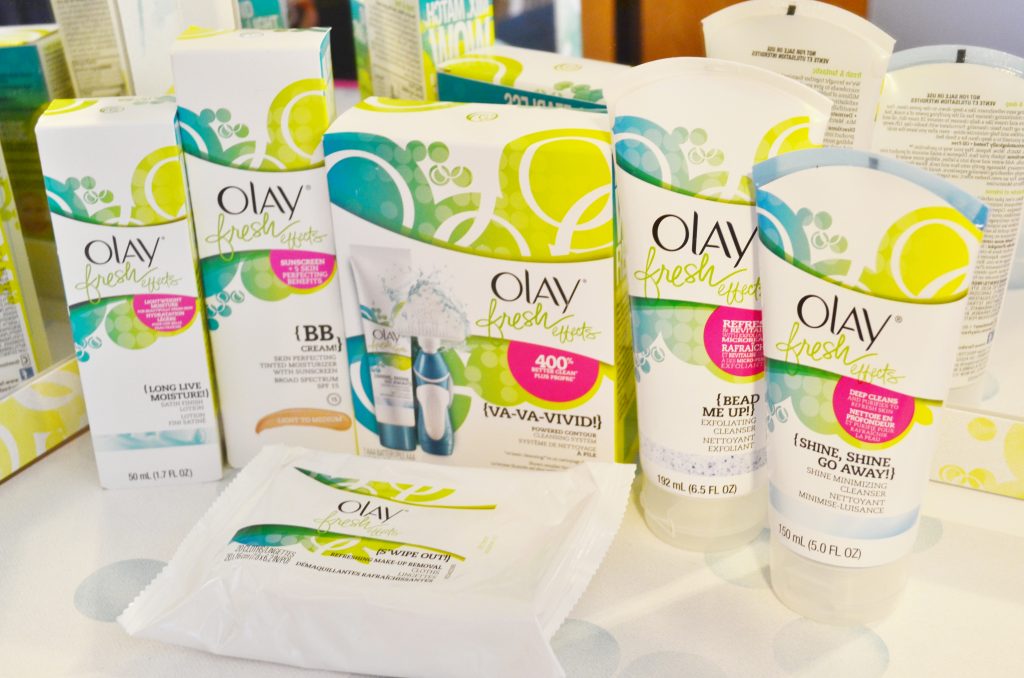 I LOVE the colors & design of the Fresh Effects line. Overall I will be using almost every single one of these products on a regular basis. (minus the Long Live Moisture! lotion simply because I like the tinted moisturizer better) The Olay Fresh Effects line not only makes my skin feel cleaner  but it makes me happy because I'm investing in me as a busy mom and wife and woman. Although I don't have much to compare to in the way of skin care (other than a few heavy greasy lotions I've tried and quickly discarded) I love the Olay Fresh Effects line! Follow Olay on Facebook and Twitter @OlayUS.
Check out my Vlog for a closer look at the Olay Fresh Effects line!
Disclosure: The Olay Fresh Effects product, information, and two gift packs have been provided by Olay. Olay does not represent or warrant the accuracy of any statements or product claims made here, nor does it endorse any opinions expressed within this blogsite. All opinions are 100% my own.