My BlogHer13 Conference Recap – Fun in Chicago Connecting with Brands & Bloggers
This post may contain affiliate links, view our disclosure policy for details.
First of all I have to say a HUGE thank you to Best Buy who sponsored my entire trip to BlogHer in Chicago last weekend! They covered everything for me from the hotel to parking to my conference pass and all incidentals. It was SO good to meet with our Best Buy Ambassador team again and the Best Buy marketing team – it is just an absolutely fantastic bunch of ladies and I am so honored to be a part of their team.
I also had the pleasure of attending a very special dinner with the Best Buy team and with Dyson which I will share more with you in another post as I'm quite excited about it! The Best Buy booth at the conference actually pulled in reps from brands that they were featuring which I thought was just genius since they could answer very specific questions about the products!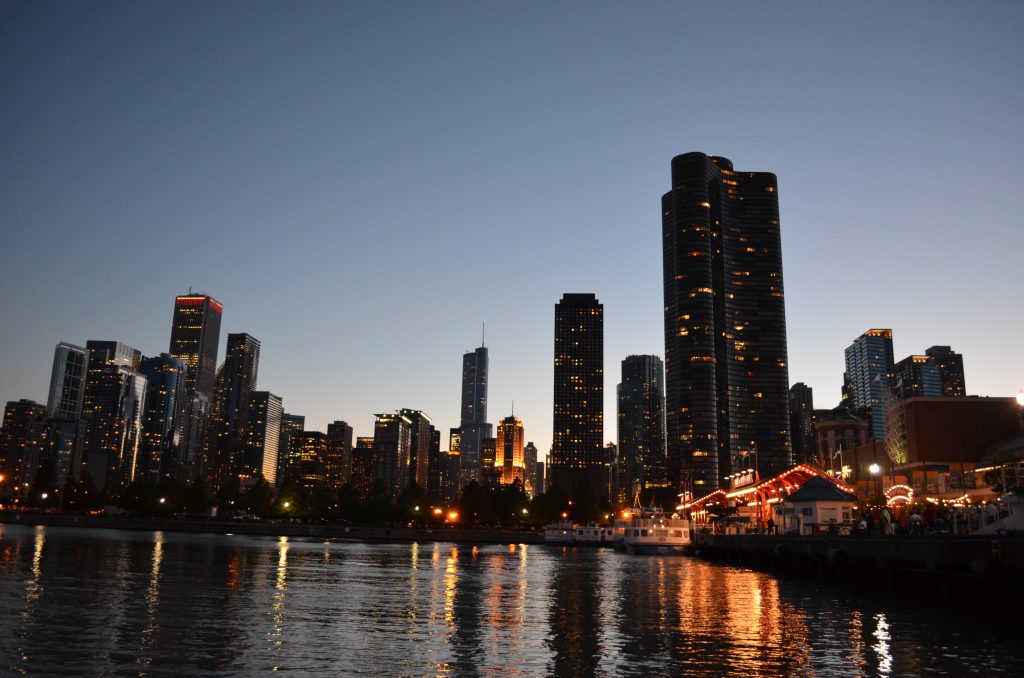 If you've never been to the city of Chicago it's a stunningly beautiful city. I lived in the suburbs for a few years and there are so many amazing places to visit downtown. I was SO incredibly excited that BlogHer had chosen to go to Chicago this summer as it was only a 5 hour drive for me to get there from Iowa. Plus I was able to drop hubby & the kids off at grandma's house so they weren't far away which was pretty cool.
My good from Meagan from Meagan Gets Real also flew up from Florida to attend the conference so it was really awesome to see her again. I also roomed with Amy from Grinning Cheek to Cheek which I was really excited about as we attended the Get Radical Conference together.
The BlogHer conference was at the McCormick Center which is just gigantic although the expo hall was pretty small this year. I really missed some of my favorite brands that weren't there this year. It still kept me plenty busy and I met up with bloggers I've known for years, bloggers I've stalked for years, and great brands & reps that were new to me and that I had known for years! To me, when I attend conferences like this it's all about networking.
Meeting everyone you can! The PR reps are the FACE of the brand they are representing . You may have an awesome brand but if you have a PR rep that is rude or distasteful it changes my opinion about the company. It's SO important to have a good face to your brand and there were many brands there that did an awesome job at it!

Three brands that I LOVE and have worked with in the past were there – Brew Over Ice (LOVE their Celestial Seasonings Sweet Tea k-cups!!), Gorton's Seafood, and Daily's Cocktails! As you can see they had some pretty fantastic photo opps to stop at! They have fabulous blogger programs to work with and I'm pretty sure I kept stalking their booth for the delicious samples they had available!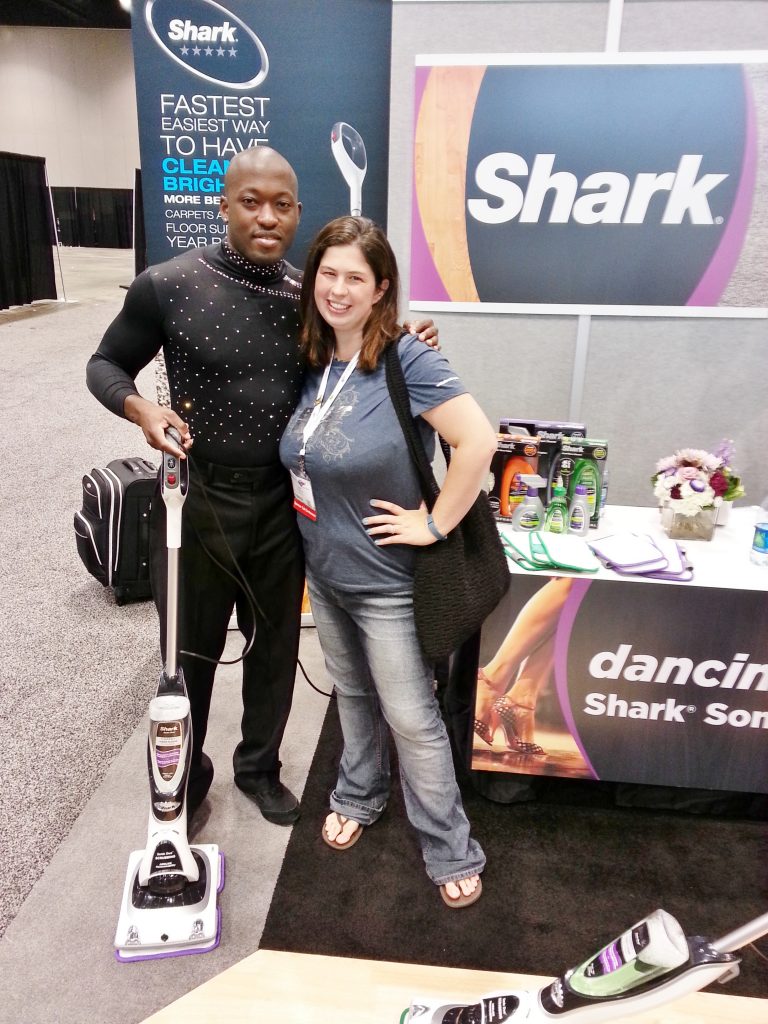 A few brands really did a great job at engaging with those attending the conference that stuck out to me. One was Shark. They featured their new Shark Sonic Duo Cleaning System. It features 1000 scrubs per minute and can be used on carpets AND hard floors of all kinds. Instead of just propping up a vacuum they actually hired salsa dancers to dance the conference away while using the Sonic Duo on different types of floors in the booth.
Really – pretty creative and definitely caught my eye. The reps were out in the middle of the convention center floor and ready to talk to anyone who came by – kudos! Here I am with one of their dancers sporting my sweet Best Buy t-shirt.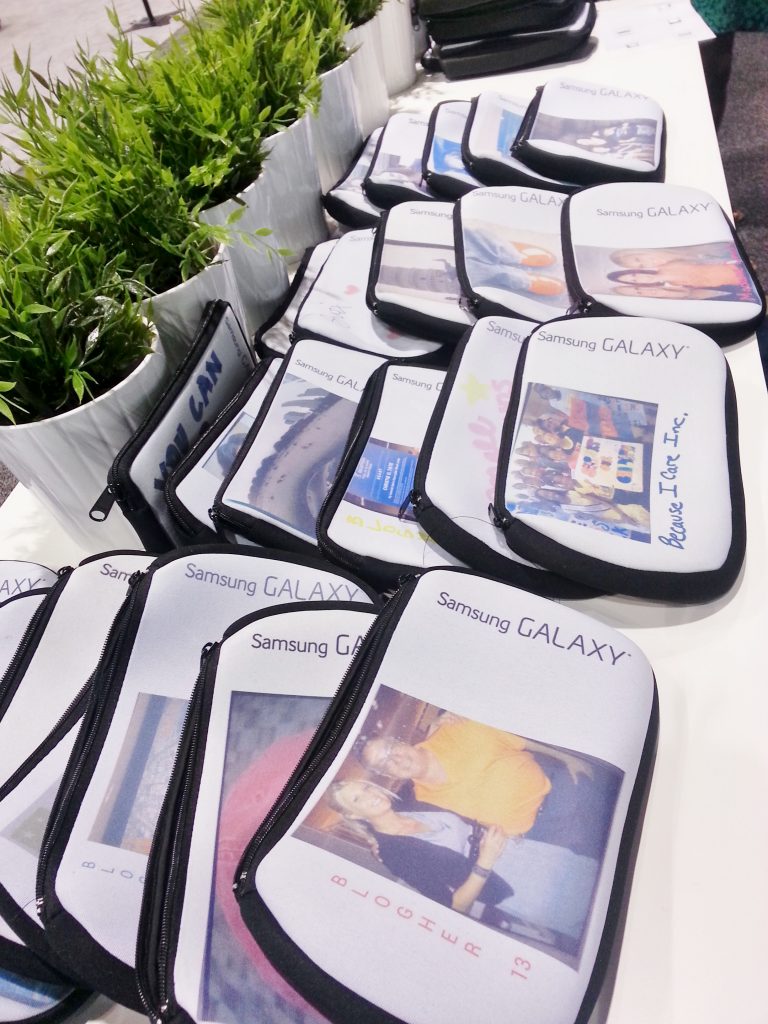 Another brand that I really enjoyed connecting with was Samsung. Not only did they have an absolutely awesome setup but I really appreciated the fact that they had a Samsung tech guy available to talk to and plenty of hands-on products to check out. I am specifically drooling over their new Samsung Galaxy S4 phone (I have an S3) – it is AMAZING! Their tech rep spent a good amount of time with me looking through my S3 phone and helping me to figure out the weird bug issue I was having – which was completely not conference related.
After I finished up meeting with him and getting a hands-on demo of the new S4 they had two REALLY cool things at their booth to take part in. Above you can see the awesome zipper pouches that they made on site in about 5 minutes! You could pull up a photo off your phone or FB account and print it right onto your bag! AND another AWESOME section they had was that you could actually pick a Samsung case and have it personally engraved on site while you waited. Definitely the coolest gifts I saw in the expo!!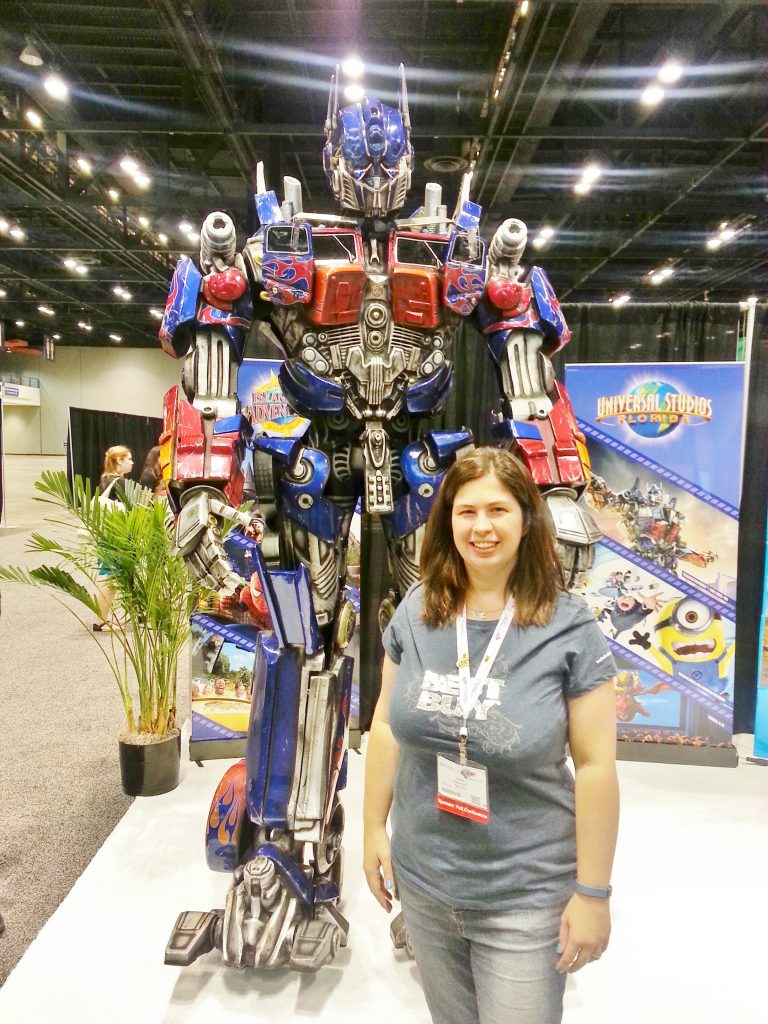 Since I just moved from Florida last year to Iowa I enjoyed the Visit Orlando booth where I got to sneak a photo with Optimus Prime – he was SO cool and actually talked too!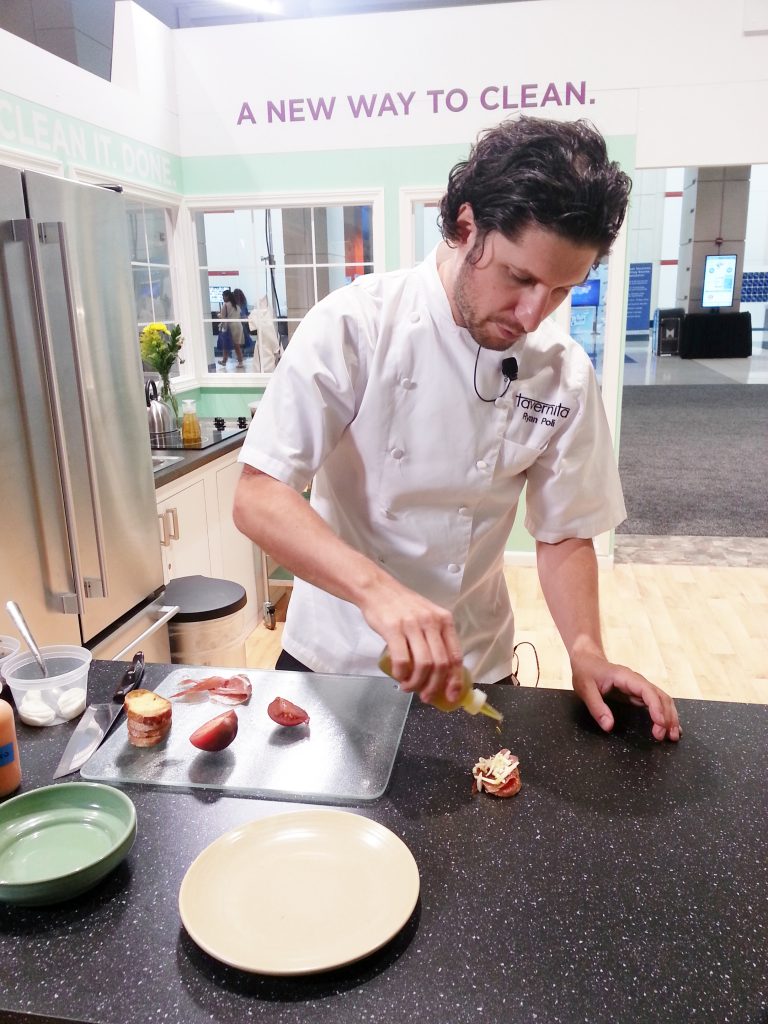 Another honorable mention was the Windex booth. It was right in the front of the expo and they actually built a house frame in there and hired a professional local chef to come in and do demos of their new Windex Touch-Up Cleaner and give us tips on how to spruce up simple appetizers. It's a really cool product and very stylish for easy cleaning! If you're ever in Chicago stop by his Tavernita restaurant!
A few other brands that I was thrilled to meet up with:
Boiron – I absolutely LOVE and am always stocked up on their homeopathic meds!
Garden Media Group & Ryobi – I was happy to see a new branch of outdoor products surface at BlogHer this year!
Folgers & SodaStream- GREAT booth set up to try all of their different beverage flavors. Plenty of room to visit and the reps were great to talk to.
Coca-Cola – Although there was a bit of controversy over it I loved that this booth had all sorts of physical exercise activities  and people giving you really great fitness tips. They even sent me home with 2 soccer balls for my kids.
CVS Minute Clinic & Walgreens also had great selections of their products to sample. And of course Chuck E Cheese was there too!
The most disappointing booths? Dodge & Serta – which is surprising to me as those are big brand names and Dodge was a high-end sponsor! For both booths either the reps were not interested in engaging in conversation, they couldn't answer my basic questions about the product(s), or they just plain weren't interested in being there.
Overall it was a very successful trip for me. I spent a lot of time with the ladies and ambassadors with Best Buy which I LOVED! I met a TON of bloggers that I "knew" online which was fantastic to finally meet in person. And I did make some great brand contacts. A very special thank you to Best Buy for providing me the opportunity to further my reach and have the opportunity to network with others and grow my site!