Boom Boom Balloon Review
This post may contain affiliate links, view our disclosure policy for details.
 Disclosure: I received a game in order to complete this review. All opinions are my own.
Family Game Night – one of my (many!) favorite things to do at my house! The kids scramble around to get their favorite games and we all take turns playing for the evening. One day my husband had to work late and my kids had been dying to play this Boom Boom Balloon game by SpinMaster that we were sent so I reluctantly agreed. I say reluctantly because it is SUCH a cool game…but I'll admit, I'm terrified of popping balloons! But I decided to be a good sport and play anyway!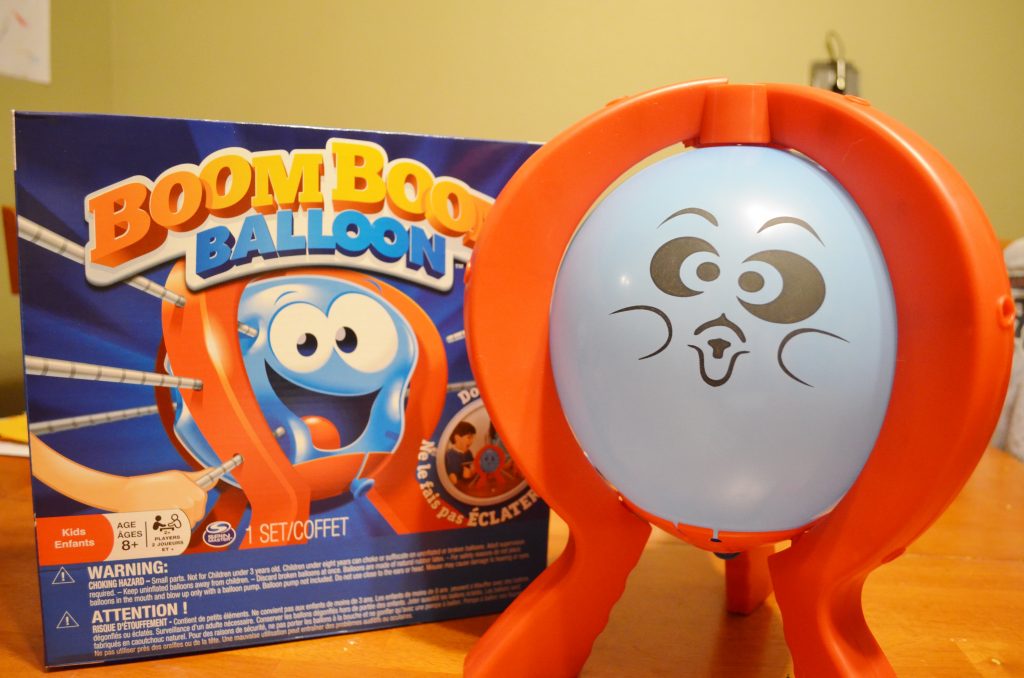 Honestly though – this game is REALLY fun, great for fine motor skills, and even involves a bit of simple strategy in it. The game is VERY easy to set up – just attach the 3 red "arms" together. We did have to blow up the balloon through the bottom of the stand – it says to use a balloon pump but that's not included. Wasn't a big deal though – my son enjoyed blowing it up for us. Then you just tie the balloon up, and insert the plastic "sticks". Each person must roll the dice to play, and then twist the stick so it snaps down closer to the balloon as many times as the dice tells you to. The box says ages 8+ but honestly as long as you're watching the kids with the balloon pieces my younger kids LOVED this game. They are always begging to play it.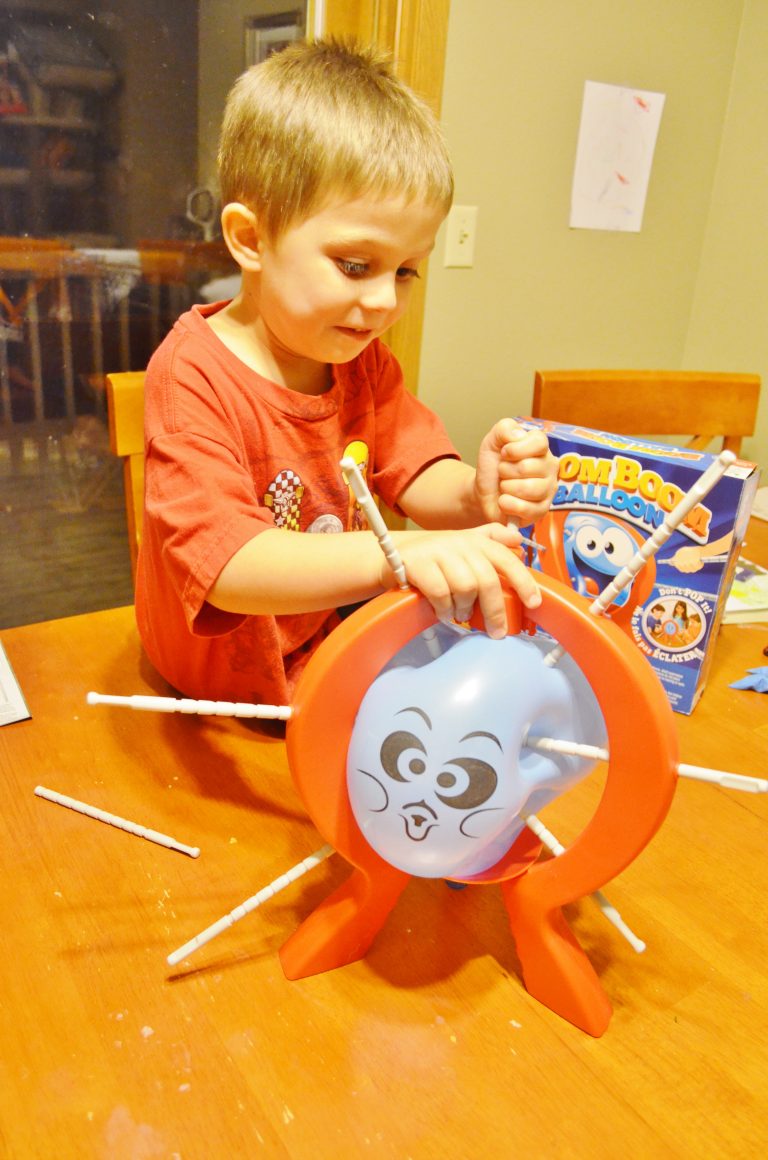 The strategy of the game is to NOT pop the balloon. Take turns rolling the dice, twist in the stick so it pokes closer to the balloon but make sure not to pop it!! Especially because I scream every time it pops!! HAHAH! My kids love that just as much as waiting for it to pop I think! I was amazed at how much the balloon could be distorted before the thing actually gives way and breaks!! Look at the balloon in the picture above! It got a LOT worse before it actually popped!! And every time it was so unexpected too! The red frame held together well – no issues with it coming apart. And a bag of "face" balloons are included, but when they run out you can easily use any balloon you have on hand. You can even draw a face on it if you want!
Boom Boom Balloon is an awesome (and simple!) game to play! For under $20 you can buy it on Amazon or at your local retail store!