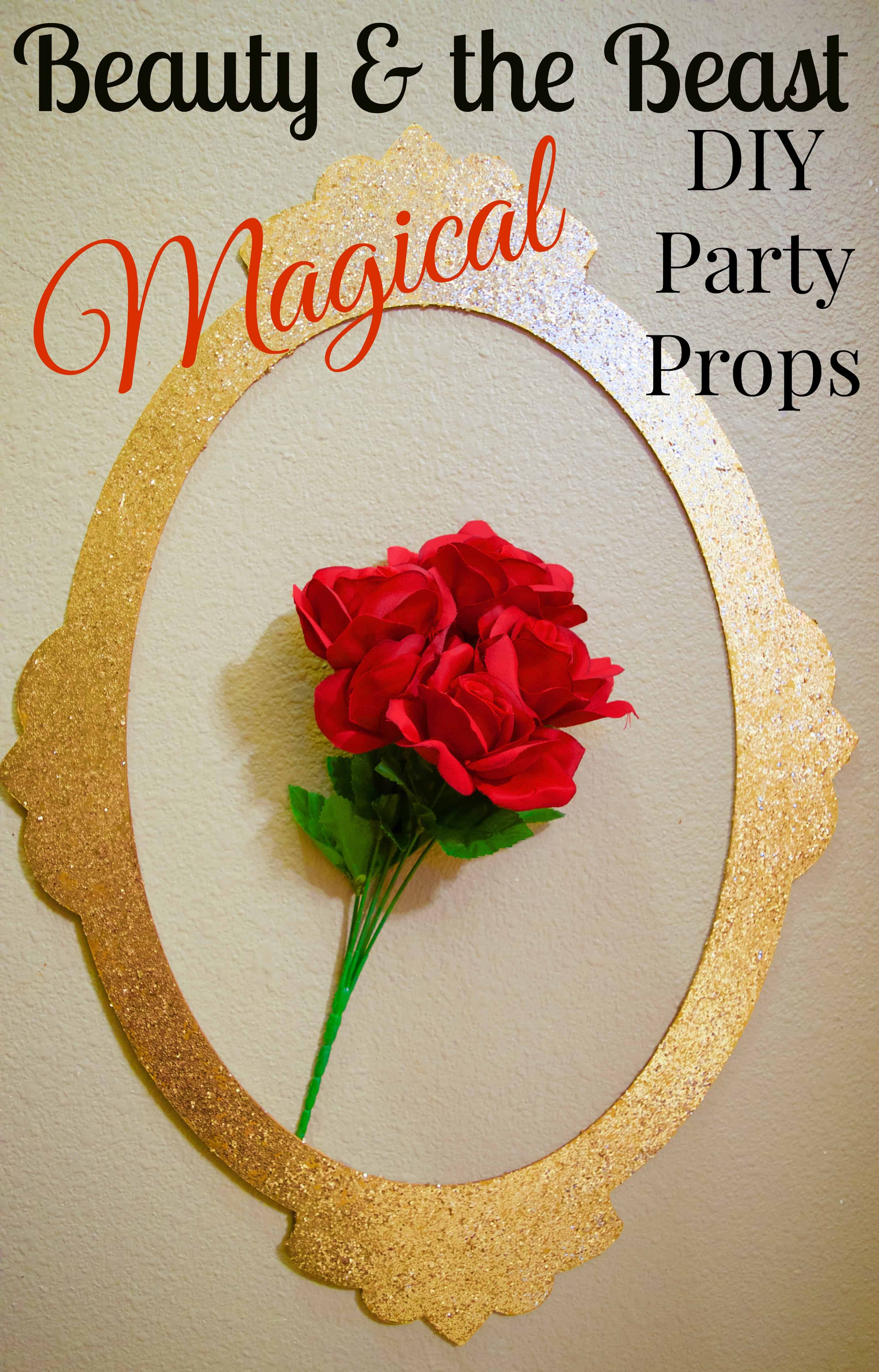 Disney's magical Beauty & the Beast movie is opening in theaters on March 17th and I could not be more PSYCHED! (Check out our Insider Access to the movie here!) I haven't looked forward to a movie this much ever! I know I'm not the only one excited so I wanted to share some great DIY Beauty & the Beast party ideas, items you can buy to create your own crafts and jewelry, etc. And if you collect Funko Pops make sure to check out the new Beauty & the Beast movie ones!
There are several places I've been extremely inexpensive props and craft items for our DIY Beauty & the Beast items:
*Dollar Tree
*Amazon 
*Oriental Trading
(occasionally I check my local thrift store, eBay & Etsy too)

MY LATEST VIDEOS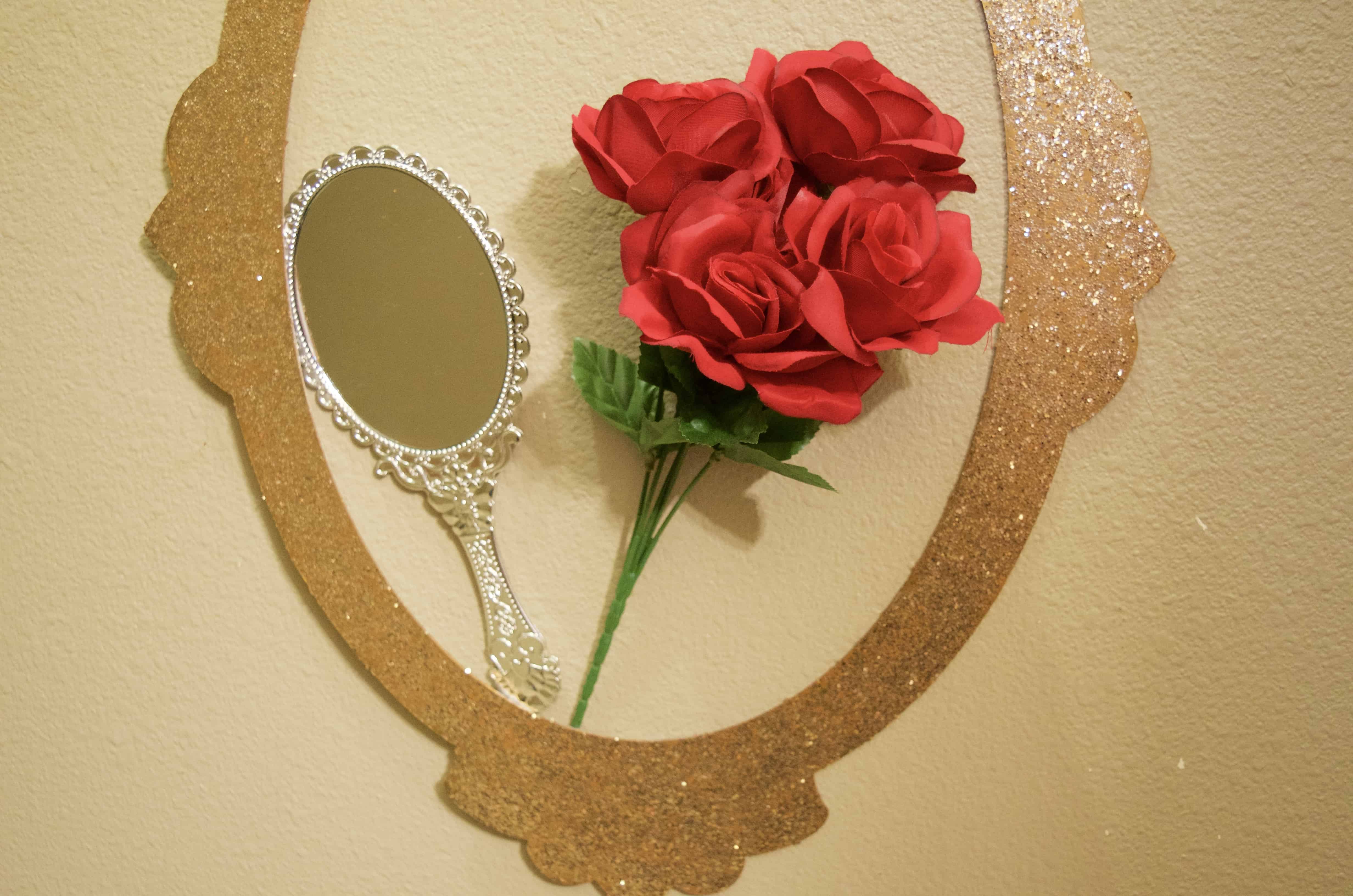 These incredibly awesome frame cutouts run under $9 for a set of 3 on Oriental Trading. I had some white ones on hand so I painted them gold and then mod podged glitter on but they actually sell them for the same price already gold and glittered! You can use Glue Dots to attach them on the wall like I did above or hold them for a photo booth prop at a party!
All of the faux roses in this post came from the Dollar Tree! They have TONS of them – especially around Valentine's Day! For $1 the faux roses I bought came with about 5 or so flowers on the bunch. I chose to leave them all together but you can definitely cut one rose off like in Beauty and the Beast. (You can buy them in bulk online.) These are the same exact roses I used for our DIY Romantic Umbrella Door Hanger.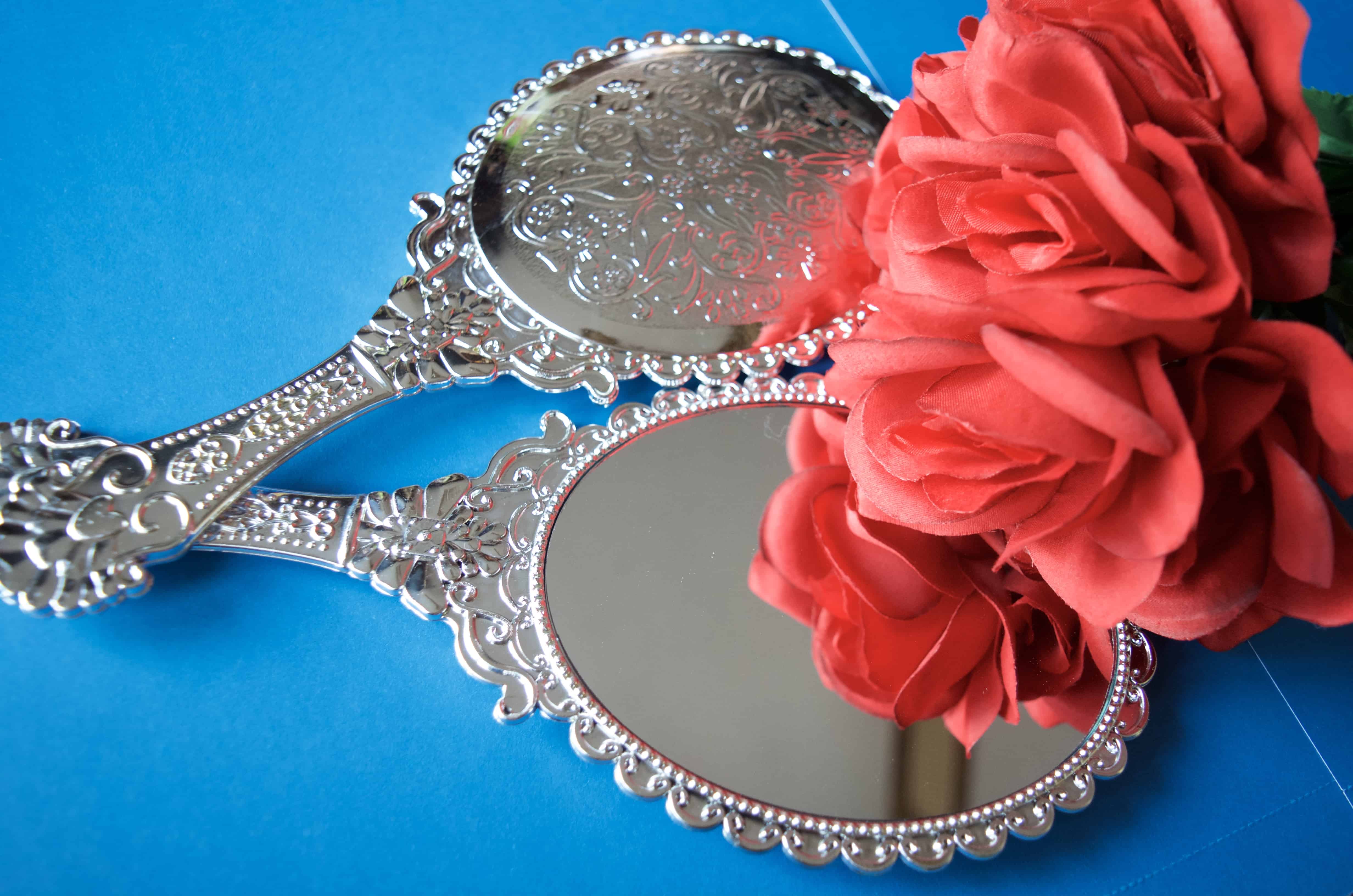 I also picked up those GORGEOUS silver handheld mirrors you see above at the Dollar Tree! I couldn't believe my luck!! I recommend buying at least 2 because one broke when my kids accidentally stepped on it! They are absolutely perfect for Beauty & the Beast themes! They were NOT in the toy section though – check the hair and beauty section of the store! You can buy them in bulk online too for parties.
Check out our DIY Belle-inspired Jewelry tutorials and DIY Belle's glittery Princess Parasol! Make your OWN beautiful bracelets, necklaces, keychains, earrings and MORE!
Below are some ideas of items that you can buy to make your own DIY Beauty & the Beast crafts!
DIY Beauty & the Beast Rose Cloche Dome: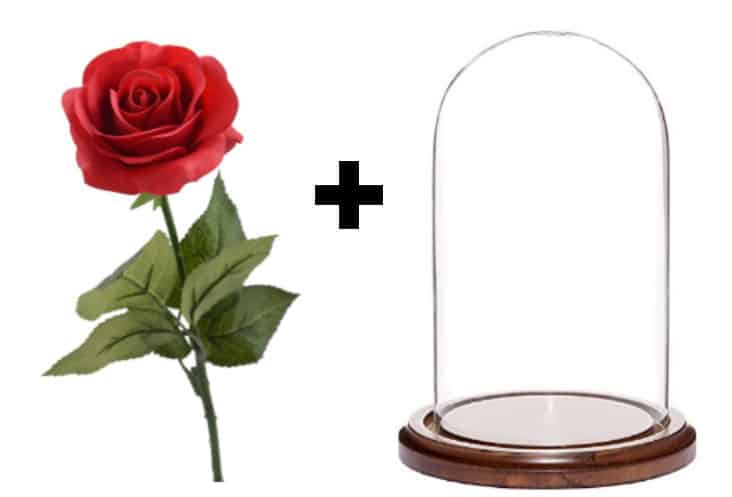 Glass Dome Cloche (with & without a base)
Faux Rose (or buy the 5-6 flower bunch at Dollar Tree)
DIY Lumiere Candelabra: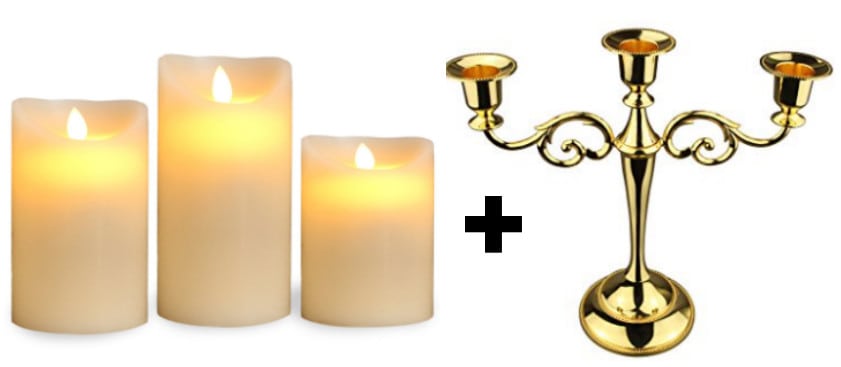 Gold Candelabra (or spray paint one gold from a thrift store!) 
3 White Candles  (or glue on these 3 inch candles)
(note – candelabras typically hold 1 inch candles but Lumiere would look best with a 3 inch wide candle so you'll need to decide which style you want to go for! Just use a sharpie to draw on his face or mod podge a printed image on the middle candle!)
DIY Mrs. Potts:

Sharpie Oil Based Markers
White Teapot
DIY Beauty & the Beast Jewelry:
Red Resin Roses (to glue onto another charm)
Antique Mirror Charms (requires Open Jump Ring to attach)
Antique Book Charms (requires Open Jump Ring to attach)
Silver Bracelet Bangle or from Oriental Trading
Silver Necklace Chain 
Belle Inspired Fashion:

Scoop Off the Shoulder Dress
Retro Yellow Swing Dress