Best Gift for a Newborn – Boppy Newborn Lounger Review
This post may contain affiliate links, view our disclosure policy for details.
Recently I've been introduced to the Boppy® Newborn Lounger
and I'm totally kicking myself over not finding this several months ago when my daughter was first born! It would have given me back so much time! One thing I have learned since my daughter was born a few months ago is that baby girls are NEEDY! Well, at least mine is! She's my first girl (my boys are 8 & 5) and perhaps my memory has simply faded but I do not remember my boys being so particular about things!
I work full time from home as a blogger but I also volunteer at my husband's school next door while trying to balance regular housework. My little girl has reflux so she has never been a big fan of laying flat on her back to play as she tends to puke more which results in me holding her more. When my boys were babies I had the Boppy Pillows and LOVED them!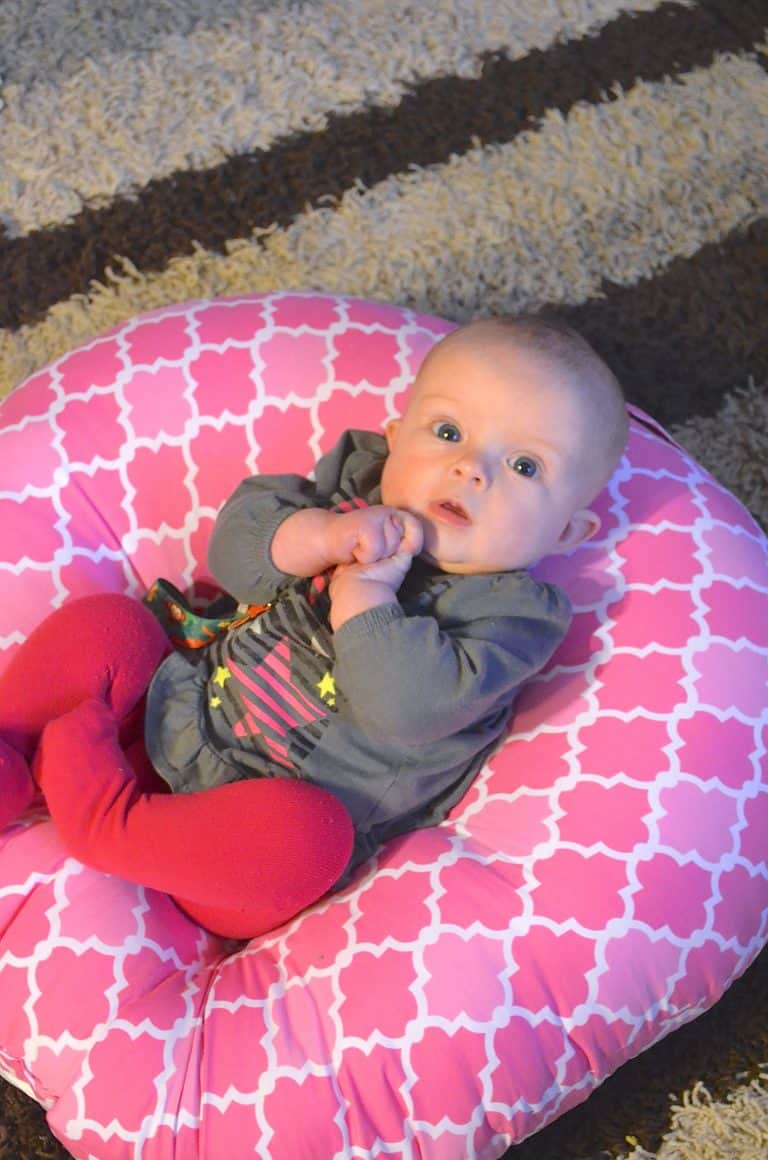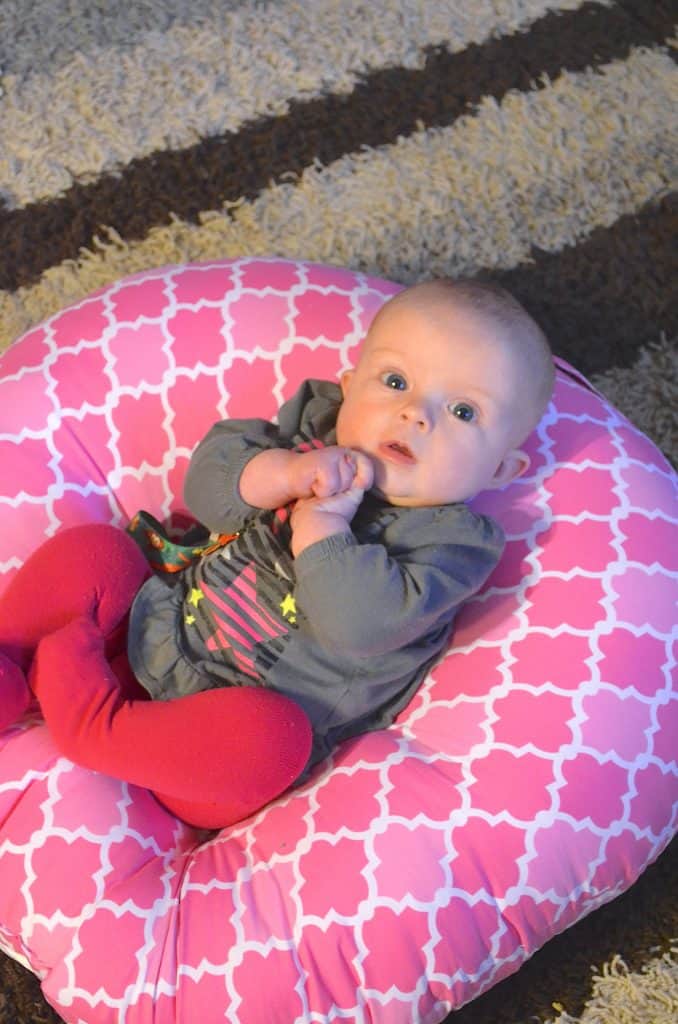 Since we've been using this Boppy® Newborn Lounger and we're both in heaven! It frees up some of my time to work as I can sit next to her on the floor longer while she plays since it slightly elevates her and she's happy for more play time in comfort.
Plus it's super soft and plushy like a pillow or bean bag but she doesn't slip out of it like she does with the original Boppy®. It has a recessed spot in the middle for her bottom so she can actually lounge in it and lay back (or what she likes to do is pull her head forward and hold it up!). She kind of looks like she's chilling out in a bean bag but if you look at the photo below you can see how it's formed.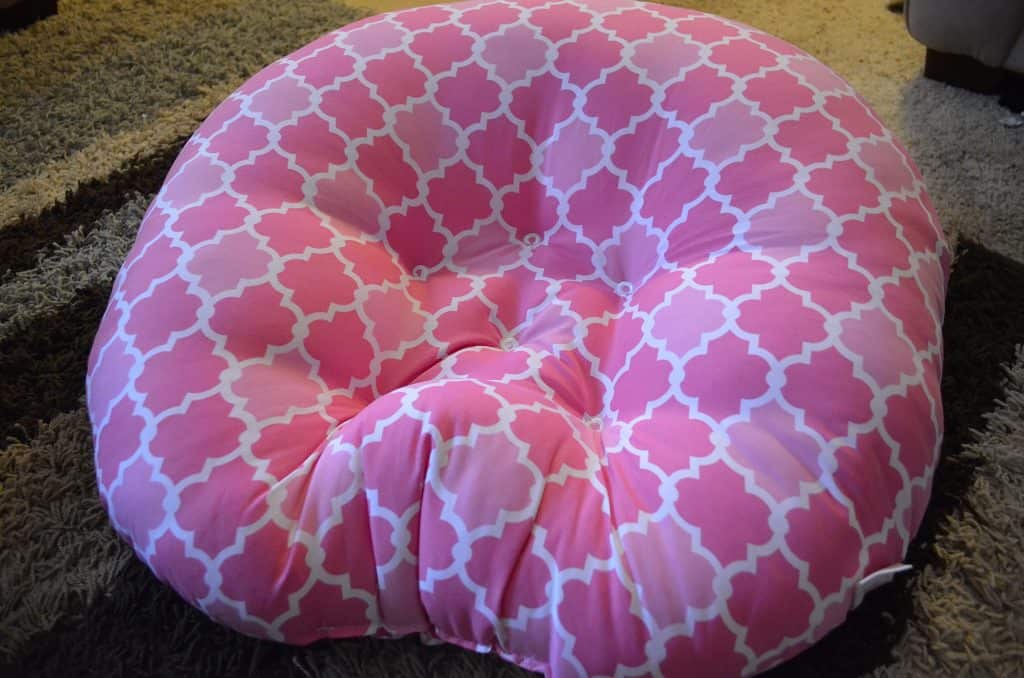 There's a soft handle on one side so I can grab it easily and tote it around with me wherever I go. Which, for me, is just brilliant because I volunteer at my husband's school next door a LOT and bringing her Boppy® Newborn Lounger leaves my hands free to work with the students. It's super easy to grab because of the handle. And thankfully the cover can easily be wiped clean since she spits up so much!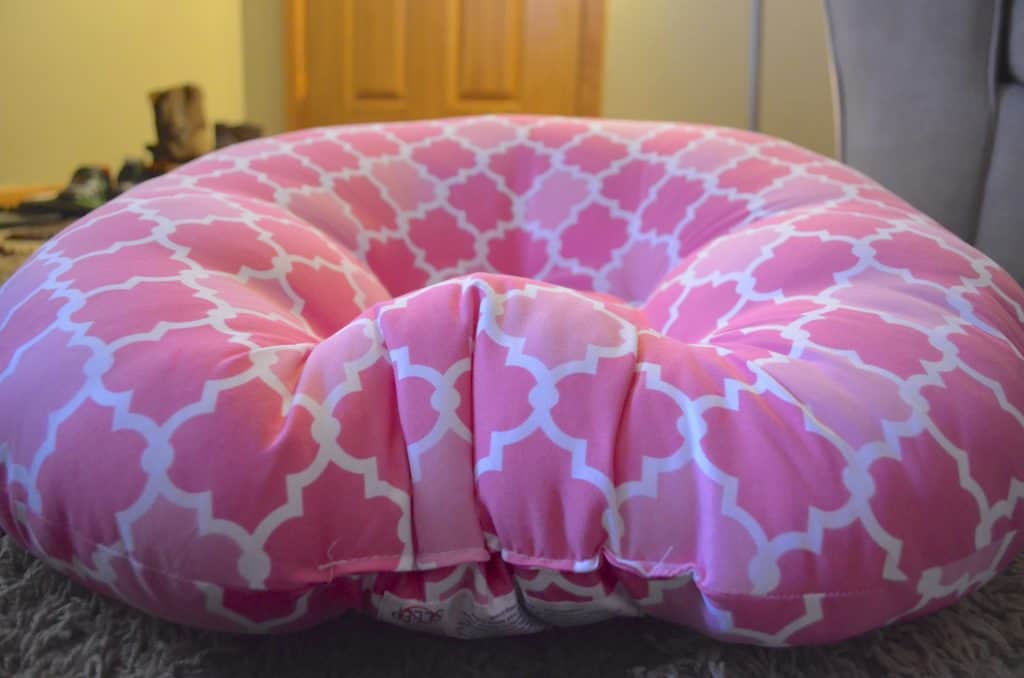 You can see that the Boppy® Newborn Lounger sits pretty close on to the ground too. My daughter hasn't had any issues staying in the lounger even though she's a pretty squirmy little thing! It's made for babies up to 15 pounds so I'm definitely going to be sad when she outgrows this! (although hopefully by then she can sit up since she's so petite!)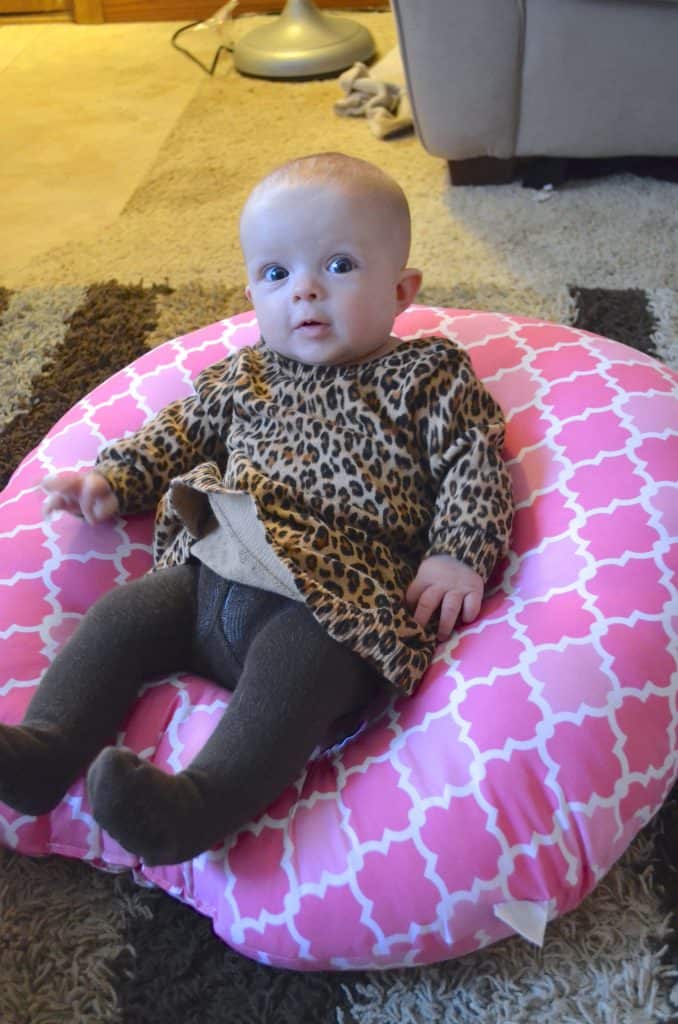 One thing my little girl especially seems to like about her lounger is that she can re-grab her toys when they fall into her lap as opposed to when she's laying on the floor and can't see where her toys fall. Which means she's more self-entertained too! I just love it – the first time she used it she just smiled and laughed so much because she was happy.
She could finally enjoy an extended time playing with her toys next to me while I worked without needing to be held. This is seriously the perfect thing for your baby who isn't able to sit up on their own yet. I would definitely buy this as a gift for someone just having a baby and prefer it to any "seat" for babies at this newborn stage.
You can find BUY this NOW at Boppy.com and Amazon.
This is a sponsored conversation written by me on behalf of Boppy. The opinions and text are all mine.