Disclosure: All products shown were provided by Hexbug for this party. All opinions are my own.
I am a science nut and I have boys – which means I'm pretty much destined to love robots of all kinds! Our family has been a big fan of Hexbug for years and love their affordable and interactive robotic creatures! While I was in Chicago over the summer I had the chance to meet up with the Hexbug team and get a sneak peek at their new Hexbug Nano V2 line – which I have to say is pretty sweet! They have certainly taken their famous nano robotic "bugs" to a new level and asked me to feature them in a party!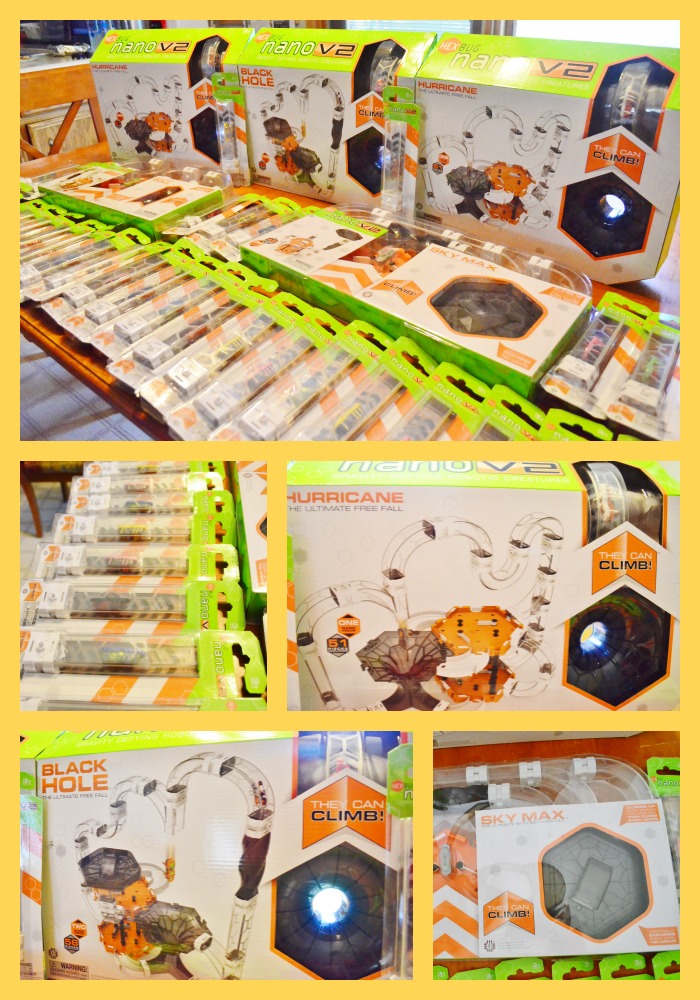 Let me tell you – not only were they super generous in what they sent this is like every kids dream! Go to a party (especially with robots!) and we sent every child home with their own set! That was the fun "SURPRISE" moment of the party! We featured the Black Hole, the Hurricane, the Barrel Roll, and Sky Max sets – and of course a LOT of nanos! (You can view descriptions of each set here) If you are familiar with Hexbug nanos these are slightly different – not only do they come in an extra piece of "track" which I LOVE but they also have addition rubber "antennas" on top which actually help these nanos climb straight up a tube!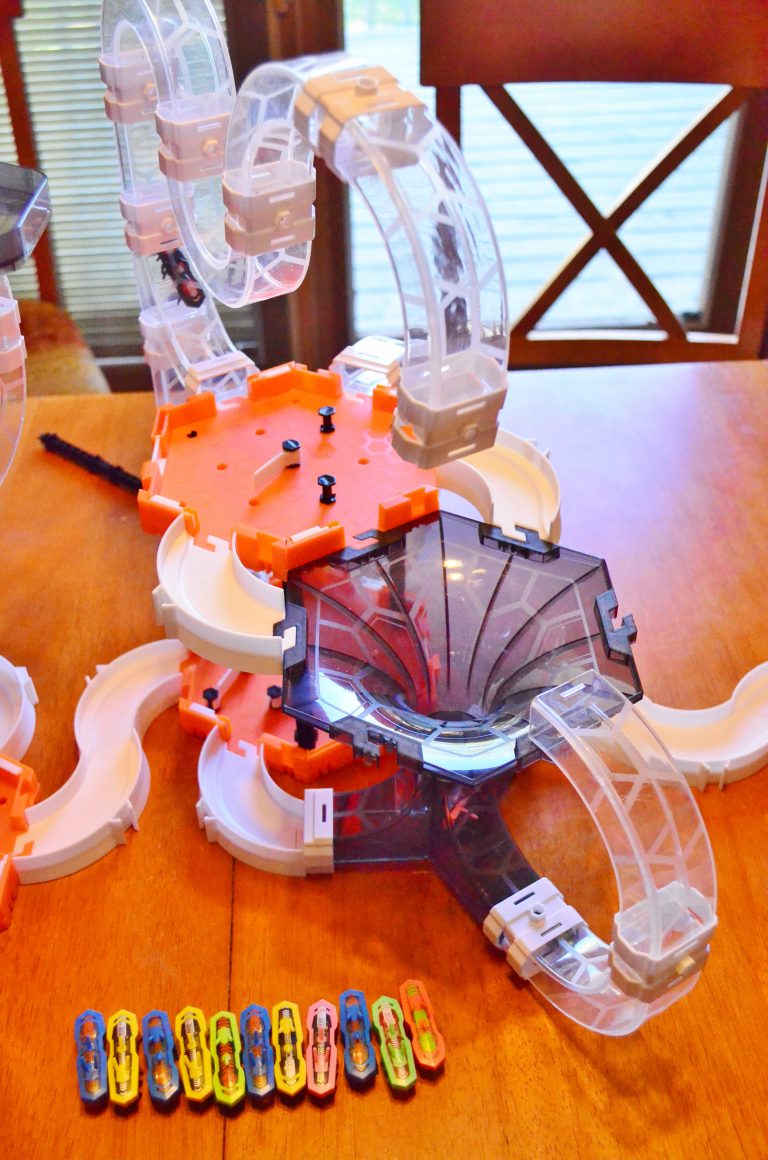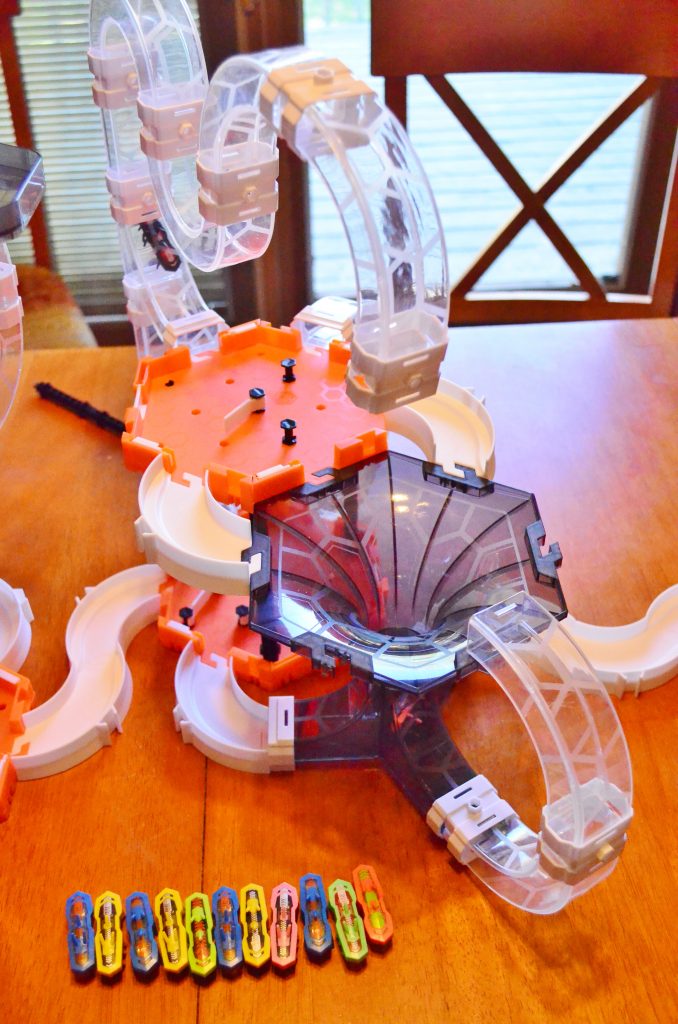 The typical nano sets that we have are all flat surfaces where the nanos just scurry through lanes and platforms, and the occasional ramp. These Nano V2 sets, however, as you can see are actually tubes that curve around, go upside down, allow the nanos to freefall into a vortex, and really do some pretty amazing stunts.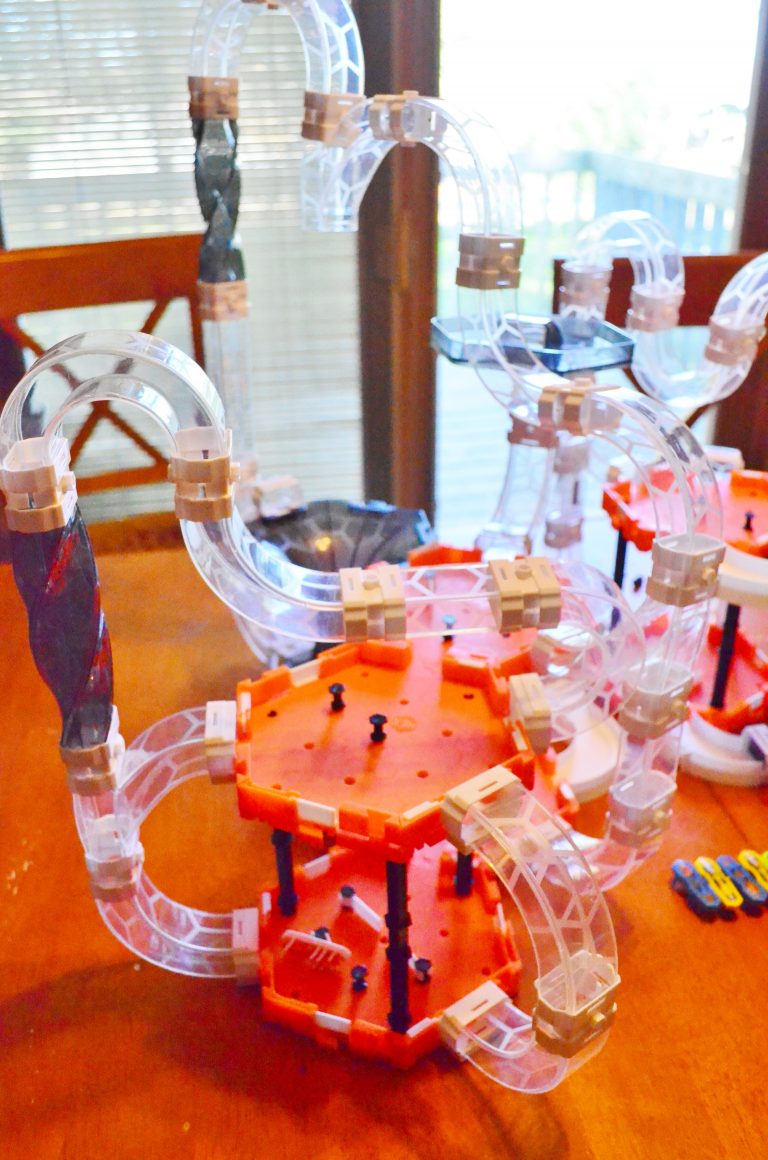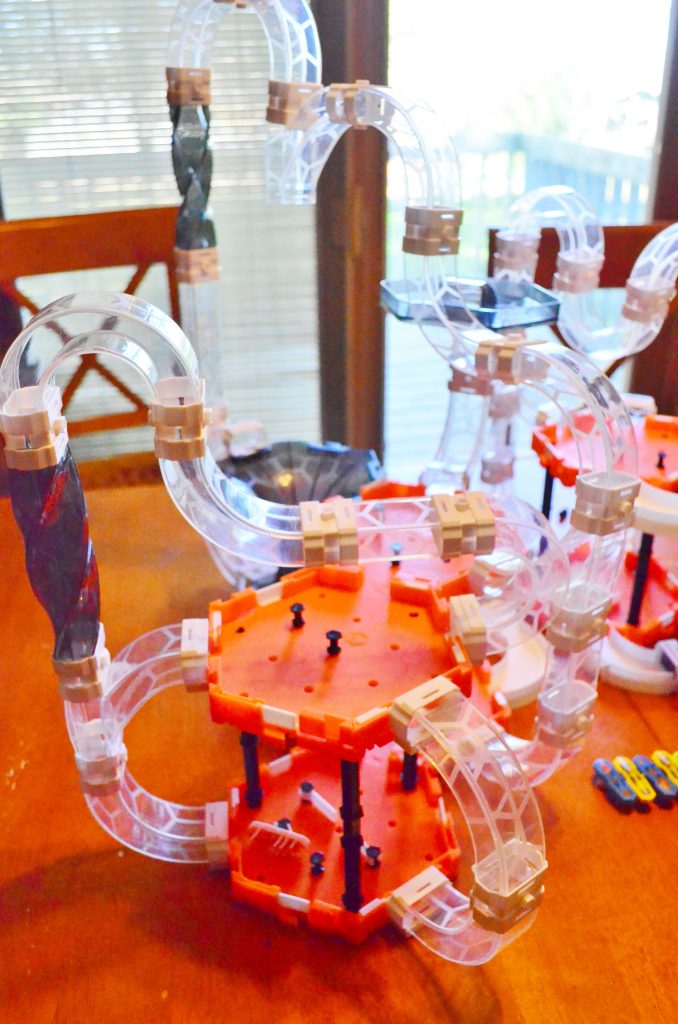 Of course everything is compatible with your other Hexbug track pieces, but the platforms in this set were unique as you can actually take the entire swinging door off of the platform. There were not directions included in the set but we were pretty easily able to build the set by just looking at the photo on the box. The pieces were easy to put together and each of the tubes connected by one of two white connector pieces. We quickly found that you had to make sure and use the correct white connector piece otherwise you would run out of the specific one you needed!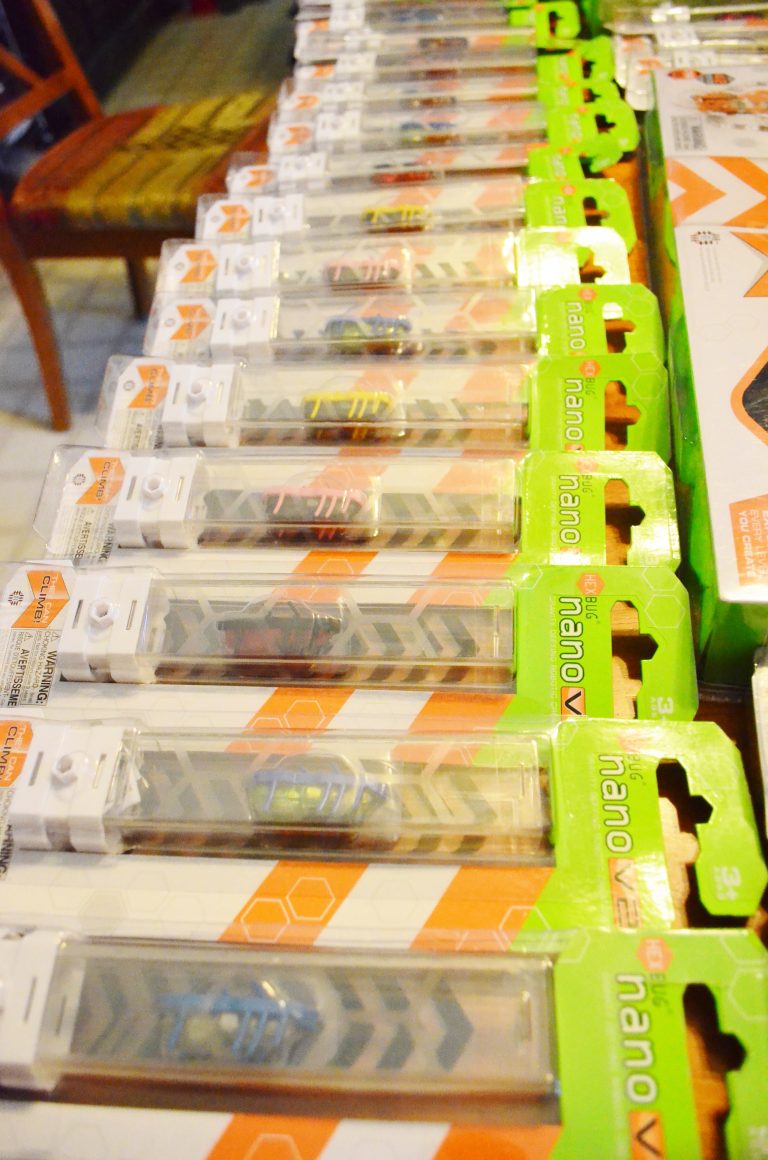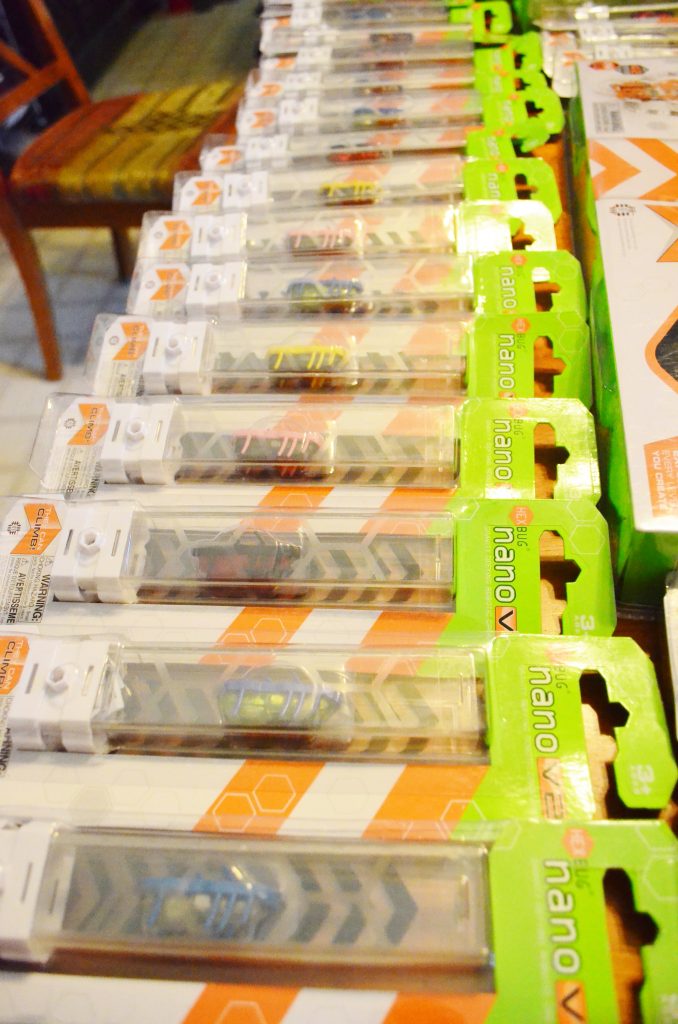 I wanted to show you an upclose of these new Hexbug Nano V2 bugs – they are similar to the originals but of course with the extra rubber on top to help them climb AND you can see the track extension that is comes in!! So funny because when I first saw them I thought – WOW that's such a cool tube it came in…..silly me didn't realize right away that it's an actual extra piece of track! Definitely an extra perk for the price.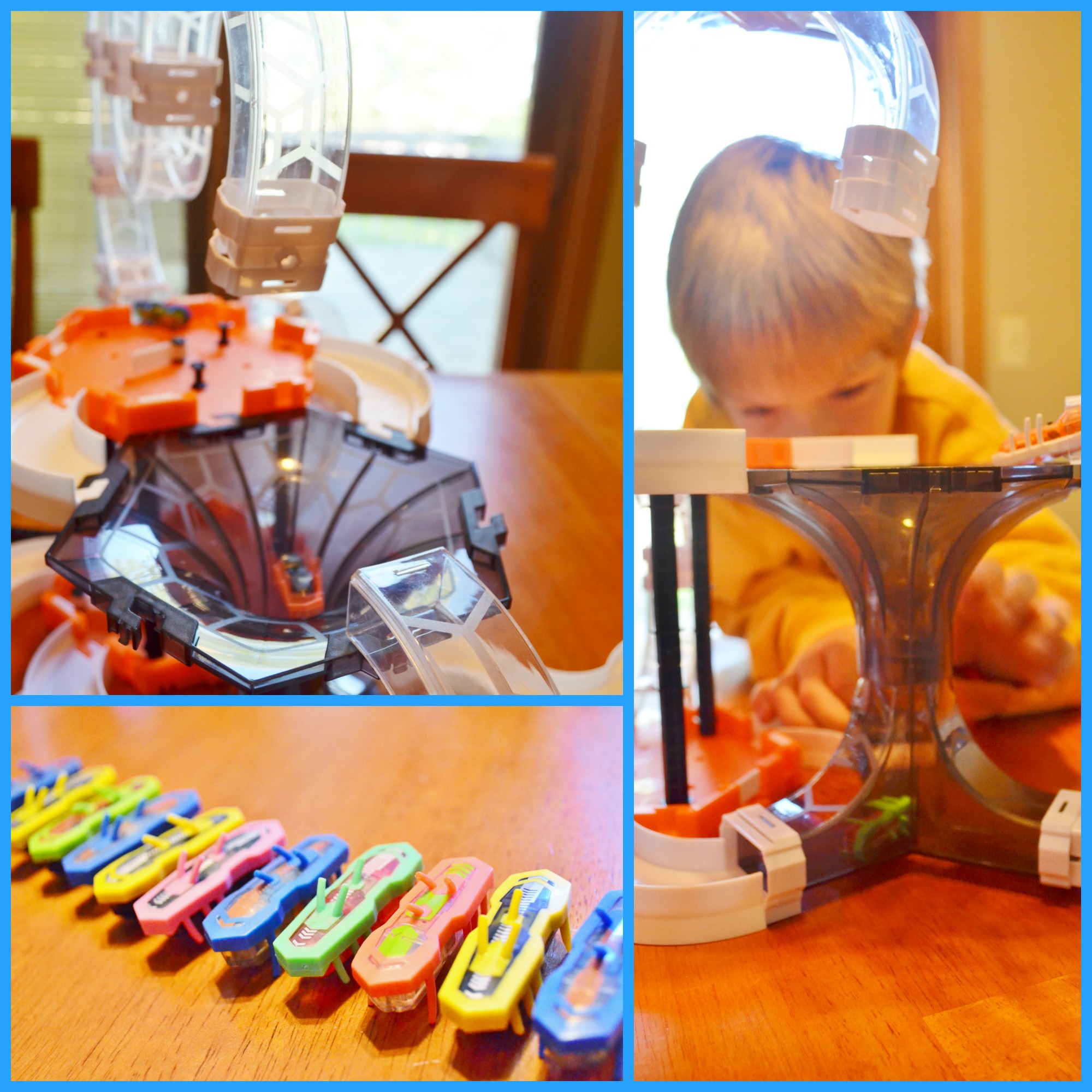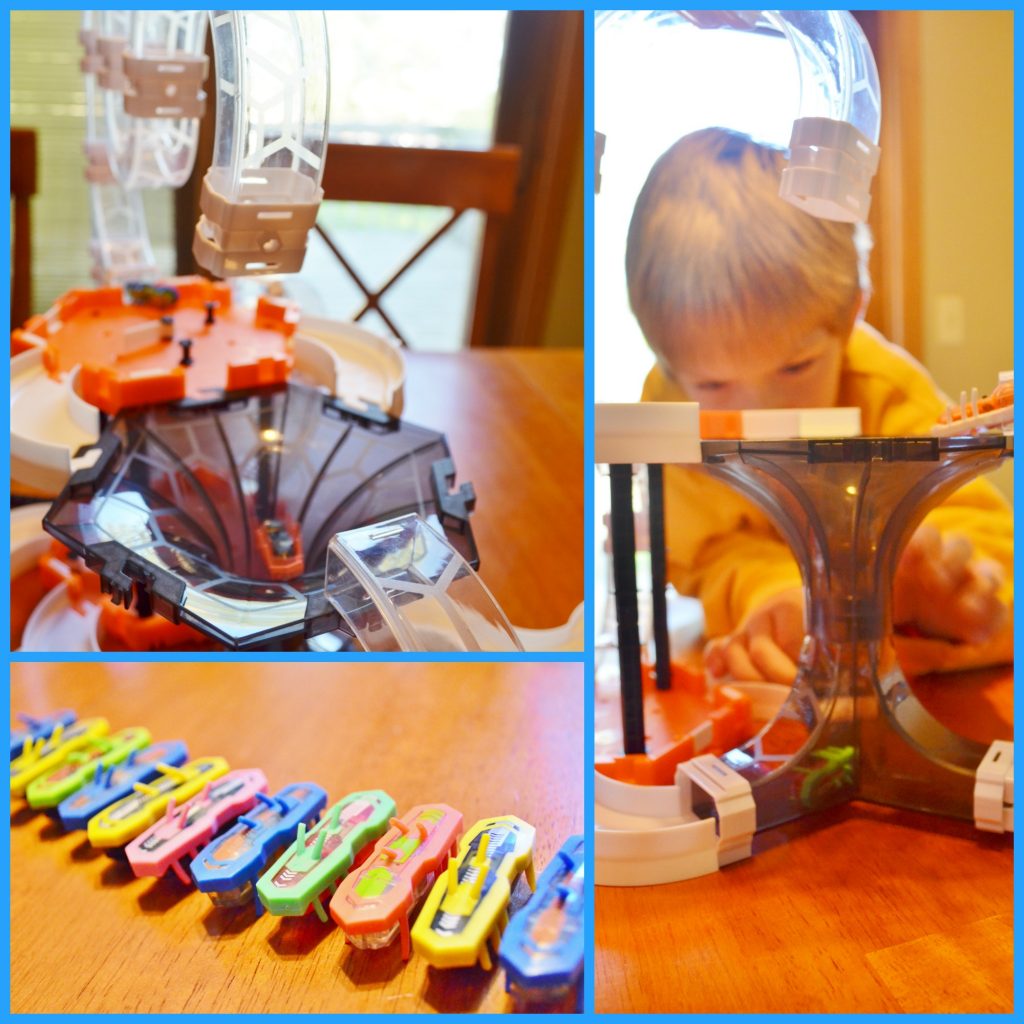 So the party went really well and honestly the kids spent over an hour at the table playing with all of the sets. We put them all together as a group and attached each set so that it took over pretty much the entire table. We opened about 15 of the nano bugs that were sent which was like giddy happy chaos. After a short while we realized however that it was just way too many nanos on the set at once! They kept congregating in the tunnels and getting jammed up so we started to separate out the sets a little so the nanos were more evenly distributed. Overall though we had an awesome time and that was our only hurdle to fix!

Don't ask how long I stay here after the kids left the table to get this photo!! 🙂 You can see from left to right the Hexbug Nano V2 coming through the tube and then free falling down into the vortex – it is SO cool!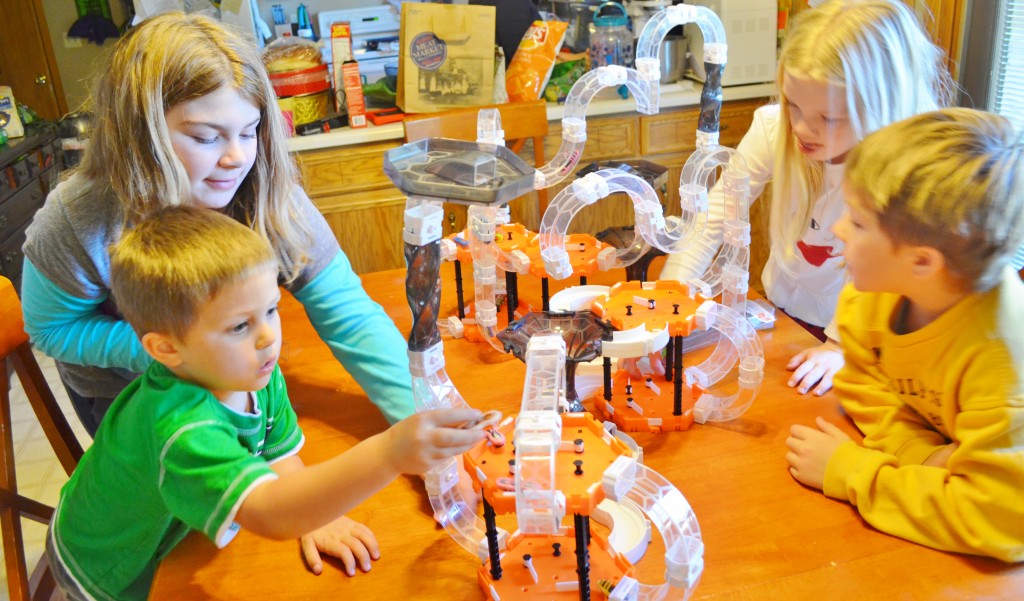 We had about 10 kids and a pretty even mix of girls and boys and to be honest – everyone loved these! Even the "girly" girls that came! We didn't have one single kid that got bored or wandered off because they didn't want to play. In fact when we took some of the nanos off the track – that's when the chaos ensued – I had nanos scurrying all over my kitchen floor!! But it made me smile – we had so many happy and giggling kids – and guess what? Not only were they just having fun playing with toys but they were playing with robotics, with science and engineering – those things are such fun to spark kids interest in learning! I've included a list of social media links for Hexbug so you can learn more about their products and fun ideas but we've used their products for 3 years and I have to tell you that it's good quality. The tracks have never broken. The robotic creatures have never broken, only needed an occasional battery replacement, and it has been a brand that my kids have consistently played with for several years now. If your kids are into small robots this is definitely the brand to check out! The kids at our party just about dropped their jaw open when I told them that each family could take home 1 or 2 of the sets if they wanted – it was like an early Christmas present! In fact every year we buy nanos as stocking stuffers because they come in such a nice slim packaging they are perfect to slip right in!
Hexbug Nano Social Media:
Google+: https://plus.google.com/b/104731855539911878898/+hexbug/posts
Facebook: https://www.facebook.com/hexbug
Instagram: http://instagram.com/hexbugnano
Twitter: https://twitter.com/hexbug
Pinterest: http://www.pinterest.com/hexbugs/
YouTube: http://www.youtube.com/hexbugtv