Cool Programs Pair Shelter Pets With Budding Readers
This post may contain affiliate links, view our disclosure policy for details.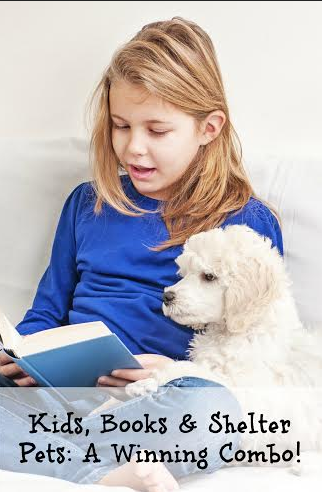 It's story time at animal shelters across the country, where kids read to the adoptable dogs and cats, improve their skills and provide comfort to these pets awaiting their forever homes. Reading programs that pair shelter pets with students are gaining popularity as shelters recognize the benefits to both the pets and the kids. Dogs and cats (and sometimes other animals like rabbits) get socialization and attention and kids get to practice their reading skills in calming, non-judgmental company.
Students say they enjoy the company of the animals because they don't offer instruction or feedback; they simply listen. And, while all young readers can improve from this type of practice, struggling readers who get nervous reading aloud to adults seem to especially benefit, often blossoming alongside a furry companion.
Parents and teachers alike applaud these types of programs, claiming they see definite improvement in kids' skills and confidence when they have a chance to practice in the company of dogs or cats. But the data isn't just anecdotal. A 2010 study at the UC Davis Veterinary School concluded that reading aloud to dogs does help kids improve their reading. Nearly 75% of children who participated in a reading-to-dogs study showed an increase in reading confidence after the 6-week study. And, a 2011 study by Tufts Cummings School of Veterinary Medicine shared similar results: children in that study also demonstrated an increase in reading skills and motivation.
While the format of programs may vary, the outcomes are consistent: kids become more confident in their reading and the pets seem to relax and enjoy the company. The Panhandle Animal Shelter in Ponderay, Idaho, for example, partners with the local library district to bring dogs and kids together for a weekly reading session at the library.
The Animal Rescue League of Berks County in Birdsboro, Penn. got big attention for their "Book Buddies" program when a photo of a young boy reading to a shelter cat went viral last year.
In Hamilton, Mont., a group of students visit the Bitter Root Humane Association after school to read to the animals. The program is through the Keystone to Discovery Enrichment, which is a nonprofit for at-risk youths. The kids benefit from reading practice and the shelter reports that the students' calming voices help relax the dogs and cats.
Reading programs are great when they involve homeless pets in need of a little extra attention. If you'd like to find out if your local shelter offers reading programs, check out Crayons and Collars, a site dedicated to kids and pets. They just launched a nationwide database of animal shelters that offer kids' programs!
And if your local shelter doesn't offer a reading program, why not work with them to start one? Most shelters would welcome the assistance to implement a program that has such great benefits for everyone involved.