PC Meet Escape Room – Adventure Games by KOSMOS – Game Night
This post may contain affiliate links, view our disclosure policy for details.
Do you remember the feeling of opening a brand new computer CD-ROM mystery game and spending hours….days….weeks trying desperately to solve the puzzle? That's the feel you get when you open up an Adventure Games box by KOSMOS.
Except that it's not an old Windows PC game, it's an in the box escape room type game that you can touch, live and solve in real life! The graphics though, will make you feel like you've been thrown into your favorite PC game from times past. Explore new spaces, find new clues, and determine how your adventure ends.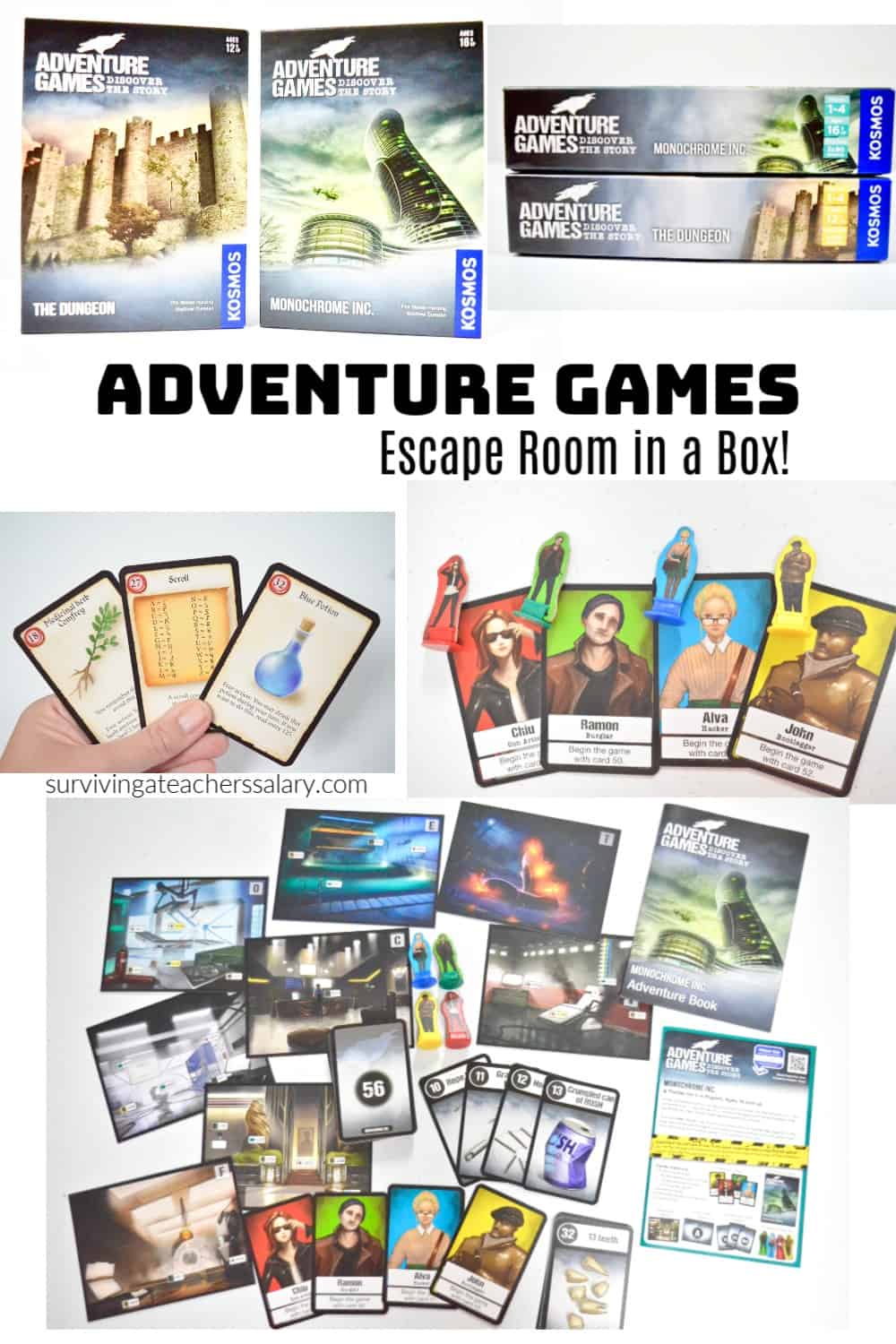 There are two games in the Adventure Games series – we received The Dungeon and Monochrome, Inc. Both are slightly different age levels (ranging from 12-16 ages+) and both are geared for 1-4 players. In typical escape room fashion you will need to use the materials provided to solve a puzzle.
These games are not easy for kids so older teens to adults really are the perfect age range for this!
---
A Look Inside Monochrome Inc: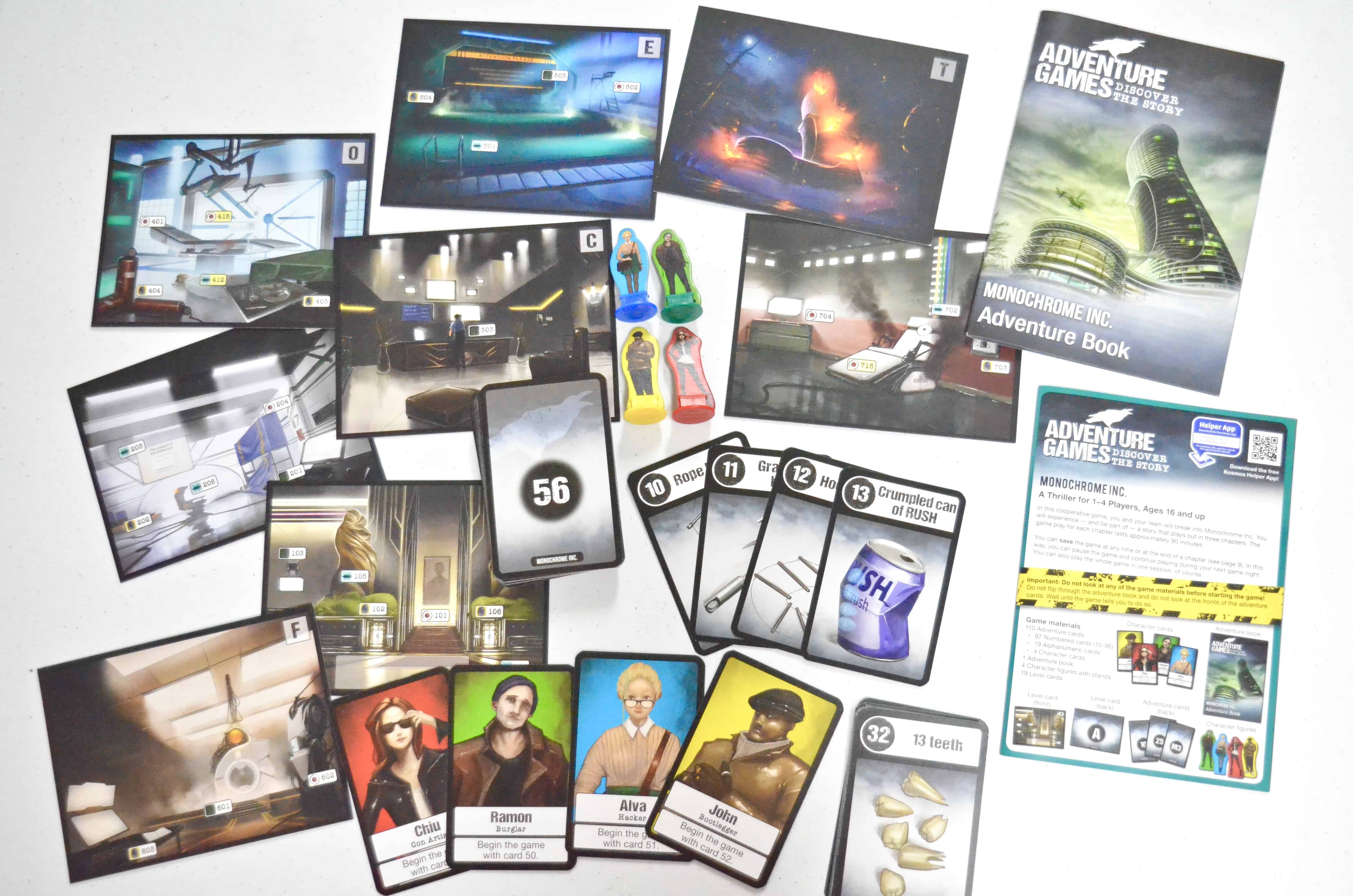 What's Inside the Monochrome Inc. Box?:
Instruction booklet
63 page Game booklet
Adventure cards (110)
Numbered cards (87)
Alphanumeric cards (19)
Character cards
Adventure book
4 Character players
Level cards (19)
Every Adventure Games box has slightly different items as each has a unique theme and storyline to go with the adventure. This is simply a sneak peek as to what you will find inside one of the boxes so you know what it looks like. I LOVE the graphics and illustrations – they are so bold and colorful.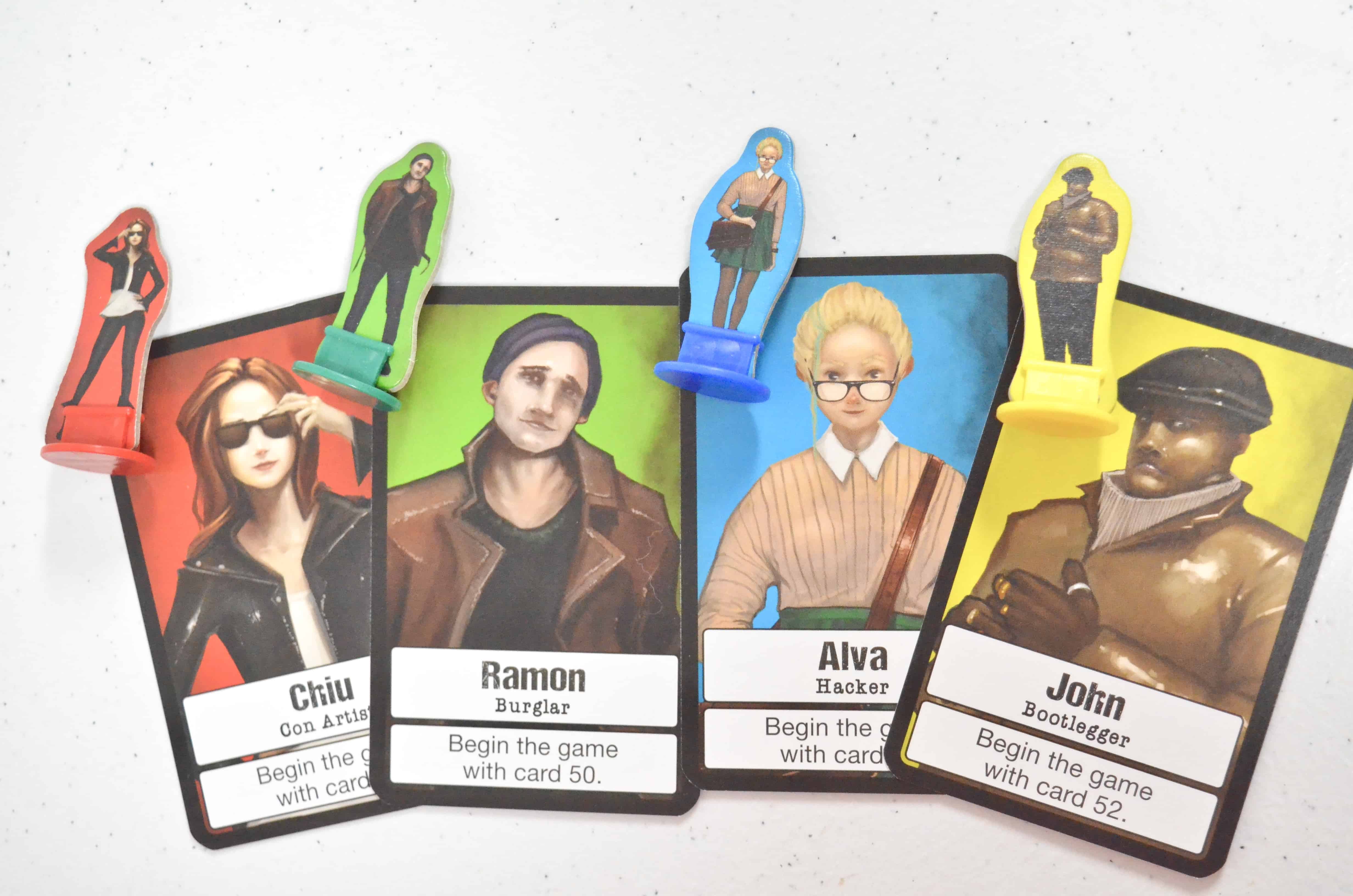 This is a cooperative game which means the entire team works together to solve the mystery. For Monochrome Inc., your entire team needs to "break" into Monochrome Inc. in a 3 chapter storyline. EACH chapter takes about an hour and a half of play so this is easily a full day game! Or a 3 weekend series that you can work through. The end of each chapter is a nice way to break up the game if you need a shorter play day.
Note – you CAN play this as a single player if needed!
---
A Look Inside The Dungeon: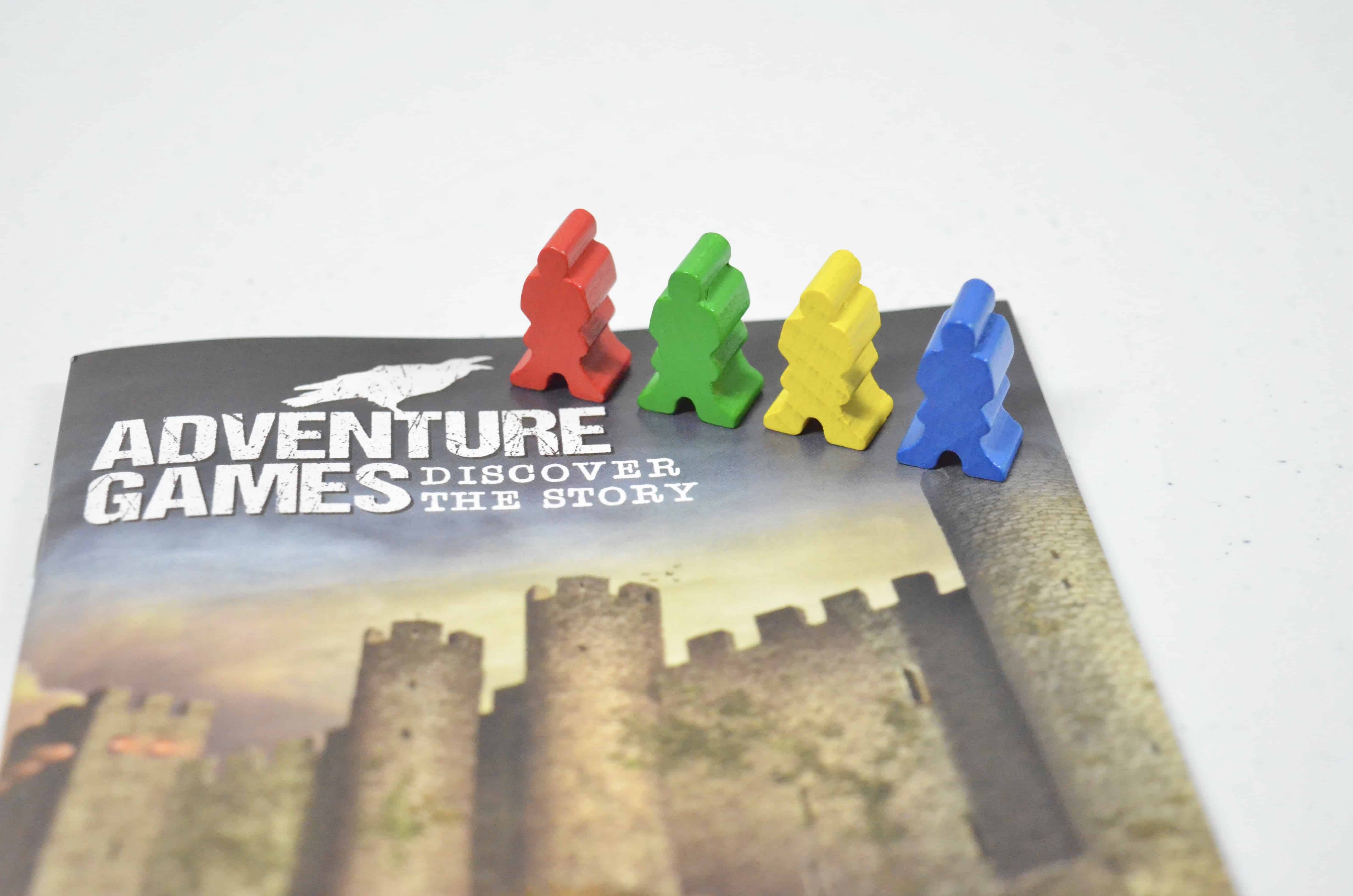 What's Inside The Dungeon box?:
instruction booklet
Game booklet
4 Character cards
4 Character figures
18 room cards
2 plastic bags
12 health cards
2 overview cards
83 adventure cards
3mission cards
5 ending cards
Just like Monochrome Inc., this is a cooperative game where your team has to solve clues to escape from a dungeon. It also has 3 chapters, each lasting roughly 90 minutes depending on your game play. I love that although it seems that there are a lot of cards in these game sets, it's still an interactive play moving the characters around various rooms with different objects as you can see below.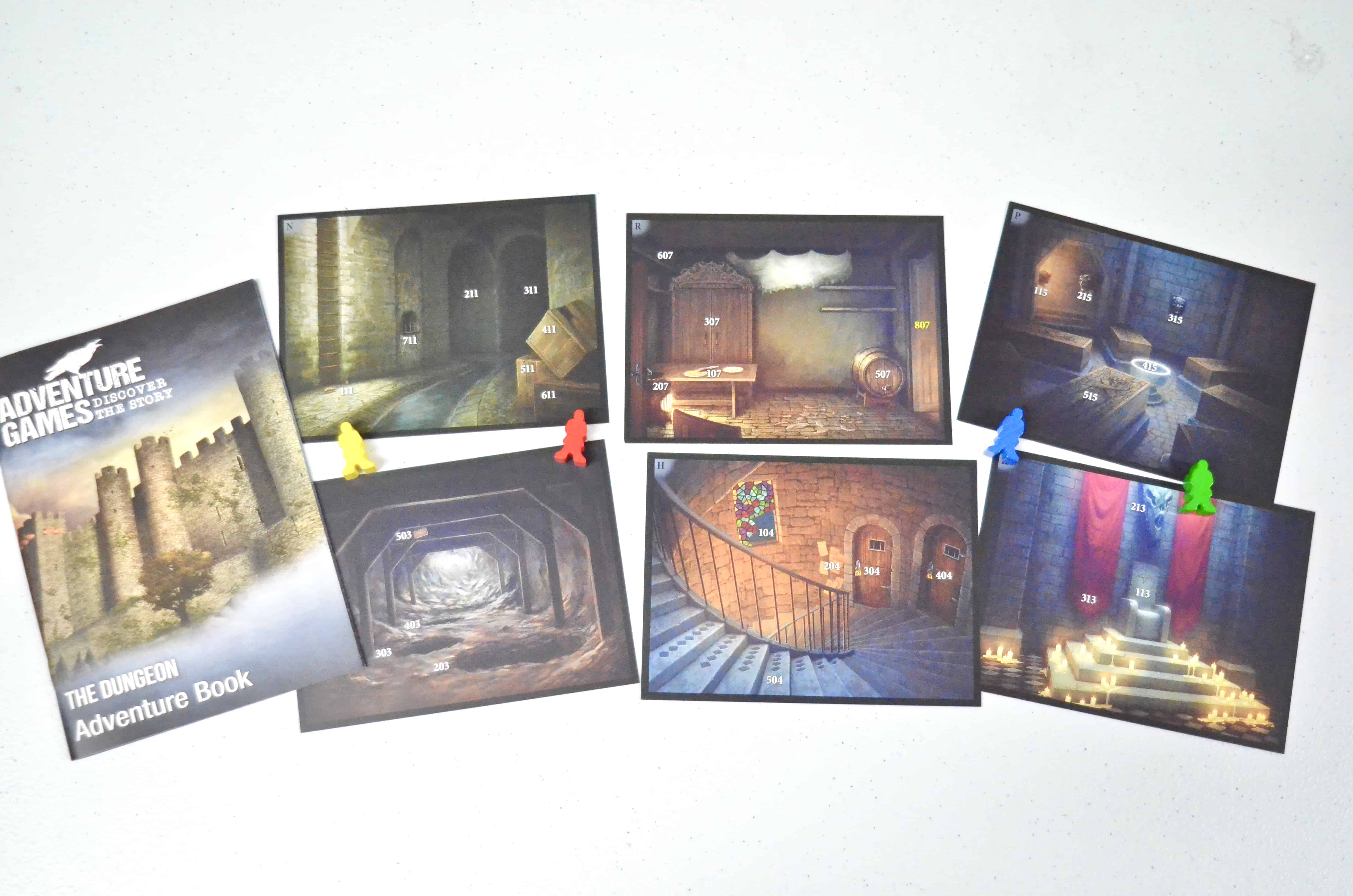 I was immediately captivated not only when I read about the Adventure Games series but also when I opened each box. You can't help but be intrigued by the mystery that lies within. Just look at the graphics on the cards above! I had flashbacks from the 90's!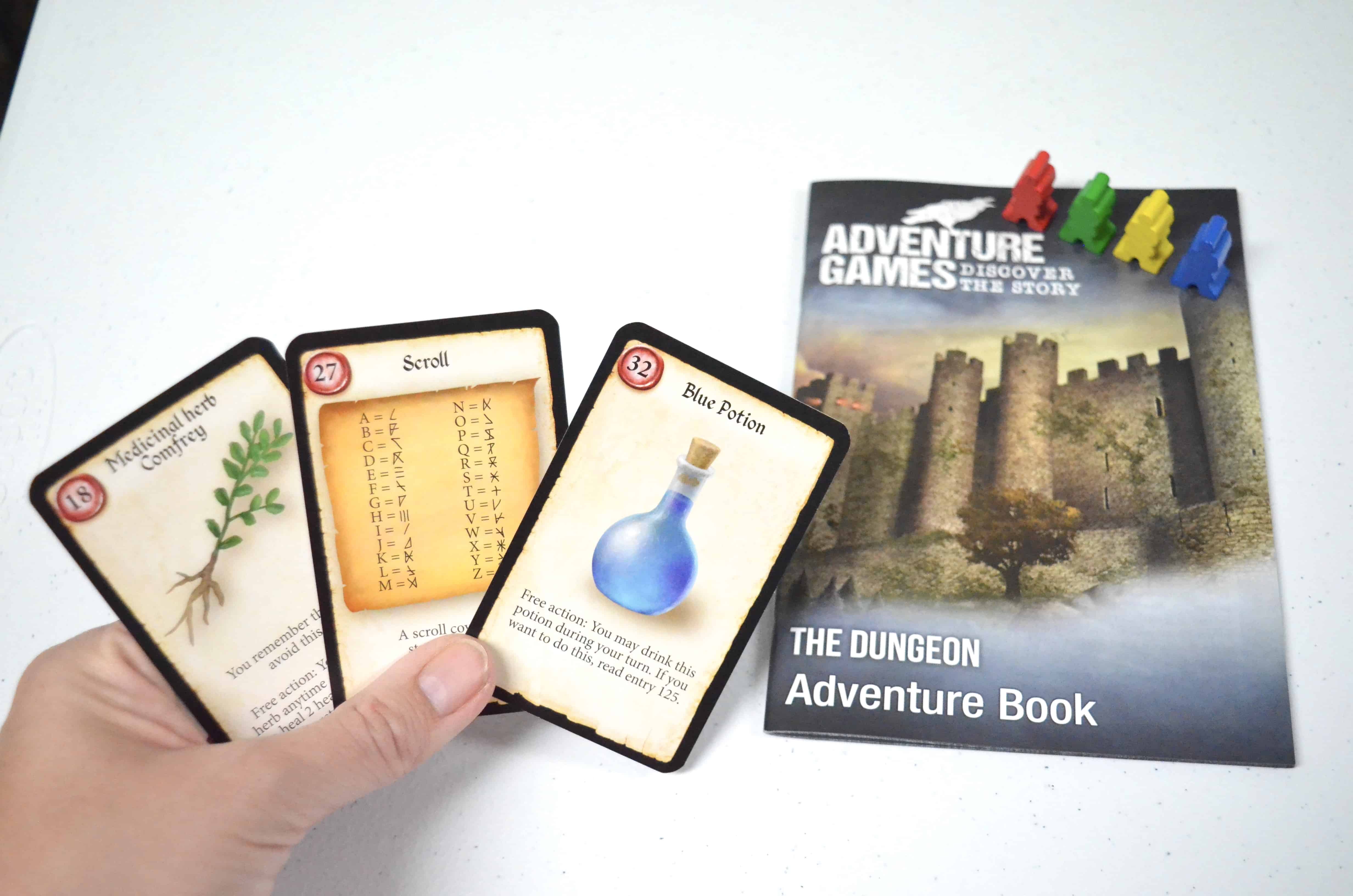 The game boxes are small enough that these make great weekend trip games! If you have any family holiday activities planned I highly recommend picking up one of the Adventure Games, or The EXIT Series games
(depending on your ages playing) and making it a family ordeal.
What happens if you get stuck?
If you get stuck and can't figure out where to go next KOSMOS also has a Helper App for Android 4, iOS 8, and Fire OS4 (and newer). The app has a digital timer, digital content guide as well as an atmospheric soundtrack to go with your game. Just look up the KOSMOS Helper App in your Play Store. You can then choose WHICH game you are playing and need help on. (The Helper App ALSO features other games from KOSMOS, not JUST the Adventure Games Series!)
The back of the Adventure Games instruction booklet ALSO has hints that can help prompt you through your adventure as well.
Worth adding to your wish list? Absolutely!