Crushing it with Family Fun at Monster Jam #MonsterJam
This post may contain affiliate links, view our disclosure policy for details.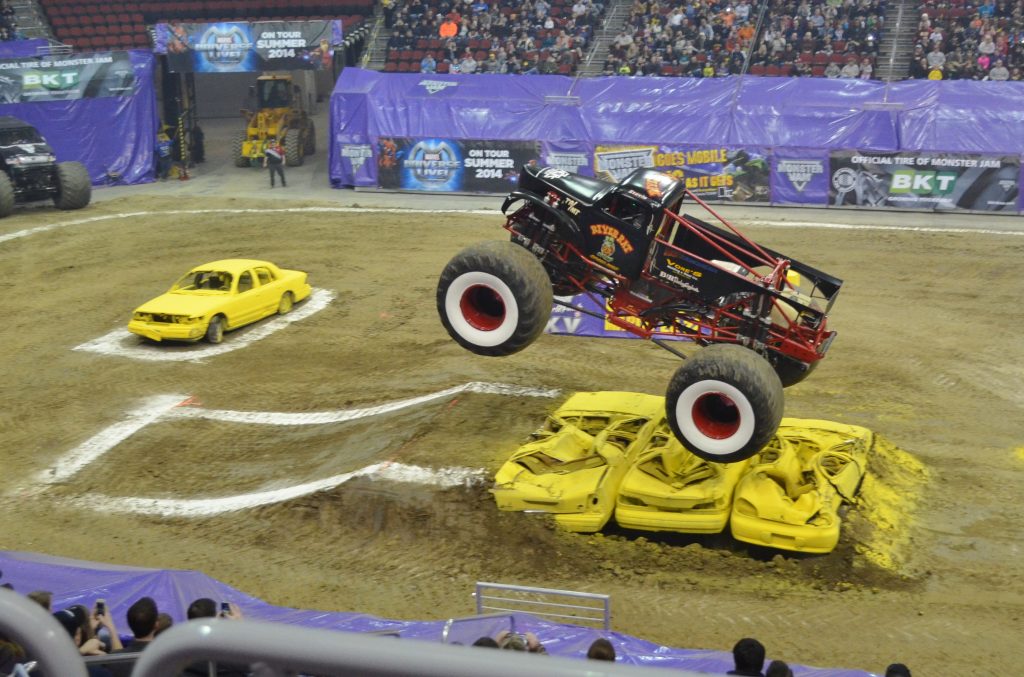 I was offered tickets to attend Monster Jam and what mom of 2 boys could possibly say no to that?! In fact I have always wanted to attend a Monster Jam event and had never gone so I was pretty eager to check out all the awesome big trucks and destruction myself! I am a big truck kind of girl and my boys….well, they are all about the destruction! The higher the jumps and the harder the crashes the better! We showed up for the event and although our tickets stated that there was no video cameras allowed in the arena, security also wouldn't allow cameras with a detachable lens, like a DSLR. SO if you want to take your pictures with your nicer cameras please call first and find out whether it's allowed because I was pretty disappointed that they had to hold my camera for the event! Since I was press I was escorted and allowed to take a couple photos but I just wanted to give you the heads up! So if some of my photos are a little fuzzy it's because I had to use my phone for most of the event!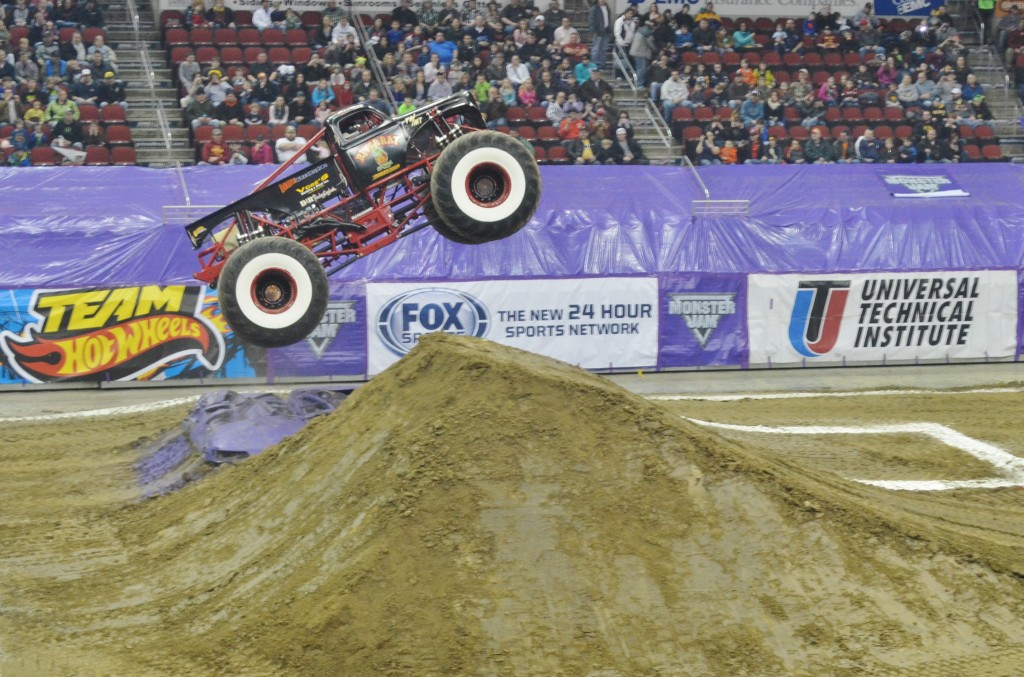 Our arena in Iowa is pretty small which actually was nice because we could see the trucks so closely! In fact a few of the crashes even made me nervous as they rolled onto the walls just below the crowd! It was really pretty cool! My boys were so excited – I can't even begin to describe how ecstatic they were about this entire event. Their new lifelong dream is to be a Monster truck driver! In fact after the event the kids broke into their piggy banks and begged to go to the store to each buy themselves a Monster Jam truck toy which run about $3-4 at Walmart. Personally I could not BELIEVE the height that some of these trucks got – it was absolutely incredible!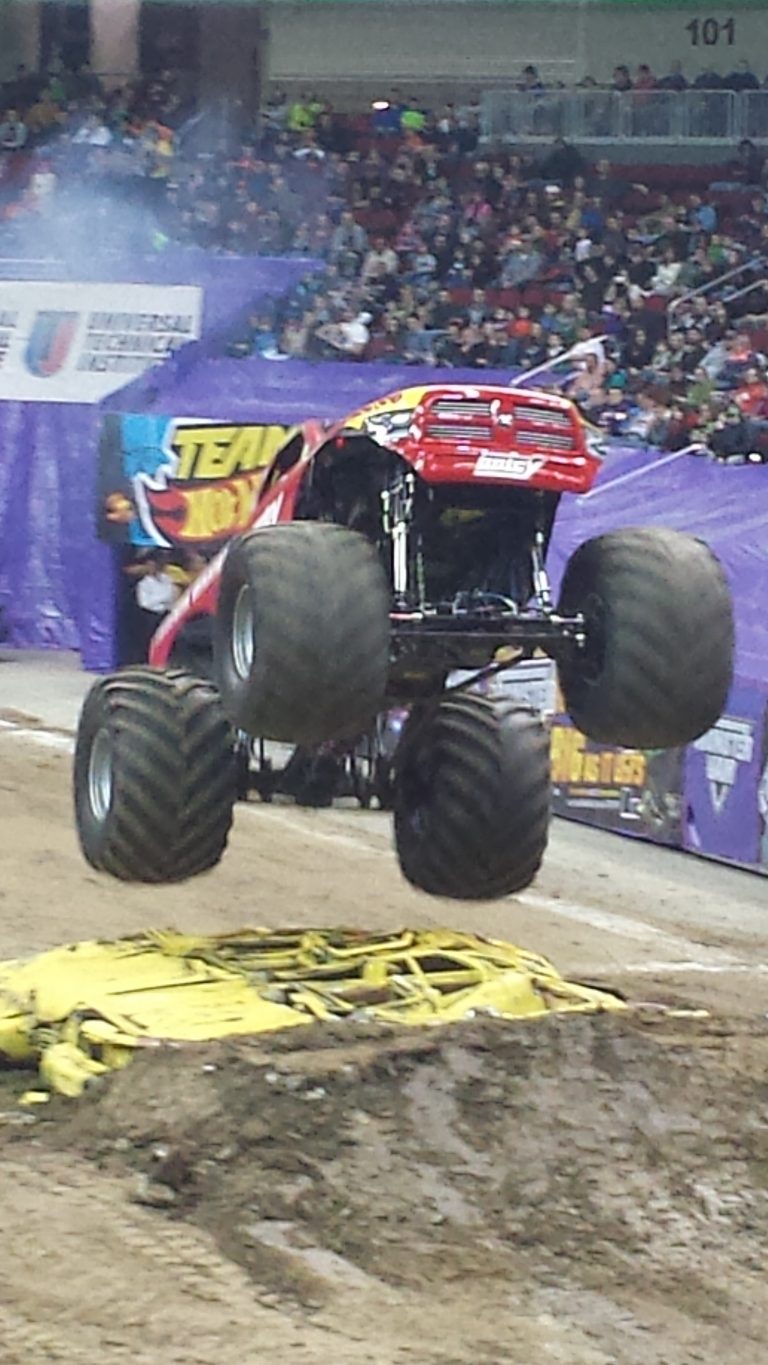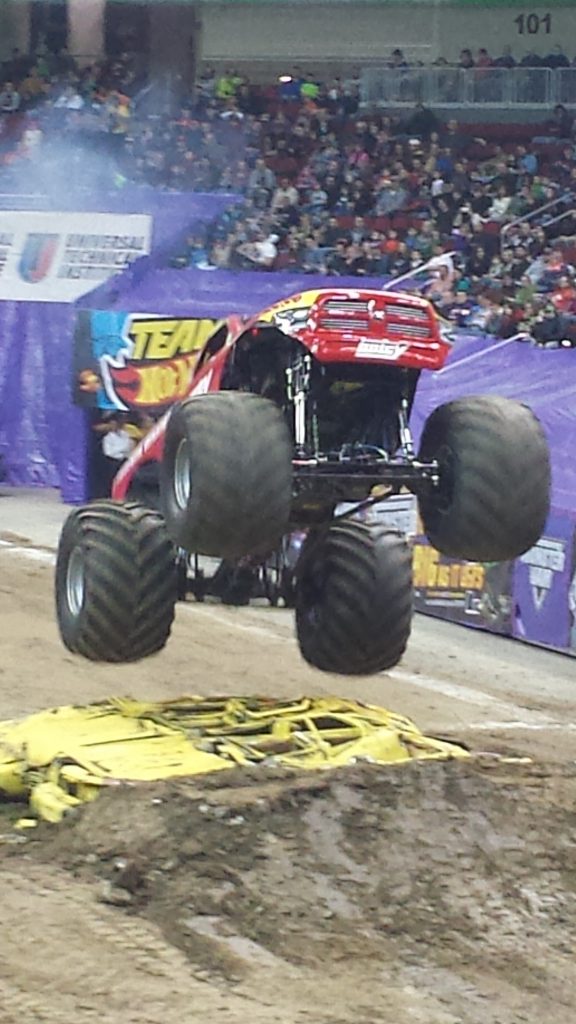 One thing that I REALLY liked about Monster Jam, compared to taking my boys to car races, is that each truck had a very obvious name which was very easy to recognize and remember later. From River Rat, Bounty Hunter, to Mohawk Warrior (a truck with an actual mohawk on top!) to Max-D Destruction and Raminator my kids knew every single one by the end of the first round. Each truck was very unique to it's name and could be spotted across the arena immediately.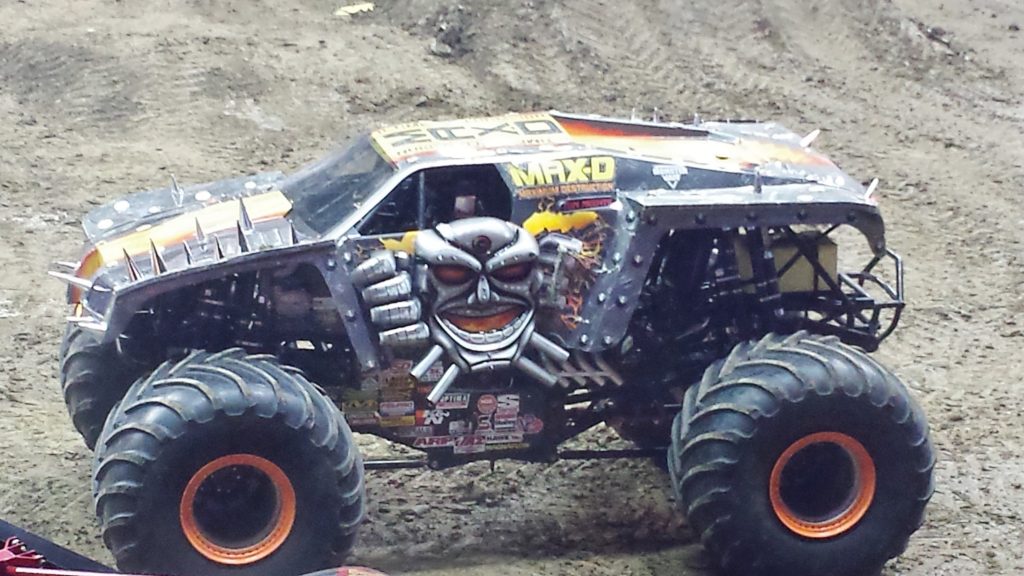 This was my oldest son's favorite – Max-D. This was after a crash but this monster "truck" had spikes all over the car – it was actually REALLY cool. My son was just ecstatic to find this specific Max-D truck toy later at the store to buy.  My youngest son's favorite was Mohawk Warrior so I'm still on the hunt for that one!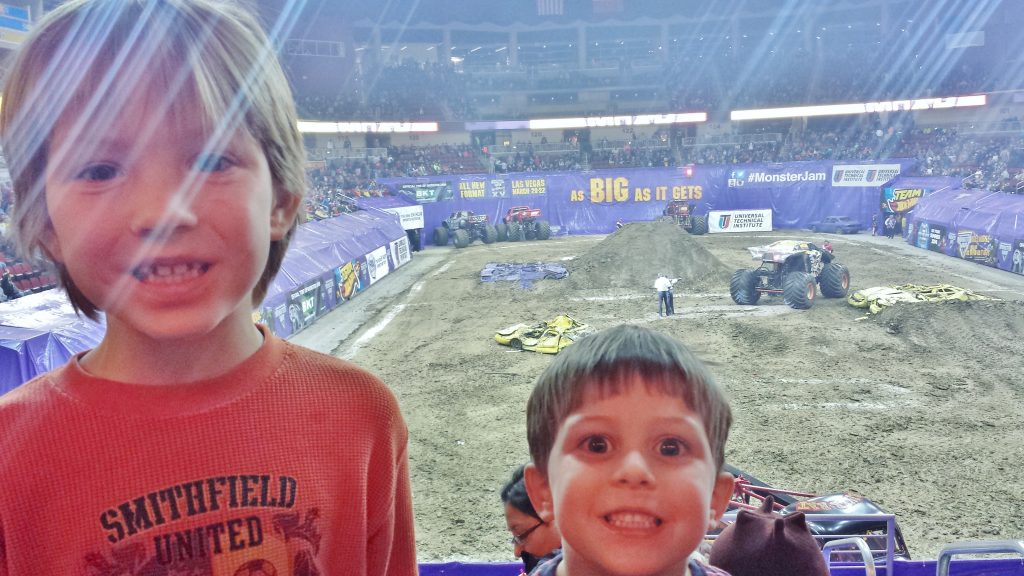 Here are my boys at the end of the Monster Jam event! Can you tell they were pretty psyched? It was a really great nice – I'm not sure what was better – actually watching the trucks or watching my kids faces! In between the truck races they had 4 wheeler races. For our family, having access to 4 wheelers every day, my kids weren't too interested in that. But they did go completely NUTS over the motorcross racers that came out. They were phenomenal! I've been wanting to take my kids to motorcross racing but haven't found locations near me on available dates with our schedule. A VERY tall steep ramp was set up in the arena and the motorcyles not only drove off the ramp and "flew" across the arena landing on the large dirt pile you see in the background above but the drivers literally did stunts as they were flying mid-air! I wish I had my camera to show you but they were too fast/small for my camera phone. The drivers went completely off their bike doing all sorts of "acrobatics" and always landed perfectly back on their bikes – it was amazing.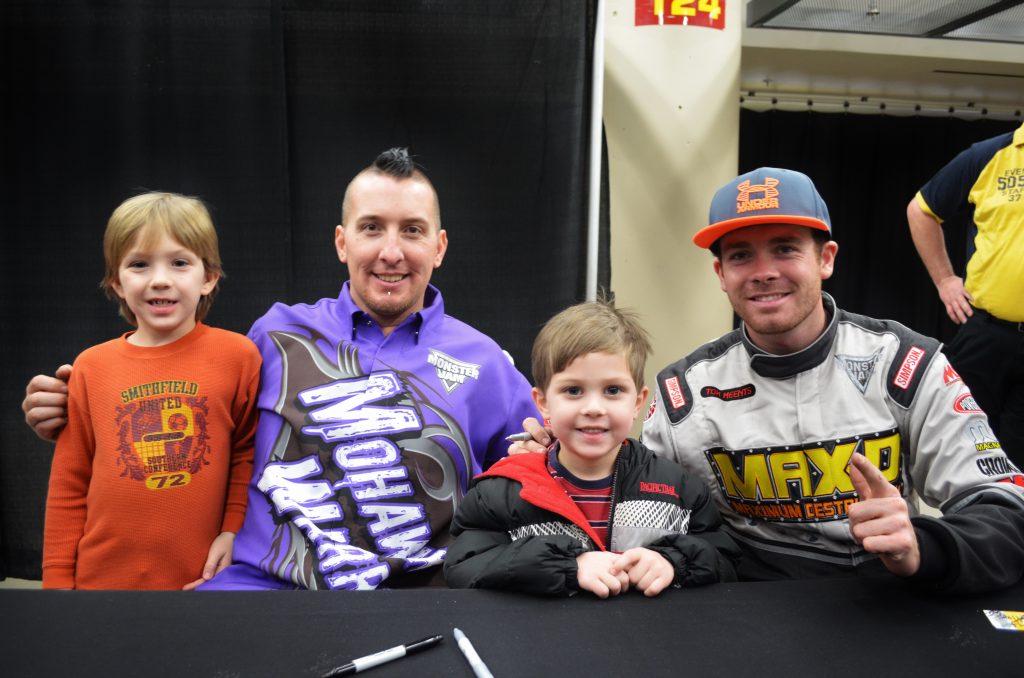 As if the night wasn't already awesome enough for my kids at the end of the races there was a table with ALL the drivers waiting to sign autographs. The wait really wasn't long at all and by the time we reached the end of the table – each of my son's favorite drivers were there! Mohawk Warrior and Max-D – I couldn't believe their luck! My youngest son was just NUTS about Mohawk Warrior and was REALLY nervous but the drivers were really cool and brought the boys to the back of the table for a picture!! It was just absolutely awesome and something my boys won't be forgetting for a VERY long time! I am going to blow up the picture and put it up in their room for them.  Overall it was an amazing night for all of us. A side note, however, please bring your children earplugs or headphones to help block the noise out when you go to Monster Jam! We forgot when we went but will certainly not forget next time! It was a bit loud for children with sensory issues so I definitely recommend some noise cancelling headphones for your kiddos!