Learning Resources 100 Ant Picnic Math Activity Set Review
This post may contain affiliate links, view our disclosure policy for details.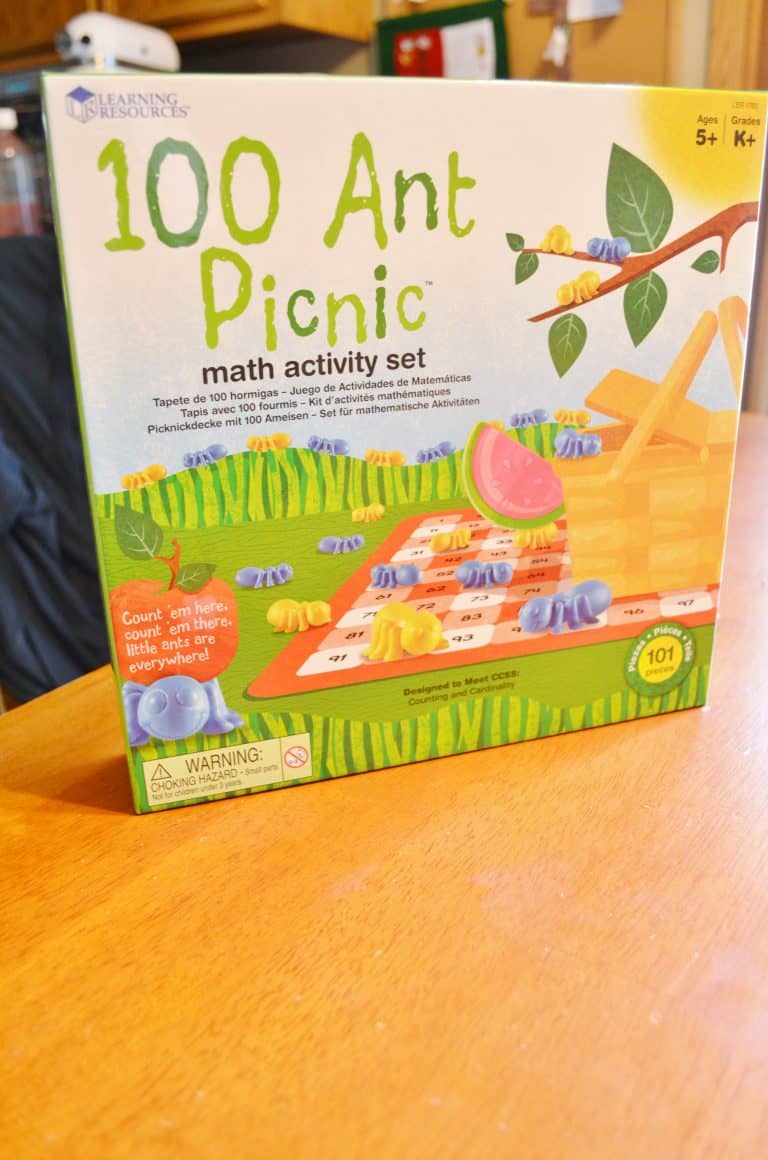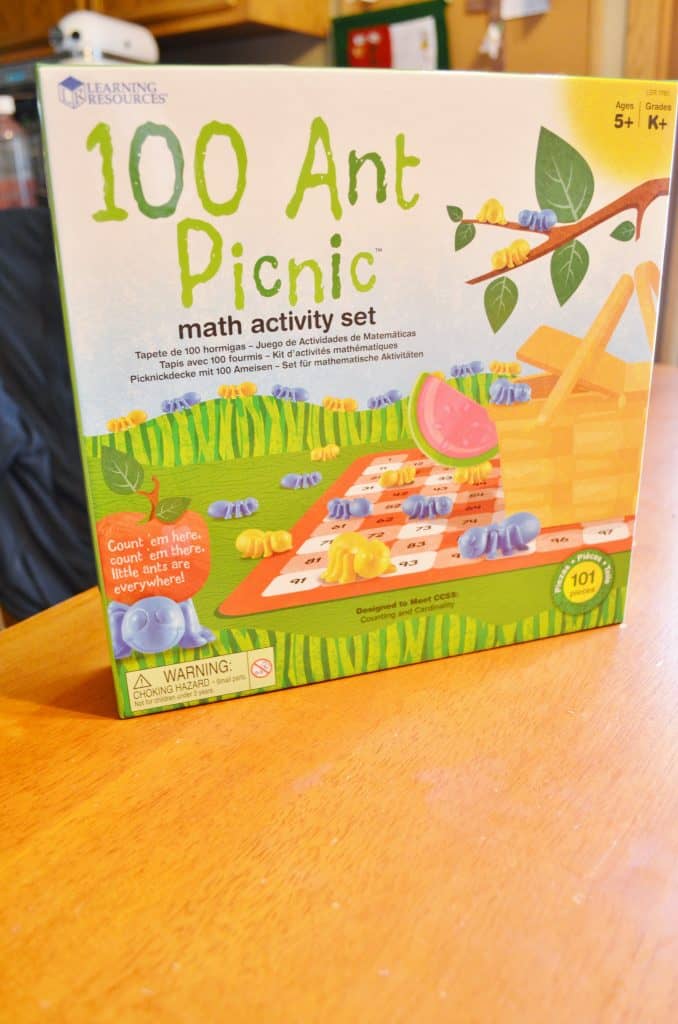 Our school year has begun with a BANG and one of the things my new kindergarten son is looking forward to is learning how to count higher than 20! In fact this year he will learn to count over 100 and we have been eagerly using this 100 Ant Picnic Math Activity Set from Learning Resources as we've been working on our numbers! They sent us a complimentary game to use as we explore our math skills!
The awesome thing about this is you can use this activity set for kids who maybe can only count a few numbers high all the way up to upper elementary students who are multiplying and dividing and grouping like my older son is. In fact it's so versatile I've been able to use it with both my kindergarten and 3rd grade son at the same time on each of their different levels!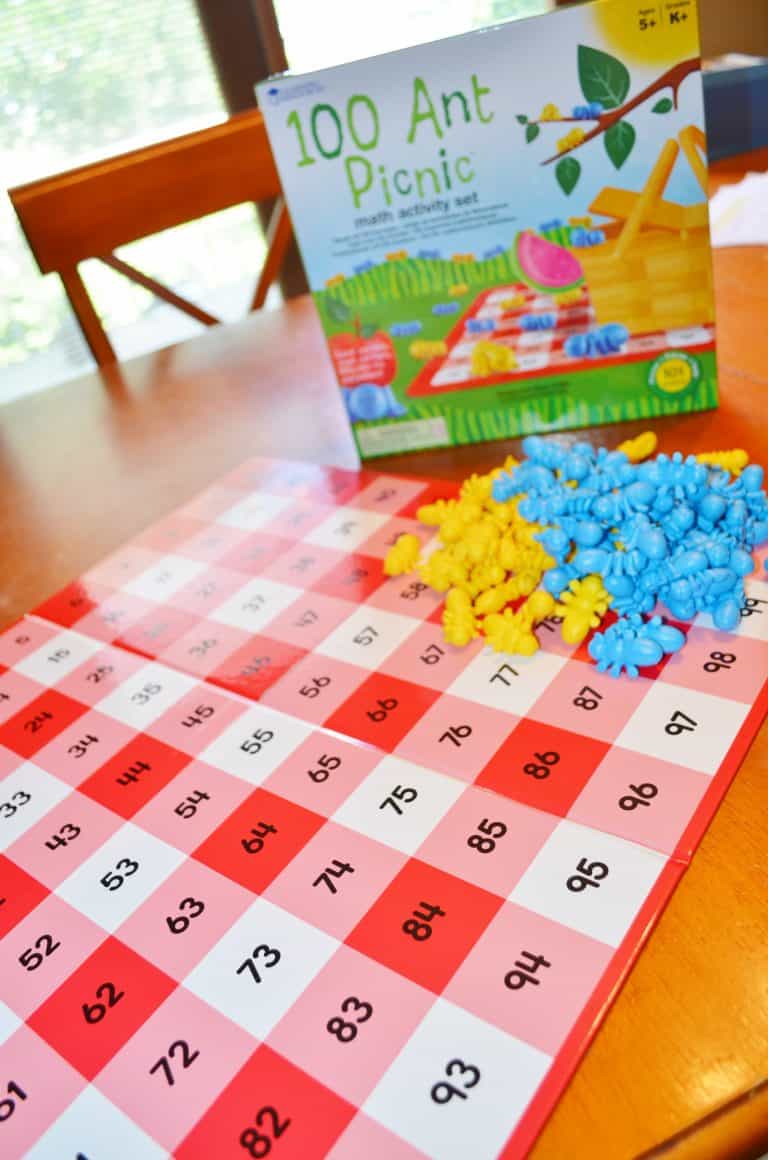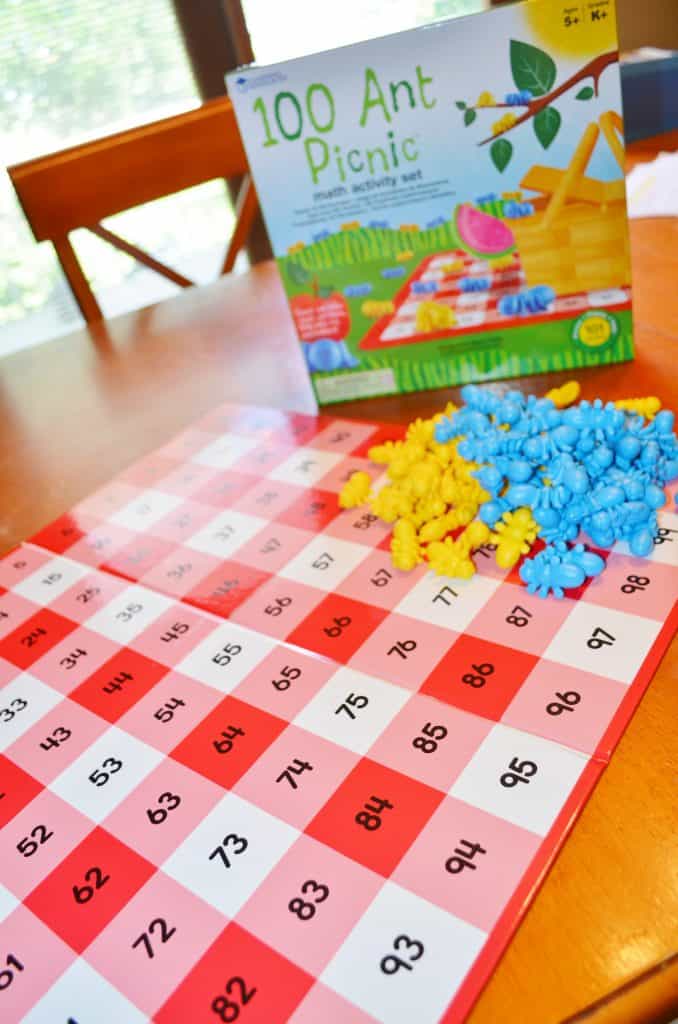 As it sounds the "100 Ant Picnic" math set includes 100 ants and a fun red and white checkered "game" board. One side is numbered for each square 1 – 100, and the other side is red and white checkered with NO numbers for additional versatility.
There is no "right" or "wrong" way to use this math activity set – it's completely customizable to any activity or level that you are working with. Since my kids are on two very different levels we decided to play fun games where they had to work together to get all of the ants on the board.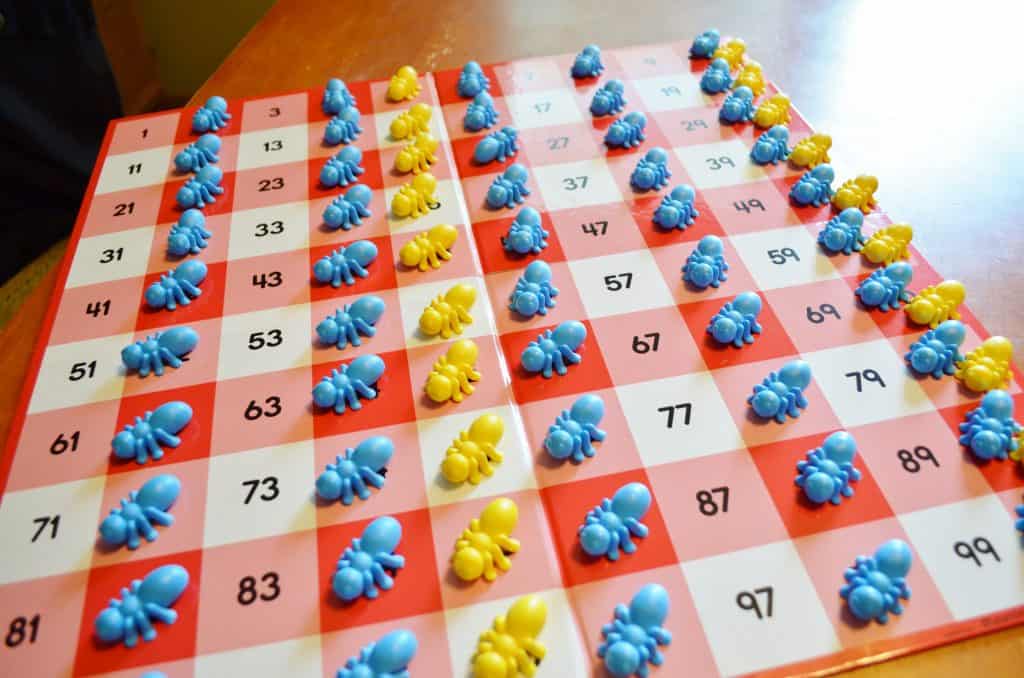 My oldest son had the blue ants above and his job was to place his blue ants on only even numbers. My youngest son placed his yellow ants on any number that had a 5 or 0 (multiples of 5 and 10). To make it more exciting I would have the kids use one hand to pick up as many ants as they could and that was how many they were allowed to use on one turn.
I also changed it up by pretending to put ants in both my right and left hands and they had to choose a hand and use those ants to place on the board.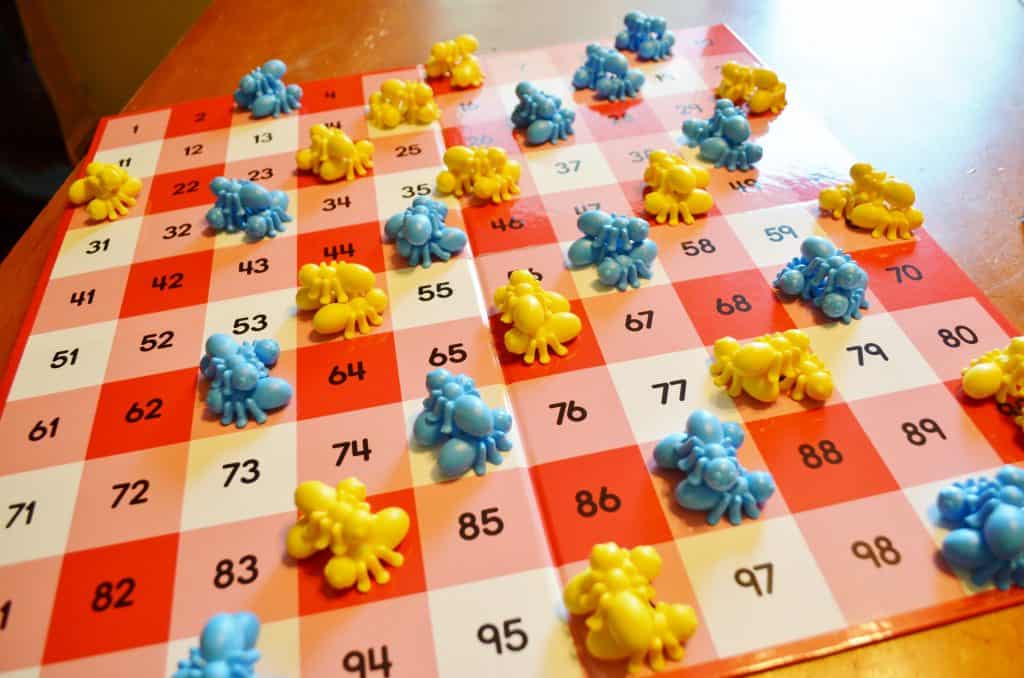 For this board I had each child build 3 ants on a specific number (mainly multiples of 3) which is great for coordination and fine motor skills.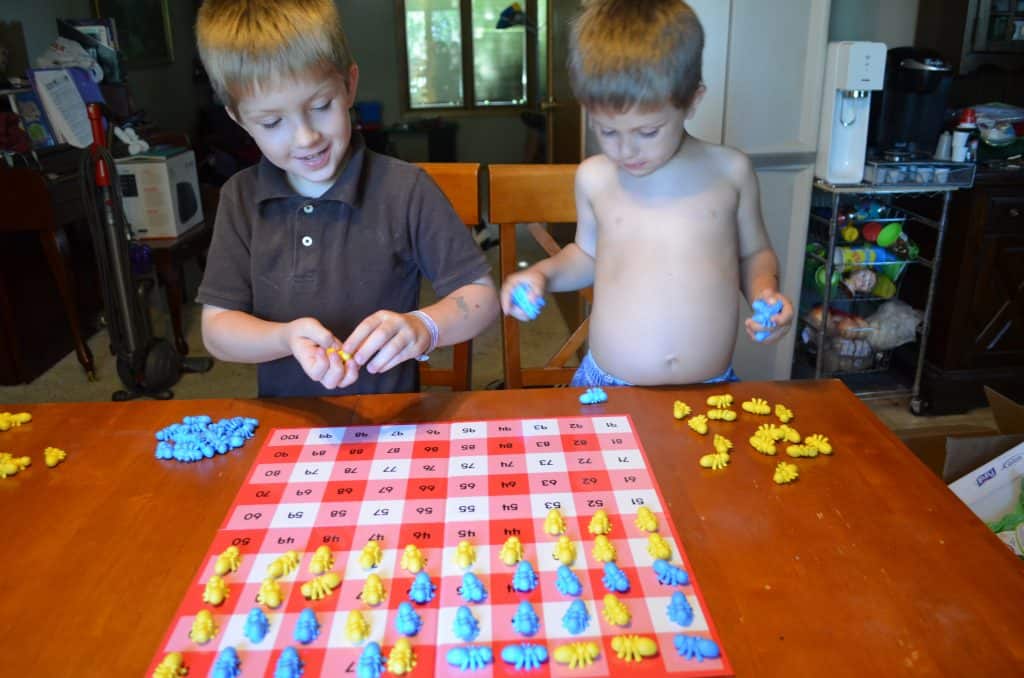 Here the kids were allowed to pick up a handful of ants, place their ants in line on the board and say each number out loud as they laid their ants down. The other child was then allowed to use their ants to finish up to the tenth place where the other child left off.
We really did a lot of very simple games as my kindergarten son is more limited than my 3rd grader and my oldest son teamed up with me in helping teach his younger brother some simple math tips. It was really awesome to see them work together, and as our kindergarten class reaches their 100 numbers this school year I can't wait to incorporate this activity set into their classroom! It's SUCH a fun way to get kids hands on with math!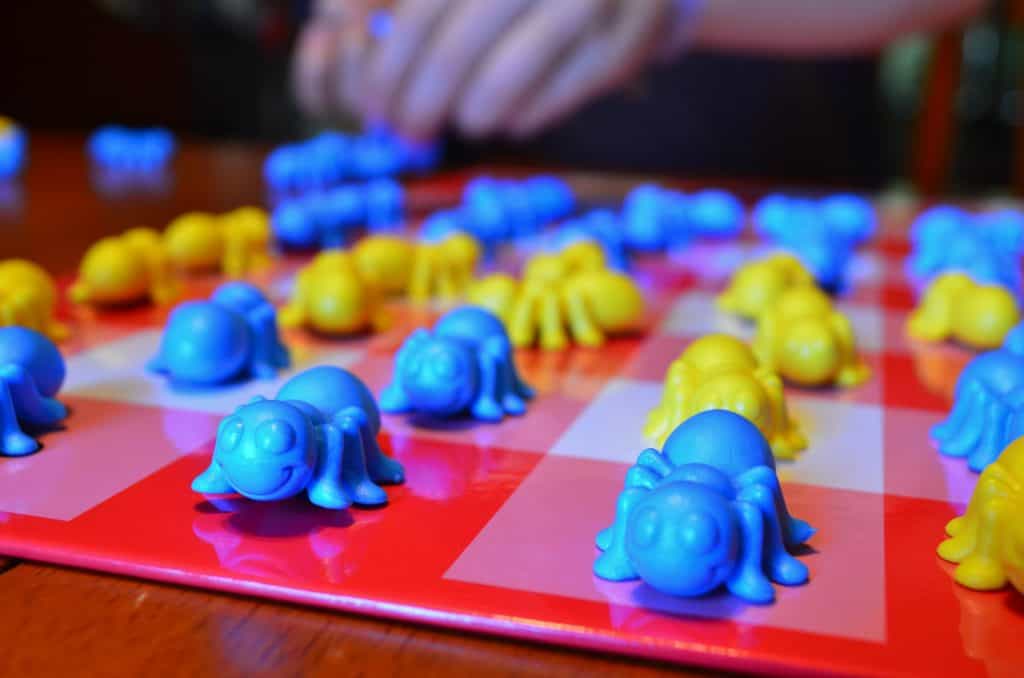 And in case you didn't notice these ants are super cute too! There are 50 yellow and 50 blue so they can be evenly split evens/odds and they are surprisingly thick and durable. The downside is that there is exactly 100 included in the activity set so if it doesn't get put away properly and you lose an ant you are stuck a little short! Other than that this math activity set is AWESOME! 
Seriously an awesome set – I LOVE this for it's versatility, simplicity, and that I can use it from our kindergarten class well up into our upper level elementary classes and for all levels in between.