John Deere Monster Treads RC Gator Review
This post may contain affiliate links, view our disclosure policy for details.
Disclosure: I received the below product in order to facilitate this review. All opinions are my own.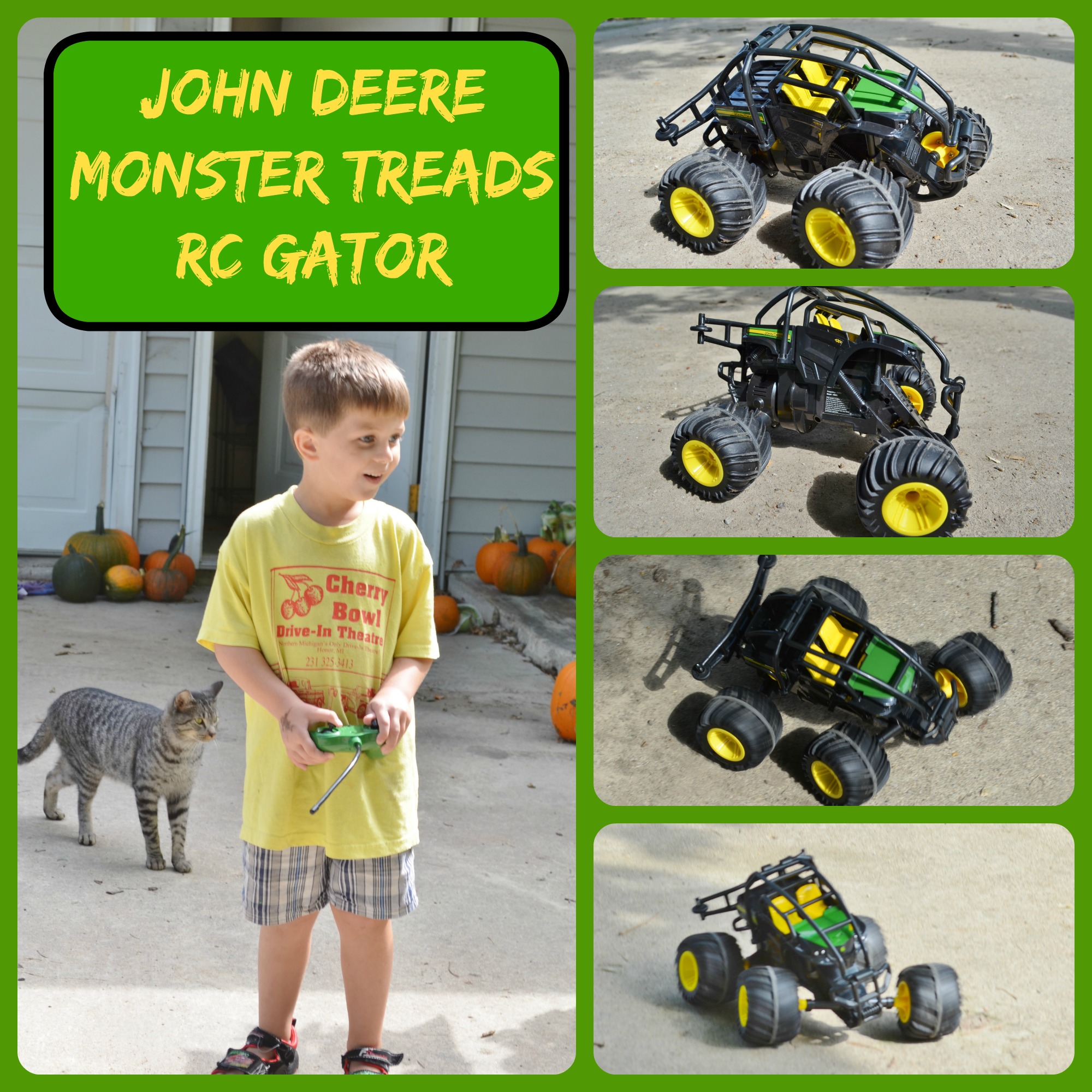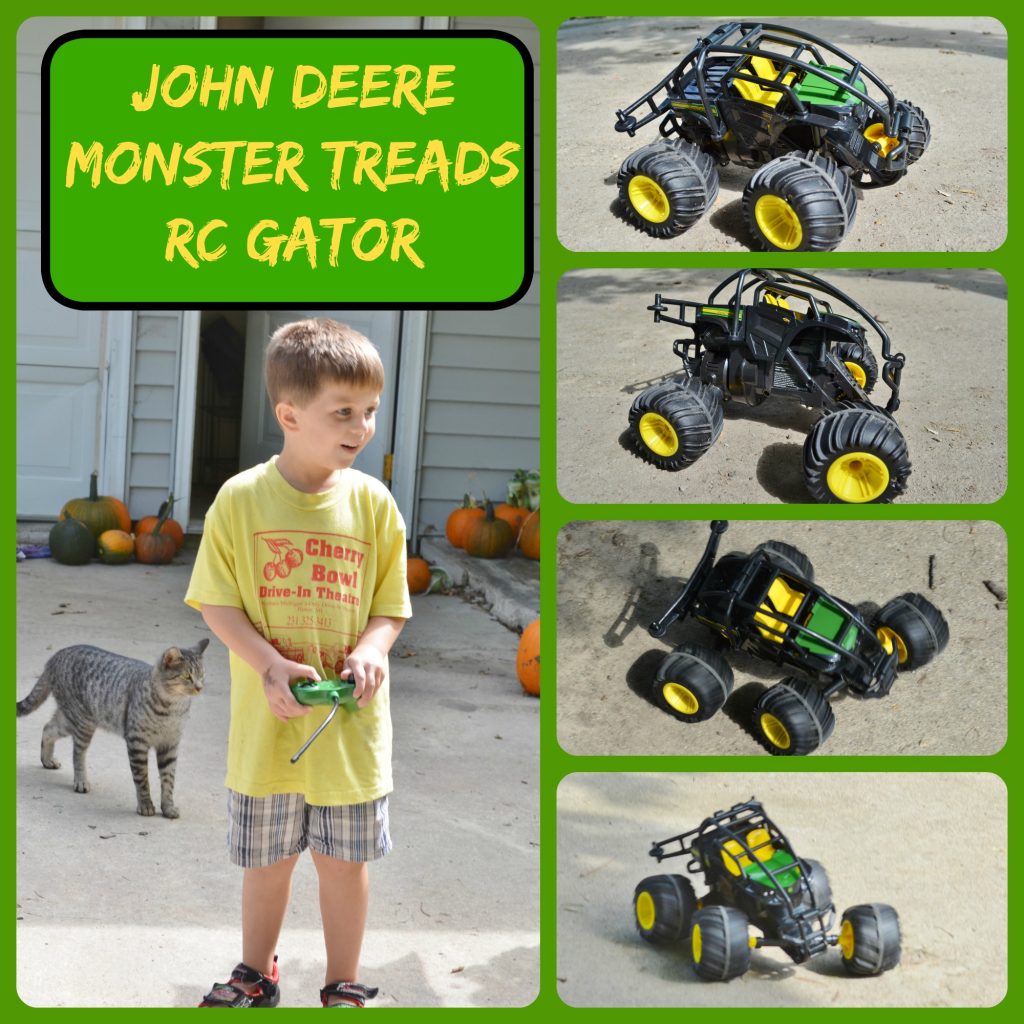 Since moving to Iowa just 2 years ago now it seems everyone we know has 4 wheelers, tractors, and all sorts of cool "big boy toys" that thankfully our friends are very generous at giving our boys rides on! Living out in the country our kids are now heavily exposed to John Deere Gators and tractors so when we were offered the chance to review the John Deere Monster Treads RC Gator I jumped right on it knowing my kids would just flip out to play with this! I know I know, it's not a "real" Gator they can ride on but for now they have to be realistic! 🙂 And since I have two boys I am always very interested in trying new RC toys to see which ones hold up the longest, have the coolest stunts, etc. I know my kids can go through RC toys like crazy! This particular one, labeled for kids ages 8+, is extremely simple to operate. My 5 year old has been having a blast using this special stunt Gator.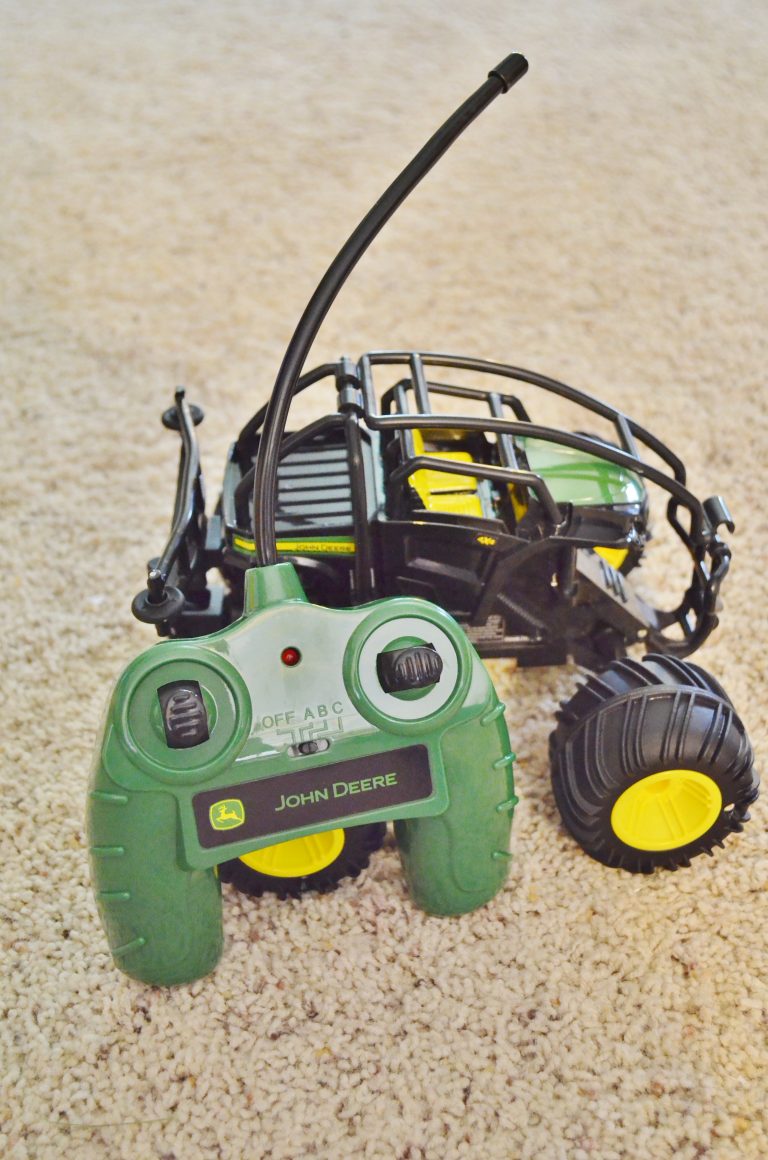 The first thing I noticed as we took it out of the packaging that was unique in our world of RC toy experience is that the tires actually need to be inflated! Above is how the RC Gator looks straight out of the packaging but a needle is included so that you can inflate the tires, along with a cardboard "guide" of how much air to pump into the tires. My kids sure thought that was pretty cool as of course they love pumping air into tires! You WILL need a 9V battery & 6 AA's so be forewarned to have those on hand when you open this up! You can see on the remote that the buttons to maneuver the vehicle are simple sliding ones for up/down and right/left. There are also choices for channels "A", "B", and "C". And thankfully yes, there is an OFF switch on both the remote and the vehicle to help save your batteries! (Although I always recommend rechargeable batteries for toys like this.)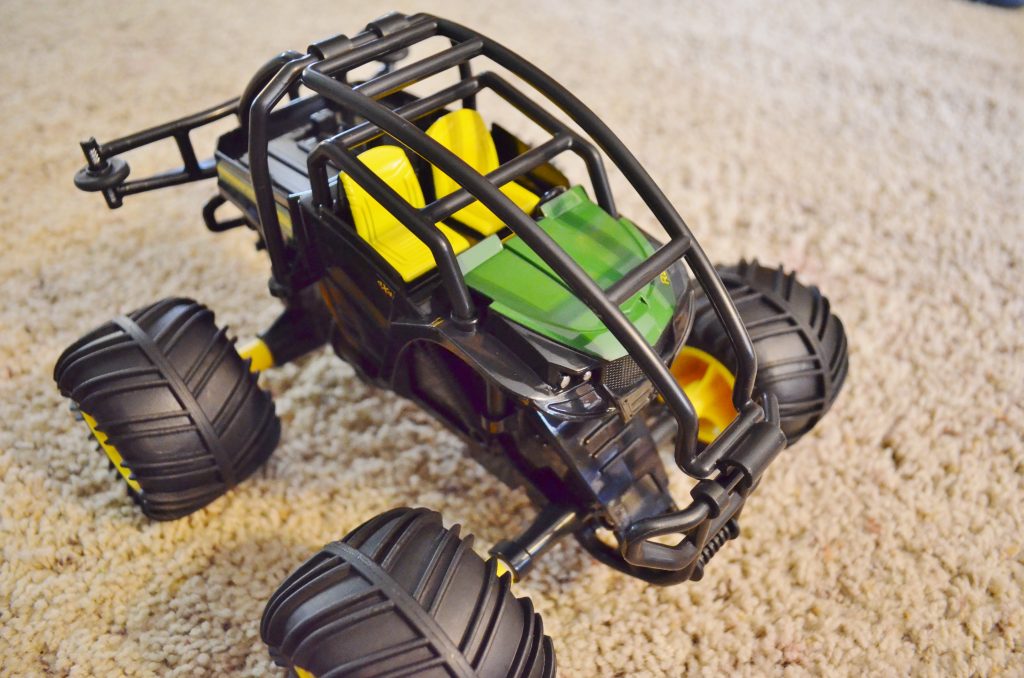 This Gator also comes with a removable "roll bar" which if you're not familiar with go kart type vehicles is the bar that attaches from the top of the vehicle down over the front. At first I thought it was just for decoration but this John Deere Gator can actually be flipped while in use and roll over as a pretty spectacular stunt! The first time it happened my son was shocked and couldn't believe he flipped the vehicle!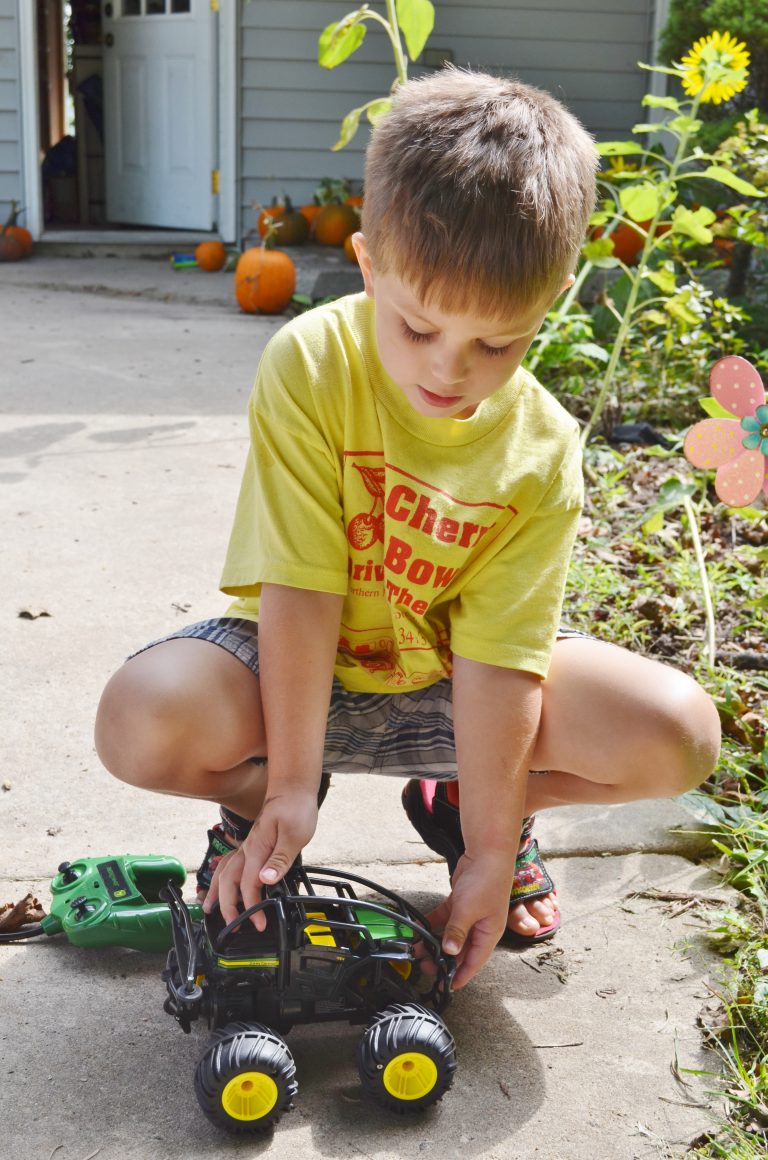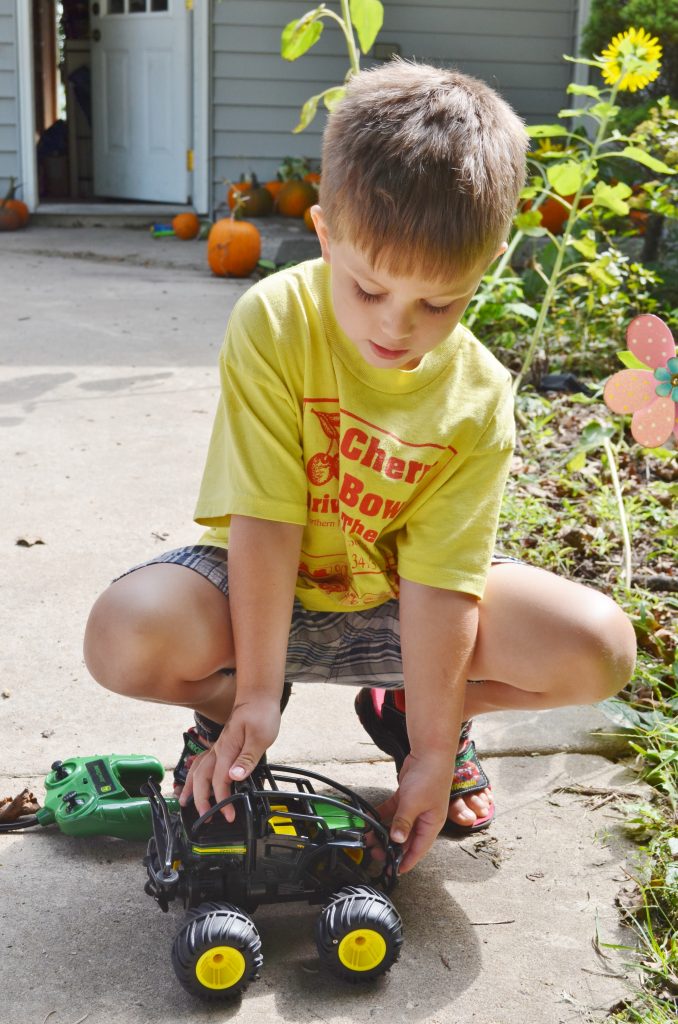 I also noticed right away that you see the wheels are on the sides of the vehicle and stick out a ways allowing it to actually angle and pivot as you zoom it around. (you can see the pivot action best in the very first collage photo in this post!) Since it can pivot around like this is helps catapult the vehicle into somersaults, wheelies, and other off the ground tricks depending on how you maneuver it. And the large inflated tires make this awesome for driving "off road" which is exactly what my boys want. We've had so many RC vehicles but the second it hits the yard it starts breaking because dirt gets caught up inside the wheel well. This John Deere Gator is set on a wider set of "axles" and the tires make the vehicle sit up higher so the kids can send it off of our driveway, up dirt hills and into the grass without any problems. I am amazed at how speedy quick this thing is!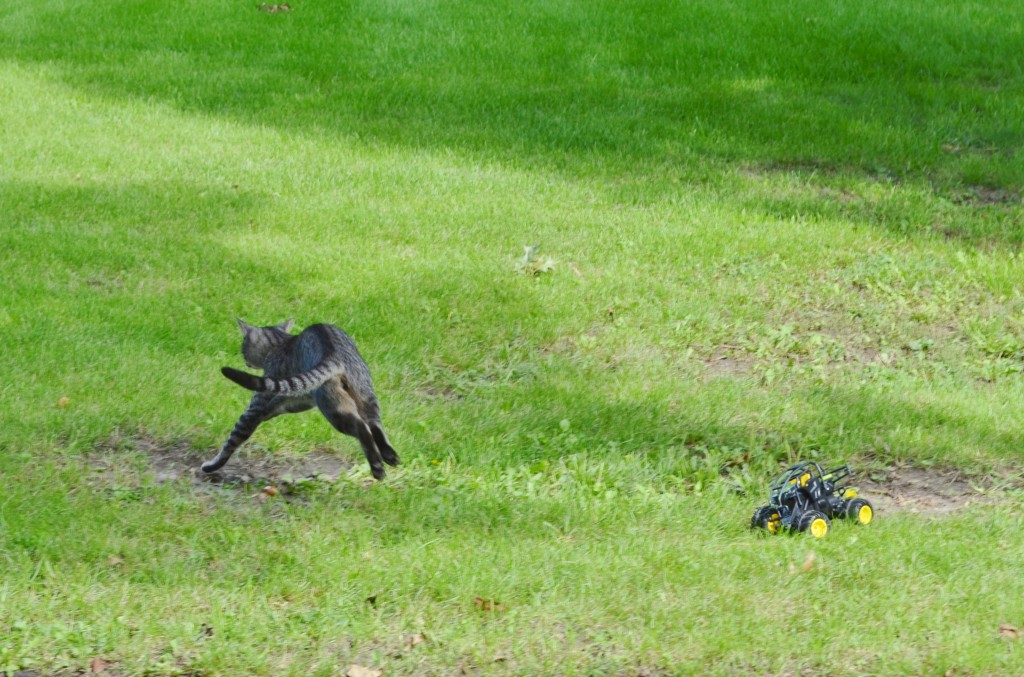 HAHA and true to a typical boy my kids loved chasing the cats around the yard with their RC Gator! Don't worry – no cats were injured or even touched in the making of this photo!! 🙂 It was just a fun photo that I wanted to share! I loved that the kids could extend their playing area out into the yard in addition to our driveway.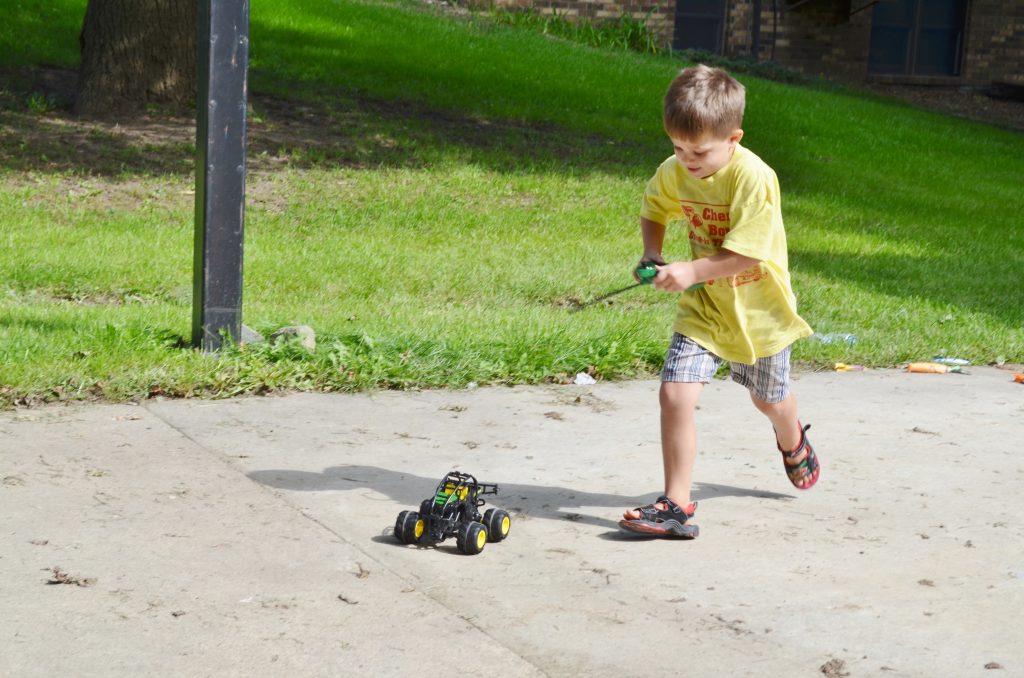 Although we haven't had this RC long enough to know how long it will last us it seems to be very good quality with very high quality tires. My kids have spent hours using this on the driveway and in the yard with absolutely no visible wear on the tires. I thought it would at least be scuffed up after all the rumbles and tumbles they turned this Gator into but so far it's looking good as new! I LOVE that this John Deere Gator pivots like it does – it really spices up the excitement in doing tricks while playing with it. Plus the inflatable tires really boost it's ability to be used other places than just a flat concrete surface. It's also super speedy which is always a plus for kids (you can see my son trying to race the Gator while driving it above!). I haven't met a kid who didn't love an RC toy and to be honest I've always loved them even for your younger kids to help them strengthen their coordination skills! So far this is one of my favorite RC toys we've had and would make a great gift idea for the holidays!
 Last year the John Deere Monster Treads RC Tractor was named the #2 toy of 2013 by FamilyFun Magazine!
You can find the John Deere Monster Treads RC Gator online from John Deere, in stores at local John Deere dealers, and of course on Amazon!