BRITAX Affinity Stroller Initial Review & Thoughts
This post may contain affiliate links, view our disclosure policy for details.
Disclosure: I received the below product in order to facilitate this review. All opinions are my own.
I am absolutely AMAZED how much things have changed when it comes to the world of babies in the past 5 years. My youngest son is currently 5 1/2 and we're expecting our little girl any day now. When I had my boys we couldn't afford much and unfortunately had to bypass on good quality most of the time when they were little. Now that we've come to "round 3" of kiddos I really wanted to invest in good quality baby gear – whether used or new – for our daughter that would actually last us through her little years. I'm tired of replacing the "cheap" stuff. There are a few things, however, we decided right away to buy brand new for safety reasons including a car seat / stroller set, crib, etc. Over the past several years I have heard stunning ravings about the Britax brand from many of my friends so I contacted them to see if they would be willing to be featured on our site. I understand budgets are often tight when a baby is expected but I also understand the need for good quality gear that will last through the upcoming years and multiple children too.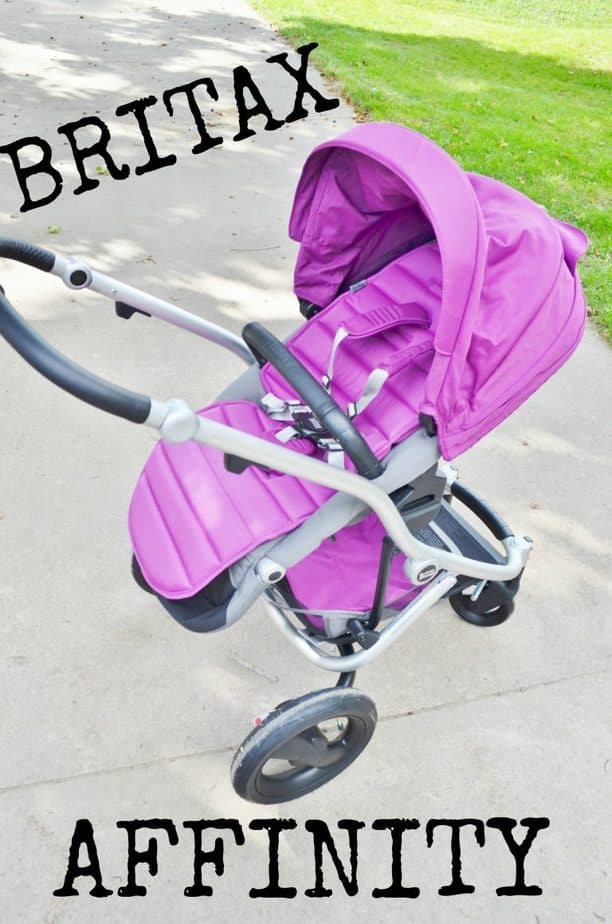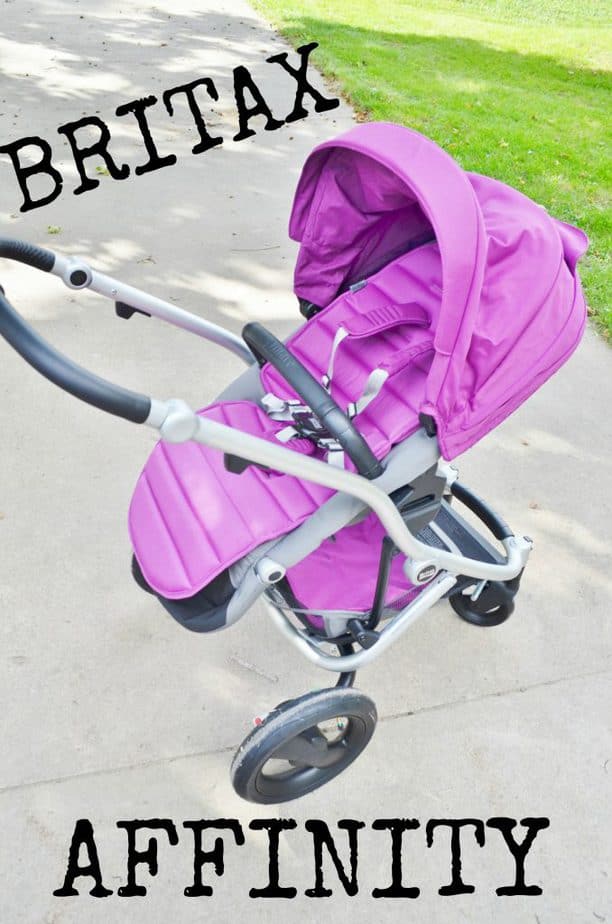 Although our daughter has yet to arrive I am beginning to regret not going with the Britax brand when we started having kids 7+ years ago! (Did you know Britax has been around for 70 years?!) When we received our stroller in the mail I expected that it would of course be nicer than some of your other "budget savvy" baby brands but I was pretty blown away with how MUCH better quality the materials are and the luxury of the features that it has. You can absolutely tell the high quality difference immediately. In fact I'm sure that I'm still learning about this stroller as we haven't put it into full use yet so this review is just our initial overview of the stroller. The Britax Affinity stroller comes with OPTIONS. Lots of options in fact. You can choose what color you want the frame of the stroller to be, what color you want the "color pack" to be (the extra padded overlay) (sold separately), as well as the additional option to purchase an Infant Car Seat Adapter frame making the stroller compatible with certain popular brand car seats.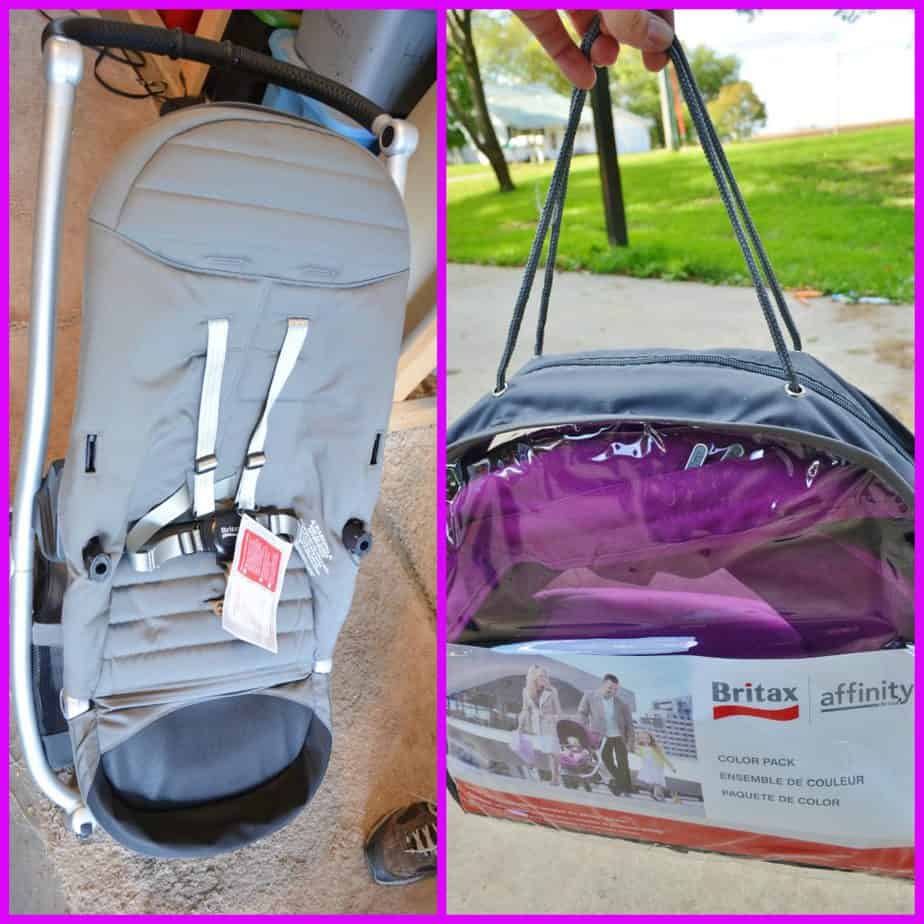 Above you can see the stroller "base" as we were building it on the left, and the "Color Pack" on the right. My husband (surprisingly!) chose Cool Berry which is a bold purple color for our little one. The Color Packs also come in Sky Blue, Cactus Green (my next choice!), Red Pepper, Fossil Brown and Black. It came in a separate package and arrives in it's own zippered carry case for storage. I LOVE the idea of Color Packs because it really saves the life of your stroller. The padding easily fits onto the stroller and can be removed quickly for further cleaning.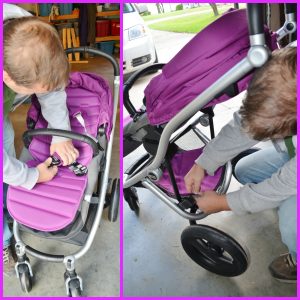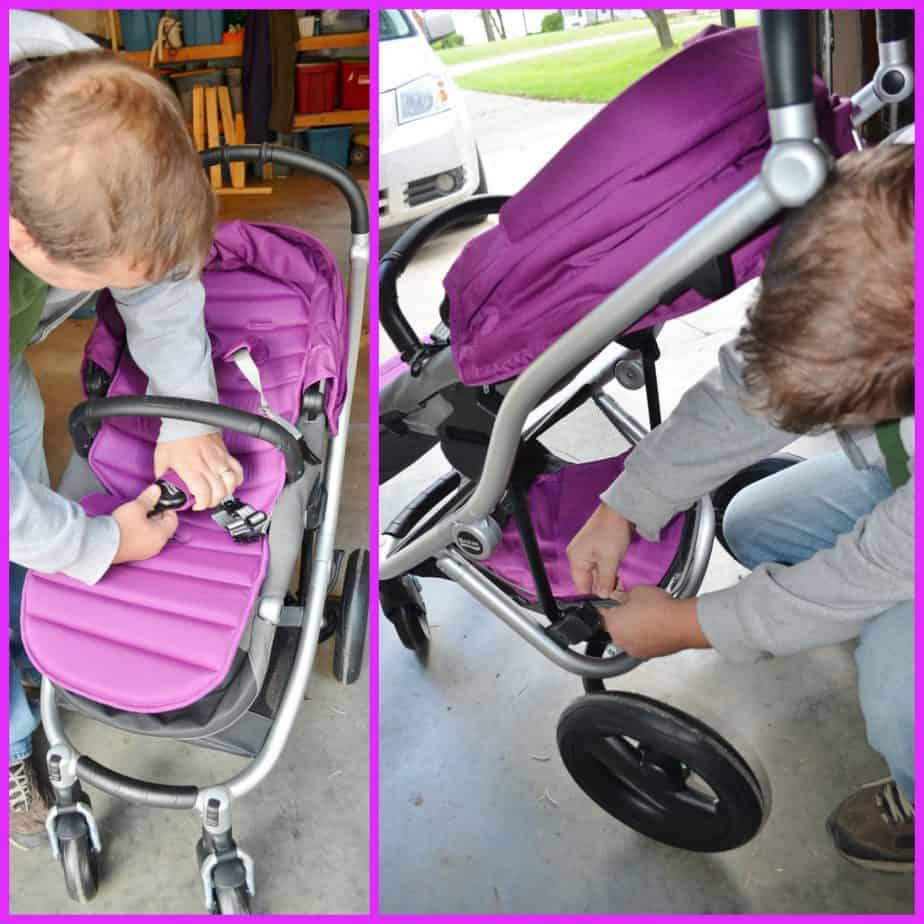 It came with the "body" padding which the seat belt straps fit through, the overhead "umbrella" part of the stroller, and even additional padding that snapped into the basket.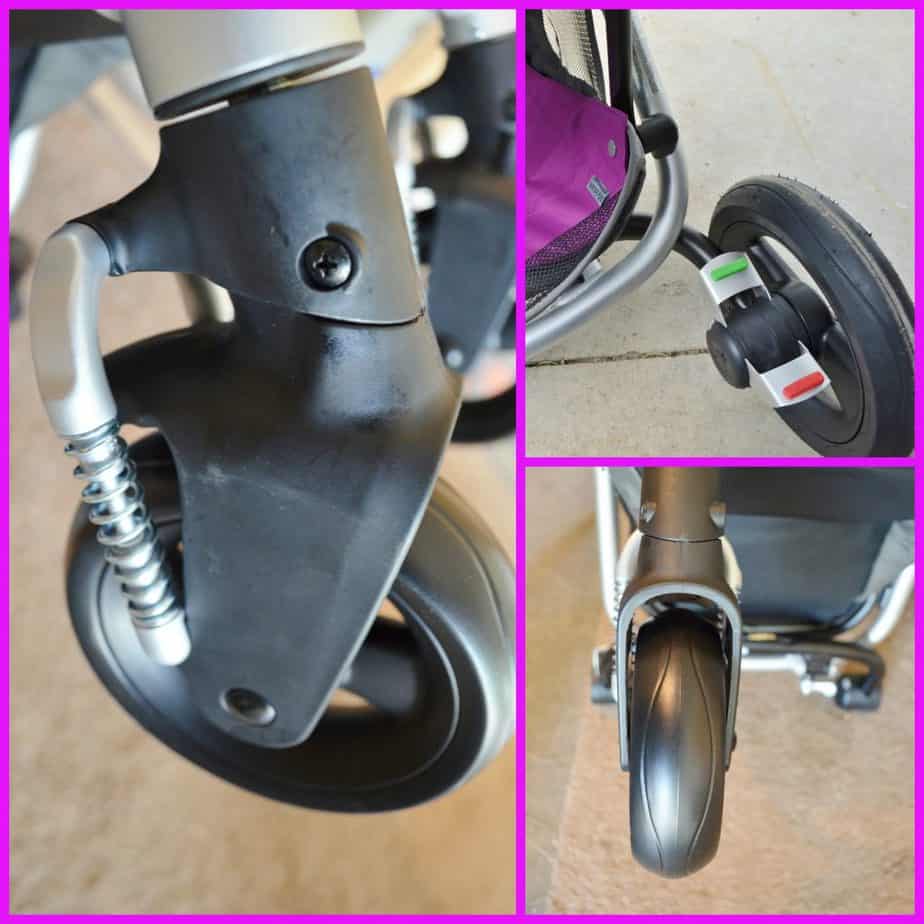 A few of the high quality features we also noticed immediately as we pulled parts from the stroller box was the wheels which need to be inflated with air and feature a "spring load" on the side great to shock absorb the trails. The wheels can literally pop on and off in a flash with the press of a button. It seems so silly but I was pretty psyched to see the high quality of this as I had flashbacks to the time when our budget stroller with my boys literally had the wheel and base snap right in HALF while we were traveling! You can also see the easy step brake system at the top right so you don't have to guess whether it's locked or not – step on the green or red depending on whether or not you want to go or stay!
I didn't include a picture here only because I already have SO many photos showcased but the "handle bars" to the stroller than you hold onto as well as the handle bar in front of the seat appear to be actual leather and covers anything that might be too hot in the sun. AND not only that but this stroller ALSO includes a rain cover and a sun/bug shade cover that completely covers the child in the stroller.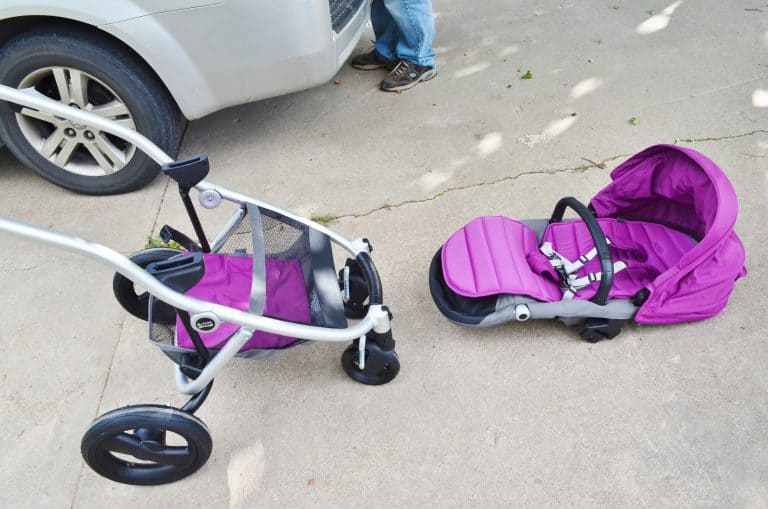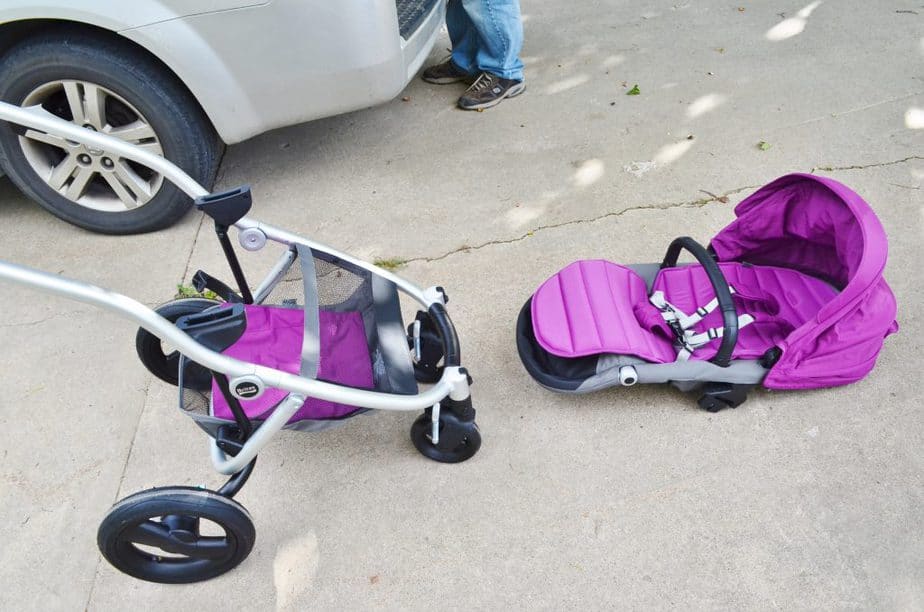 Another feature that just makes me absolutely GIDDY that I didn't realize when we ordered the stroller is that the ENTIRE seat pops right off of the stroller! And EASILY. Out of medical necessity I have to have c-sections with my babies and this seat comes off SO easily that I will be able to dismantle it even directly after my c-section as I recover. I'm AMAZED at how simple it is to do and how lightweight the seat is. PLUS you can actually lay the seat down on the stroller OR face it in front OR behind so that baby can be position either way in the stroller!!! *SWOON* – this by itself just sold me on the stroller!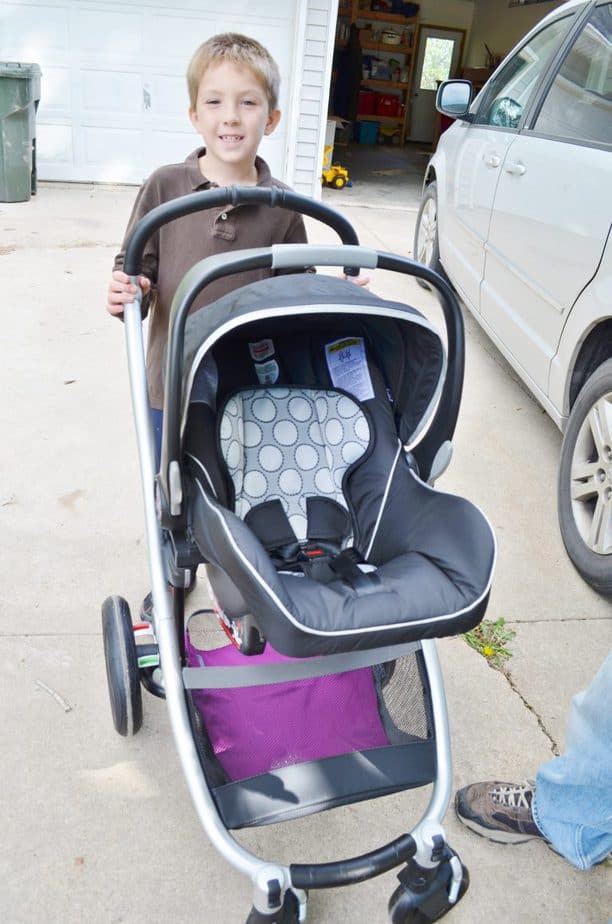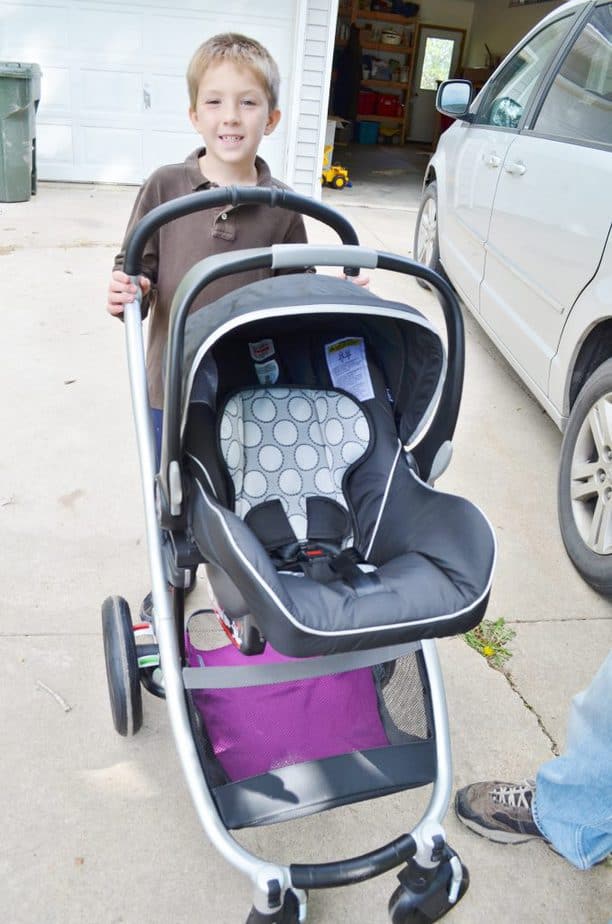 Because of our extreme weather in Iowa (down to negative 40s in the winter!) and how icy it gets here I wanted a stroller combo that I could attach a car seat to so we purchased separately the Britax B-SAFE Infant Car seat which is compatible with the stroller. What I didn't realize, however, is that you simply need to remove the ENTIRE stroller seat like you saw above and the car seat just pops right into the frame!! It clicks right in and can easily be dismantled. Again, necessary when I'm recovering from the c-section. PLUS the infant car seat can be faced in the FRONT or BACK of the stroller you can position it in either direction.

New to use is that the Britax Affinity stroller comes as a 5 point harness system which I appreciate for safety reasons! I remember my boys being so active in our previous budget stroller that they would almost "flip out" of the straps because it only buckled in two spots across their legs.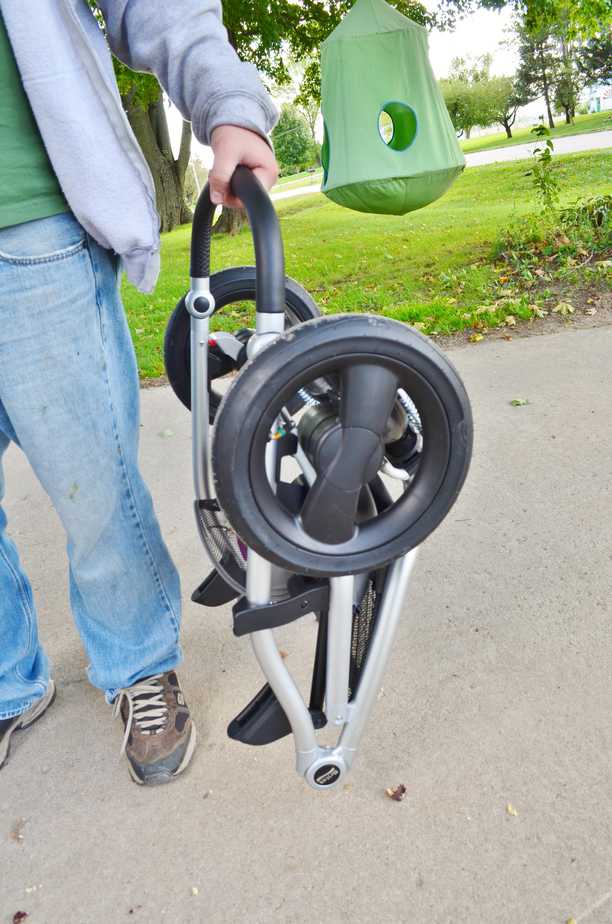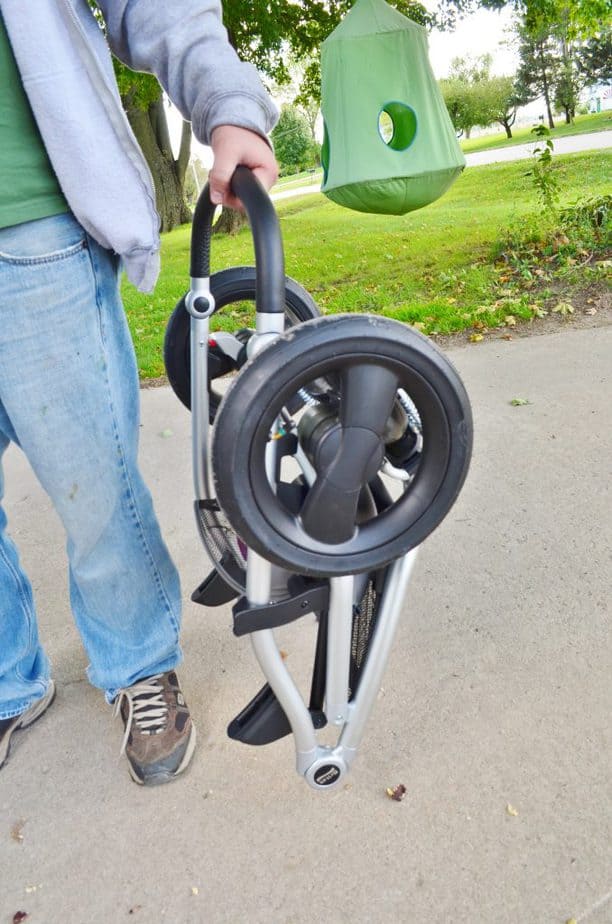 The entire stroller folds up very easily and is surprisingly lightweight but here you can see just the main frame folded up like we'll have it for when our daughter is a newborn. Since we'll be using her car seat when she's small to put into the stroller this takes such a small amount of room in our van it's surprising! Again, plenty light enough for me to set up after having my csection.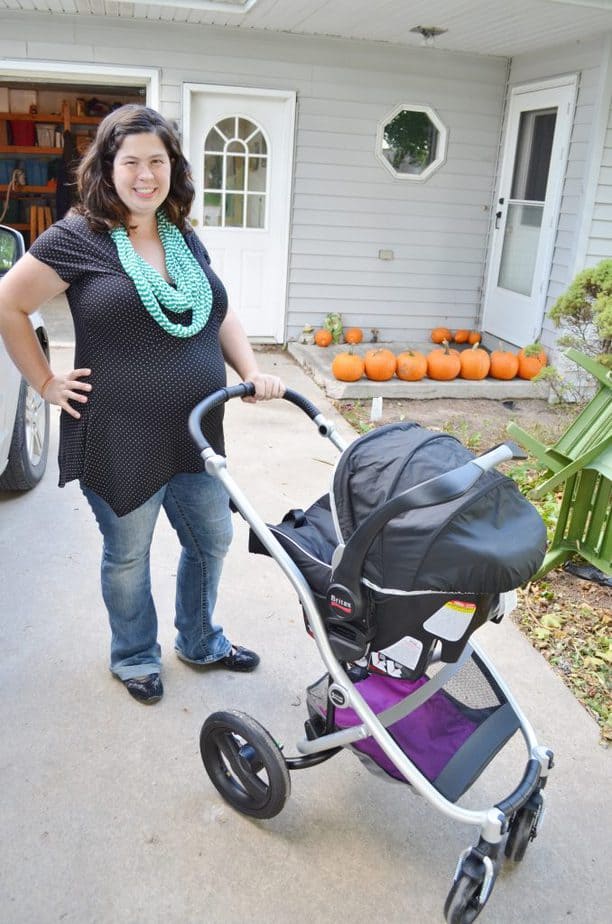 Here I am 9 months pregnant and ready for our daughter to hurry up and get here! I can hardly wait to snuggle her down into this amazing stroller! You guys know we travel a TON on the road in the summer especially so after baby comes I'll be posting another review about our use with the stroller with a newborn this winter as well as share updates on social media next summer as we hit the road. So far we've got road trips from Iowa to Illinois, Michigan, Florida, and Colorado planned for next summer – who knows where else we'll add onto our travels?! I need a stroller that can keep up with our lifestyle and that won't break as we travel and I'm betting this Britax Affinity stroller will do just that for us! Stay tuned for more updates in the near future!
Find out more about Britax products and where to buy them at Britax.com!