Roominate Amusement Park Building set – Holiday STEM Gift Guide
This post may contain affiliate links, view our disclosure policy for details.
Disclosure: I received the products below for our Holiday STEM Gift Guide. All opinions are my own.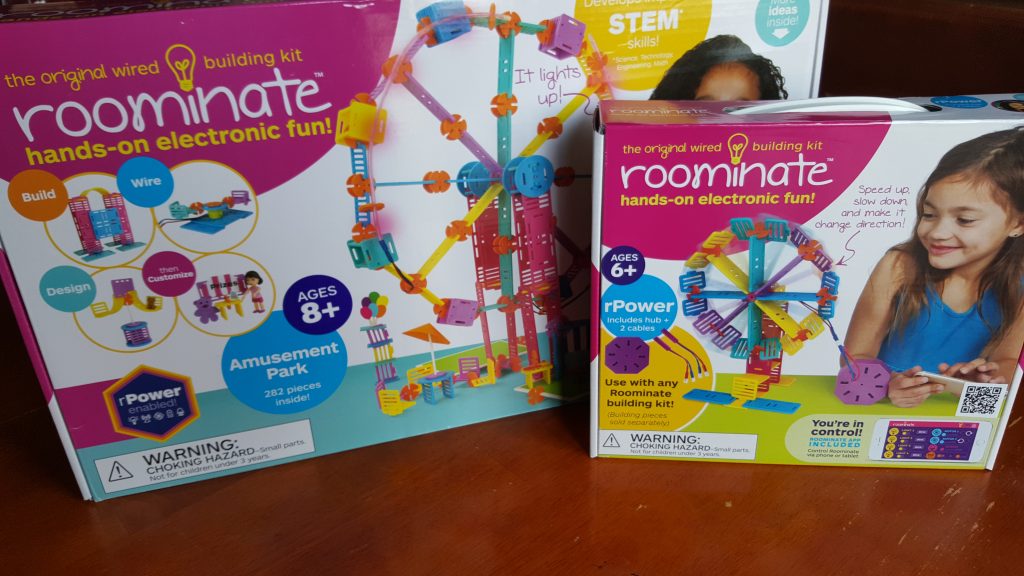 Being a science fanatic myself  with my degree in Biology my kids have NO problems loving science, building, and all that comes with it. It's just one of the many reasons I LOVE the STEM movement for kids today but I had never had the opportunity to try hands-on STEM sets specifically marketed for girls. Not being a girly girl myself I wasn't sure what I would think of it and Roominate sent us some products to try for ourselves! The Roominate sets really intrigued me because they were not frilly but actual good hands-on experiments in building that were simple enough for anyone to use. This set includes working ferris wheels and other amusement park rides as well as lights! You can also use the motor for other creations like a fan! It's had some great exposure on everything from Shark Tank to The Today Show and more so here's what I thought: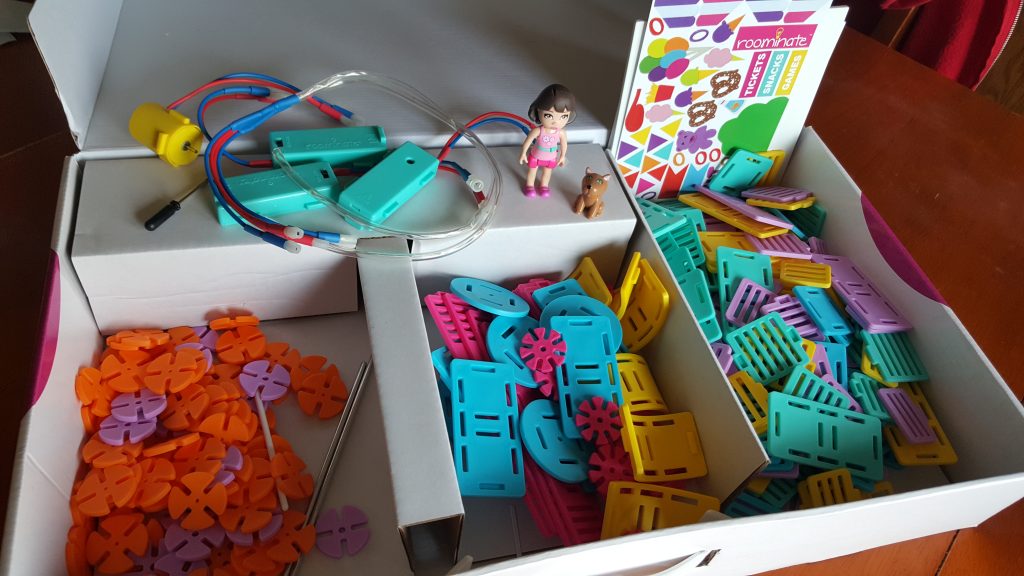 I LOVE that everything came in an easy-to-store box. The box folds up and has a carry handle on it. I also like that it's unique – this is not your basic "brick building" set that you see a lot of brands replicate. When I first opened the box I couldn't imagine how we were going to make all of those flat pieces turn into a ferris wheel in an easy way for kids to do themselves! I was very pleasantly surprised! In fact, the directions to build EVERYTHING in this Amusement Park set from Roominate were on one folded piece of paper – just one! It was insanely simple to follow the directions for. This specific set is geared for ages 8 & up but my 6 year old was easily able to help me build everything. It includes more than 250 pieces:
2 wall/floor panels
156 furniture building pieces
96 connectors
8 columns
6 wheels
4 axles
1 motor
2 strings of lights
3 battery packs*
1 screwdriver
1 sheet of stickers
1 Alice doll
1 pet dog Harrie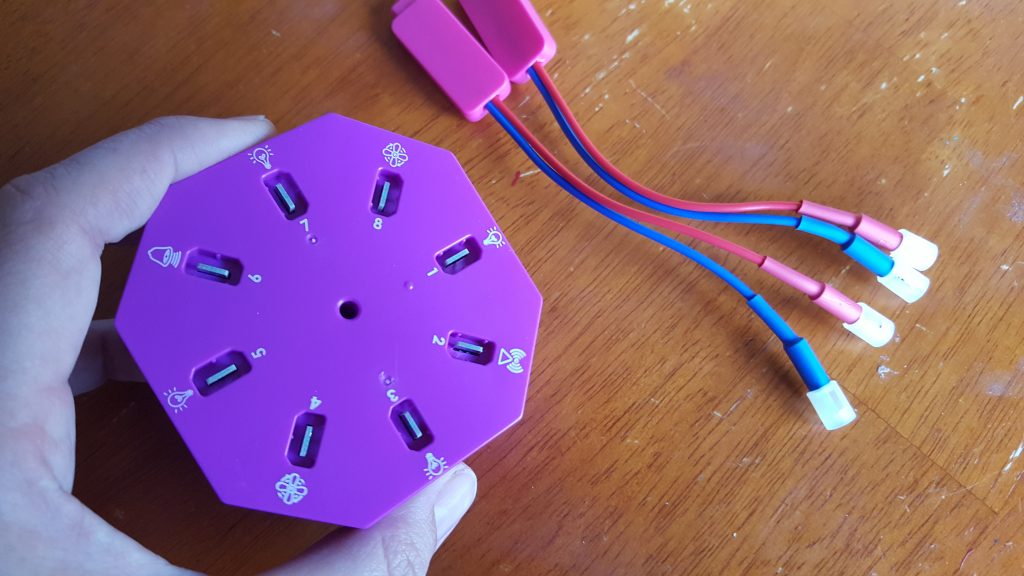 They also sent me the rPower which allows you to control the circuits from your smartphone or tablet! Not only can you spin the motor in various directions, make lights blink, etc but you can also adjust the motor speed and lights too! The rPower IS SOLD separately in case you're interested in it! It works really great but the only downside I really see is that it only includes 2 adapters which seemed a bit odd since there is room for 8 adapters and I can't find any place to purchase more adapters – so something to note! Perhaps it's because you would need everything so close to the power source to be plugging in. It is a really cool idea but you'll need more adapters if you want to run more than 2 things. Roominate building sets do NOT come with adapters. I'm hoping that in the near future additional adapters will be available to purchase.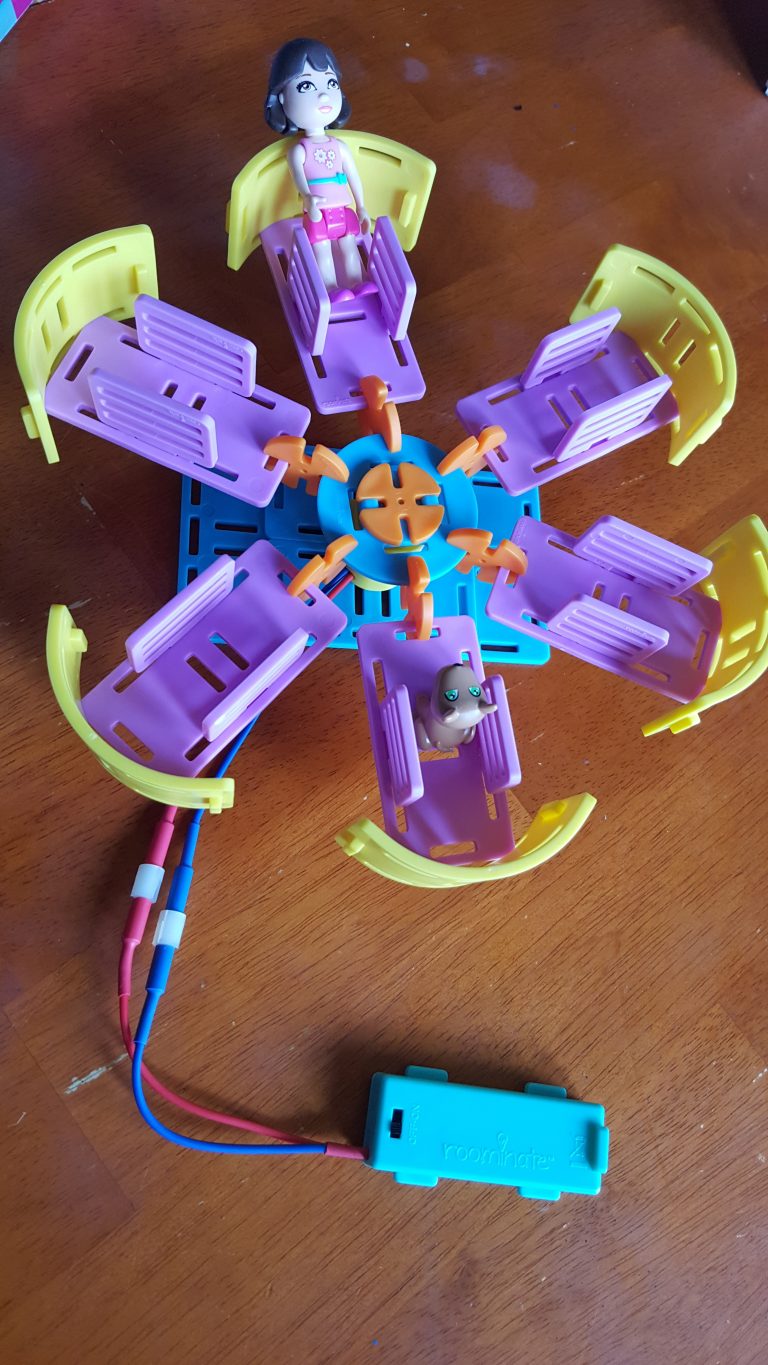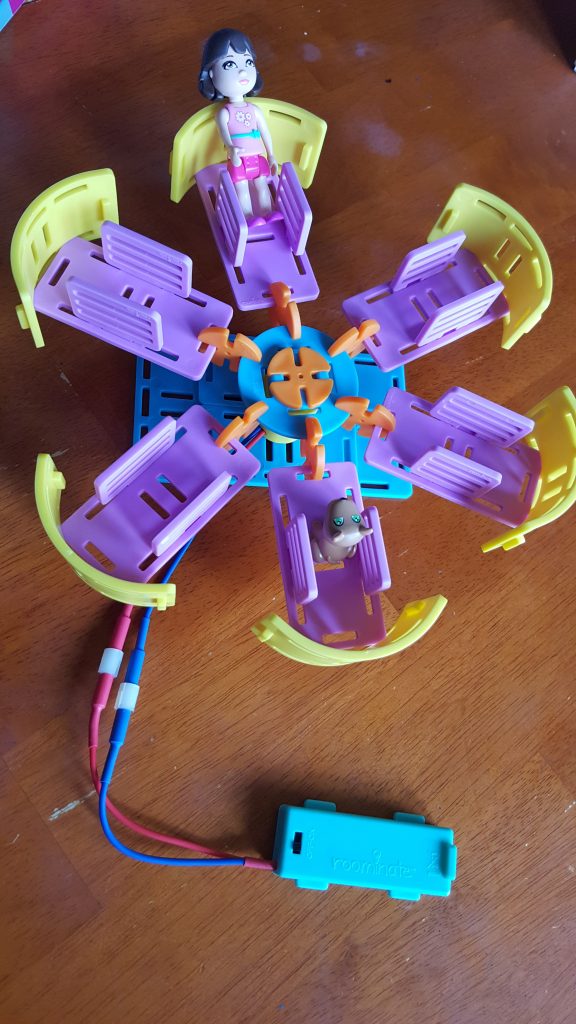 We started simple with this motor powered merry go round ride. SO easy to build!! The 6 seats are the same design to build and then you just need the simple platform base and voila – plug in that motor and give your characters a spin! It is surprisingly fast and even products a breeze as it whizzes around! It definitely caught my attention and the kids thought it was cool! Make sure you press the pieces together firmly or your seats will shift a little!
Another really awesome thing about this set is that it includes enough pieces to build your ENTIRE Amusement Park at one time. You do NOT have to tear pieces apart in order to have enough pieces to build something else. It includes ALL of the pieces you'll need to build everything and display it all.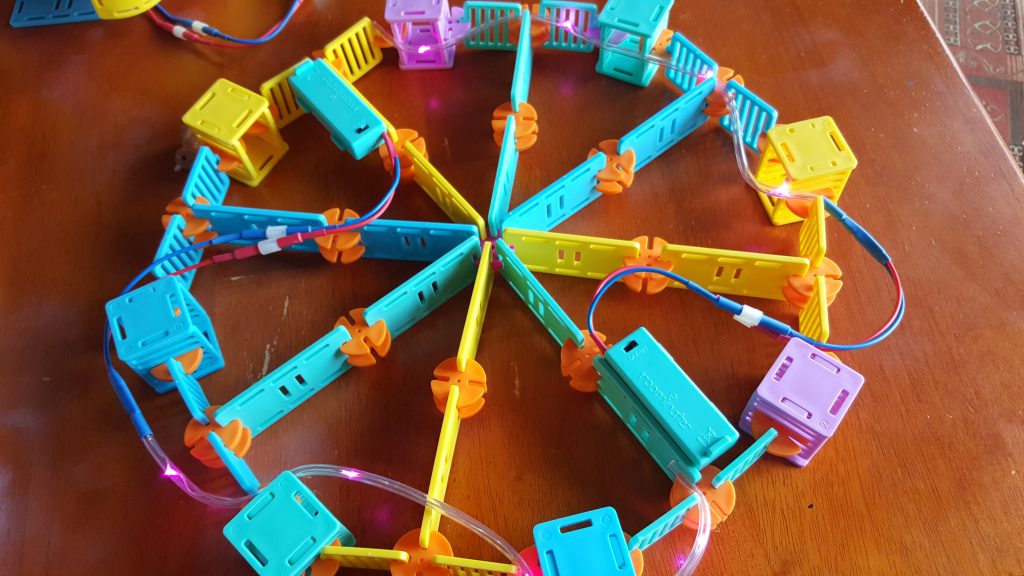 The directions are simple and color coded and even the ferris wheel was easy to follow! The repetition of building the same patterns made it easy to follow and then slide together. Above you can see I'm building the stationary ferris wheel with lights on it (which is the larger ferris wheel) but there is also an option to build a moving ferris wheel that is smaller.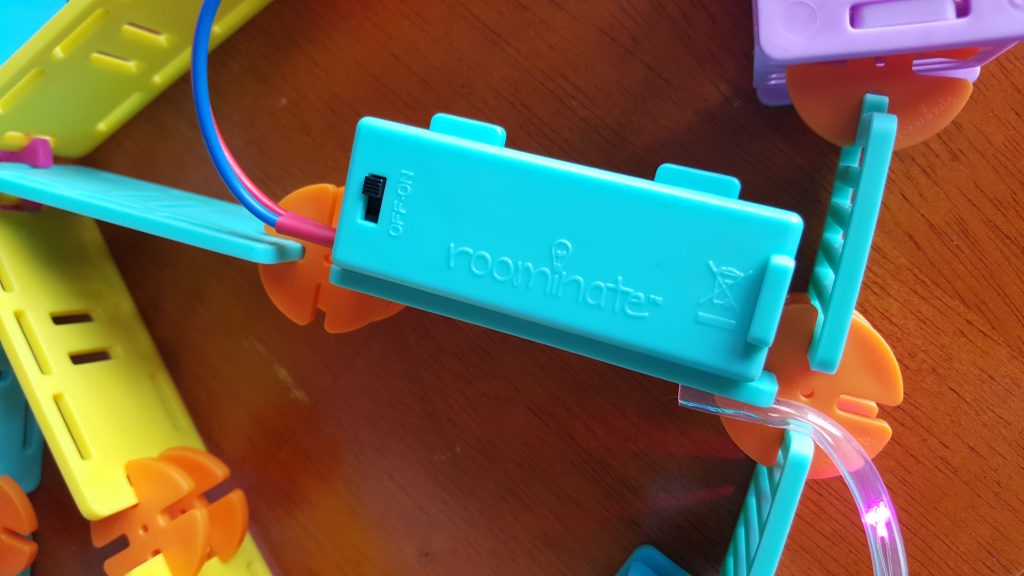 The small battery park is quite clever and you can see it has "prongs" on the sides which allows you to pop it right into the pieces easily. There's also an on/off switch perfect for saving your batteries when you're not running it! Just plug the circuits together and it all works perfectly! It's really quite simple and makes a great WOW factor for kids building the sets. Although this is marketed for girls my boys had a great time putting these together with me and really liked the Amusement Park theme.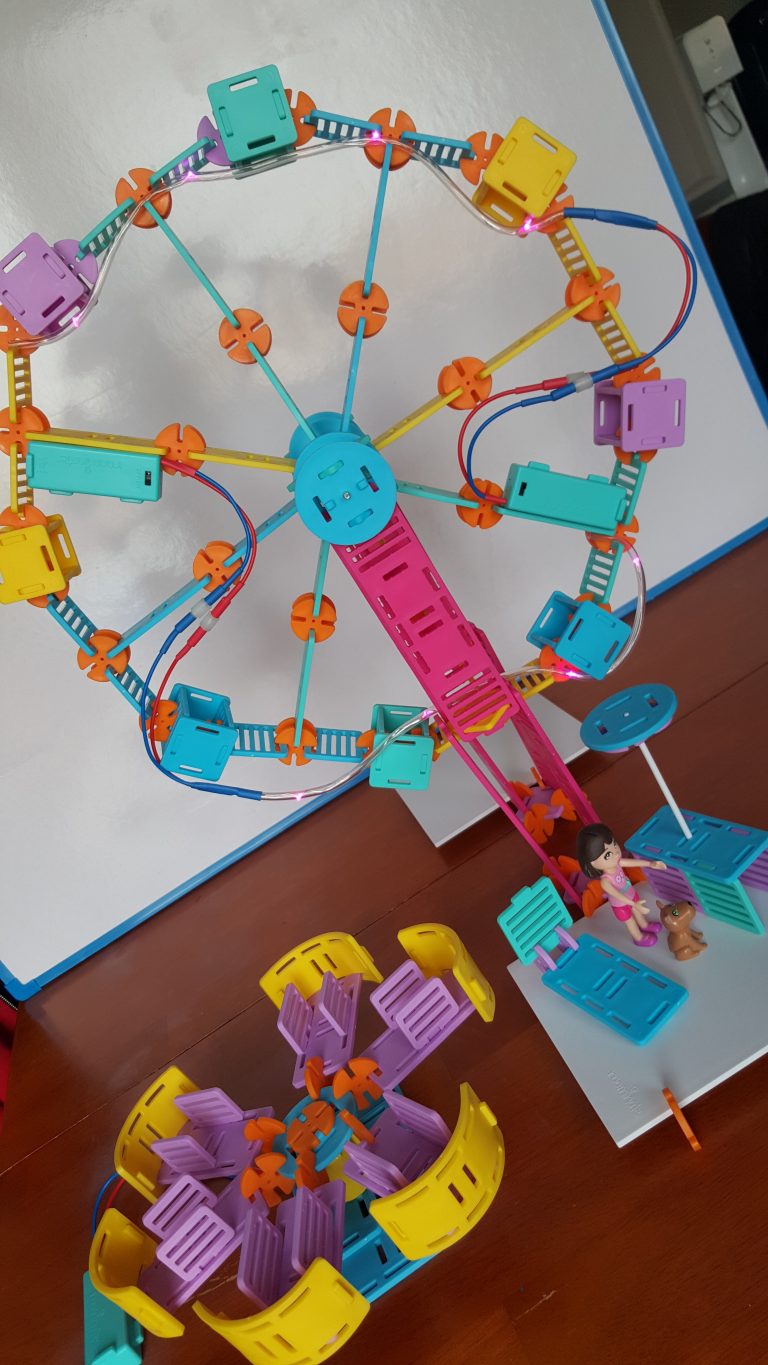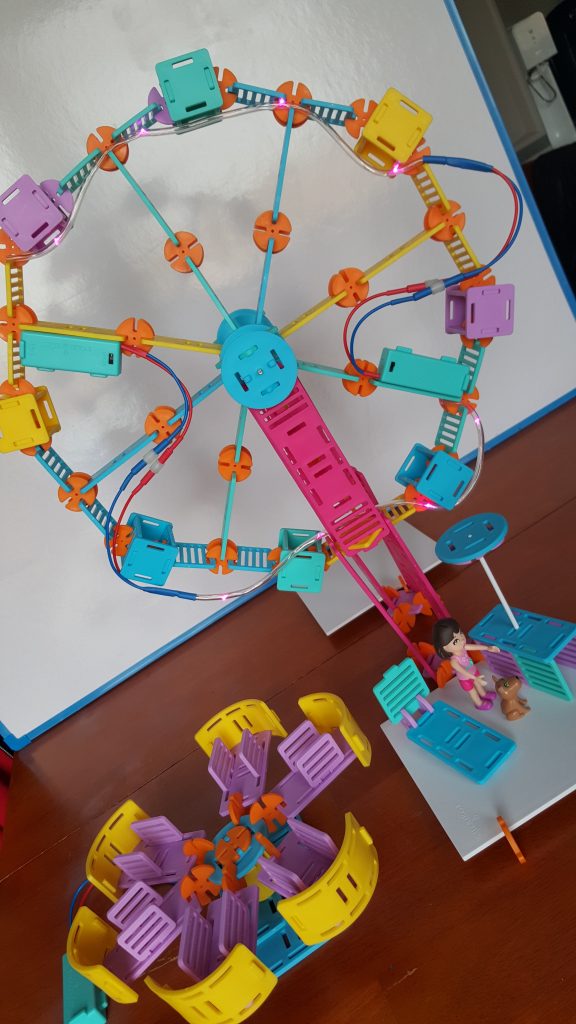 The ferris wheel (with lights) was HUGE – MUCH larger than I expected. Off the front of it we built a platform for the little girl and her dog along with a food stand and a chair. Once we started building some of the Amusement Park is was really easy to begin putting together our own ideas and structures. It was no longer just a "pile of straight pieces" we were able to expand our thinking into other structures as well. The kit also includes stickers to decorate the pieces which were cool and really gave an extra dimension to our play!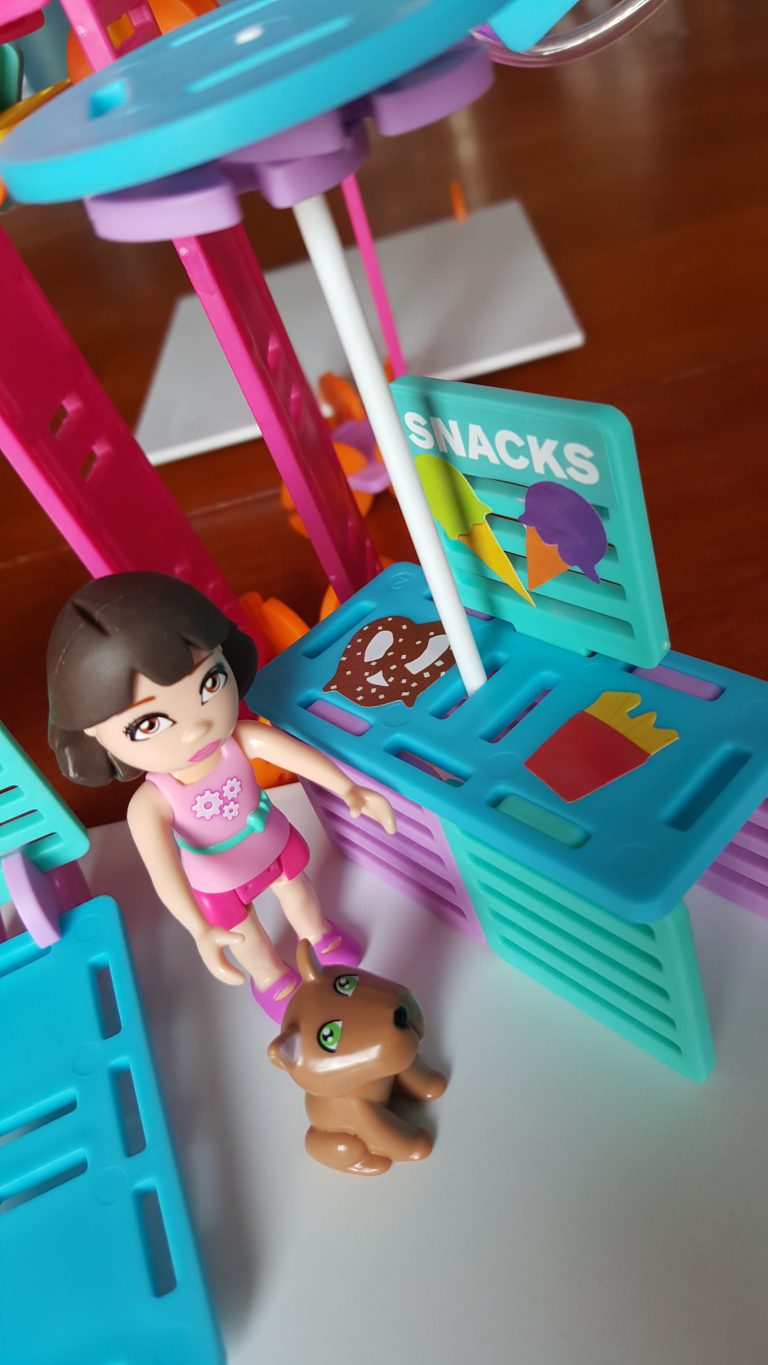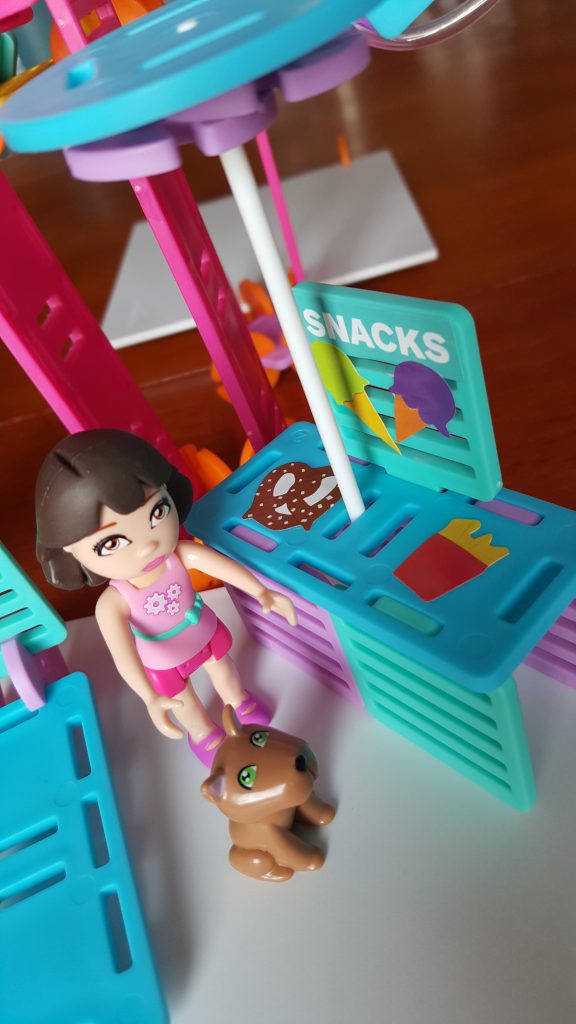 You can see the food stand we decorated – we even made our own "umbrella"!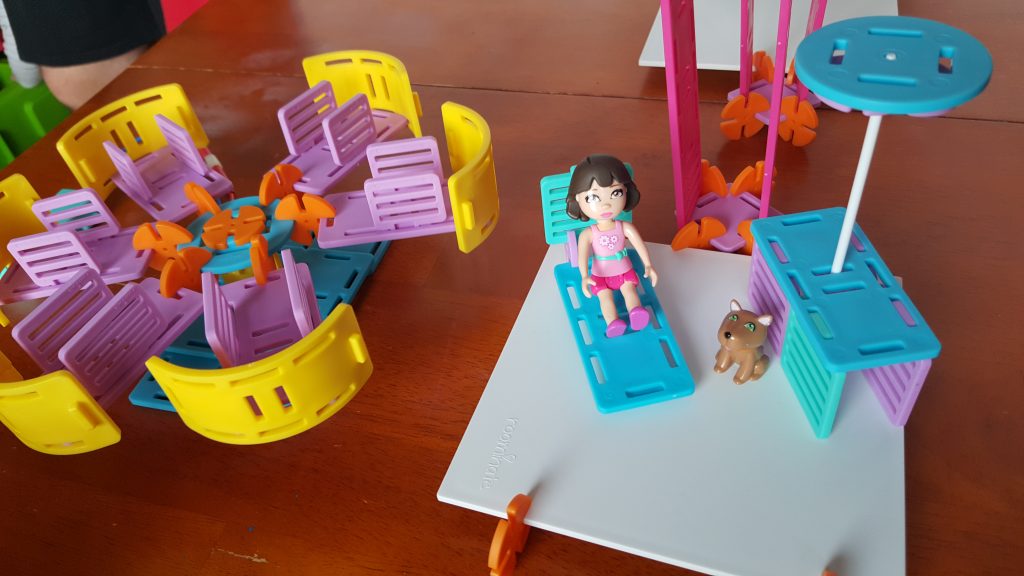 Overall – these Roominate building sets are GREAT! It is refreshing to see a different type of building toy that's new and inventive and just as creative to use. Roominate has a lot of other building kits that look really cool like their Townhouse, an RV set, and a Schoolhouse! AND of course anything you create on your own! The pieces are very durable and it's a WIN all the way around!
You can buy Roominate products directly from them here as well as on Amazon! If you are an educator or school there are special bundles available here.