Hot Wheels Car Maker Toy Review
This post may contain affiliate links, view our disclosure policy for details.
I received the product shown in order to provide a review. All opinions are my own.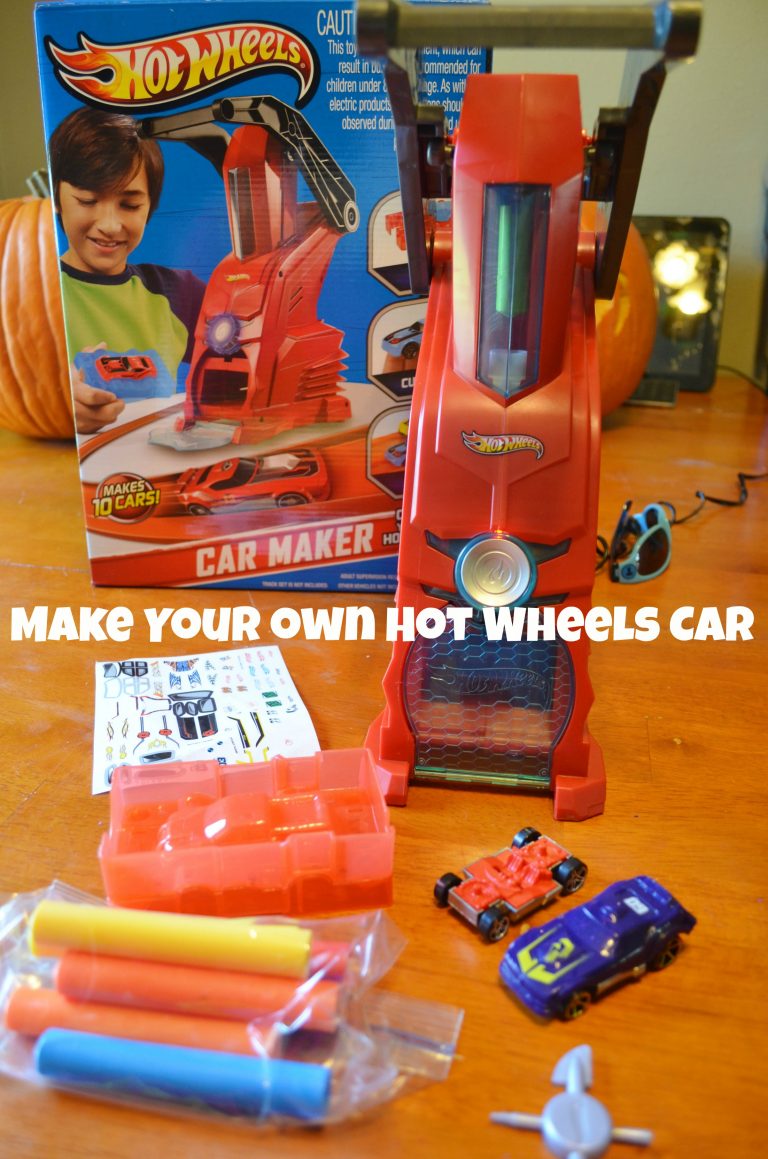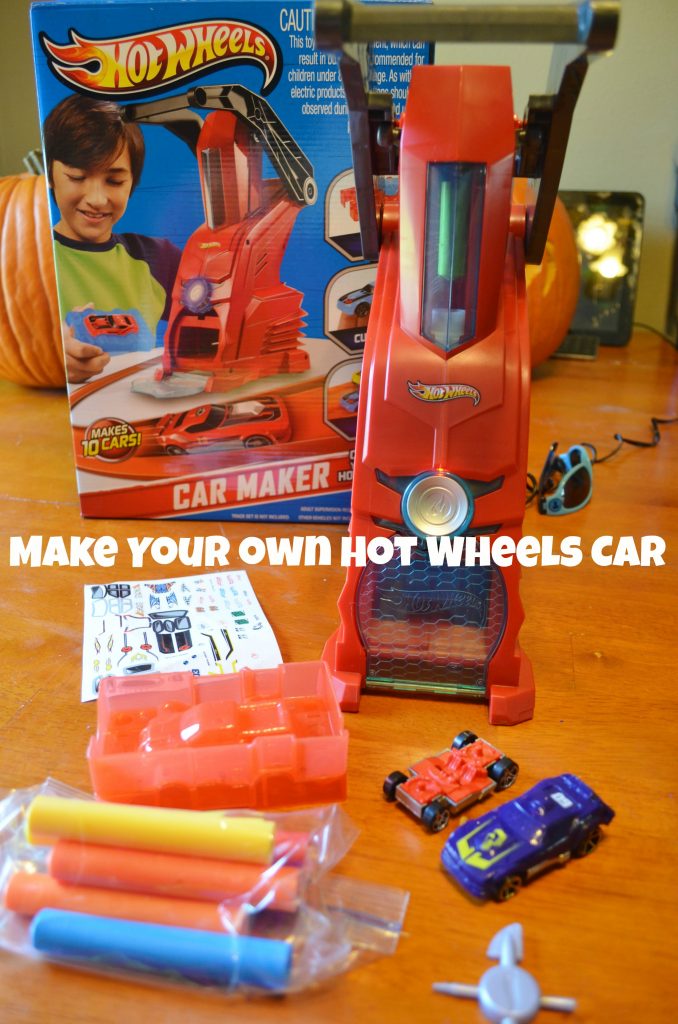 Last month Kmart released their Fab 15 Toys list spanning all different ages but one of the things that immediately caught my eye was the Hot Wheels® Car Maker by Mattel®. Having two boys of my own means that our house has NO shortage of toy vehicles – cars, trains, planes, trucks, and pretty much anything else that has 4 or more wheels. They may have a zillion Hot Wheels but if they see something with wheels in the store guess what they're going to ask for? Yup – another toy car! So when I saw that with this set the kids can actually make their own cars I KNEW they would love it!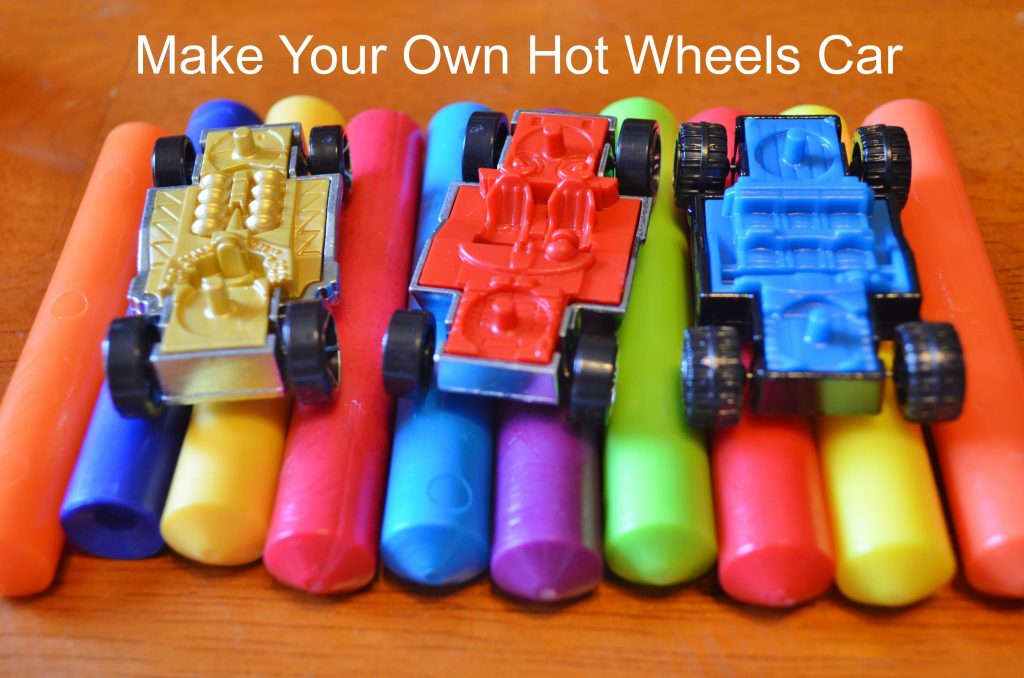 I cannot rave enough about this product – it is VERY well built and works exactly as it's supposed to. It is hands down worth every penny – and I can't say that about all toys! No flimsy parts, and the Hot Wheels cars that you make come out nothing short of amazing. It has a special "locking" feature which ensures no possibility of burns either – the machine itself is not hot on the outside while in use. It includes the maker machine, 3 chassis, enough wax sticks to create 10 cars, sticker decals and two molds (one car and one truck).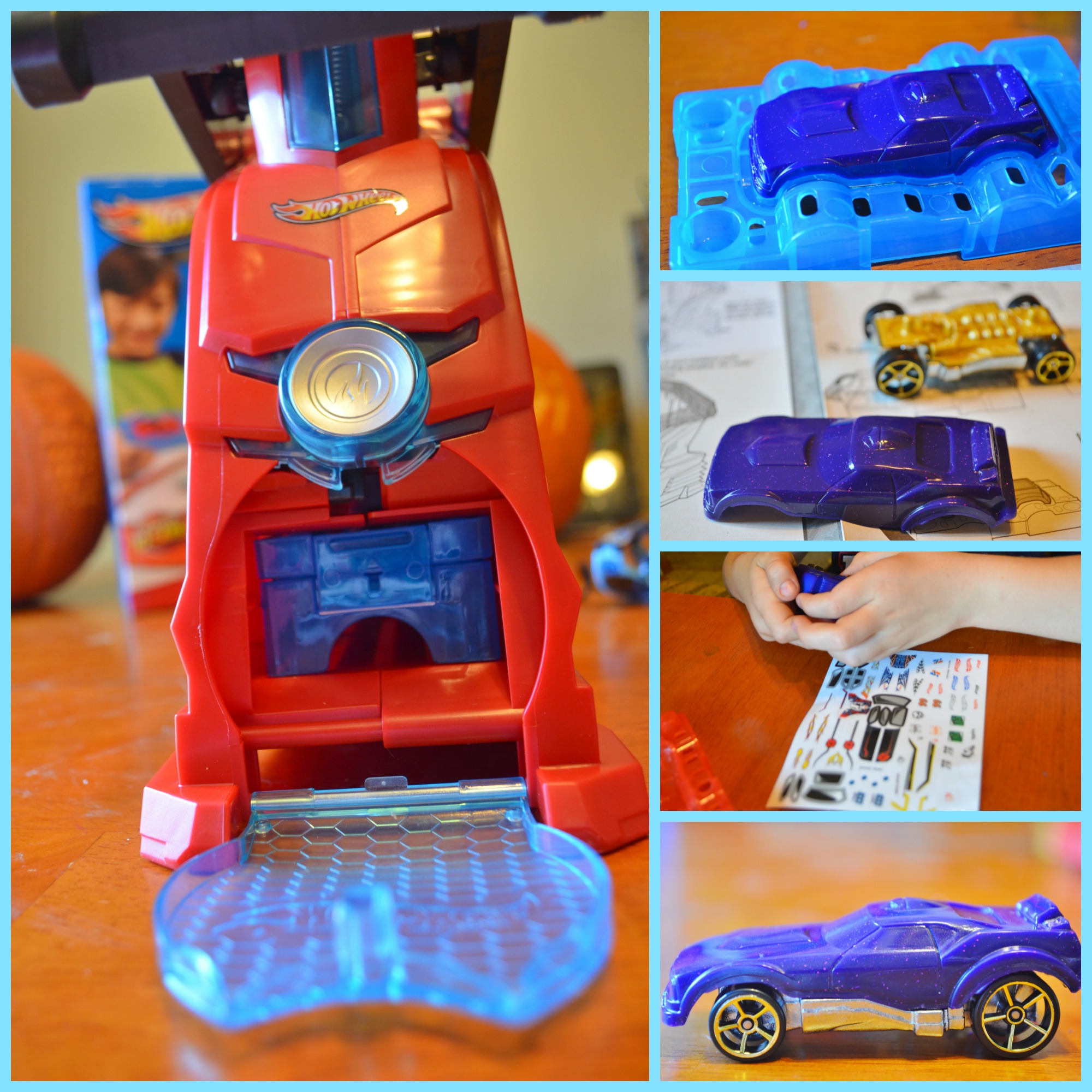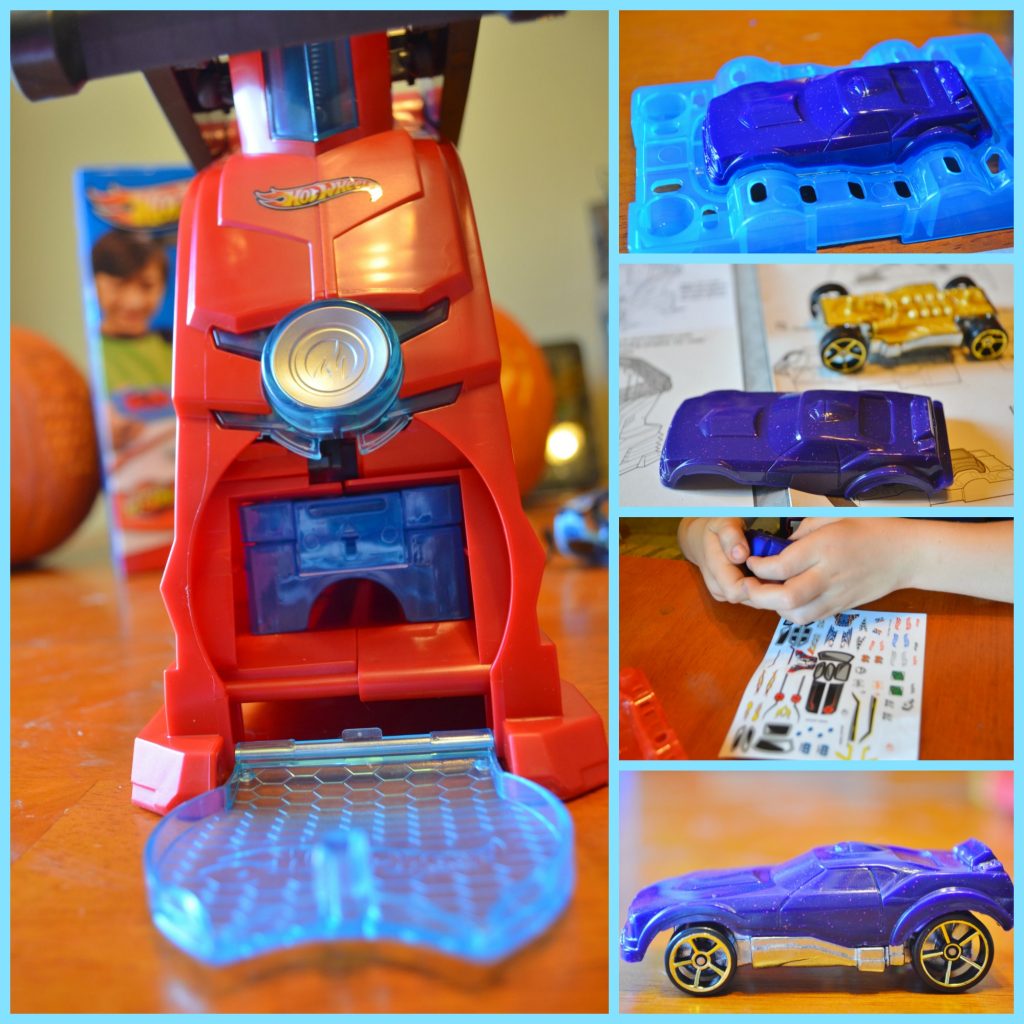 One of the AWESOME things about this Car Maker set is that once you plug the machine in it literally verbally tells you what to do for every single step of the way. It tells you when to insert the mold, when to lock the door, when to pull the handle down for the wax sticks, when it's cooling, and when it's done. There are NO hot sections on the machine and when the wax cars come out the wax is NOT hot in any way. I can't possibly imagine how kids could get burned – I touched pretty much everywhere I could reach on this machine and it's parts while it was creating the cars and it wasn't even warm. In fact while the machine is molding the car it automatically locks the door shut and will not open until it has completed it's cycle. The wax car can be touched immediately upon coming out of the machine – there is no cool off time involved. It takes under 10 minutes to complete an entire car.
That being said, however, if you don't follow directions (like my son did the first time!) and start the cool down process too early the car maker machine is locked shut until it runs through it's entire cycle! Safety first is definitely implemented here. My 6 year old absolutely RAVES about this set. He sat at the table and didn't move for an hour and a half while we made vehicles, accidentally locked the machine and waited for it to reopen, took pictures, and helped his younger brother make vehicles. The set is recommended for ages 8+ but honestly it was perfect for my 6 year old. My 4 year old loved it but didn't have the ability to sit there and wait for the machine that long during the process!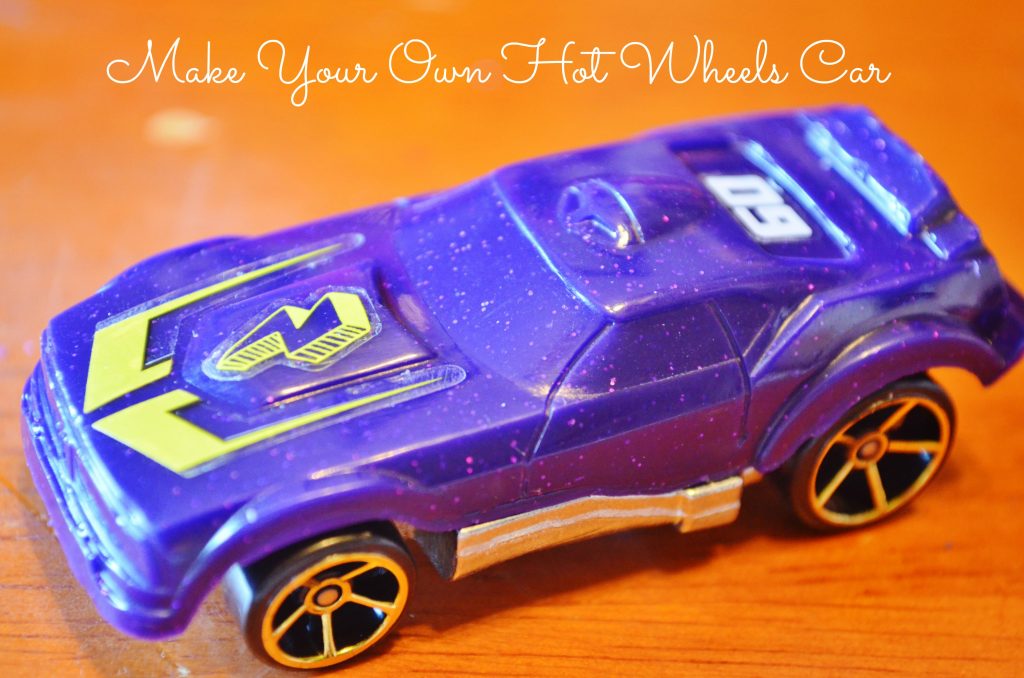 The car molds are suprisingly sturdy and really stunning. From a distance I would have NEVER known these were molded from wax at home! The wax vehicles have not cracked even though my kids have been pretty relentless about wrecking them and zooming them down the stairs. I am very impressed with the quality. I was expecting for the price little cheapy cars that would break after mild use but that is certainly not the case. I was even thinking how cool this would be set up during a party for kids to create and take home their own Hot Wheels cars!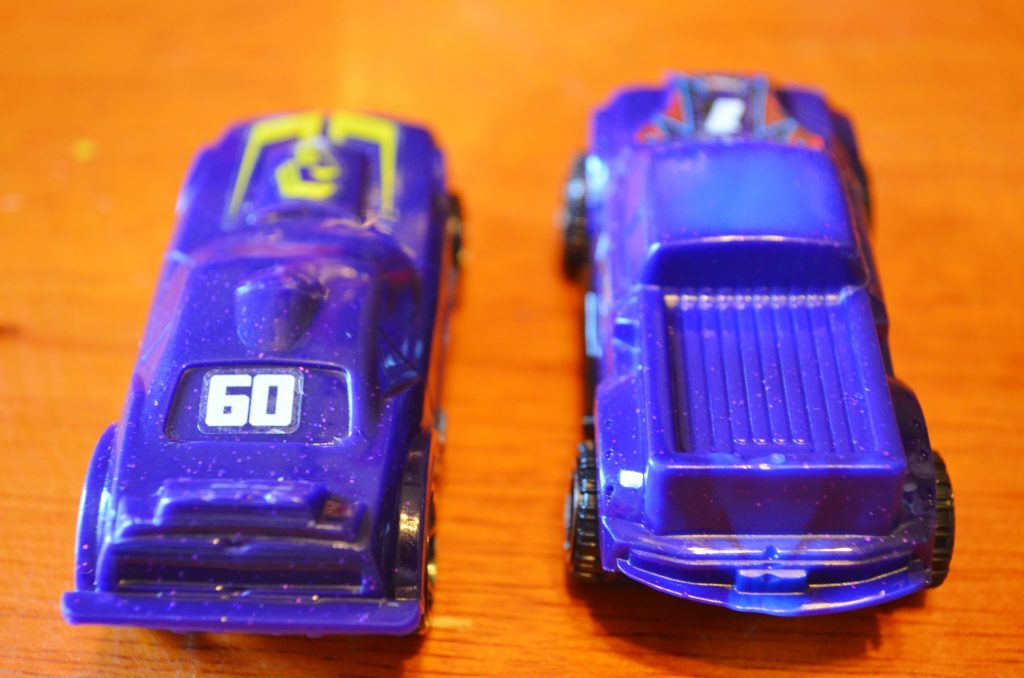 Included in the set is plenty of decals for the kids to customize each of their vehicles. We found that after each car you are supposed to add one colored mold stick into the machine, but each vehicle mold doesn't take an entire colored stick so the colors tend to blend together a little bit. We were thinking we could have just a "red car", or "blue car" – which really only happened with these first two cars. All of the other ones became multi-colored cars which is totally fine as long as you warn your kids! 🙂 The ARE reasonably priced refill kits to purchase which may include extra mold sticks, chassis, decals, and/or molds depending on which refill set you buy. Considering how many cars you will get to play with out of it the price isn't bad. Plus you can mix and match your molds and interchange them on the chassis as desired. Downside – if there are a lot of kids creating molds you will need to buy extra chassis as only 3 are included in the set.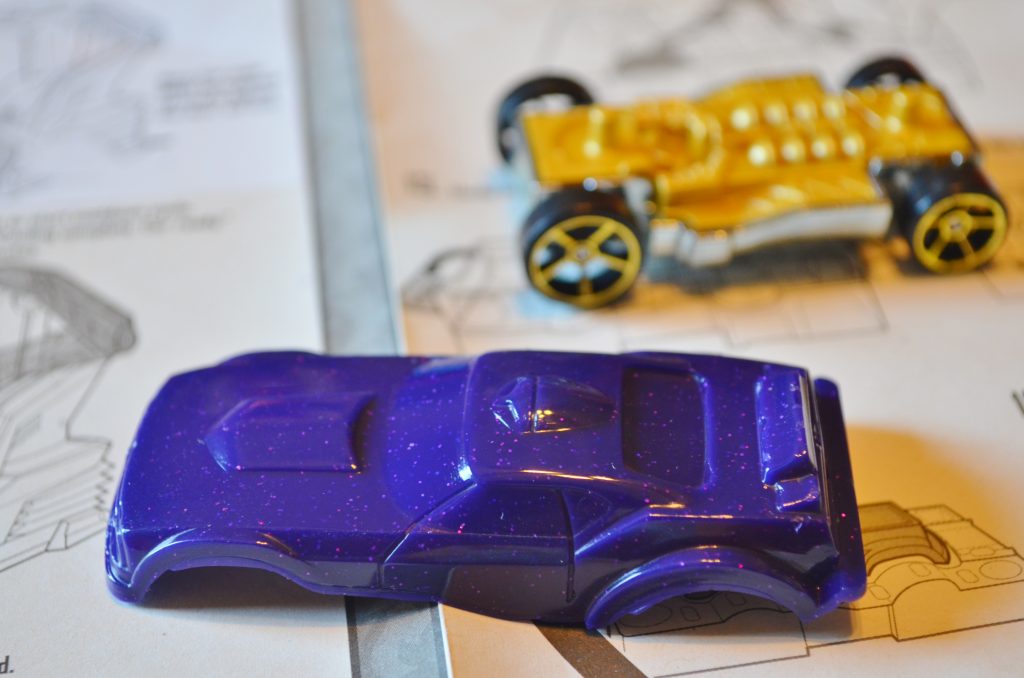 Here are a few pros & cons I found while extensively using this Hot Wheels® Car Maker set with my kids.
PROS:
EXTREMELY well Built
NOT hot – no chance of burning
Sturdy Wax Models
Makes 10 Cars
Step by Step Directions
Interchange molds with chassis for Mix & Match play
CONS:
Accidental Door locking during cooling due to user error takes a while (can be frustrating to kids)
Only 3 Chassis but 10 mold sticks
Colors of mold DO mix together a bit
Overall – I absolutely recommend this toy. It has got to be one of my most favorite sets for kids I've ever used because of it's high quality and safety factor, not to mention just plain fun. Kids LOVE customizing their own things and this is well worth the price you'll spend on it. See all of Kmart's Fab 15 toys here!
GIVEAWAY
Whoo!! One of my readers will have the chance to win their own Hot Wheels Car Maker set for the holidays thanks to Kmart! To enter just fill out the Rafflecopter form below!! Open to US only and ends Dec. 2, 2013 at midnight. Winner will be chosen randomly and have 48 hours to claim prize before a new winner is chosen.