Hosting a Family Friendly Movie Night Party
This post may contain affiliate links, view our disclosure policy for details.
Want to have some of your friends over (or your kids friends!) this summer but don't have a big budget? Why not throw a movie night party! I had the opportunity to do just that for my kids as part of the Claritin Mom Crew! In the excitement of the new Madagascar 3 movie we had a Madagascar movie night marathon!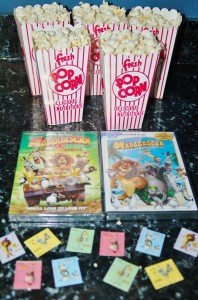 My kids each invited a few buddies over, we popped OODLES of popcorn, had some fun Madagascar-themed stickers out for the kids to use and popped in Madagascar 1 & 2! PLUS we printed out these FREE Madagascar printables which made great coloring/activity sheets! There are some pretty awesome (free!) apps there too to keep the fun going all week long! We were supposed to have everything set up to watch our movie outside but sadly it POURED rain just as we were starting to set up. This was the 2nd time we had rescheduled our movie party outdoors because of the rain so we decided to just head to the living room instead.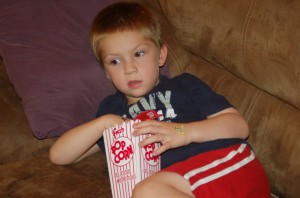 We love the Madagascar movies & can't wait to see the newest one this summer while we're away on our family vacation. My boys are both popcorn fanatics so we just kept popping popcorn throughout the first half of the night!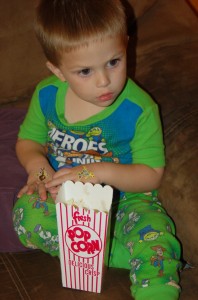 ALL of the kids really loved the stickers – even the older ones! My little guy ended up wearing them everywhere!!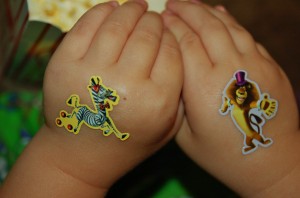 As part of the Claritin Moms Crew I also had a bag full of samples to hand out to everyone which of course went very quickly! Living in Florida pretty much means it's a year-round allergy season unfortunately!
After 2 movies the kids were totally passed out!! Every single one of them had fallen asleep!! It was SO cute!
Guess all that popcorn must have been that good huh? 😉
So next time you want to put together a movie night, grab some popcorn, a movie, and maybe some themed-stickers for the kiddos & have a great time getting together with family & friends!
Disclosure: I was not compensated for this review. I received a movie party pack to host a family friendly event from Claritin as part of their Claritin Mom's program. All opinions are my own.