Hedbanz Game Review for Kids And Adults – Family Game Night
This post may contain affiliate links, view our disclosure policy for details.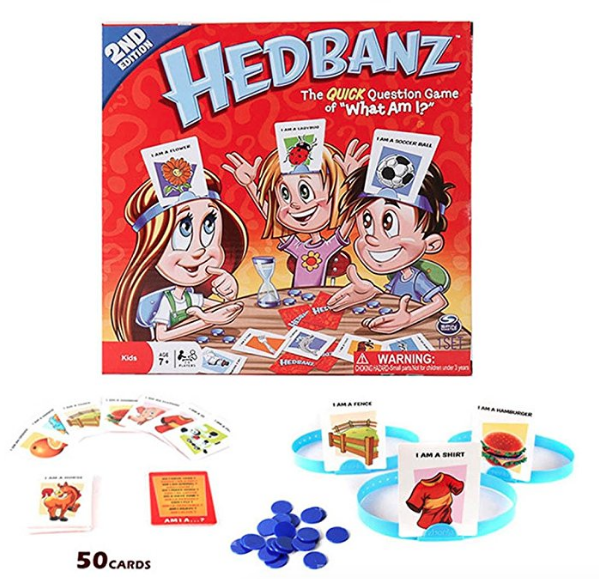 HedBanz
is a hilariously fun family game where kids and adults have to use deductive reasoning skills to guess what item they are wearing on their head! When I first heard about it I just started laughing because it sounded so fun. I've seen fun games like this at "get to know you" gatherings- but I've never seen it turned into a game for kids- what a great idea!
Although my kids are a little young for good deductive reasoning skills it was a lot of fun to play even in our family of little ones!
Hedbanz
is a great way to encourage children to use their deductive reasoning skills, and remember what questions they've asked. It encourages them to be creative in the questions that they ask in order to find out what is on their card.
How Do You Play Hedbanz?
So how do you play? It is really one of the most simple games that I have ever played- and by far the most fun I've played in a while. Basically you attach the blue headband to your head, and then without looking, place a card on the slot on the headband. Players take turns asking questions about the card on their head- and try to guess what they are wearing!
Sample Hedbanz Game Questions to Ask:
Is it a food?
Is it red?
Is it an animal?
Do I smell?
Is it small?
Below you can see just a few of the Hedbanz cards that are included in this family game. I was really surprised at the quantity of cards that were included in this game. Although you can totally make your own! I don't know how you could possibly go through so many cards- but I loved that they included a huge amount of cards so that you can't possibly remember which items you've placed on your head. It definitely is not repetitive in the cards that you play. So you don't have to worry about your kids remember all of the cards in the deck.
Hedbanz Cards:
My husband took this game to play in his 2nd grade classroom and the kids loved it! It was definitely a big hit! I will say that this is one of the most fun games we've played in quite some time! Although geared towards younger kids or family time- I think this would be a blast to play with just adults too! You may feel silly- but it is really a lot of fun! It's also a sneaky fun way to get your kids thinking about their reasoning skills and creative questioning as well!
NEW Varieties of Hedbanz Family Games:

I definitely recommend
Hedbanz
– it is a fun (although boisterous!) classroom game or fun family game. Kids and adults of ALL ages will enjoy playing this game! This is even a fun game to play as an icebreaker at a social gathering. If you're looking for a party game this is a great filler game for the kids too! Our family loved this game and will be playing it for a very long time! It is not one of those games that will sit in your game closet for a few years! My son is always begging to pull out the Hedbanz and play even though he's just a little young for it!
Disclosure: I was not compensated for this review. I received some silly Hedbanz to play with. All opinions are mine.