NEW Fisher Price Octonauts Toys from Disney Junior Review
This post may contain affiliate links, view our disclosure policy for details.
They're here!! If you're mom to a preschooler chances are you already know about Disney Jr.'s Octonauts! But did you know that Fisher Price has just launched an entire Octonauts toy line? And of course bath toys are included!

The Octonauts are a team of eight underwater heroes that EXPLORE the world's oceans, RESCUE the creatures that live in the oceans and PROTECT their habitats. (in other words – good for kids!) Captain Barnacle heads up the crew with his fleet of aquatic vehicles and gadgets which they use to help rescue creatures! Their home base? The Octopod of course!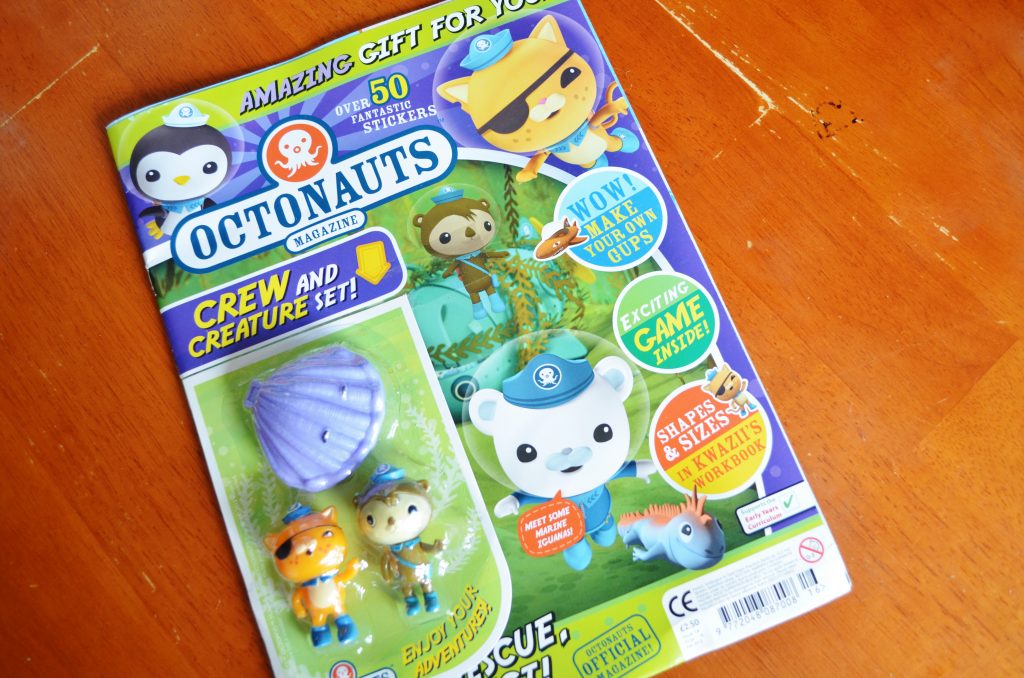 Not only did we receive this Octonauts Magazine full of stickers, games, shapes, and even toys attached to the front of it but we also received a huge box full of Octonauts toys. We received the following Fisher Price toys:
Octonauts Octopod Playset
Octonauts Gup-B Mission Vehicle & Kwazii
Rescue Assortment Barnacles & Tunip
Octonauts Octo-Compass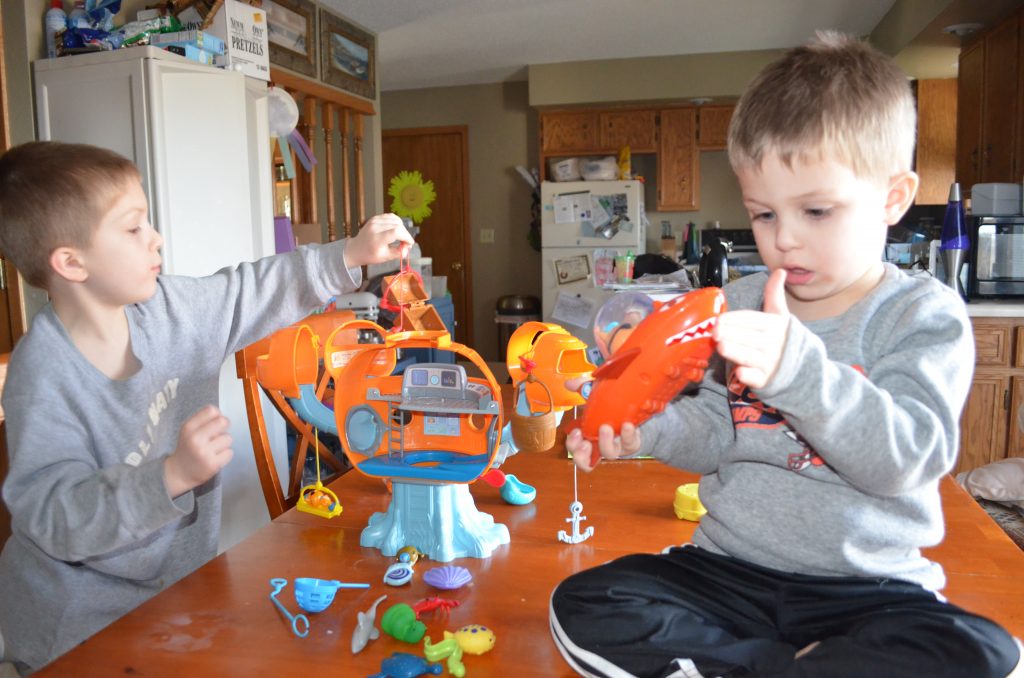 I had told my 3 year old that these were for him since he specifically loves the Octonauts but I was surprised at how possessive my 5 year old (almost 6 years old) became of the Octopod – the Octonauts base station. The boys literally sat on my dining room table and played for hours.
As you can see they both had plenty of toys to play separately, but they also spent a large amount of the time team-playing together and swapping pieces around. The Octopod was SUPER easy to set up – I just pulled it out of the box and snapped on the two pods on the side. That was really about it.
I was grateful that there weren't a zillion pieces to put together and that it didn't take an hour just to open the packaging!
And although the OctoPod looks pretty big it lays fairly flat up against a wall to store. It stands up tall, it's very durable, and my kids stuffed all of their figurines into the pod for storage. All of the figurines are great – there were plenty of characters for my kids to play with, pass around and again they are very sturdy. My favorite? The Captain's "bubble pod" that fits around his head!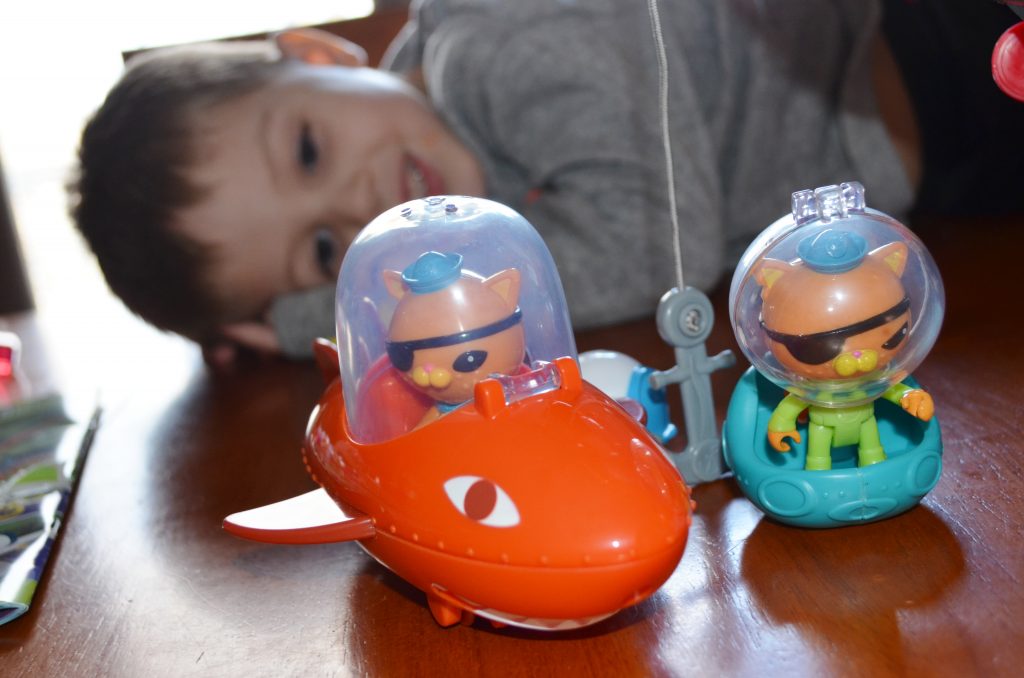 Both of these are bath toys which we used both "on land and in the ocean"! The shark GUP-B mission vehicle on the left there actually opens his mouth up as well! Behind it you can see an anchor hanging off of one of the Octopods.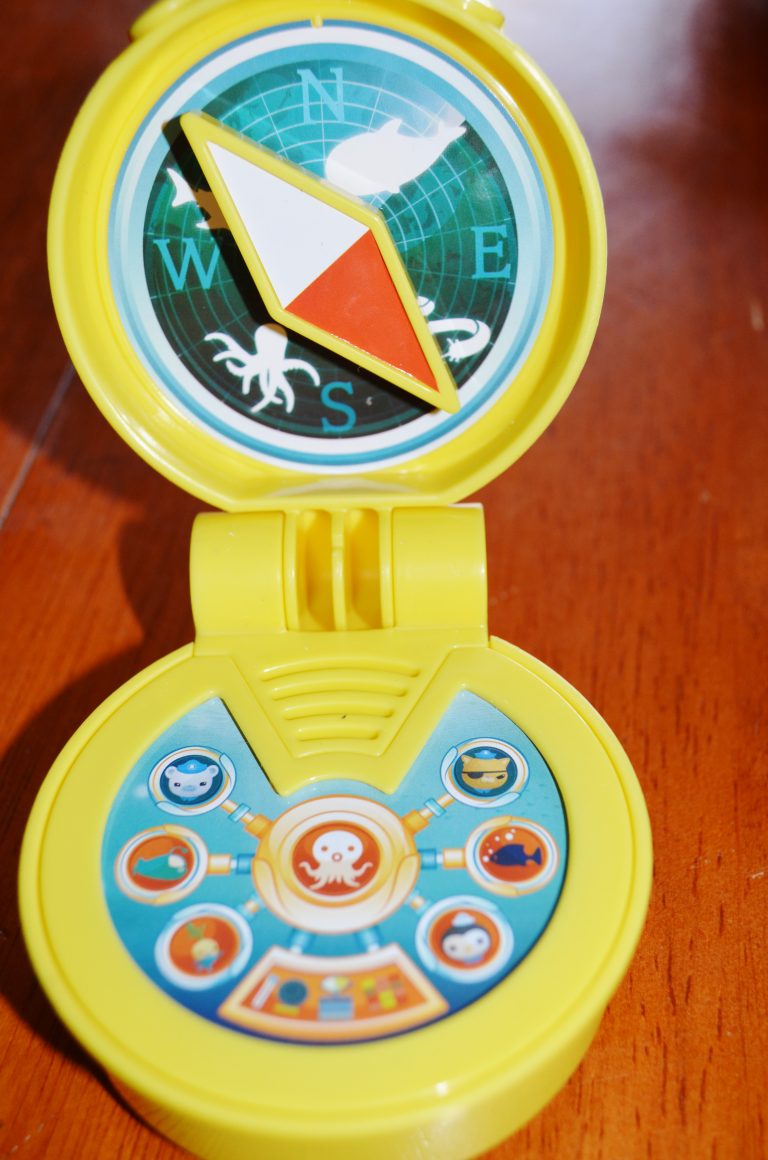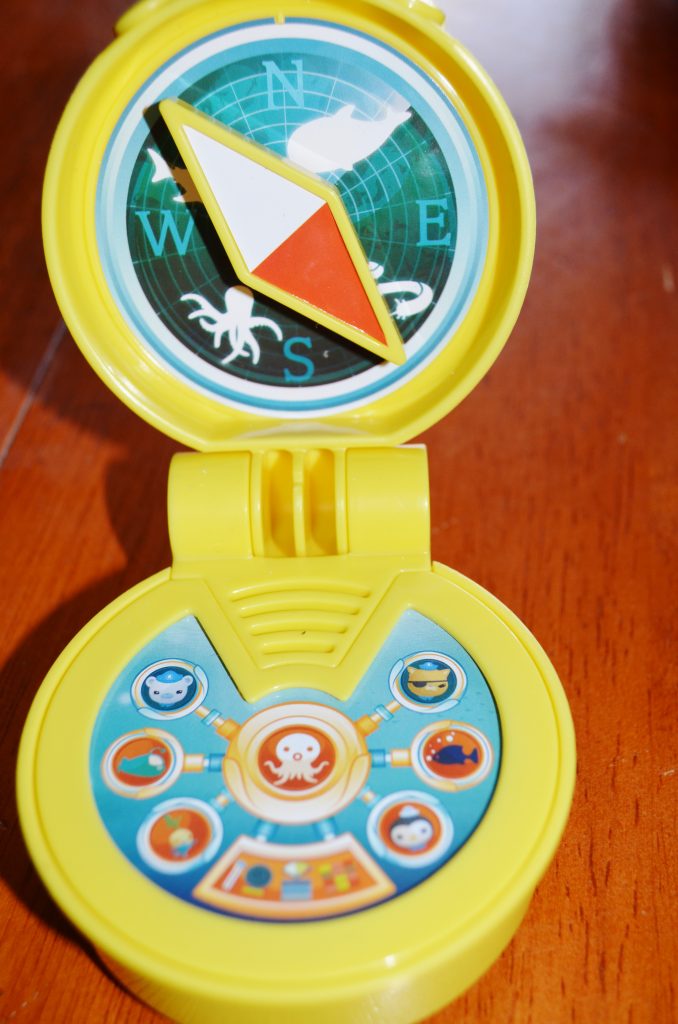 We also received the Octo-Compass which is a fun electronic toy – it's large so it's easy for kids of all development to grasp. My kids were running around the house with this Octo-Compass alerting their character friends about the shark lurking around the Octopod! It really just enhanced my kids imagination and creativity as they were playing together.
My 5 year old (turning 6 in 1 week) LOVED the OctoPod. He guarded that thing with his life. I think for him he appreciated and enjoyed the different levels to play on as well as the extended pods and the hanging swings and anchors off each pods.
My 3 year old LOVED the Gup-B Mission Vehicle – he doesn't put it down often. ALL night when we first received these toys he was a shark. In the set is a shark that says it's supposed to change colors but we didn't notice it changing. It also includes rescue tools like ropes and nets that you can attach to the characters arms which I thought for sure would just be "one of those toys we don't use" but surprisingly I actually found my 3 year old actually snapping the pieces around to use and play with.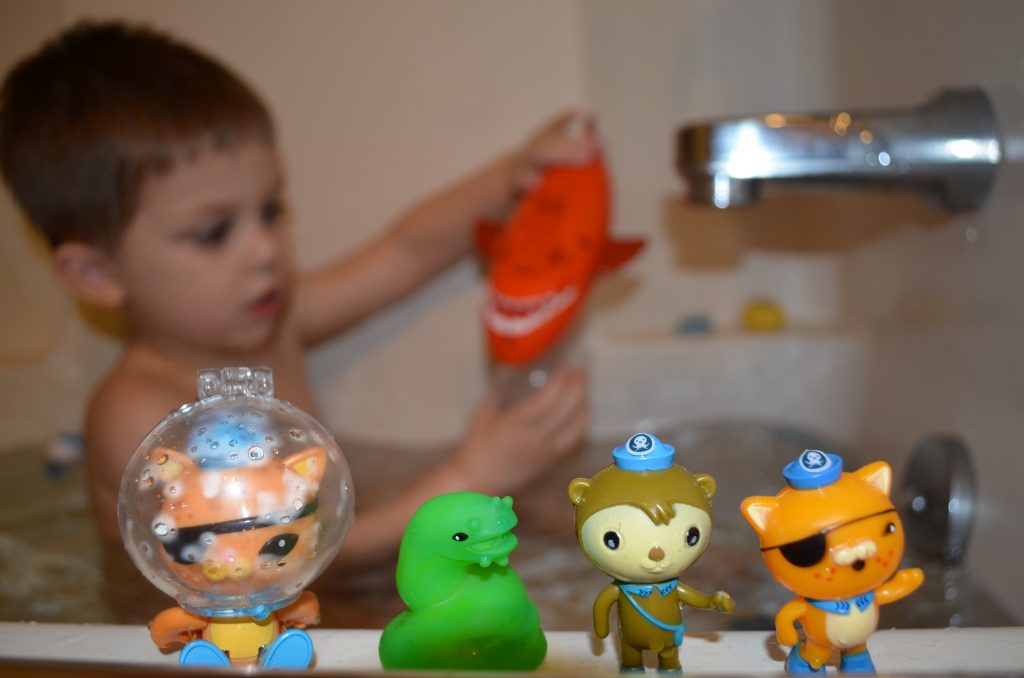 Once my youngest got over the "awe" of all the new Octonauts toys at the table to play with he quickly grabbed all of his bath toys and headed off to splash in the water. I was especially excited about these bath toys because I have been looking since last Christmas for good bath toys my son would play with. Not those sets full of foam pieces to stick on the wall that just sit in a net and don't get used.
We have boats, plenty of boats. I wanted something that would really engage my son to interact and play with while he was in the tub. I didn't care how much it cost – I've been looking for a while. It's one of the 2 things my son really enjoys. The Octonauts Gup-B Mission Vehicle and Rescue Assortment was PERFECT.
Not only did my son get to play with his favorite characters he was truly obsessed with the shark. It's high quality and didn't have pieces falling off every time my son smacked it up against the wall.
Overall – LOVE the new Fisher Price Octonauts toys! Every single set we received to use is one that I would have bought for my own children (or as a gift). PLUS I found FREE Octonauts Coloring & Activity sheets to print! You can buy the Fisher Price Octonauts toys on Amazon, Toys R Us, Walmart, Target, Kmart, Kohl's, and eToys.
Disclosure: I received the above products to use in order to form my own opinions. All opinions are my own.