Halloween Spider Popcorn Ball Treat for Parties
This post may contain affiliate links, view our disclosure policy for details.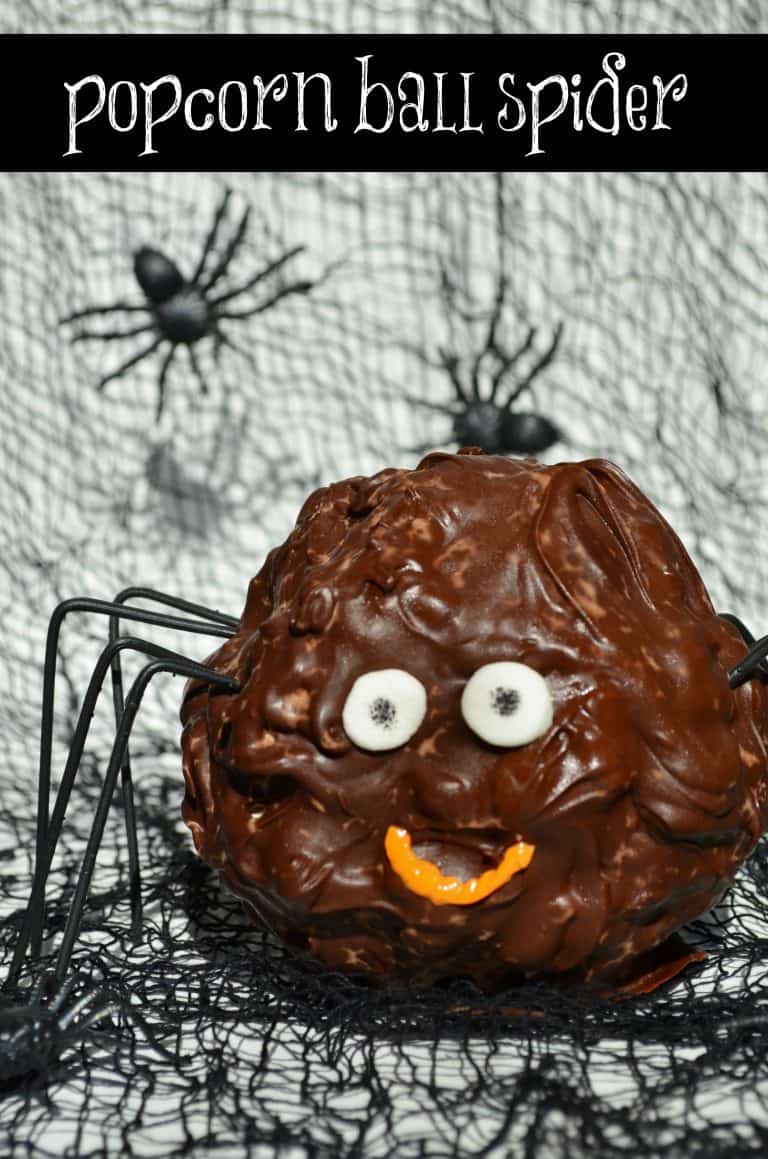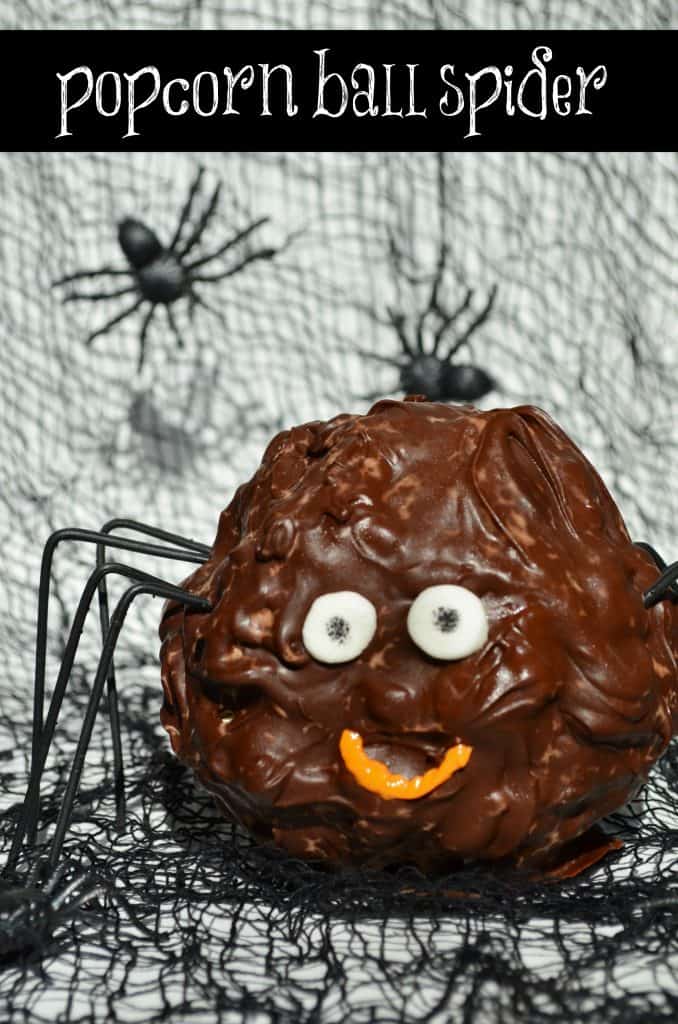 Oh my word this was SUCH a blast to make – even the kids joined in on helping (and eating!) it.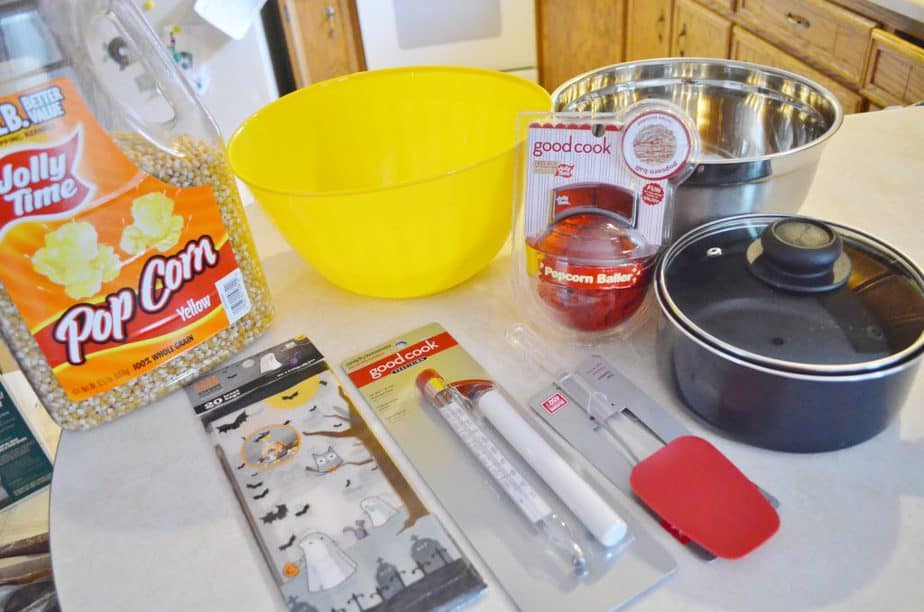 From start to finish these are the ingredients & materials that I needed for my Halloween Spider Popcorn Ball treat.
Popcorn Ball Ingredients 
Popcorn Kernels
Light Corn Syrup
Sugar
Vanilla Extract
Chocolate Chips
Marshmallows (for eyes)
Black food pen (for eyes)
Orange Frosting (for mouth)
Black fake flowers (for legs)
Non-Food Ingredients
Small Pot
Mixing Bowl
Jolly Time Popcorn Baller
Candy Thermometer
Aluminum Foil
Treat Bags (if giving as gifts)
Decoration (black fishnet and spiders from Dollar Tree)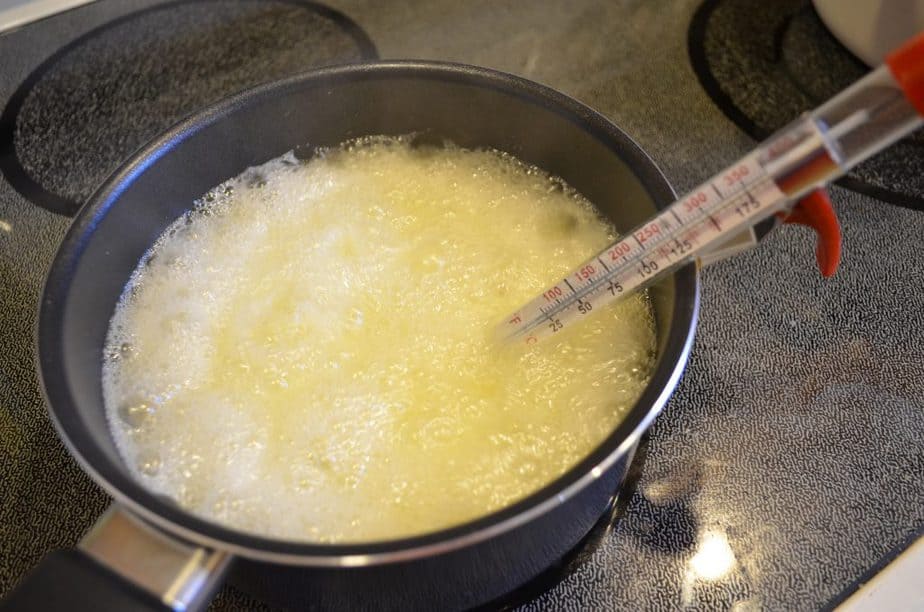 I used the recipe off the back of the Jolly Time popcorn container to get my popcorn balls to stick together. In a pot over medium heat just mix together 1 cup sugar, 1/3 c. corn syrup, 1/3 cup water, 1/4 cup butter, and 1/2 tsp. salt. Stir constantly until it comes to a boil, then continue to 270* F without stirring. Then remove it from heat and add 1 tsp vanilla. Stir and then slowly pour over 8 cups of popped popcorn. Mix well.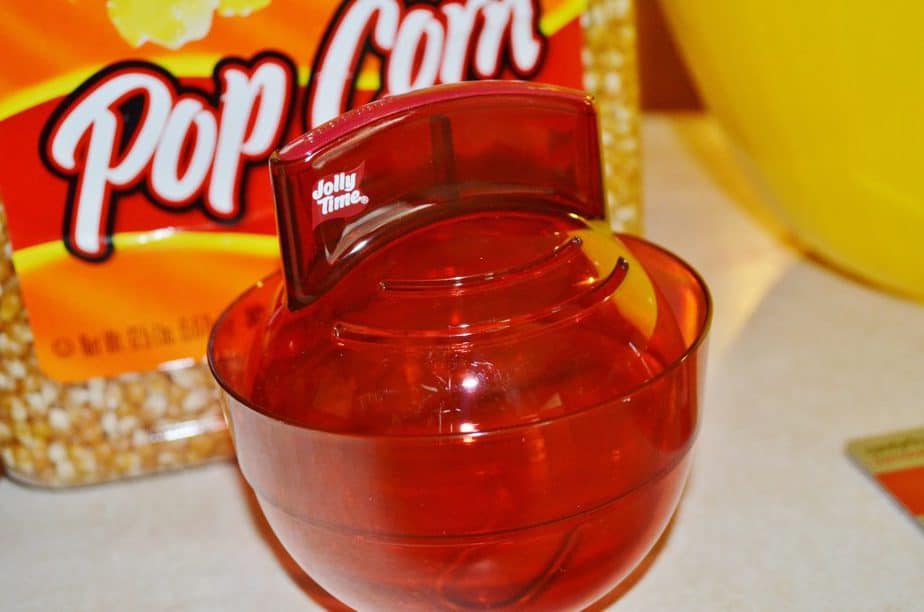 You can use your hands to make a popcorn ball but personally I LOVE this Jolly Time Popcorn Baller because it makes nice perfectly round balls and I don't have to get my hands messy! (I use my spatula to spoon all of the popcorn mix into the baller.)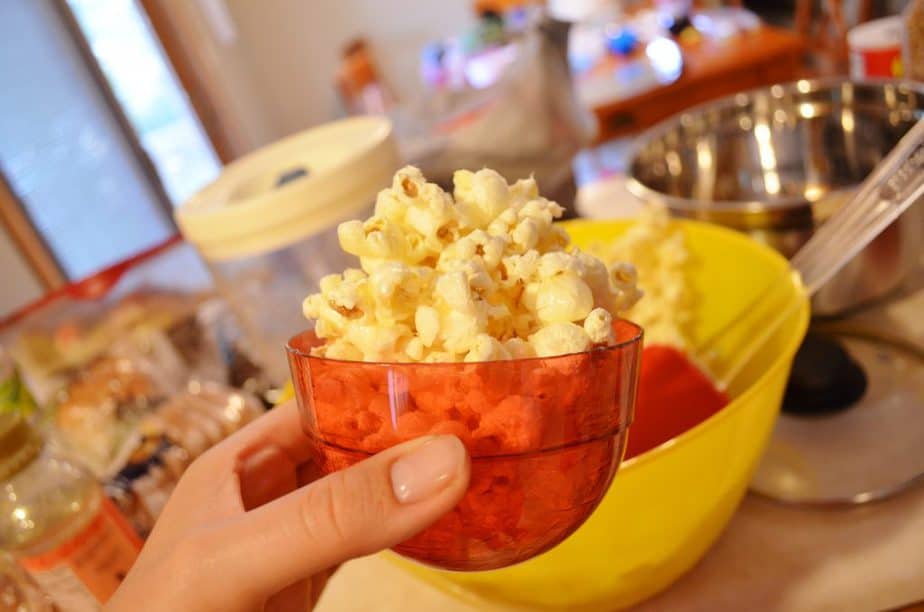 Just like this! Fill it up about as high as the baller is and then smoosh the lid on.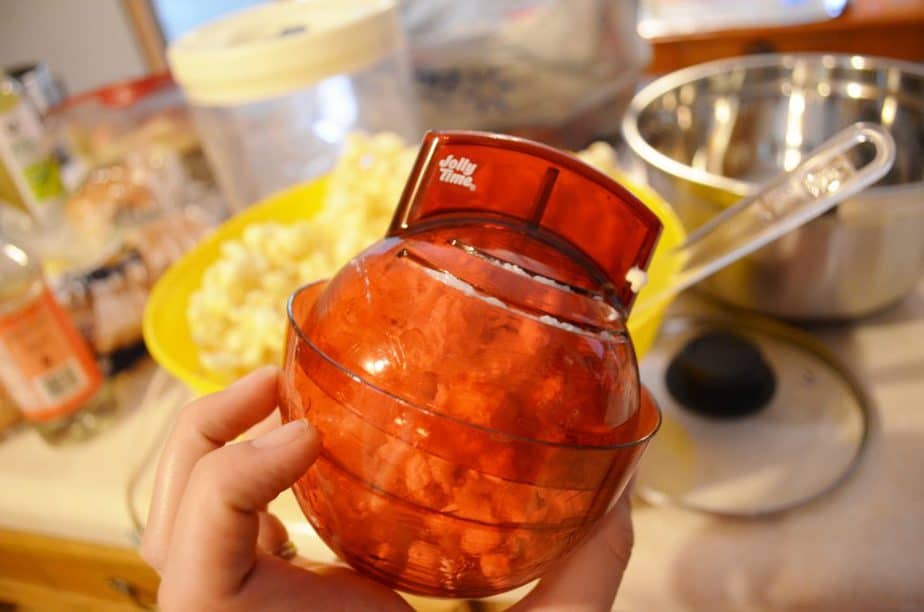 Not only does it press down to just the right amount but on the bottom of the baller is a "button" that you can press and make the popcorn ball slide right out!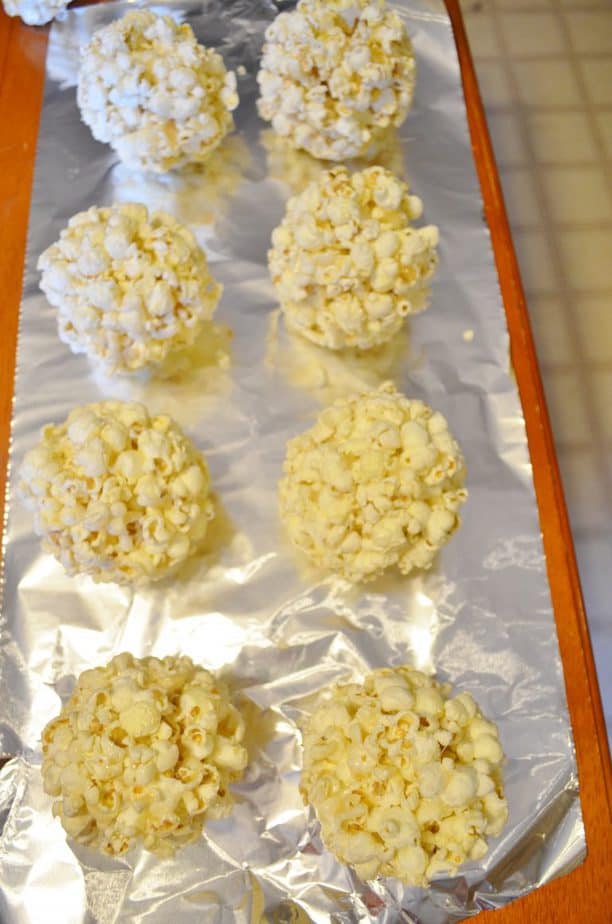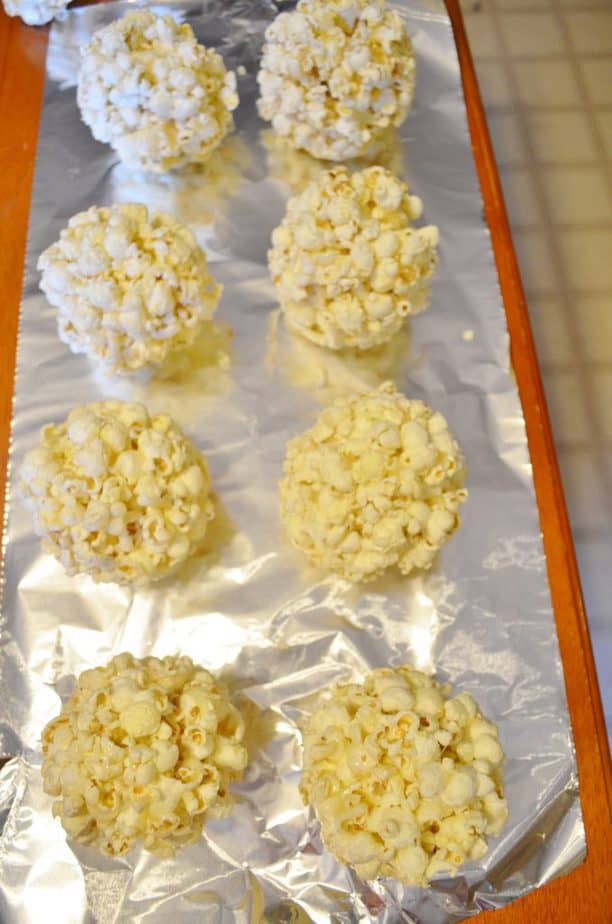 Don't they look great!! There are SO many things you can do with these! Mix in everything from cookies, candy corn, pretzels, granola, or whatever else makes you happy!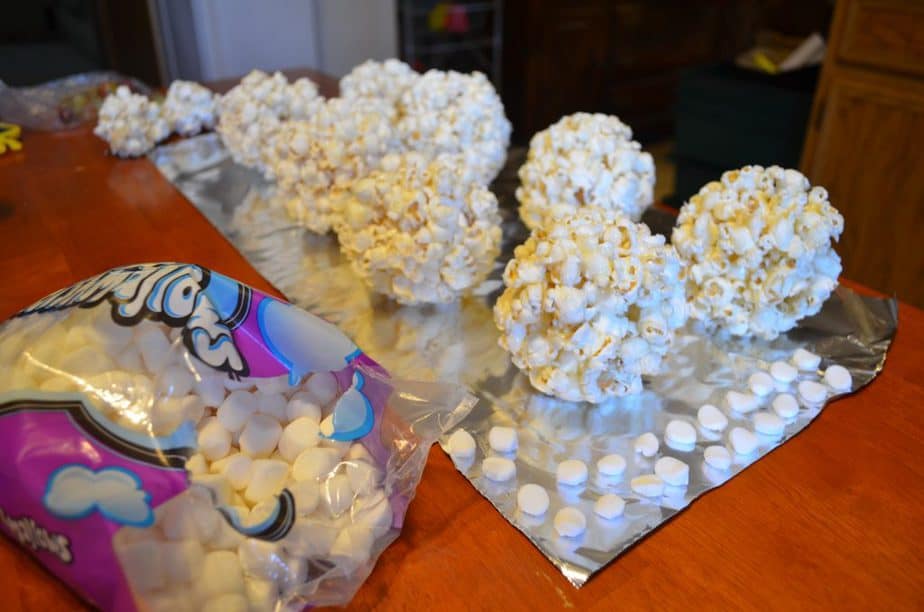 Now, for our spider we needed some eyes so I cut the tips off of the small marshmallows and placed them on the aluminum foil where the popcorn ball treats were drying. You can also use your black food pen to color a black dot in the middle of the "eyes" at this time.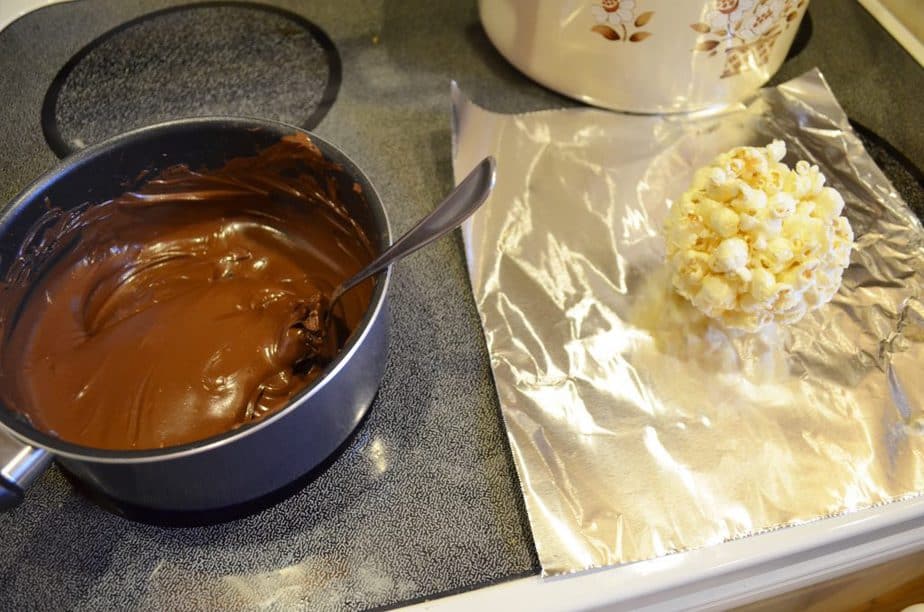 Then I melted my chocolate chips and begun the yummy creation!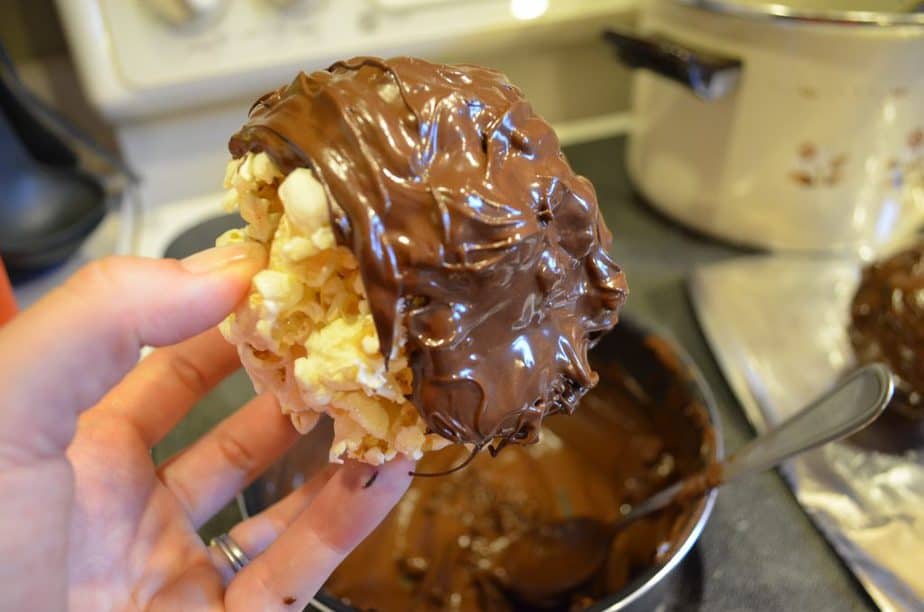 I am not gourmet baker so my spider is not perfectly smooth in any way! I just slapped that melted chocolate onto the popcorn ball and made sure that all of the popcorn was completely covered. It took quite a bit more chocolate than I was expecting (almost 12 ounces for one popcorn ball!) since the popcorn ball is nice and large.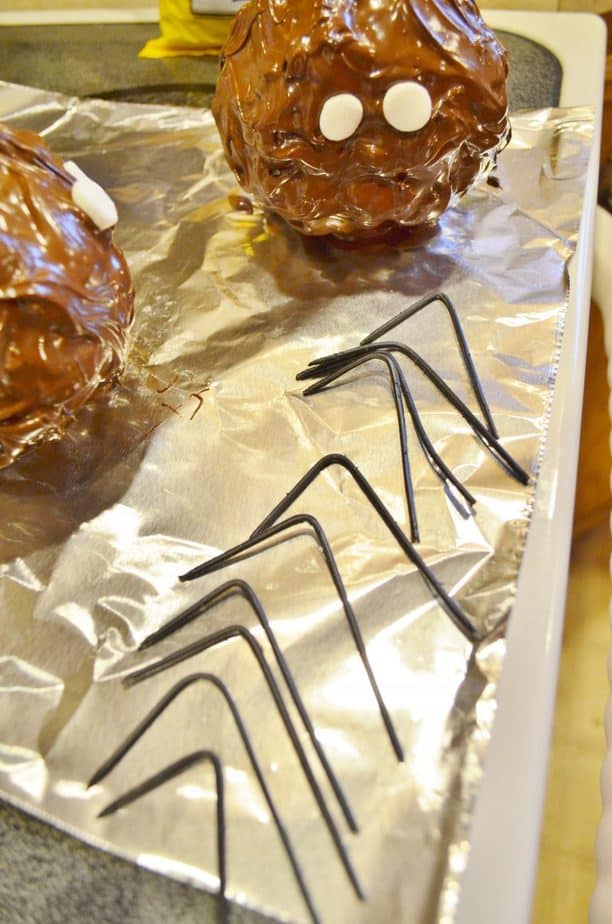 After I covered the popcorn ball in chocolate, while it was still soft I pressed on the marshmallow eyes. I had purchased black rose flowers from the Dollar Tree because the wire/plastic stems were black. I cut them into pieces and bent them as shown above to form the legs. These also need to be inserted before the chocolate dries! It was really pretty easy to do.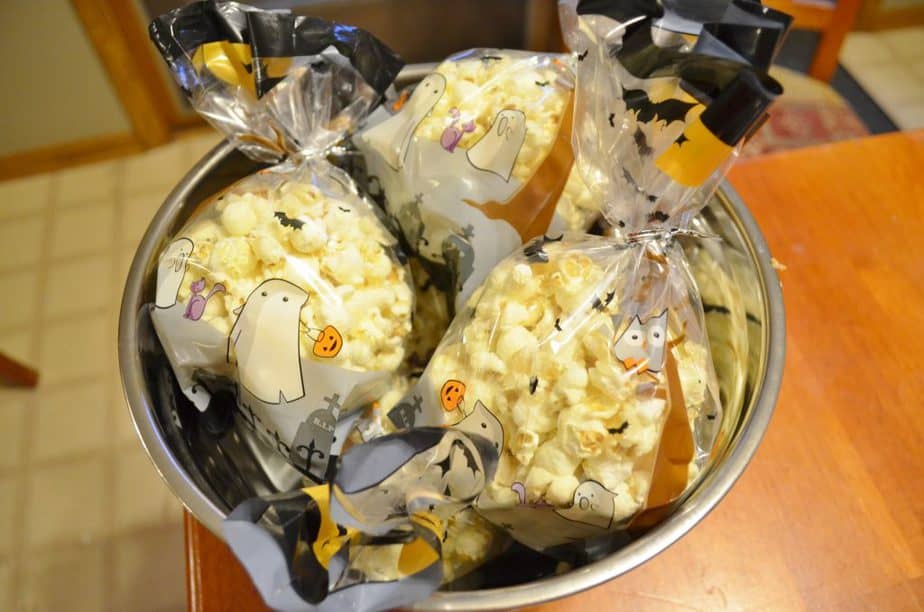 I also made a bunch of plain popcorn balls for our teachers at school and wrapped those in little treat bags while I was waiting for my spider to cool and harden!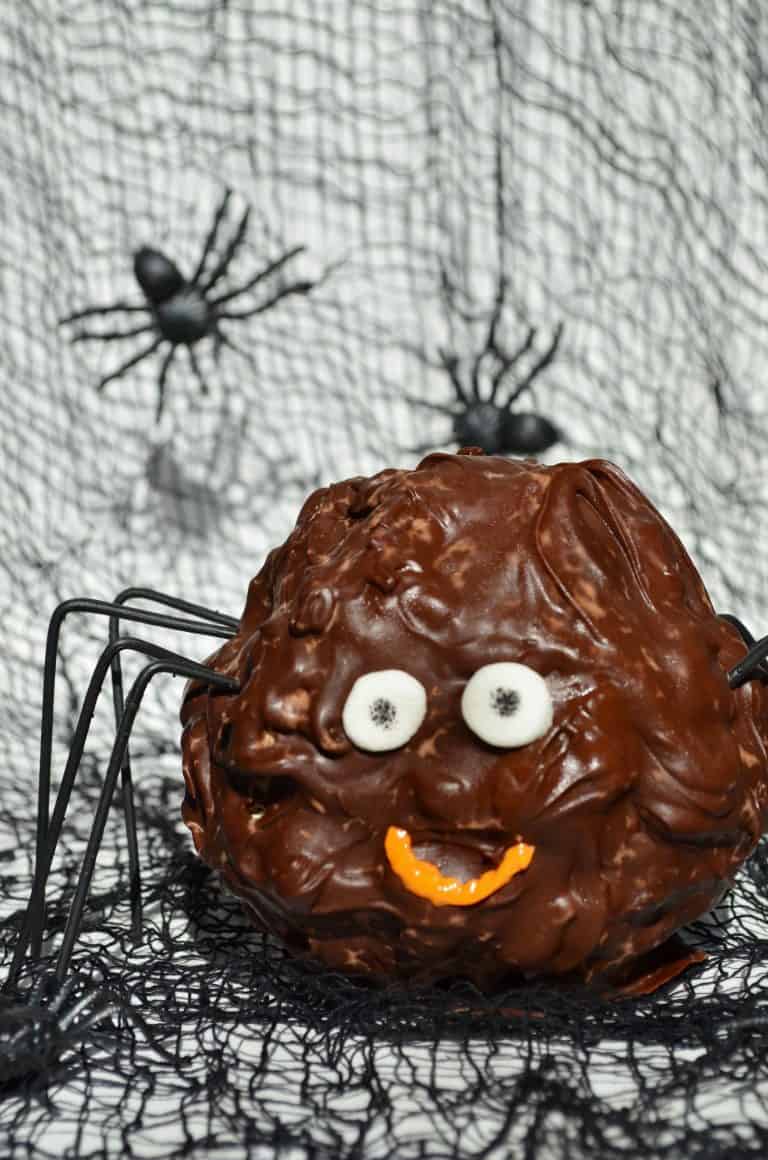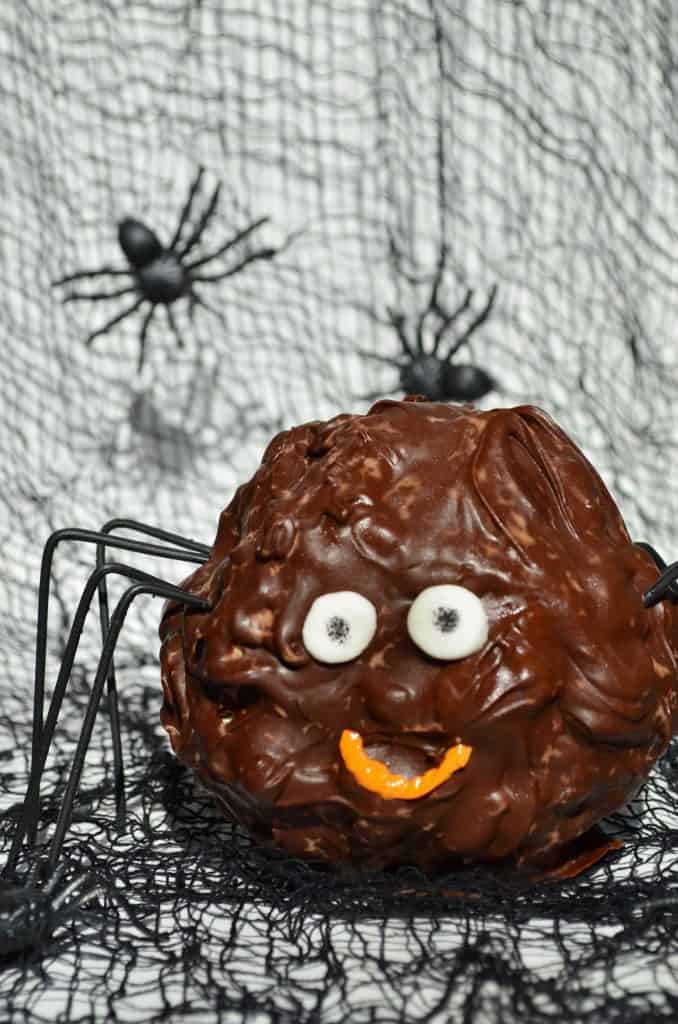 Ta-da!! One very delicious friendly spider popcorn ball! We had plenty to share with my entire family once we finally decided to eat him! You can place him on a platter during a party for decoration, wrap him up as a gift, or just use him for decoration! I bought this cheap black netting at the Dollar Tree to use as a backdrop – it would look great in a platter with your spider popcorn ball! Check out some of these other awesome Popcorn Ball creations!
Disclosure: I was not compensated for this post. I received some bakeware in order to create this project. All opinions are my own.