25 Good Kid-Friendly Podcasts for Kids to Learn Something From
This post may contain affiliate links, view our disclosure policy for details.
Feel like you spend your life in the car pick up line? Heading on a family road trip? Need a 15 minute filler in the classroom? These 25 good kid-friendly podcasts are not only educational but enjoyable for everyone in the car to listen too!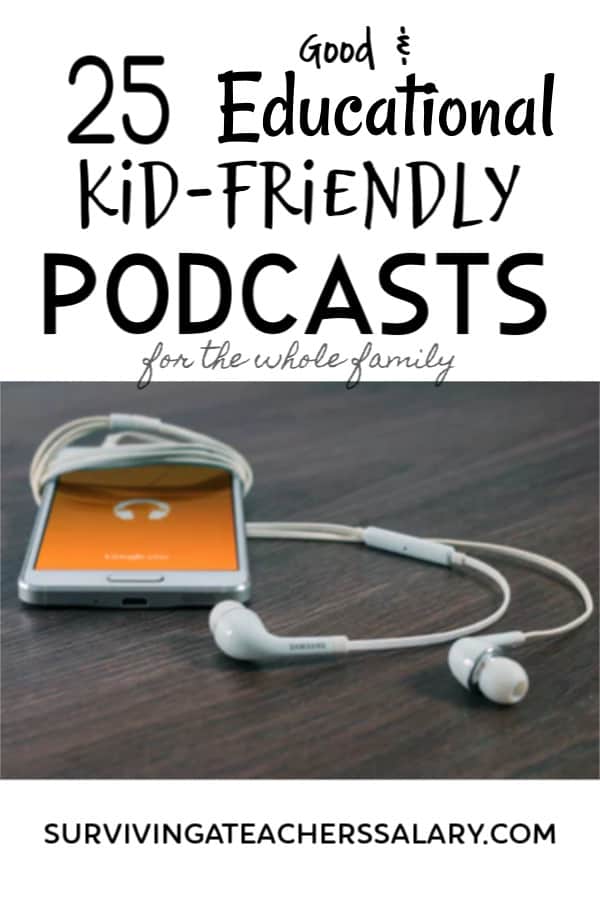 Listening to podcasts in the car are a great way to get your kids off of tablets and TVs and listening with their ears and imaginations instead. Who knows – maybe they will learn something new! A special thanks to The Zebra for providing the list and graphic below.
12 Good Kid-Friendly Podcasts:
1.Little Stories for Tiny People
Great for both bedtime and in the car line, your youngest ones will enjoy these original kids' stories and poems!
2. Ear Snacks
This podcast by Andrew & Polly is suited for younger children. Listen to episodes like How to Talk Like a Pirate!, What's a Muppet?, Toenails!, and more!
This funny podcast is written by kids into a comedy and musical theater genre. Listen to the Evil Cockroad Nation, George's Cheese, Dreaming Sheep, and other silly tunes!
What if up was down? What if a tiny dragon lived in my closet? What if there were a never-ending bowl of ice cream? Join Abacus, Randall and Whendiana as Mr. Eric tells wacky stories inspired by your questions!
5. Brains On!
This science podcast is great for curious kids AND adults and is co-hosted each week by both kid scientists and reporters from public radio! Follow the trail and learn about what's under a microscope, soil, gross things, salty snacks and more!
This podcast is great for kids and adults as they hear the coolest new stories in science and technology and explore the world around them. Find episodes about exploding ants, a dog's nose, 3D printing, dinosaurs with dandruff and more!
7. Dream Big
This podcast is great for the whole family! Your 4th grade host and her mom interview world class performers and inspire kids and adults to pursue their passions and take action on their dreams!
8. But Why
A kid led podcast for other kids curious about our interesting world? They dive into things like cancer, farts, why milk is white, why tape is sticky, etc.
Finally! A good history podcast for kids! This kid-friendly podcast discovers funny foods, early advancements in things like cartooning and ballooning, spies, hot dogs, and so much more!
10. The Alien Adventures of Finn Caspian
This science fiction adventure features 8 year old Finn Caspian aboard The Famous Marlowe 280 Interplanetary Exploratory Space Station. Imagine Scooby Doo in space!
Older elementary age through tweens will love the Book Club for Kids podcast! From popular books like A Wrinkle in Time
to lesser known books like Ribblestrop
and Hoodoo, kids will discover a new love for reading here!
12. The Unexplainable Disappearance of Mars Patel
This podcast, best suited for middle schoolers, is performed by kids for kids! A mixup of styles from Goonies to Stranger Things, listen as Mars Patel and his buddies set out on an adventure to find their missing friends.
Even MORE Educational Podcasts for Kids:
Stuff You Should Know (may not be appropriate for all kids)
Tumble (science discovery)
The Official Adventures in Odyssey Podcast (faith based)
Kids Like You and Me (inclusion/acceptance)
The Radio Adventures of Dr. Floyd
Do you listen to any other podcasts that are family friendly? I'd love to check them out and add them to our list! Leave a comment below so we can learn about it!