GIVEAWAY: Rubbermaid 2 in 1 Recycler
This post may contain affiliate links, view our disclosure policy for details.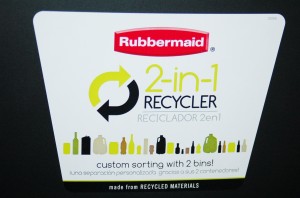 What better to go along with your simple spring cleaning tips than this Rubbermaid 2 in 1 Recycler? It will definitely help you to recycle easily and use less trash bags! 🙂 For our family we had no good way to keep our recycling bins close enough to the kitchen to use them. As a mom of two energetic boys and a busy blogger I didn't have time to run out the front door to the other end of the house every time I had a bottle or box to recycle so it just ended up in our trash can. I was thrilled to learn about Rubbermaid's 2 in 1 Recycler because it was the same size as our current trash can (13 gallon) but had two separate compartments – one for trash and one for recycling items.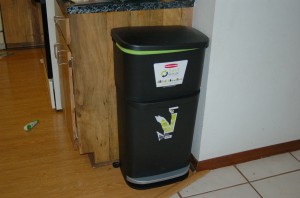 The first thing I noticed about it was how skinny it was. Our current trash can is a big fat round one and not only takes up a lot of space but my kids are always dropping junk behind the can since it doesn't sit against the wall well. Rubbermaid's 2 in 1 Recycler sit against the corner of some "dead space" in my kitchen which was really great and handy. Plus it's a nice attractive and simple can.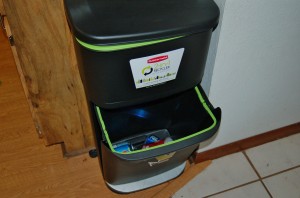 Here you can see that there are two compartments. The silver "bar" at the bottom of the can is where you step with your foot and it pops out like this for your trash (it holds an 8 gallon trash bag). The green handle also holds down your trash bag. Honestly we used this bottom section as our trash section and the top for our recycling section but for our area we have to separate our recycling stuff into two separate categories so now we use this can for plastic & bottles on the bottom section and paper products on the top.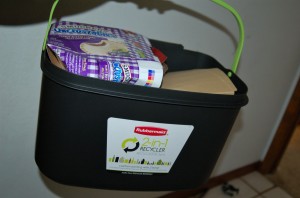 The top lid easily comes off and both the top and section have great carry handles! How cool is this? It's the absolute perfect size for our family of four to use the entire can as a recycler even though it's made for trash in the bottom. We have to empty our trash bin a LOT less than we used to now plus we're actually recycling a ton which is great because we're saving money on trash bags and helping out the environment!
Rubbermaid has offered one of my readers to win their own 2 in 1 Recycler! This is open to the USA AND Canada!!
 Disclosure: I was not compensated for this review. I received the above product in order to form my own opinions. All opinions are my own. Giveaway is open to US & Canada and will end at 12:01 est am on April 11, 2012. Winner will have 48 hours to claim prize.