How to Get FREE Grocery Shopping Delivery from Hy-Vee Aisles Online
This post may contain affiliate links, view our disclosure policy for details.
When our local Iowa Hy-Vee began participating in the Hy–Vee Aisles Online FREE Grocery DELIVERY program it became my GO TO store for grocery shopping! I actually found out about the Hy–Vee Aisles Online a few months ago from our neighbor down the road but I'll give you a quick overview of how it works!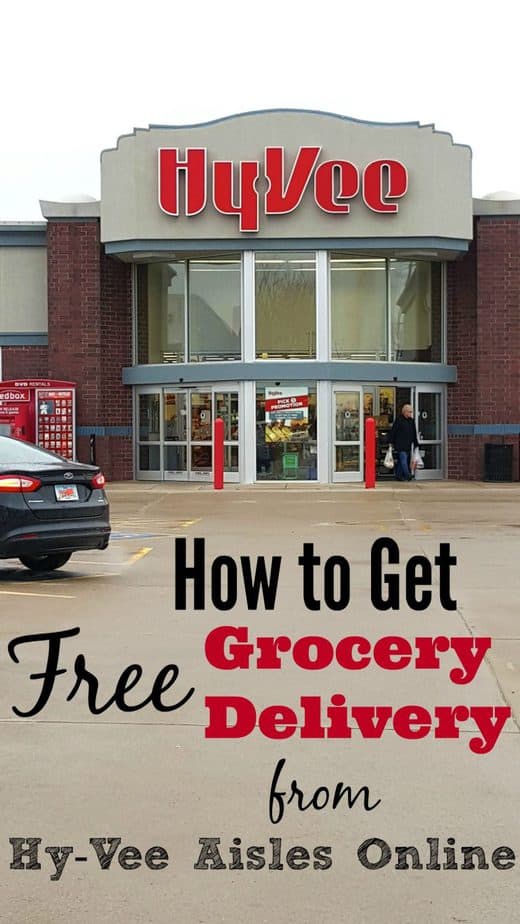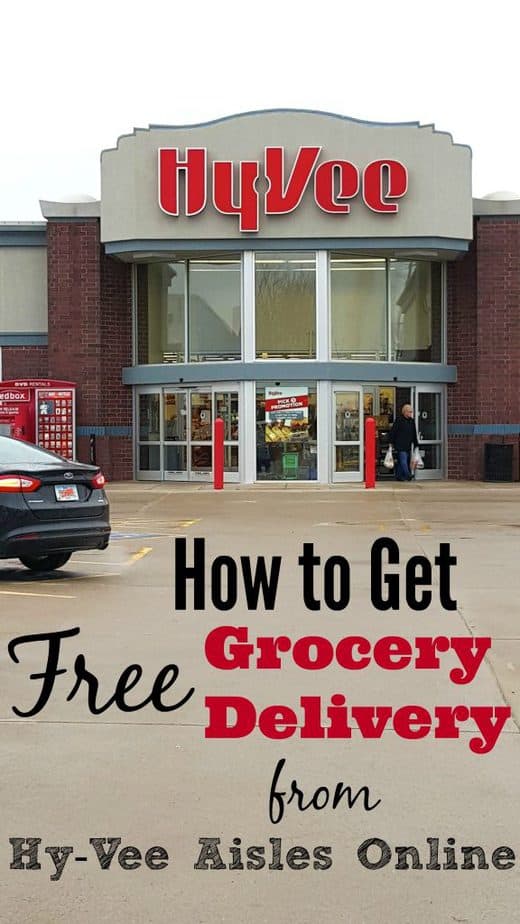 Several years ago when I moved to Iowa I had never heard of Hy-Vee but now it is my favorite grocery store! They sent me a gift card to try out their new Hy-Vee Aisles online grocery shopping option.
There are SO many things to love about Hy-Vee online shopping including their awesome Fuel Saver program where you can earn money off EVERY gallon of gas in one fill up depending on what you purchase at the grocery store!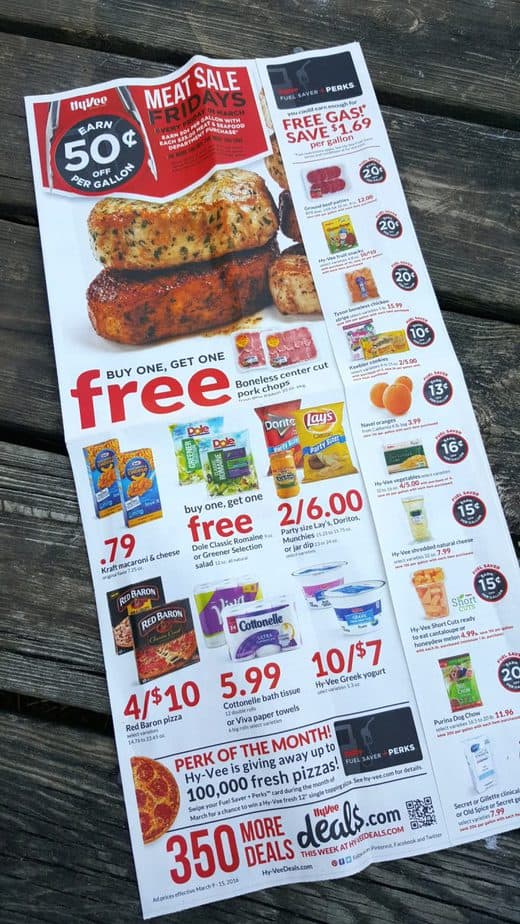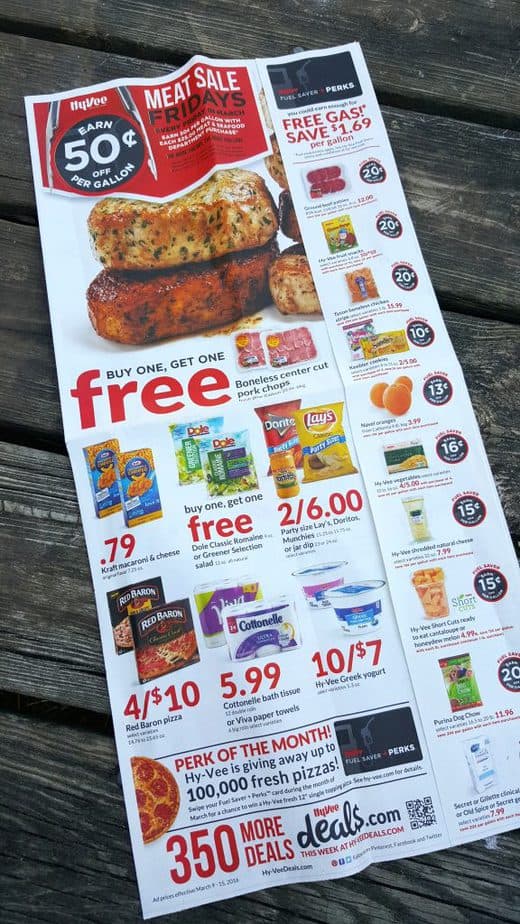 If you live near a Hy-Vee like I do chances are you get their weekly ad in the mail. I like to circle what we want on the ad but the entire sale ad is also in the Hy–Vee Aisles Online area where you can do your grocery shopping online. You can have your groceries delivered to your house for FREE within your Hy-Vee zip code with grocery orders over $100 (or $4.95 delivery for orders under $100 – still extremely reasonable!).
With my family of 5 spending $100 on groceries is pretty much always a given! If you want to just swing by the store you can also order your groceries in the Hy–Vee Aisles Online area, pull up to the front of your store in the designated lane, and they'll bring out the groceries you ordered and put them right in the car for you! (FREE with orders $100+ or $2.95 for orders under $100)
I truly never knew how much I needed this service until I started using it! We have used it after my major surgery near the holidays when I couldn't lift anything heavy or walk for long periods of time. We used it when my family came down with the horrible flu. I used it when my daughter came down with hand, foot, mouth disease and she was too sick (and contagious!) to take out for a while.
Those freezing cold winter days I didn't want to take my 12 month old daughter out on icy roads – yep, Hy-Vee was there for me! I can only imagine what a life saver this service is for those who are home bound or have special needs children and family members to care for.


I am pretty much addicted to ordering online now. Not only can I browse the food and household categories I can also search by brand name, type of item, and the sales ads are RIGHT THERE to order off of! And I can get it all done while my kids are sleeping at night!

Instead of dragging the kids all over the store I can just add the items in my online cart. Normally I go through each sale ad listed in the Hy–Vee Aisles Online area. Once I've gone through each add then I see what else was on my list that I needed to order and finish up. You can even buy fresh produce, bakery items, and meat! For the most part if it's in the store you can buy it online!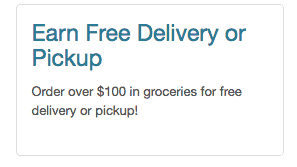 The Checkout Process with Hy-Vee Aisles Online:
When you place your order there is a space to add any additional instructions for your personal shopper. You also have the option to allow for substitutions if your store is out. Your quoted price will never be more – they will always substitute out for the same price or less or remove the cost from your total. Occasionally I will receive a call from the store asking if they can sub out a flavor for something different.
You can then choose in store pick up or delivery as well as the time frame you want your groceries in. You can usually get them within a few hours or at the latest the next day depending on when you order. Just an FYI and bit of advice – you will need to purchase your groceries with a credit card online. As of right now you cannot use a gift card to purchase your groceries although I was told that option will hopefully be coming soon! ALSO – if you get stuck there is a LIVE CHAT feature which I found extremely helpful!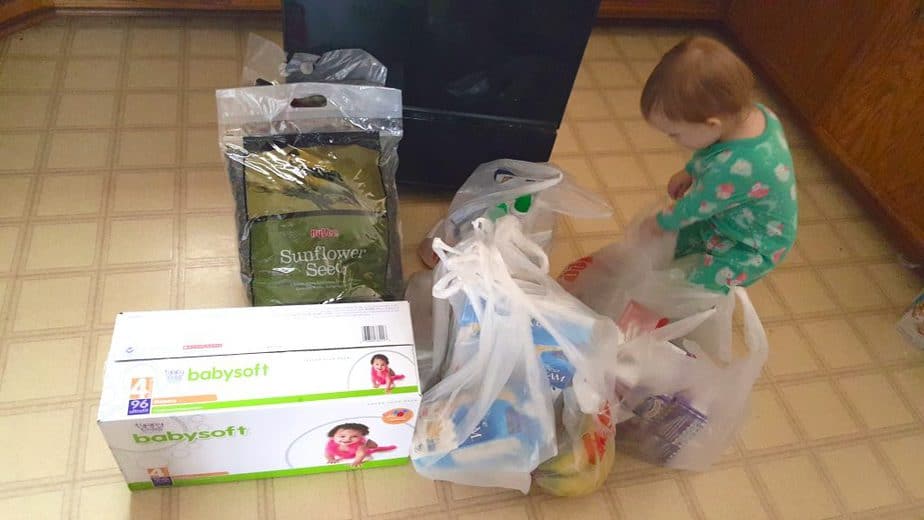 Our Experience with Hy-Vee Aisles Online:
Last week my daughter had some medical testing with specialists that were over an hour away and she was already sick on top of it. We were out of milk and almost out of diapers but the last thing I wanted to do after a long day at the hospital and doctors out of town was to drag her through the grocery store to pick up everything so I just used the Hy–Vee Aisles Online pick up service!
It made such a big difference in our day not dragging the errands out so I could get my sick daughter home sooner! I really didn't want to have to drag her through the store when she wasn't feeling well. I was even able to pick up the bird seed I needed for my feeders! When you choose the pick up service you can either just sit in your car and call the phone number on your store confirmation receipt or you can park your car in the pick up lane and walk into customer service.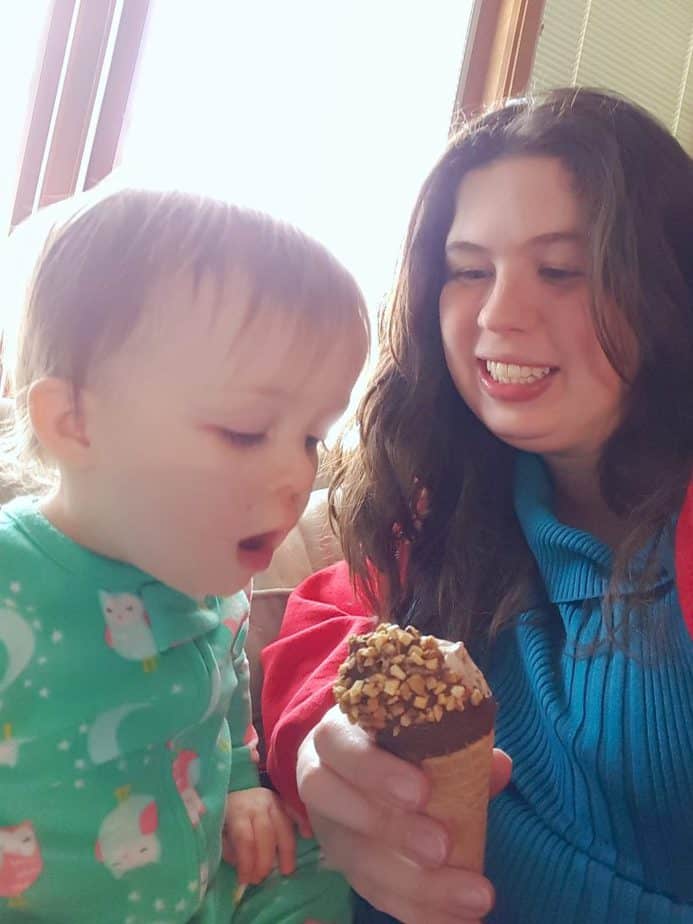 FYI – these Hy-Vee Sundae Cones are the BEST!
TIPS for Saving the Most Money on Grocery Shopping with 

Hy

–

Vee

Aisles Online:
*"CLIP" the Digital Coupons available in Online!
*Link up your Fuel Saver Card when you order!
*Shop off EVERY digital ad available online!
*Order groceries over $100 for FREE Delivery or pick up every time!