Flamingo Gardens Sandy Beach Sand Globe Craft
This post may contain affiliate links, view our disclosure policy for details.
All of our supplies below were sent to us from Oriental Trading! This is not a paid post.
Break out the beach sand and make your own flamingo gardens sand globe craft! I can hardly wait to dip my toes into the sand again here in the Midwest but for now I'm opting to craft fun beach sand globes instead to keep it festive here!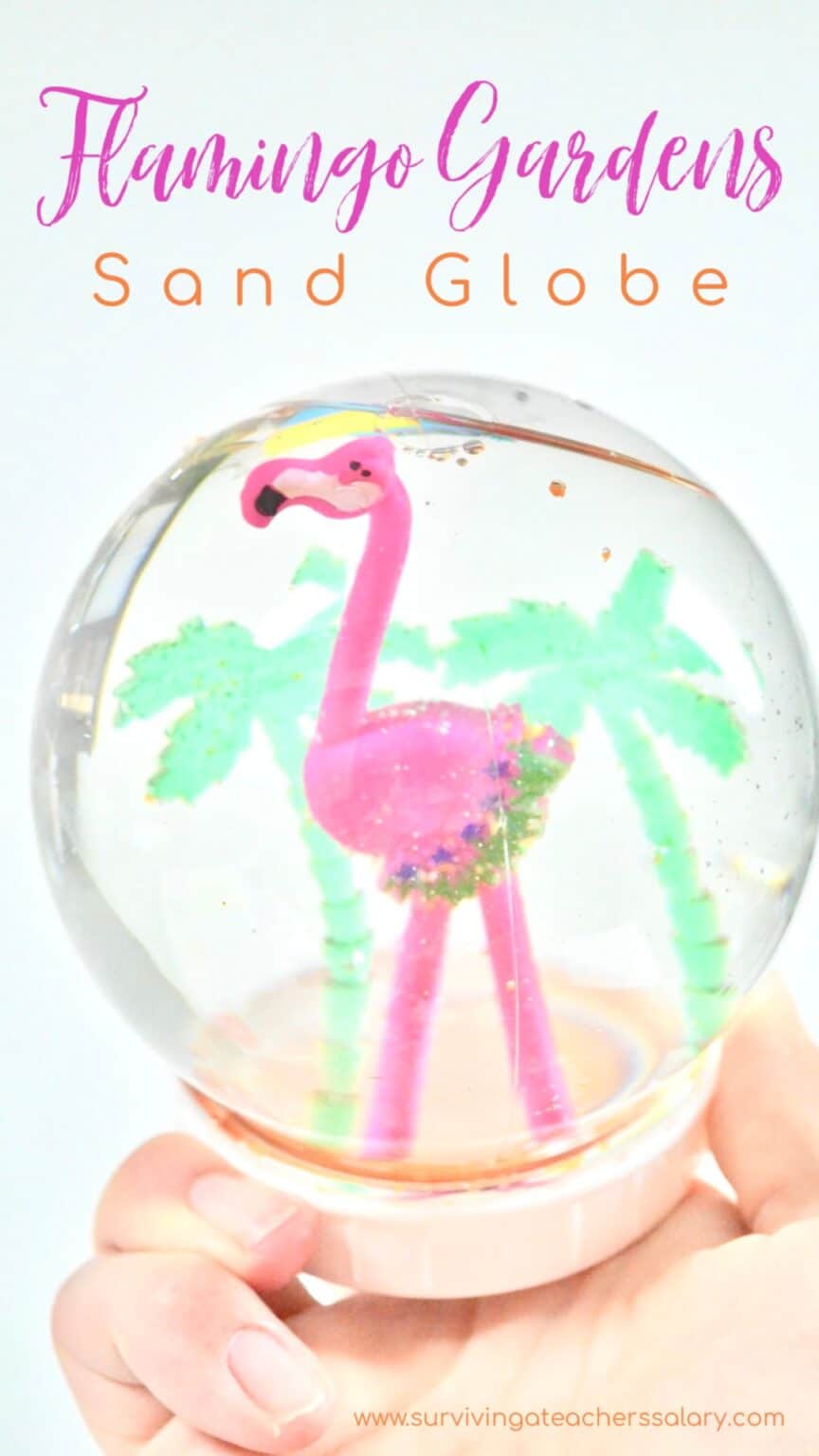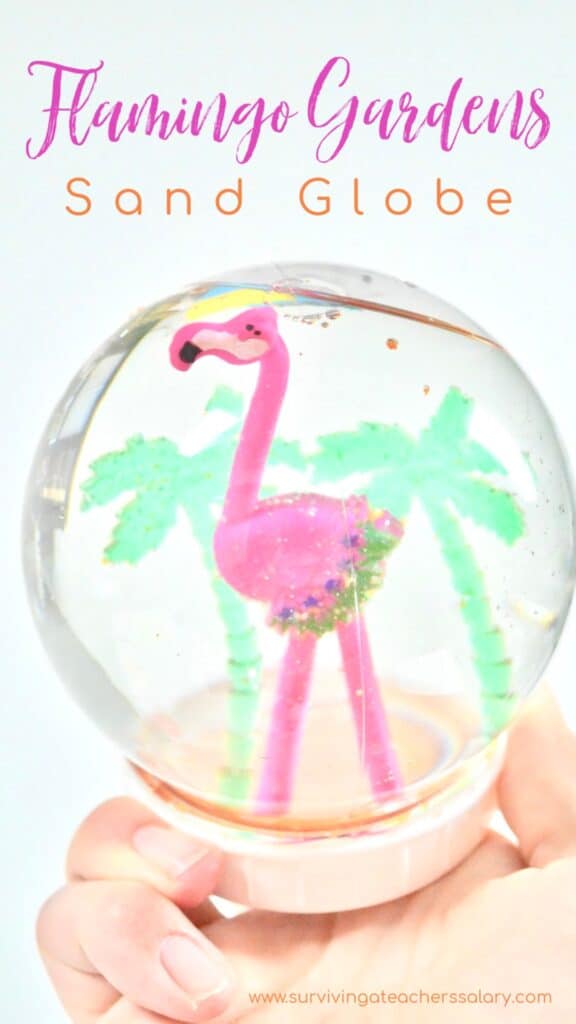 The fun thing about these beach sand globes are that you can use sand and water (or confetti or glitter!) or make it easy and just add some paper confetti inside! Either way it's plenty of fun to shake around! Oriental Trading has other awesome at home craft ideas to keep your kids busy!
Video Tutorial:
**Use promo code Squad20 to get free shipping on any purchase $49 or more or Oriental Trading!**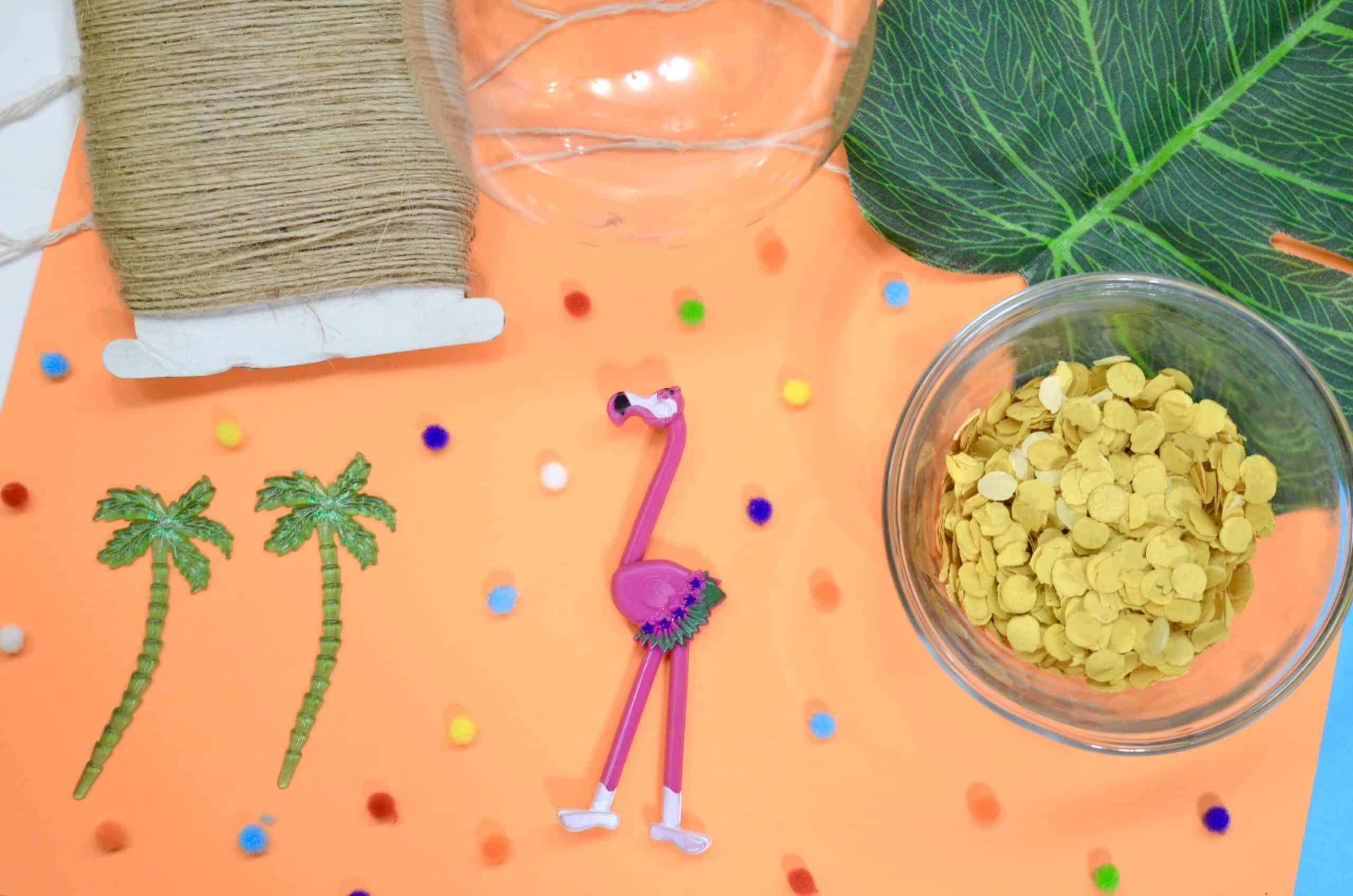 Materials Needed:
globe, mason jar, or other container with lid

hot glue

twine (optional)

sea shells (optional)

sand or paper or confetti
If you order the bendable flamingos from Oriental Trading like I did they are very tall so I recommend bending their legs down a bit otherwise your flamingo will be in the air bubble in your water globe! So make sure you add water to the very tip of the globe and/or bend your flamingo down a bit!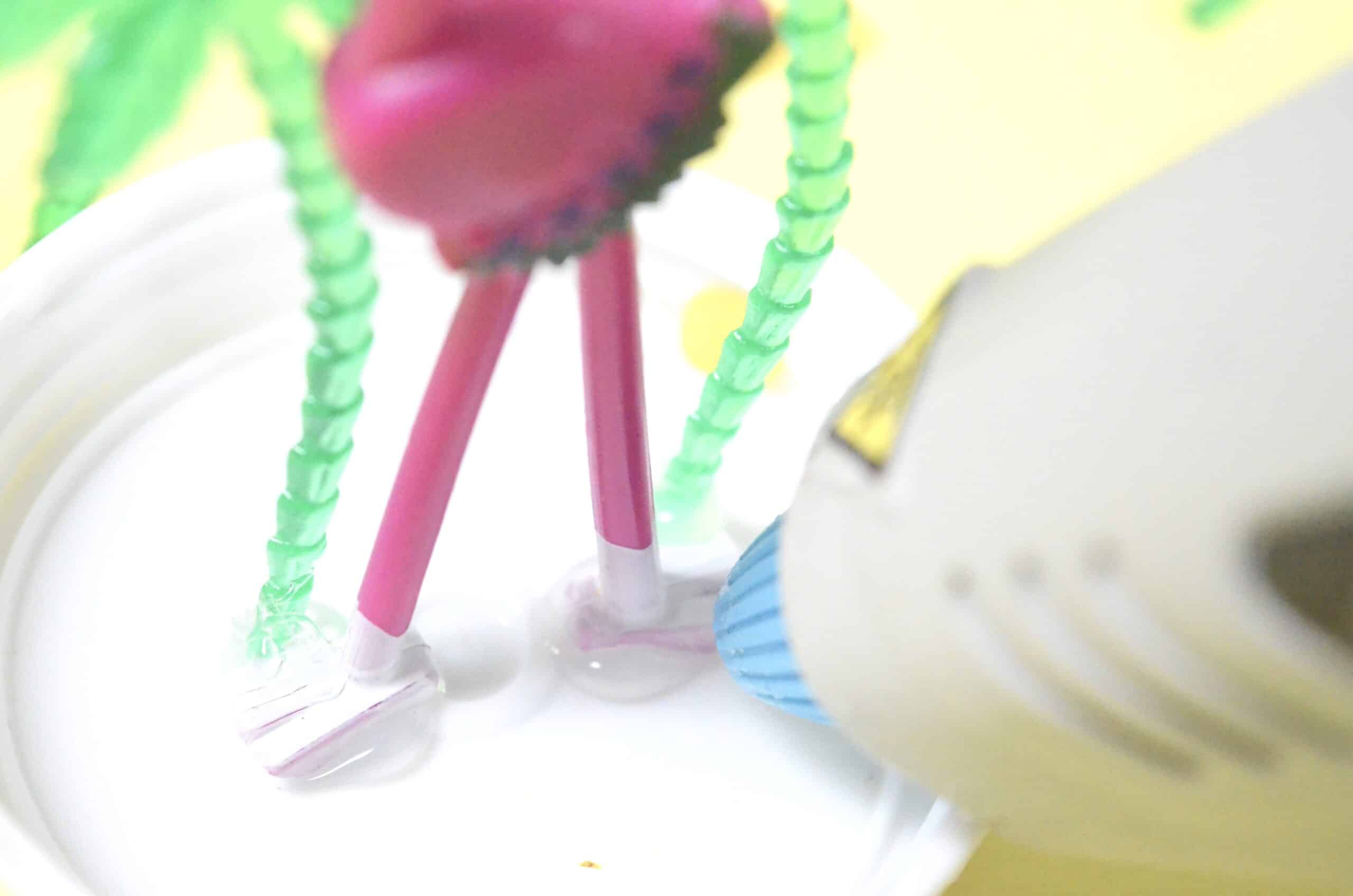 Glue down your flamingo and palm trees to the inside lid of your globe. We ordered tropical palm tree picks like you stick in cubes of cheese or sandwiches! Just remember that your objects will need to fit inside the globe when you screw the lid on!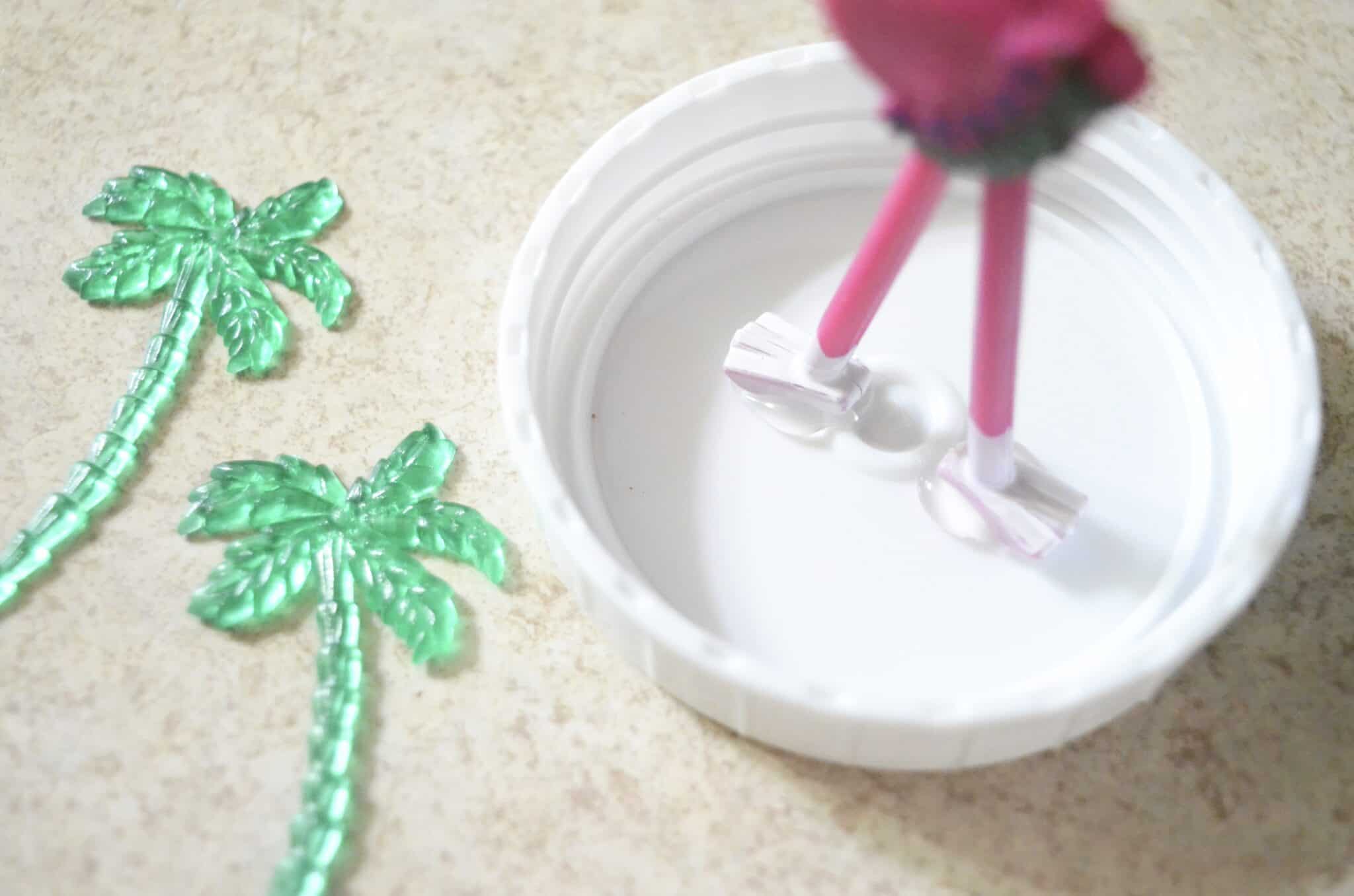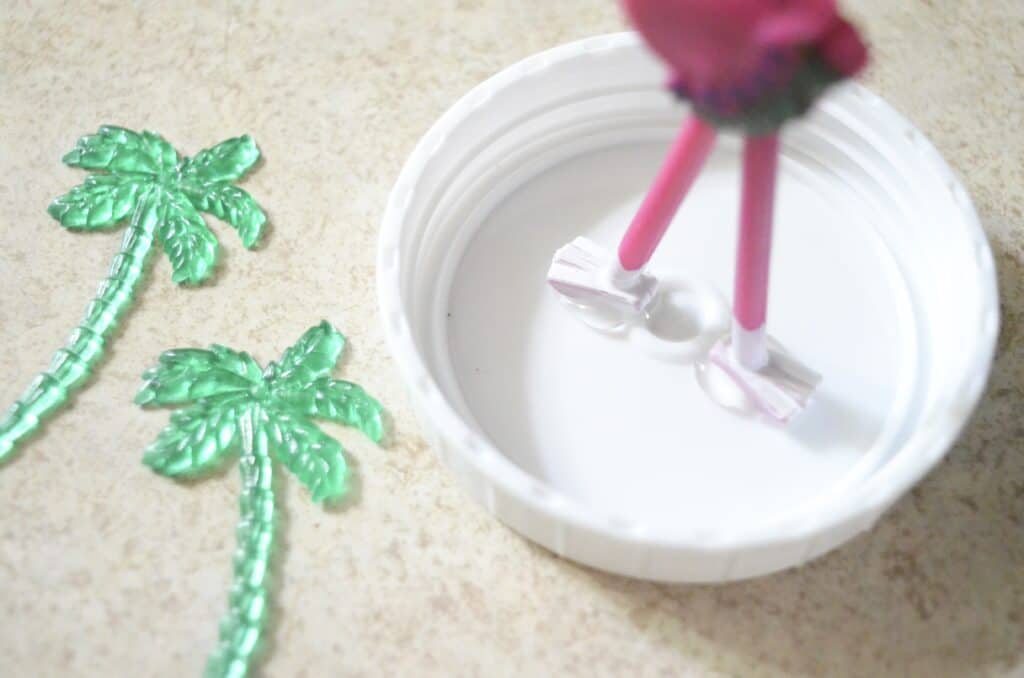 A note about using hot glue: Hot glue doesn't always last long inside a water globe with kids shaking it so you may want to use aquarium sealant if you don't want to have to fix your sand globe later.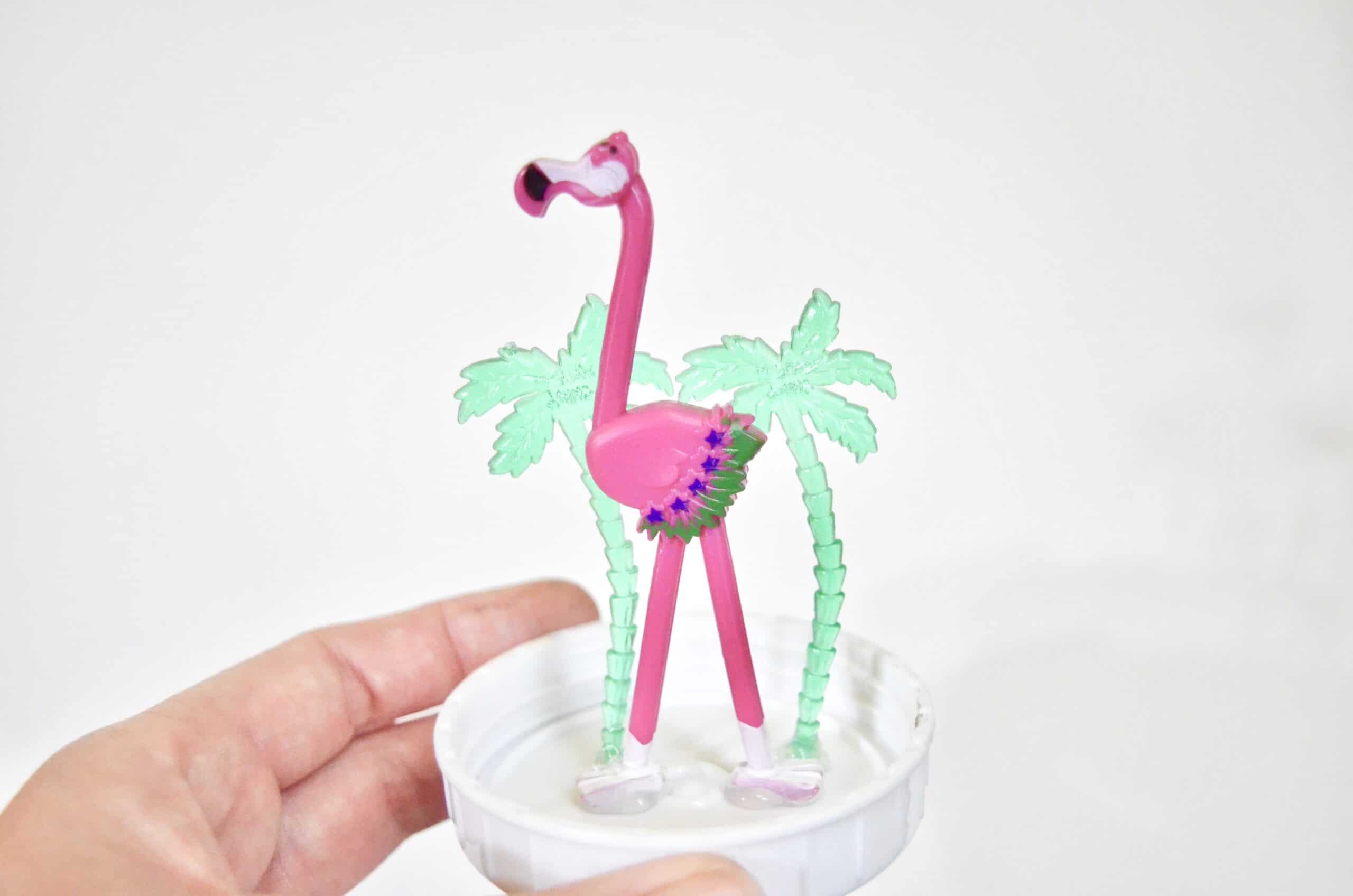 Let your glue dry thoroughly. Isn't this adorable!? It totally got me into the sunny tropical sandy beach mood! Flamingos and palm trees make a fun sand globe craft theme!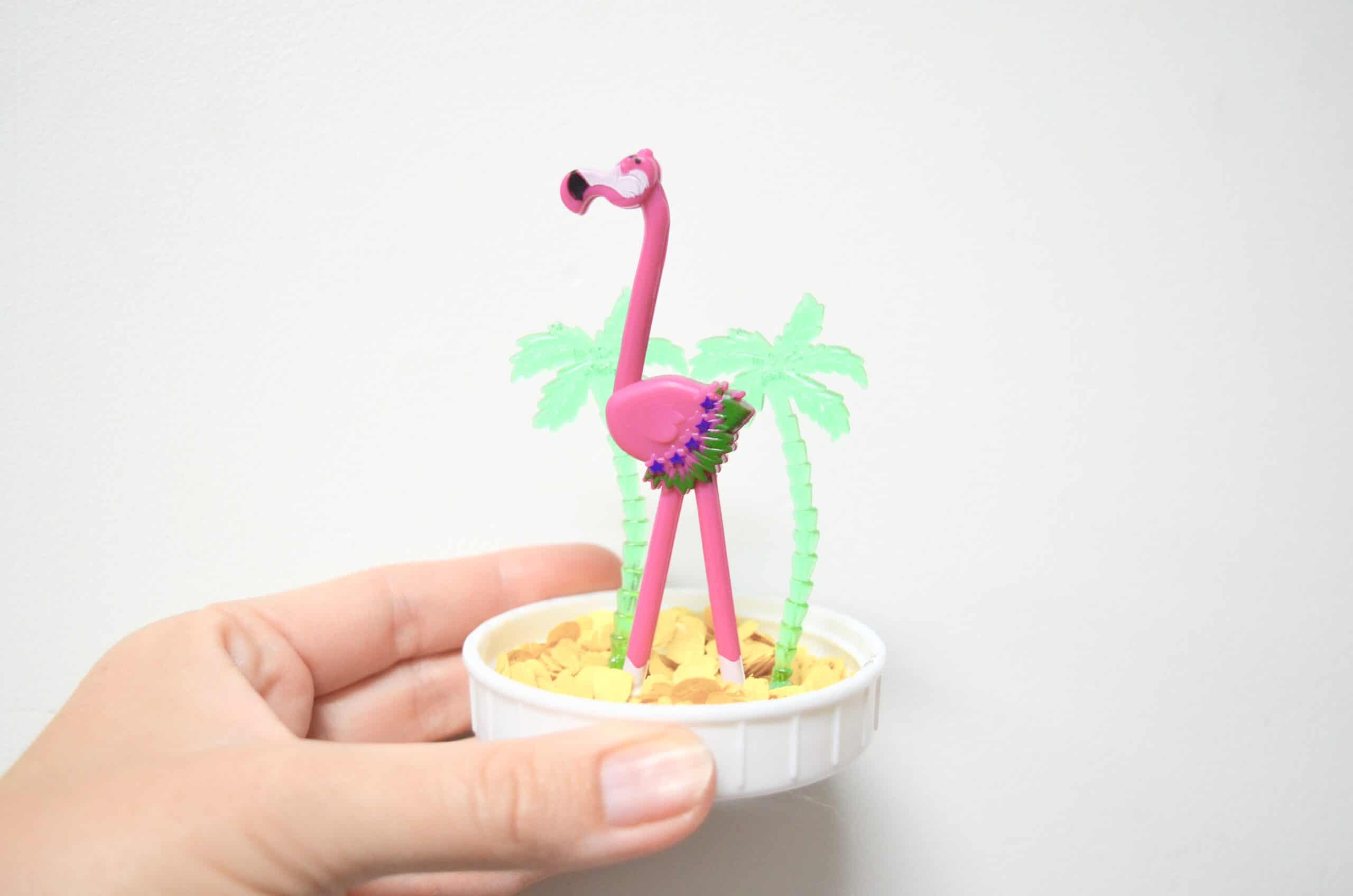 I couldn't decide whether I wanted paper confetti inside my sand globe with no water or beach sand with shells and water – so I tried it both ways!
If you have kids who tend to open snow globes then I would opt for the no water version! Otherwise you might want to glue the lid down.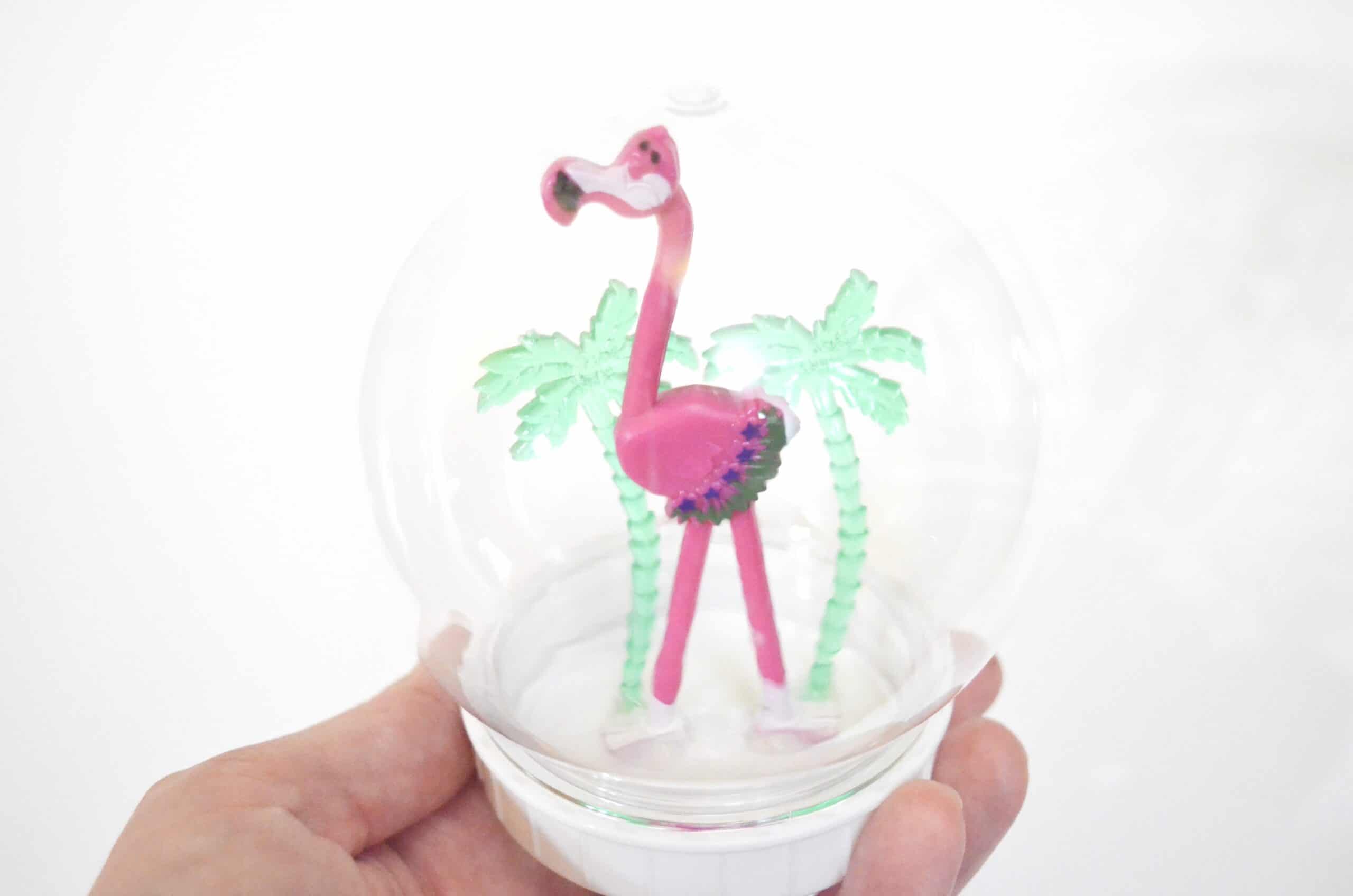 Before you add your sand and water, make sure that your sandy beach scene will fit inside the rim of your snow globe! Since my globe has a more narrow opening than inside the globe I had to be careful where I glued everything into place at.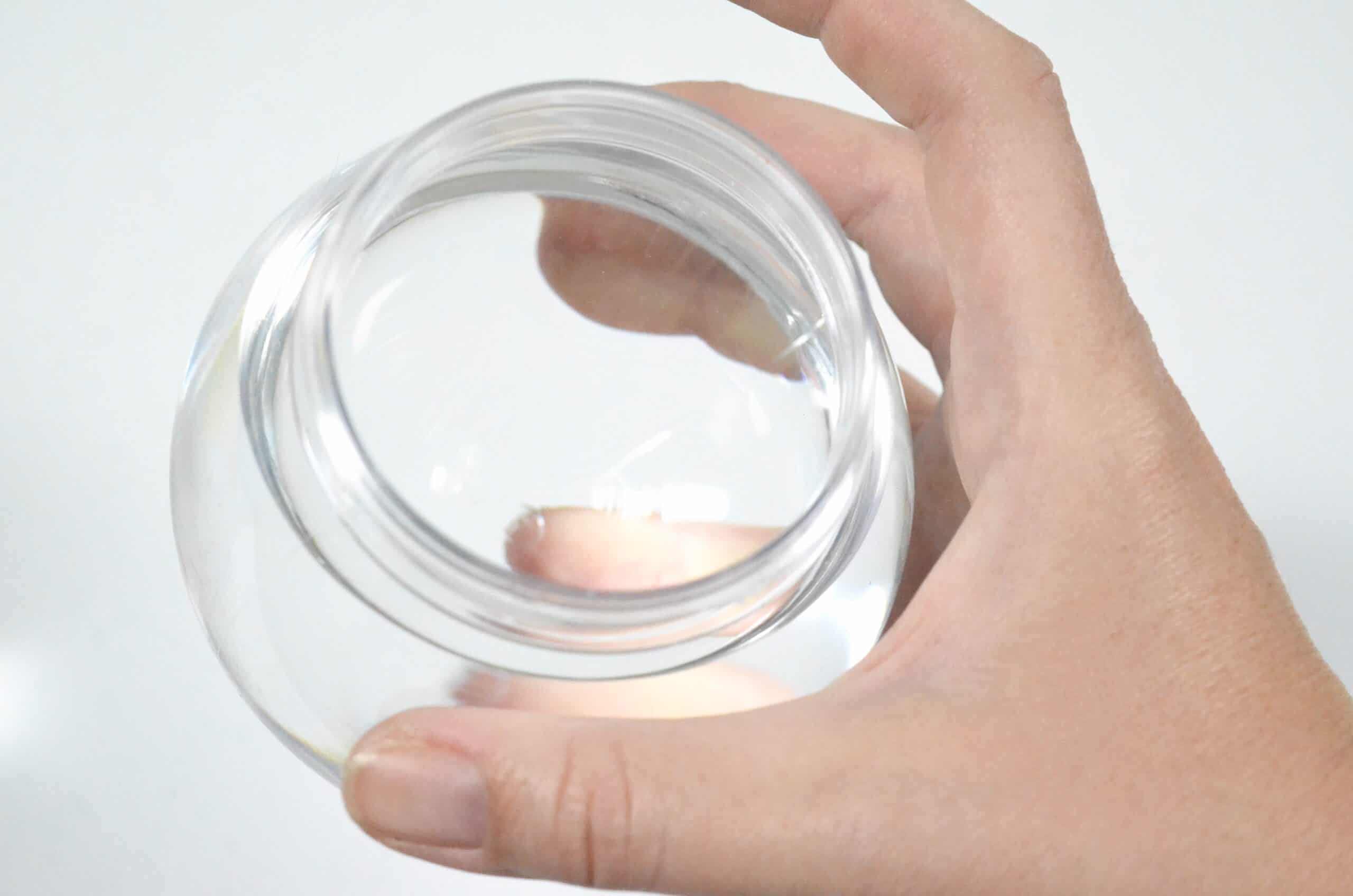 Next add your water! Add the water ALMOST all the water up to the rim. Don't forget that your flamingo and palm trees (or whatever else you have inside) will displace some of the water so don't fill it all the way to the rim just yet.
If you have glycerin you can add a squirt of it inside to help maintain the freshness of the water clarity, but I didn't use it.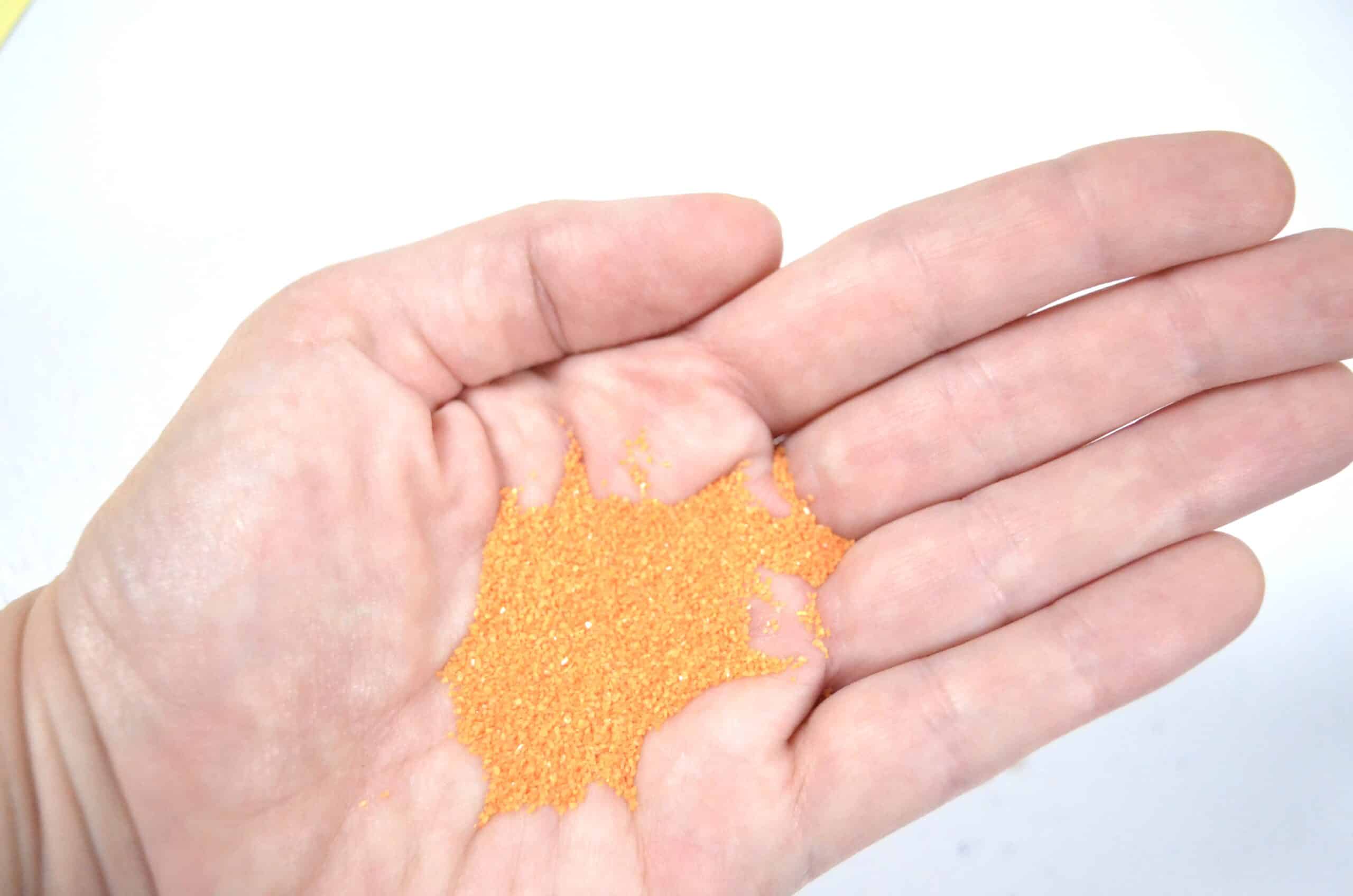 You can use craft sand like I did or sand from your last trip to the beach! It does tend to sink a lot quicker than if you were to use glitter. And confetti will mostly float. So you can choose what style you are going for and add it accordingly!
Wondering what the twine was for? Hot glue it wrapped around the base of your beach sand globe to add a bit of tropical flair!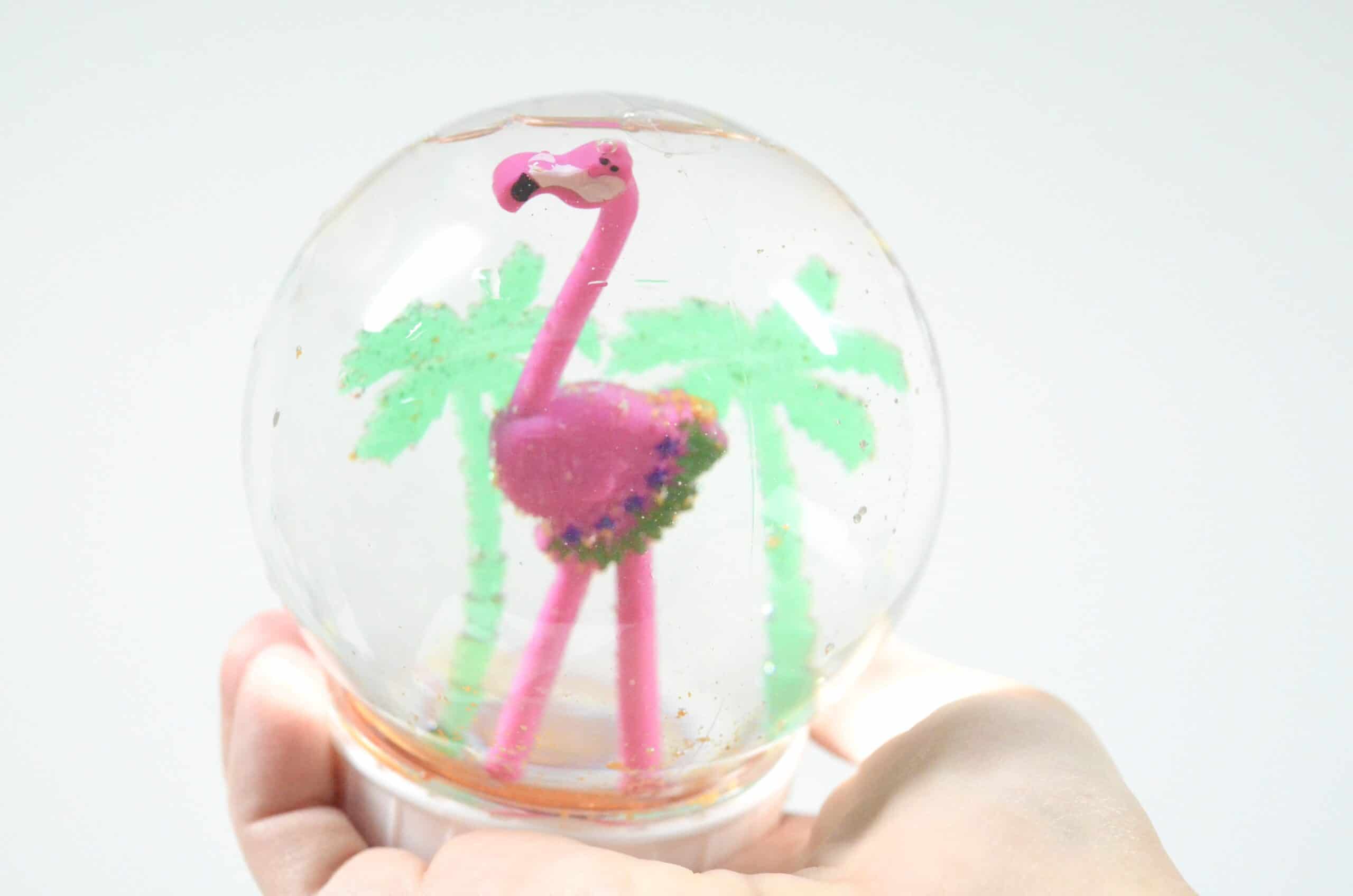 Voila! You're done with your sand globe craft! Check out this fun beachy flamingo gardens sand globe! It's SO festive and a great way to bring some of the sunny tropical fun right inside your home!
More Summer Fun: