Finding Dory Educator's Guide & Activity Pack in Spanish & English
This post may contain affiliate links, view our disclosure policy for details.

In the Finding Dory Educator's Guide you'll find:
The Finding Dory Educator's Guide includes over 40 pages of lessons and activities targeted to grades 2 through 6. The complete Educator's Guide and additional educational resources are now available at disney.com/findingdory. There are plenty of printable activities for you to hand out to your students and even bookmarks! It covers many areas including:
• Animal Behavior and Natural History
• Predator/Prey Relationships
• Ocean Habitats and Ecosystems
• Migration
• Marine Careers
• Making a Positive Difference for Wildlife Worldwide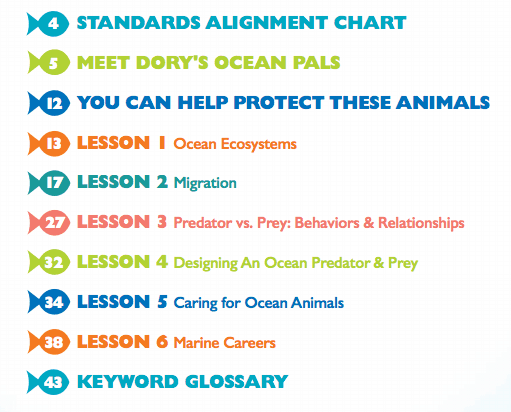 **Unfortunately the 43 page PDF file is so large and the educator's guide is no longer available since it was removed from the Disney site. But you can still print the Activity sheets for kids below.

In the Finding Dory Activity Pack you'll find:
Meet Dory's Ocean Pals – Learn about the various species and their scientific facts!
You Can Help Protect These Animals – Conservation Efforts.
Coral Reef by Numbers – Color by number activity sheet.
Crafty Recycling – Make ocean friends with 2L bottles.
Speak Like a Whale – Decode the message!
Seek the Sea Urchins – A hide & seek activity.
Ocean Icon Investigation – Science Worksheet
Aquatic Animal Observations – Scientific Observation
Selecting the Right Pet Fish – Pet care, costs, and facts.
PRINT HERE ==>
Check out our other Finding Dory related posts & suggestions: