Farm Themed Brown Paper Bag Puppets for Preschool
This post may contain affiliate links, view our disclosure policy for details.
Working with preschoolers is SO much fun and they love pretty much anything you do! No need to be fancy! Paper bag crafts for kids are a huge hit since they double as an artistic craft as well as a puppet for imagination play. Paper bags can be turned into just about anything. It's the perfect activity to pair with your fall trips to the farm! Check out below for some simple farm themed paper bag puppets!
You'll need:
brown paper bags

googly eyes

glue stick

washable paint

construction paper
The Chick Brown Bag Puppet: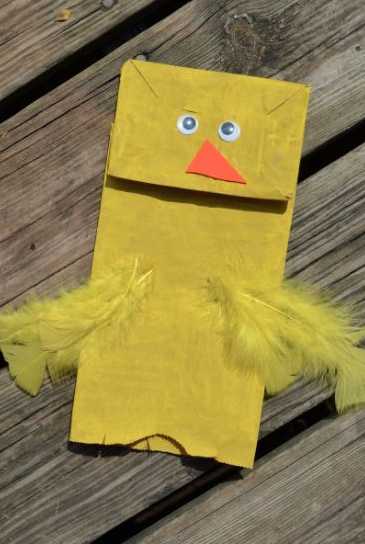 Baby chicks are cute and fuzzy so this is always a farm favorite for little kids. You can use construction paper, felt, fabric or craft foam if you don't have the time for painting. Just pre-cut out yellow blocks of color for the kids to paste onto the bag. Add some googly eyes, feathers, and don't forget the orange beak! You might also want to add some little orange feet too! Check out our free Life Cycle of a Chicken coloring book!
The Pig Brown Bag Puppet: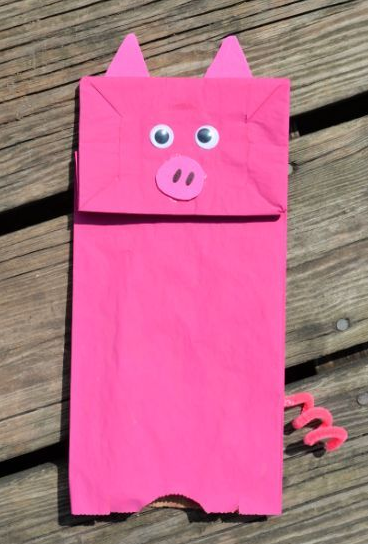 OINK OINK! I've always loved the brightly colored pink pig and you absolutely MUST add a bright pink curled pipe cleaner
 onto the side of this one! Paint the whole bag pink. Glue on some googly eyes. Cut out small pink ears and a different shade of pink for the nose to glue on. We used craft foam to make it sturdier but you can also use card stock
.
The Dairy Cow Brown Bag Puppet: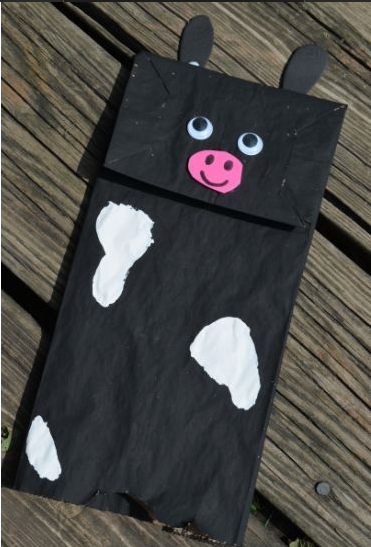 MOOOO! If you've ever taken your preschooler to a farm they might have gotten the chance to milk a cow. There's just something about those big white patches on black fur! Paint on the paper bag all black, then paint or use felt to add white patches onto your cow. Don't forget some black ears, googly eyes, and a pink nose/mouth area!
The Horse Brown Bag Puppet: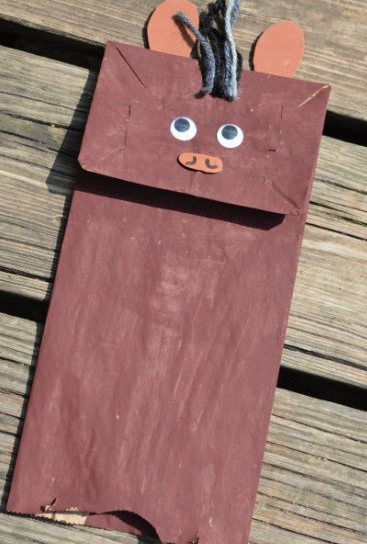 NEIGH! Horses come in all sorts of colors but we chose a common brown look. What's fun about this horse is that you should add little bits of yarn at the top for it's mane. You can tape the yarn on behind the front of the bag or use glue dots or glue to add it on! If you really want to get creative add longer bits of yarn towards the back bottom of the bag for a horse tail.
The Bull Brown Bag Puppet: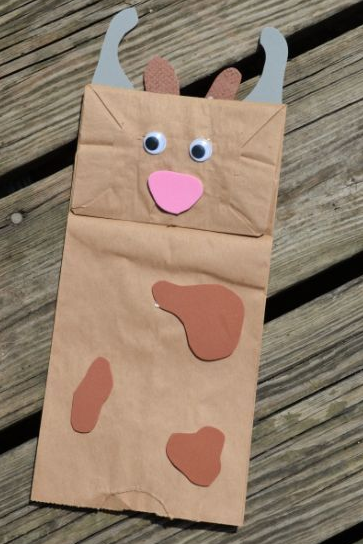 If you're raising your cows for meat chances are you'll find a bull in there somewhere!  Tailor your colors to whatever you want your cow to look like but don't forget the horns!
Our Farm Brown Bag Puppet Collection: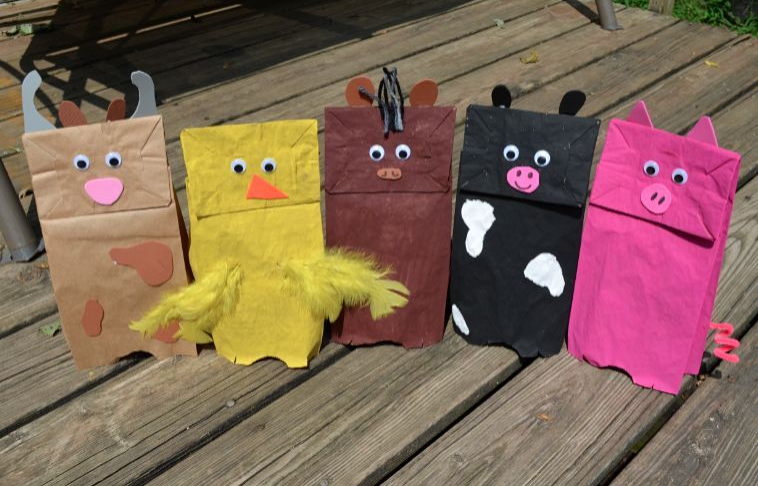 The Group Activities
Welcome to the farm! These are SO many fun ideas you can use your preschool farm puppets for in addition to just keeping the kids busy with a craft. Here are just a couple ideas below:
*Build a large cardboard barn and let the kids put on a show with their new puppets!
*Have your child write the name of each animal and tape it onto the back of the puppet.
*Spend one day on each puppet watching videos and learning about each animal. After you've gone through all of your puppets visit a local farm or petting zoo!
*Sing "Old MacDonald Had a Farm" with your preschooler letting them grab the puppet to play with during each verse of that animal.
You're only limited by your CREATIVITY & IMAGINATION!
Want your farm themed paper bag puppet featured? Send your photo (and link to your blog post if you have one!) to [email protected] with the heading FARM BROWN BAG POST and we'll feature your puppet and link back to you!