Family Friendly Quick Dinner Solution with Revolution Foods
This post may contain affiliate links, view our disclosure policy for details.
This post brought to you in partnership with Revolution Foods.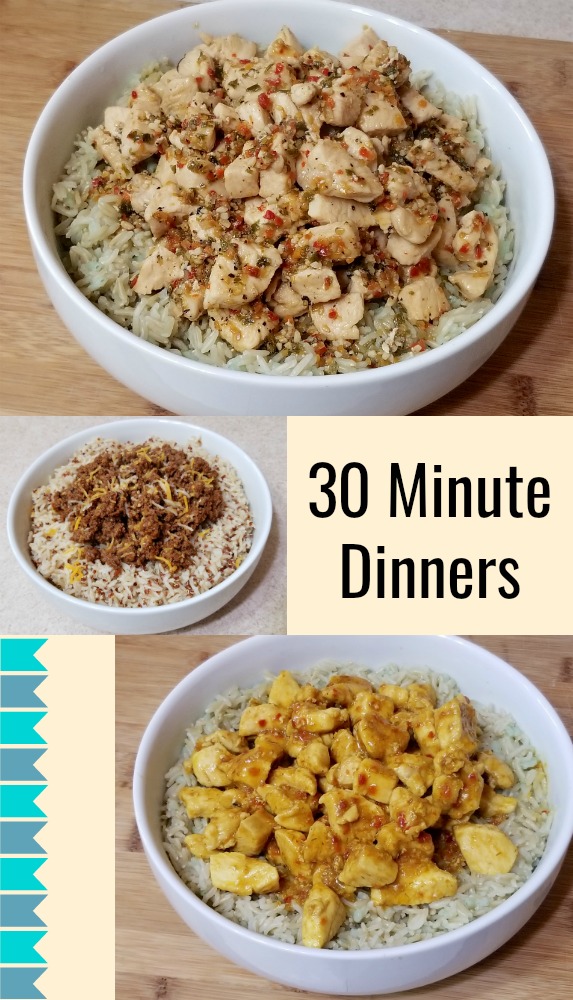 Since moving last month I've been on the quest for finding new (and fast!) healthier meal ideas for our family as we are looking ahead to prepping for school. I was offered a campaign to try Revolution Foods and honestly I was a little skeptical. The flavors of their Dinner Hero meals definitely weren't something I would normally be cooking so I wasn't sure how my family would react to it. Plus they are very high in whole grains (42+ grams) and we're a white rice kind of family.
Revolution Foods was started 10 years ago by two moms who wanted to change the way that kids eat in America – both at home and at school. Their school program is what peaked my interest so I agreed to try it out. They donate 1% of their retail sales to schools to help provide fresh meals to students every day. They also serve over 2 million school meals a week in 1000+ schools nationwide.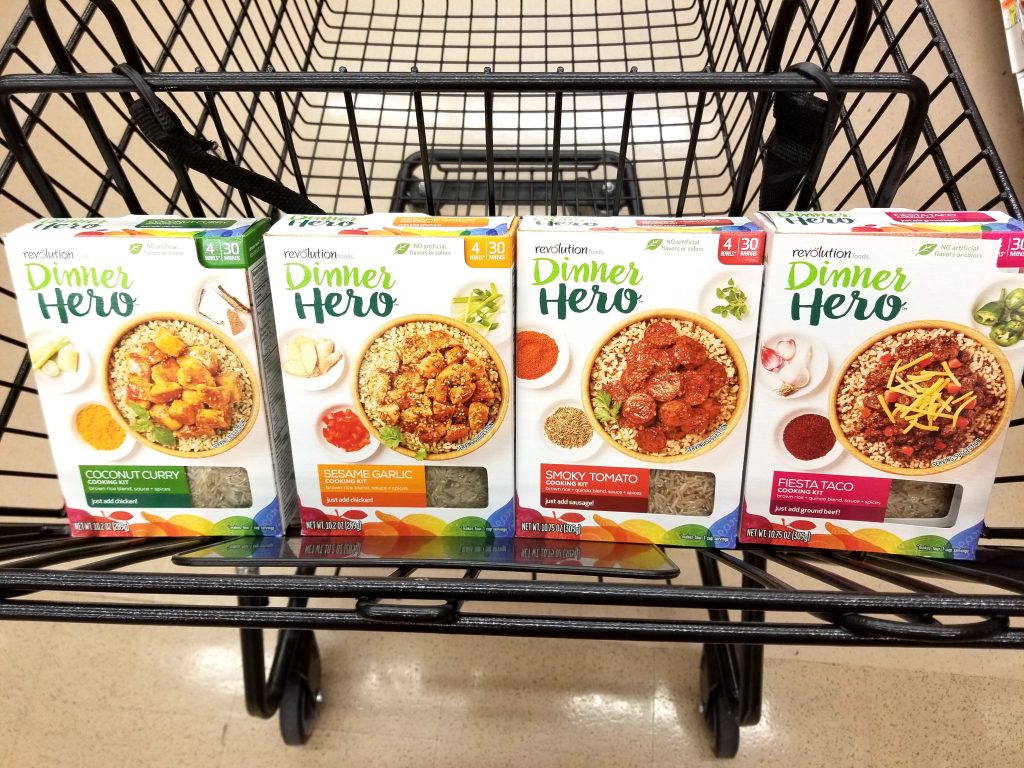 I decided to buy one box of each flavor of Revolution Foods Dinner Hero. Each of the meals can be in 30 minutes or less. The front flap of the box opens up to reveal the step by step instructions and the ONLY thing you need to add to each meal is meat (and a small amount of water & oil). The box tells you right on the front how much (and what type) of meat you will need. I literally went through the grocery store reading the box to see what I needed.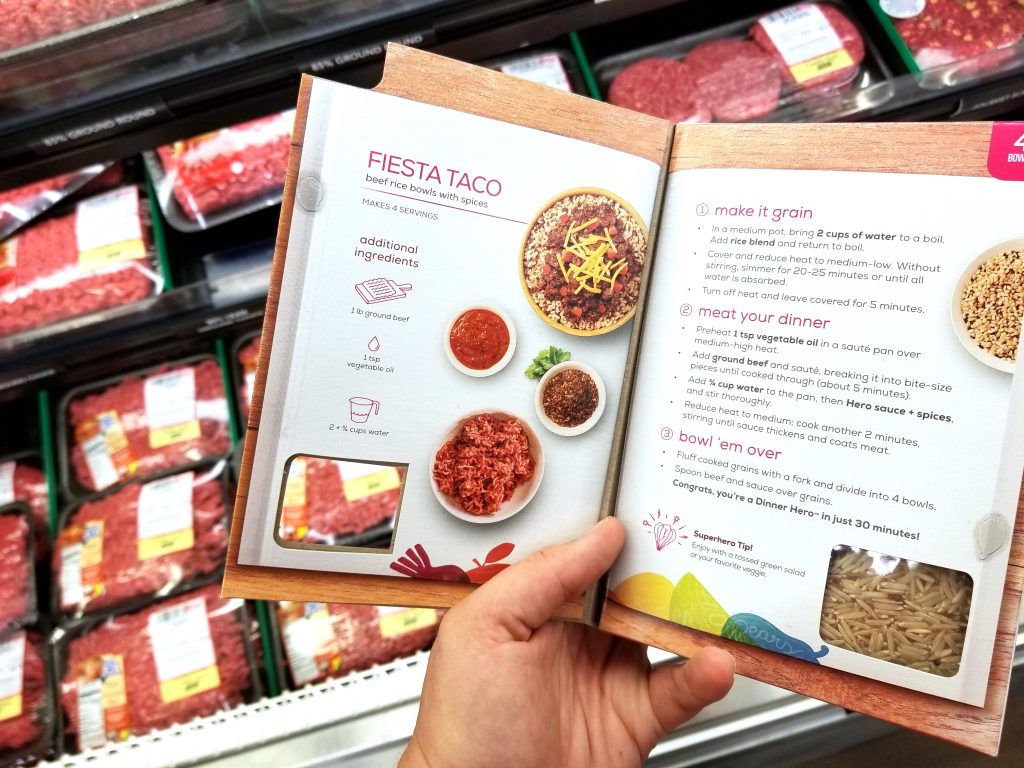 Each box is supposed to feed a family of 4. My middle son who is 8 years old is quite amazing in the kitchen so I loved how these boxes laid out the instructions for cooking. I knew it was something he could do too.
The first meal I made was the Sesame Garlic flavor. Inside the box was a bag of rice, spices, and sauce – each bag was labeled with what it was. Because the chicken breast I bought was so big I actually only ended up using one with the box. My first thought was that there was no way that tiny bag of rice was going to cut it for 4 people. My 2 boys are big eaters!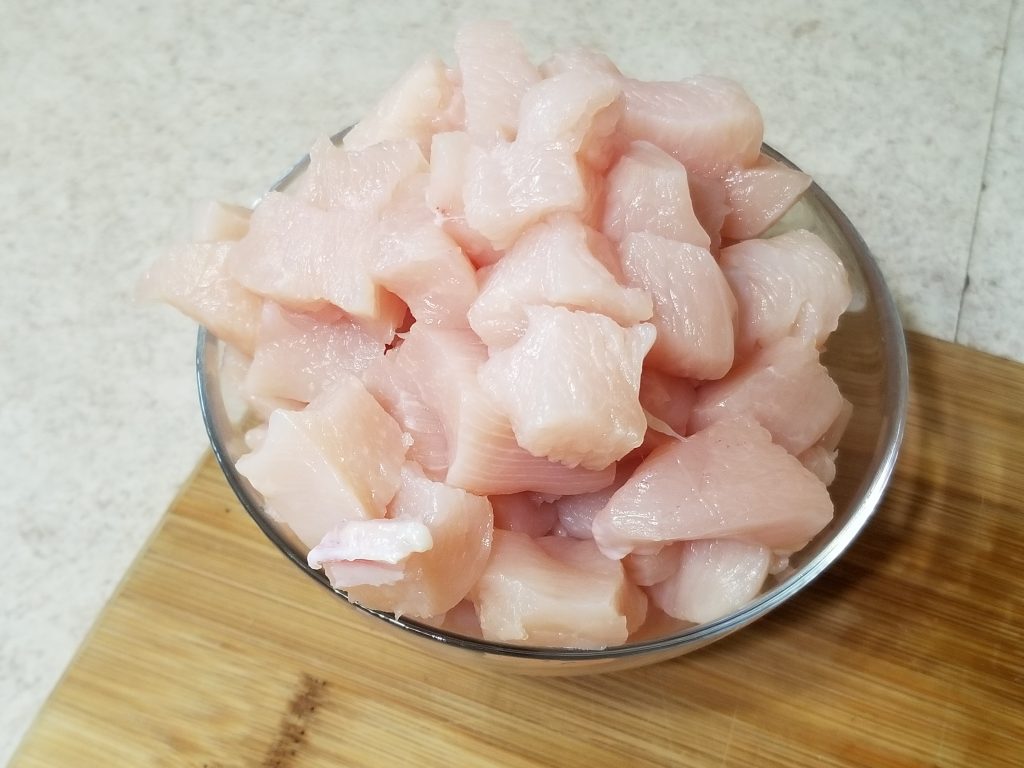 But I cut up the chicken anyway and forged ahead! It was silly simple to make. The cookbook style directions on the front of the box actually told you which step to make what items in from steps 1 to 3. I mean you couldn't go wrong!
Step 1: Cook the grain blend. 
Step 2: Saute the protein. 
Step 3: Add sauce & spice packets then serve.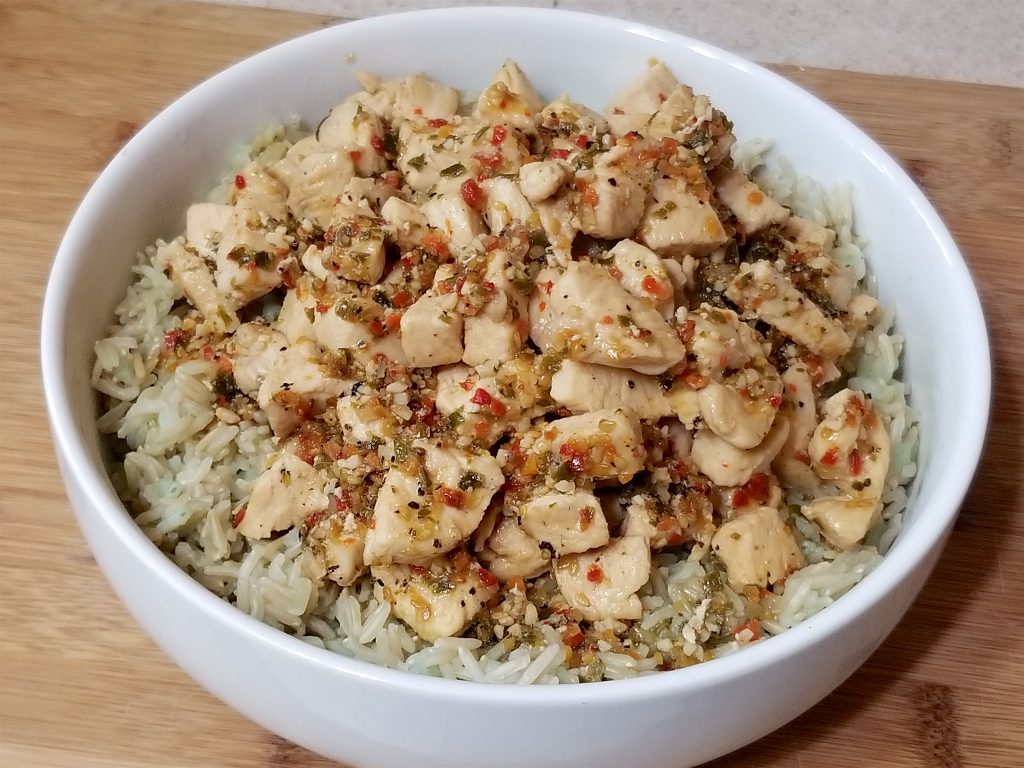 I was pretty impressed, I have to admit. There actually was enough food to feed 4 of us! I swear the stuff grew magically! It smelled good – and my kids actually ate it! The flavor was not spicy or overbearing at all. It wasn't bland but a nice light flavor – despite how seasoned it looks!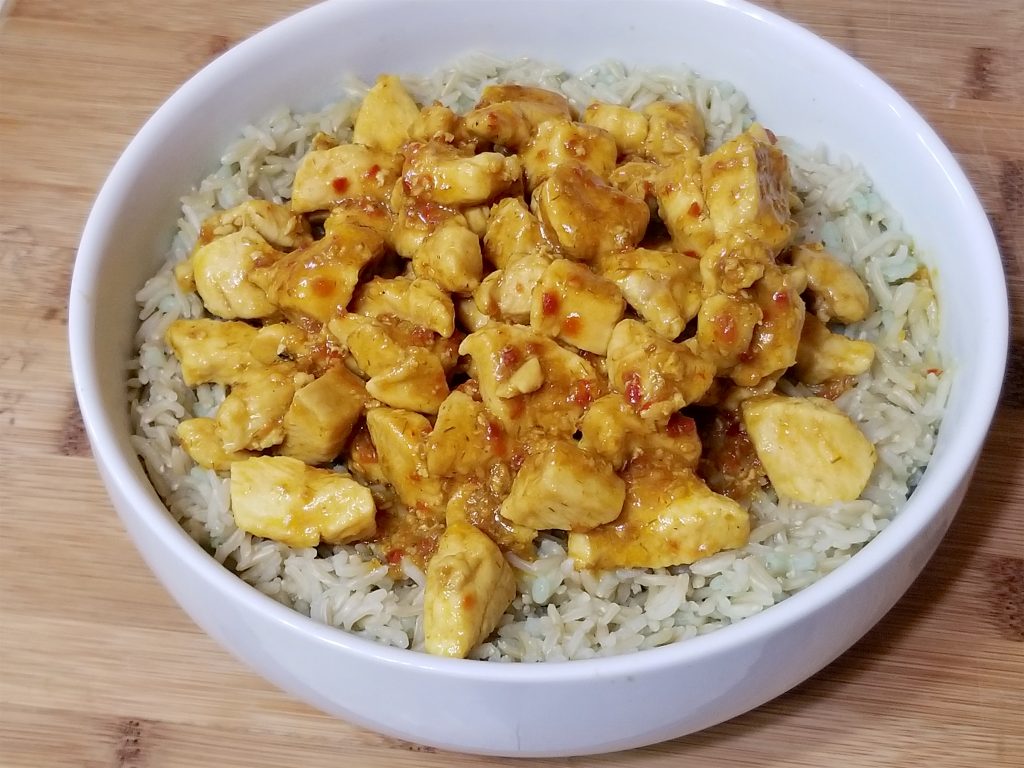 The next night I made the Coconut Curry flavor. To be honest with you I actually cooked other food too assuming none of us would like it but I was quite wrong. None of us had ever had curry and I didn't taste a coconut flavor at all. It was a lightly flavored meal that was actually really good and my kids ate it!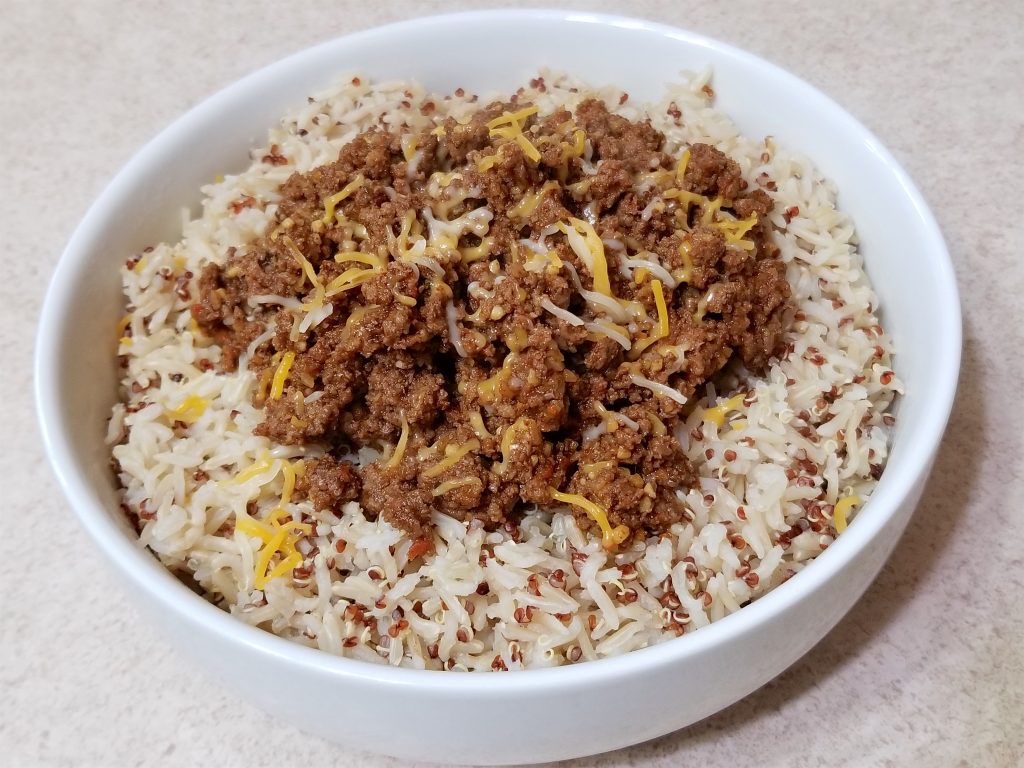 Tonight was the Fiesta Taco Dinner Hero. Even my 2 year old was gobbling this one up! And she's a very picky eater!
Revolution Foods also has a Breakfast Hero line that I'll have to try. Everything is family-inspired and chef crafted. It definitely had us eating something we normally would have never tried but we will absolutely buy again. In fact I cooked one box (under $5 at my store) and separated it out into 4 meals that we froze for school lunches. You definitely can't beat that!
For the price per box to feed 4 people, and the ability to have a healthy dinner on the table in 30 minutes or less, I'm pretty happy. There's no artificial colors or flavors and I love feeling like my kids are actually eating something more exotic than what I would normally cook. Find more great ideas on the Revolution Foods Facebook and Pinterest pages!
GIVEAWAY
Thanks to Revolution Foods one winner will receive 10 FREE product coupons! That's a LOT of free dinners for your family! To enter simply leave a comment below letting me know which flavor you'd want to try! Giveaway is open to U.S. addresses and ends at midnight CST on August 7, 2017.