Keep Your Kids Safe When They Wipeout Biking or Skateboarding
This post may contain affiliate links, view our disclosure policy for details.
This post brought to you in partnership with Wipeout.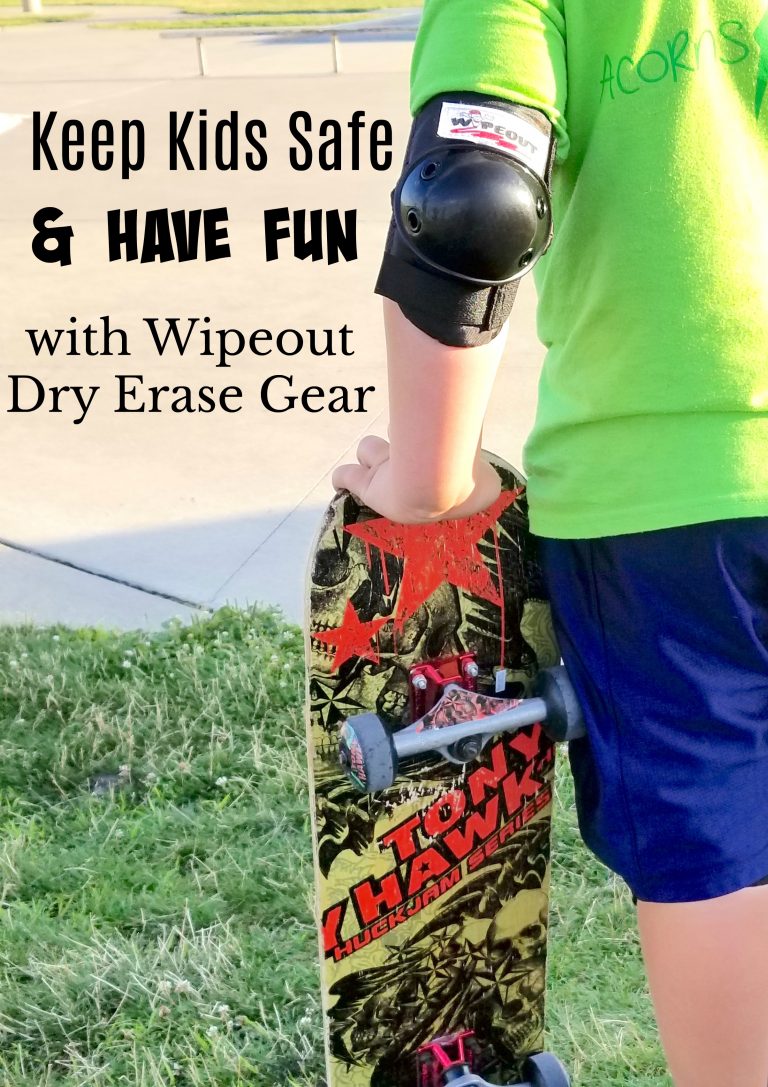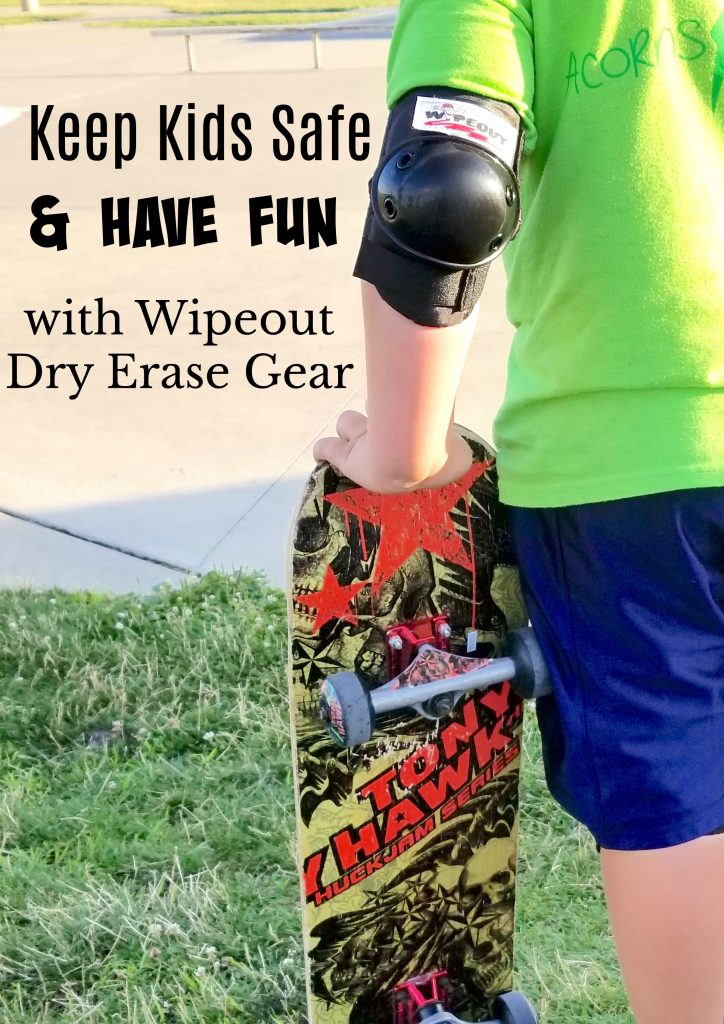 Raising two boys has extended my knowledge in SO many ways. I've purchased items having no clue how they work and they've joined teams I know nothing about. Sometimes with kids activities and sports are just new territory – but that doesn't mean it doesn't have to be safe! Last year one of my boys realized how much he loved skateboarding (and he's pretty darn good at it too!). If you've ever tried stepping onto a skateboard chances are you were falling on your butt pretty quickly! It's not easy!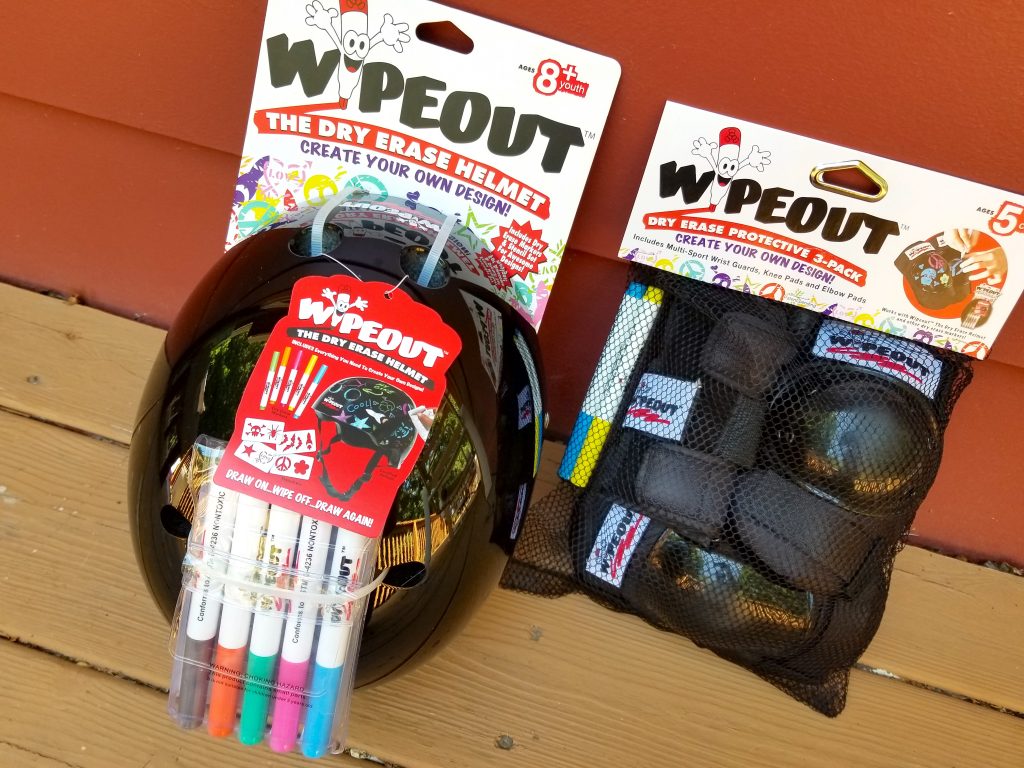 Did you know that many skateboarding helmets are NOT safe to use as bicycle helmets? When I heard about the Wipeout Dry Erase helmet not only did I know my kids would have a BLAST decorating their helmets (over and over and over) but I was so excited because it is dual certified for kids ages 3-to-11 for use on bikes and roller sports.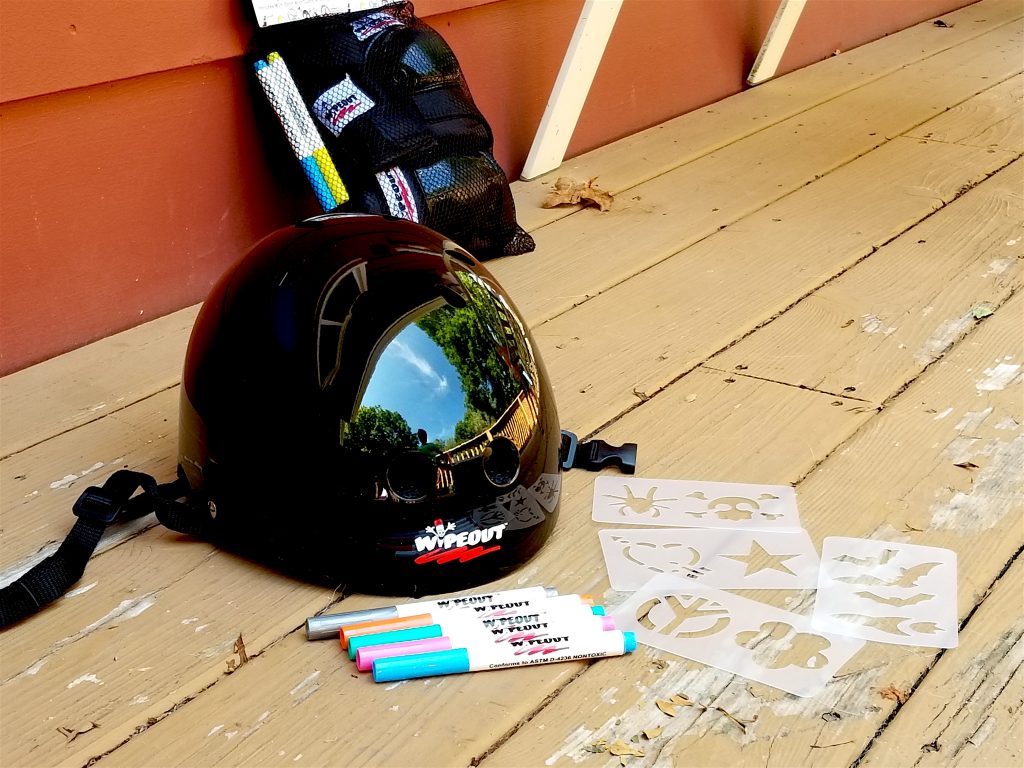 The helmet comes with a set of 5 dry erase (non-toxic) markers and several stencil sets. Helmets come in black, teal, white, neon pink, neon green, neon orange, and hot pink so your kids can choose from quite a variety of colors. I was concerned about it actually fitting my boys because my kids have big heads (no shame!) but the size we ordered fit both of them! The three available sizes are:
3+ (fits 47-49 cm)
5+ (fits 49-52 cm)
8+ (fits 50-54cm)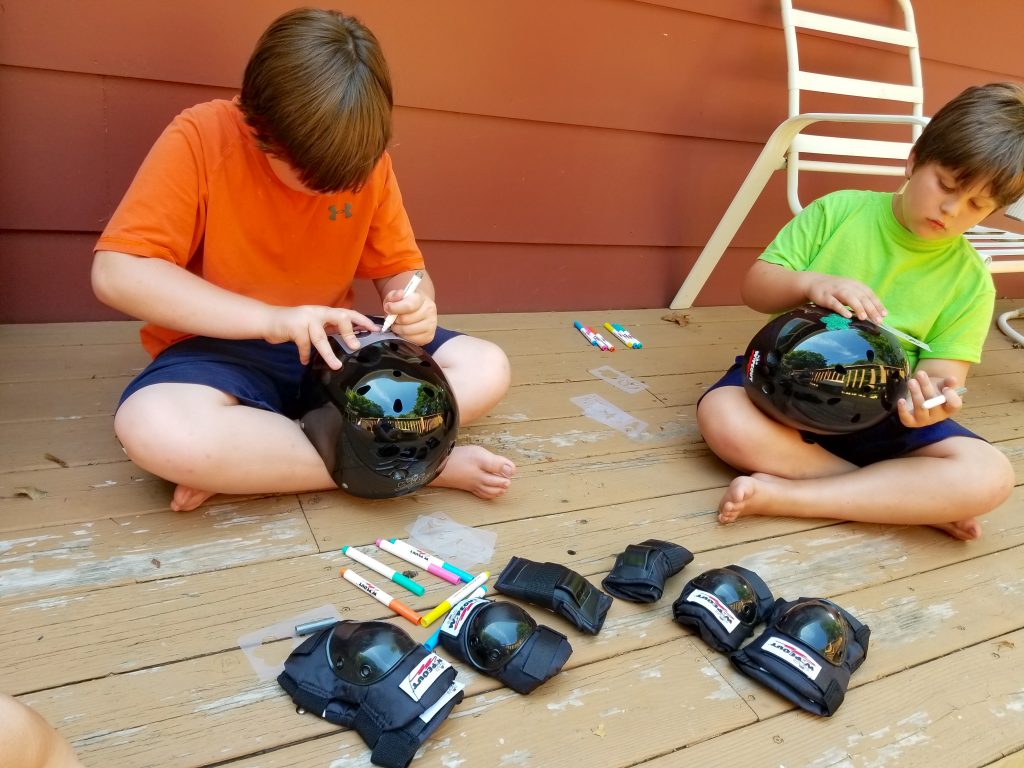 My boys (ages 8 & 10) just thought these were the COOLEST! I wish I had videoed their reaction! Things aren't always "cool" enough for my 10 year old as he has outgrown some things but he just loved decorating his own helmet!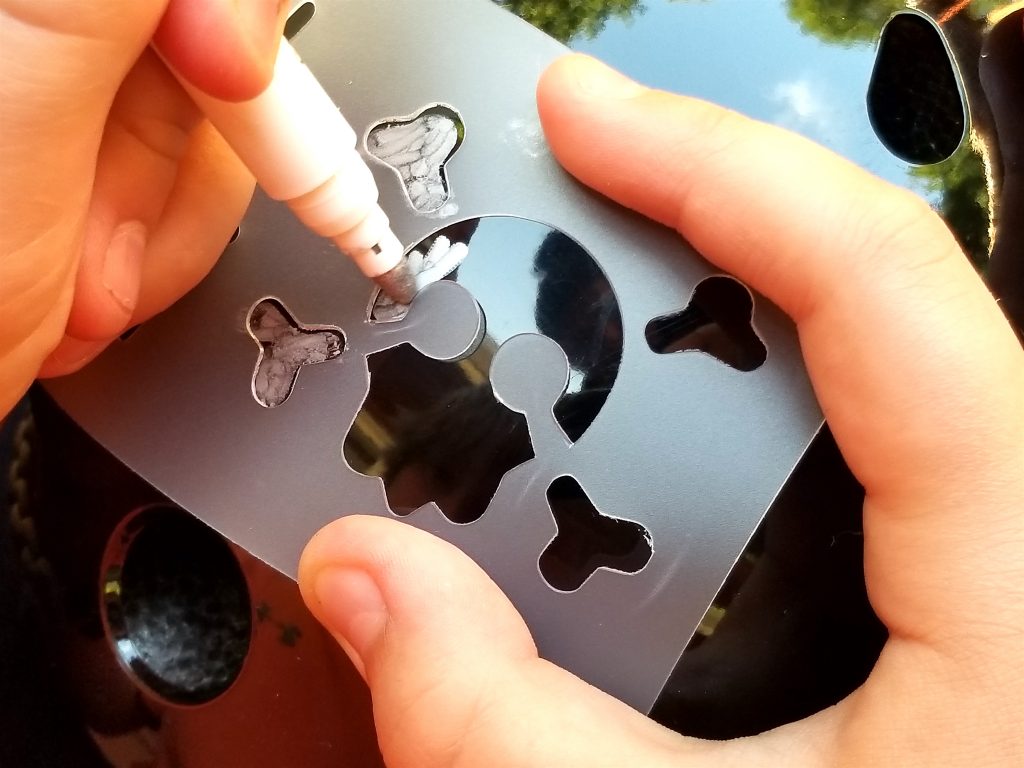 The stencils provided a nice variety of designs that were cool for any kid! The dry erase markers stay on their pretty well but are easy enough to wipe off if you want to re-design it!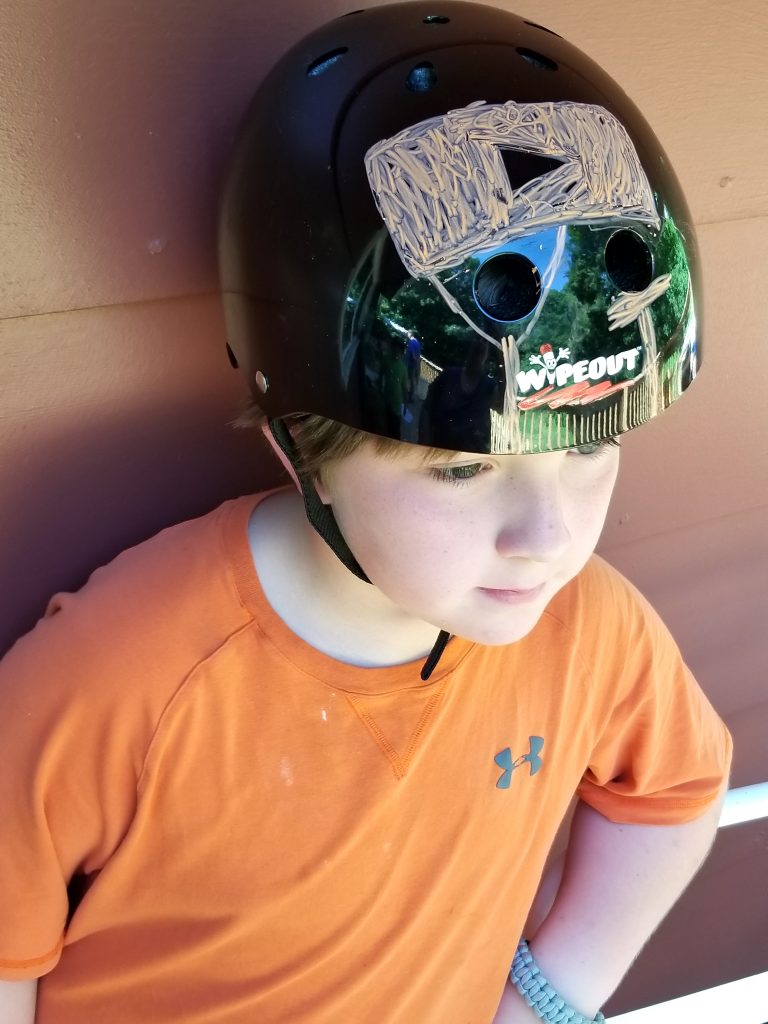 But of course you don't even have to use the stencils. My tech-loving son created a Youtube "Play" button on his helmet!
Has an ABS hard-shell construction for durability.
Dual certification for bike AND skate use ensures true multi-sport protection.
Complies with U.S. CPSC and ASTM safety standards for bike helmets, skateboarding, and trick roller skating.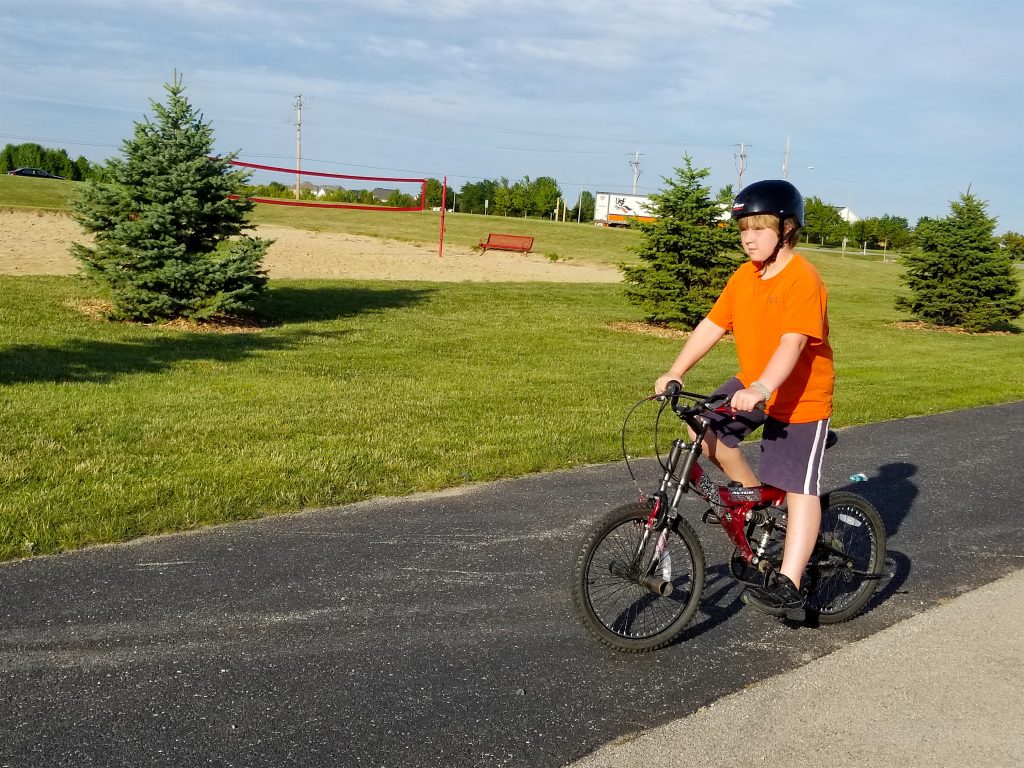 Wipeout also has a set of protection pads which consist of knee pads, elbow pads, and wrist pads. (They are dry erase too!) My kids are good healthy sized kids so sadly the wrist pads didn't fit them at all but they look incredibly sturdy. I would have absolutely made my skater son wear them as he bangs up his hands a lot in his falls!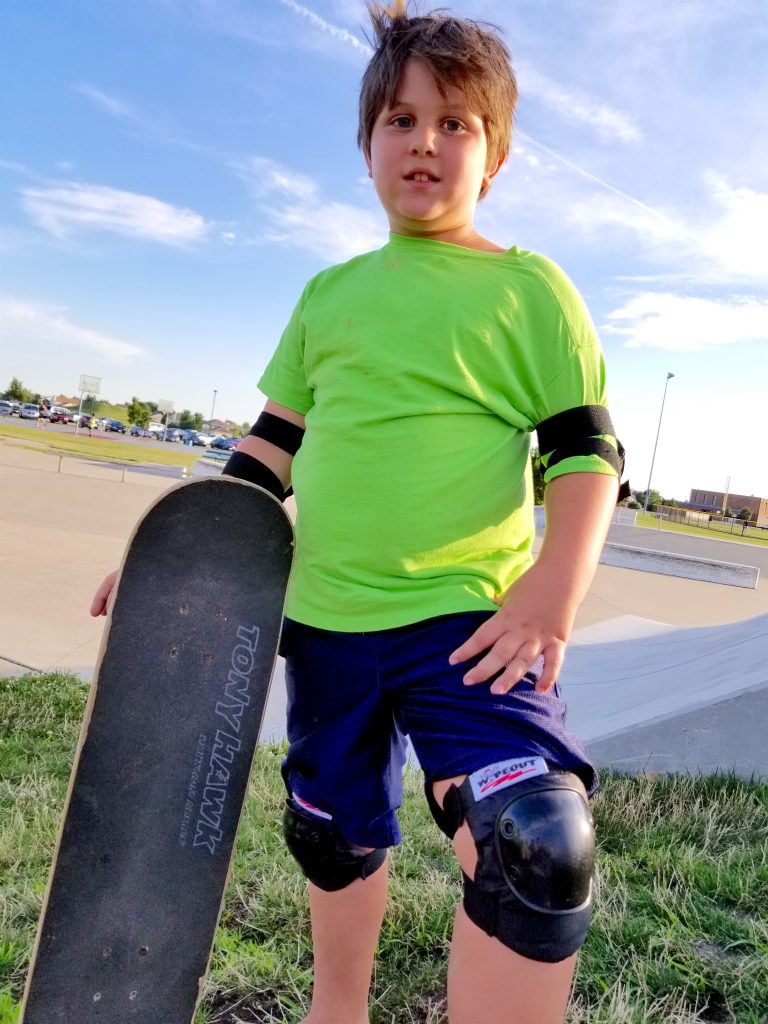 My boys are incredibly active kids and they LOVE being outdoors! The quality of the Wipeout Helmet and protection pads are incredibly! We've bought our fair share of protection gear in the past but these are great! They were comfortable for my boys to wear and the material covering the joints is super tough. I felt very confident that they were protected should they take a nasty fall.
I would absolutely buy this set again for my boys if they need another set and can still fit the sizes. You can see all the colors on the Wipeout website or buy the helmet on Amazon here and the protection pads on Amazon here! You can also find them at Target, Dick's, Scheels, Toys R Us, Academy and Performance Bicycle.